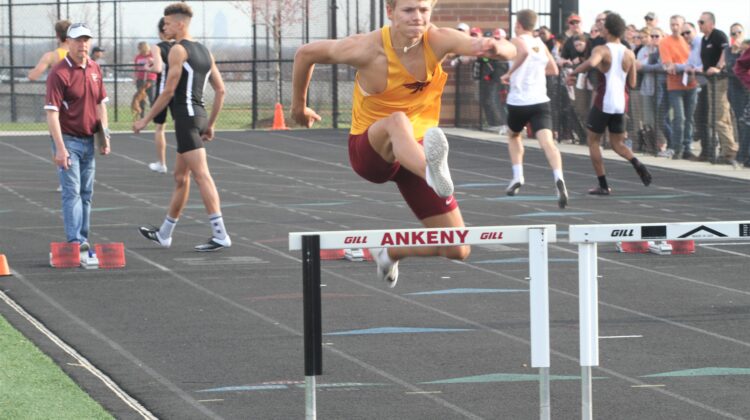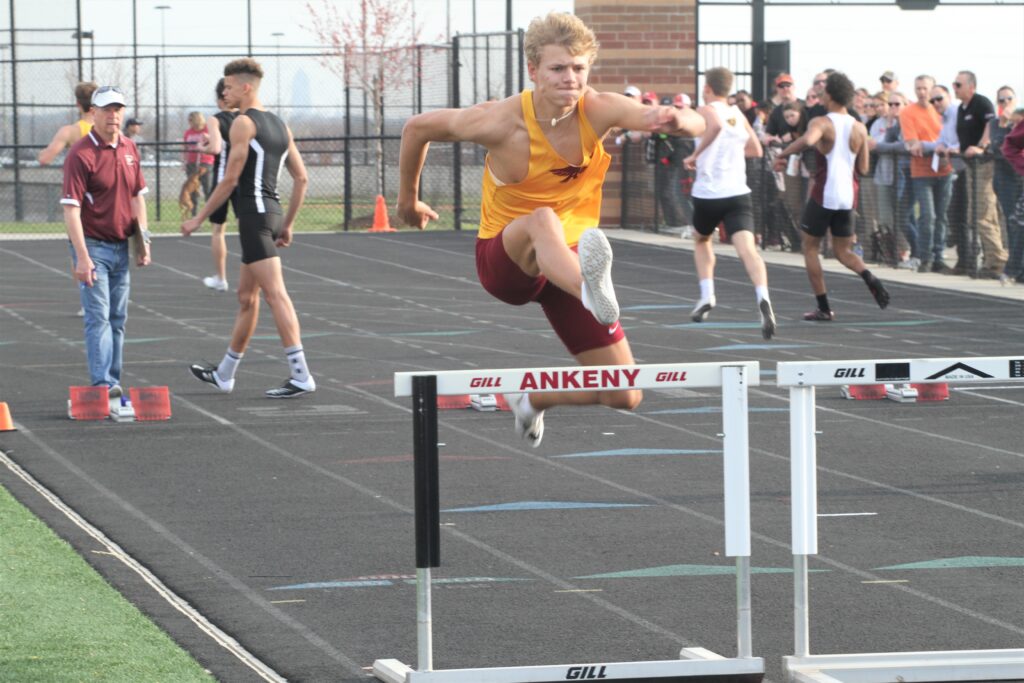 Senior Mason Thompson is a member of the Ankeny boys' track team. The standout hurdler has committed to run for Grand View next year.
Thompson placed second in the 110 hurdles in the Brooks Relays on Saturday at Valley. He helped the Hawks to a sixth-place finish overall.
Here is some inside info on Thompson:
How is the season going thus far?
For not being able to run, I'd say it's going ok. At our first "meet" we had a dual against Urbandale. I ran well at that meet and was feeling good over the hurdles. Most of our team is doing well thus far in the season, so that is good as well.
I know you've been battling a quad injury. How did you hurt it?
Before spring break we had a lactate practice. I had tweaked my leg then and just thought that it was sore from a hard practice. Over spring break it seemed that it had gotten better and was feeling good again. The first Monday back we had another lactate practice, running 3x150m timed sprints, and I hurt it again at that practice. I went to the trainer the next day, and he said it was most likely a grade one quad strain.
Do you feel like you're healthy now?
After working with the trainer for almost two weeks I am starting to feel better and getting more movement on the leg. While it is still kind of tight from not doing anything so long, I believe that this Saturday (at the Blue Oval Invitational) should be a good meet.
Were you happy with your race at the Brooks Relays?
I ran a 15.40, losing to Tyler Johnson from Ankeny Centennial, who ran a 15.39. It was a good back-and-forth race between me and Tyler that ended up being extremely close. Overall, I felt like I performed very well and it felt good to get back into it. Ended the race happy with my results.
Goals for the season?
My biggest goals for this season are to have podium finishes in the 110m high hurdles and the 400m hurdles. These are two individual races that I believe I have the skill and willingness to do some damage at state. I've ran the 400m hurdles at state once before and placed 12th. I think that with some more practice and training in these two events I will be able to achieve great things at the state meet.
You were part of the state runner-up shuttle hurdle relay in 2019. Do you feel like you have a team that could contend for a state title this year?
So far we have yet to run with a shuttle hurdle team. We wanted to in our first official meet, but I was hurt and unable to run. As of right now we have only got myself and Cael Boyd that have run this race before. For the other two spots we've got a few kids that show a lot of potential in the hurdles and will get better as the season goes on to hopefully get to that state meet and do some damage.
We've already had a wide range of weather conditions over the last few weeks. What do you consider to be perfect running conditions?
Perfect running conditions for myself would definitely be nice, warm summer weather and no wind. There is no better running weather than what we always have at the state meet and the few meets leading up to it.
You are headed to Grand View next year. What did you like about the VIkings' program?
What I liked a lot about the Vikings' program was how many athletes and events that had gone far in the season, going to nationals. They have a great hurdles coach that has been there for I believe about 12-13 years. The head coach has also been there for about 17 years. I liked the fact that these coaches had been there so long and kept this team going year after year. I think with the amount of talent the athletes have at Grand View and the competitors they have, it will be a great home for the next four years.
Did you look at a lot of schools? Was it a tough decision?
I looked at about four different schools. I loved the campuses at each school. It had come down to two different schools, and I would have run track at both. The decision between these two schools had taken a while to think about, but at the end of it all I had known that Grand View was the best fit for me.
Will you be focusing on the high hurdles at the collegiate level?
I will be doing the high hurdles, 400m hurdles, and the shuttle hurdle relay.
What are you planning to study?
I am planning to become a math teacher in secondary education.