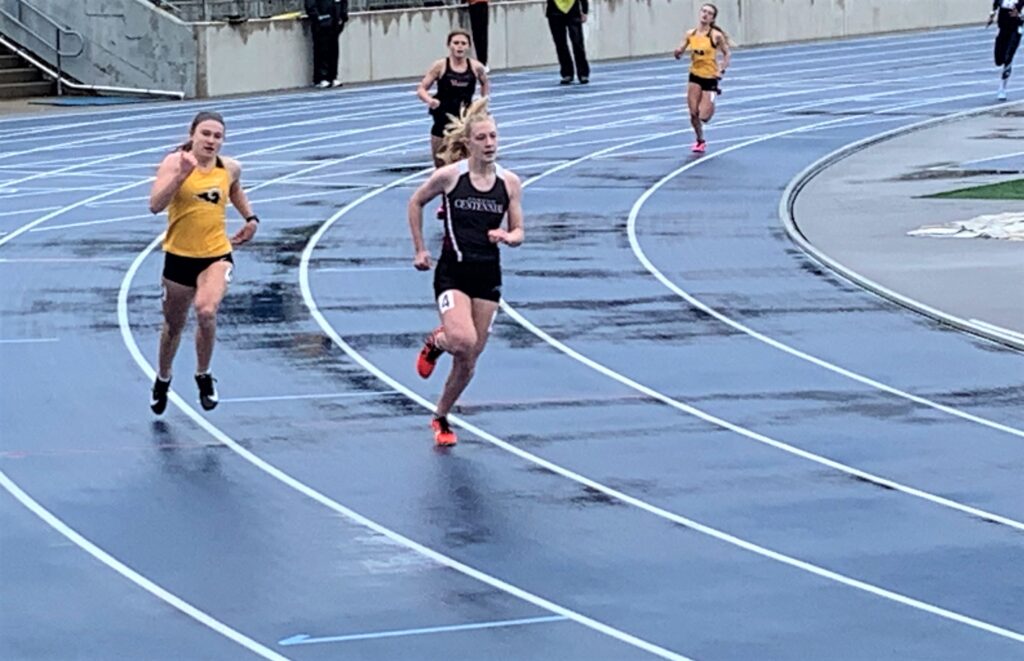 All four of the Ankeny and Ankeny Centennial track teams came away with victories in the Jim Duncan Invitational on Saturday at Drake Stadium.
The Ankeny girls' and Centennial boys' squads each won three events. The Ankeny boys' and Centennial girls' teams each had one first-place finish.
Many of the athletes will be back at Drake Stadium on April 22 for the high school portion of the Drake Relays.
"It's always a great opportunity to compete at Drake Stadium," said Centennial boys' coach Nate Smith.
Centennial's Tyler Johnson won the 110 hurdles in 14.79 seconds, the third-fastest time in the state this season. Ankeny's Mason Thompson was third in 15.11, and Centennial's Dominic Berry took fourth in 15.20.
Johnson and Berry also ran on the winning shuttle hurdle relay. They teamed up with Kobe Naber and Jack Davis to easily win in 59.78 seconds, posting the second-fastest time in the state.
Ankeny ran the race for the first time this season and took second in 1:03.30.
"Johnson and Berry took advantage of the conditions, and both dropped times in the 110 hurdles," Smith said. "Both run the shuttle, and Dom has been a solid leg in the 4×100 relay as well."
Centennial's other victory came in the sprint medley relay. The foursome of Alec Schneider, Naber, D'Eric Smith and Ryan Uhl posted a time of 1:37.27.
Tyrese Miller provided Ankeny's lone win. He won the 100 in 11.02 seconds.
Miller also placed second in the 400. He was clocked in 50.53.
"Tyrese did a great job throughout the day and is turning into a great leader for our team," said Ankeny boys' coach Nick Nelson.
Levi Hill was the runner-up in the 3,200. He turned in a time of 9:53.68, dropping 15 seconds off his personal record.
Justice Miller earned a pair of top-three finishes in the throwing events. He took second in the discus with a throw of 139 feet 7 inches and was third in the shot put with a toss of 47-6.25.
"The kids battled through the conditions," Nelson said. "It was a long day, and all of our athletes came prepared and fought hard. I am very pleased with all the hard work from our coaching staff and athletes at this point in the season."
Centennial got a second-place finish from Austin Jones in the 400 hurdles. He posted a time of 58.63 seconds.
Smith placed fourth for the Jaguars in the 100 in 11.17, setting a personal record.
"D'Eric placing and dropping his time a few tenths was big from Lane 7," Smith said.
In the girls' events, Ankeny had several individual standouts. Mytika Mayberry was one of them, winning the 100 in 12.33 seconds.
She now ranks second in the state in that event.
"Mytika improved her time again," said Ankeny girls' coach Thomas Cotter. "Just as we saw two years ago, she keeps getting faster and faster. She's a real contender at Drake now to win it."
Shelby Romig won the long jump by more than a foot, posting a winning mark of 16 feet 6.5 inches. Centennial's Jordan Su jumped 15-4.5 to take second, and teammate Kambria Leazer took third with a jump of 15-3.75.
Romig added a third-place finish in the 100 hurdles. She was clocked in 15.83 seconds.
"We had some strong performances, but we have lots of work left to do next week to get things lined up where we want them for Drake," Cotter said. "I really like where we are at in terms of our long-term planning beyond Drake as well."
Ankeny's Hannah Baier won the discus with a throw of 111-5. Teammate Ja'Dein Madison was fourth in the shot put with a toss of 33-4.5.
"Hannah will be down to the wire for Drake qualifying," Cotter said.
One of the best races of the day came in the 1,500, where Lauren McMahon placed second in a time of 4:45.39. Centennial's Rondi Quass was third in 4:47.87.
"Rondi ran a tactically great race and was within a few strides of two seniors who are now No. 1 and No. 2 in the state in that event," said Centennial girls' coach Andrew Kruzich.
Valley's Lauren Schulze won the race in 4:44.99, passing McMahon in the final 50 meters. She also won the 3,000.
"McMahon's still trying to figure out how to really run that race, and she'll continue to progress as the season goes on," Cotter said.
The Hawkettes placed second in the 4×100 relay. They posted a time of 50.51 seconds.
Centennial got a victory from Kathryn Vortherms in the 400. She was clocked in 59.58 seconds.
Vortherms also anchored the Jaguars to a runner-up finish in the sprint medley relay. She teamed up with Mariah Belzer, Maraye Breeding and Elle Street to post a season-best time of 1:52.37.
Vortherms ran the anchor leg in 57.75.
"That was great considering the conditions," Kruzich said. "The meet ended up being colder and windier than we thought it would, so we didn't drop the times we were looking for in some key events. With a prom conflict on our meet day, we had to be selective in what we could do. We spent the morning trying to drop times in the sprint med, shuttle and 400, while getting some great race experience in other events. The afternoon was spent getting some younger athletes some exposure on the Drake track against some good competition."
After running the third leg of the sprint medley, Street jumped in a car and hurried back to Centennial, where she played in a girls' soccer game for the Jaguars.
"All in all, it was a very good day for us," Kruzich said. "We were able to do most of the things that we wanted to. We've got to do some work in some events to get into Drake, but our best events remain solid with one week to go."