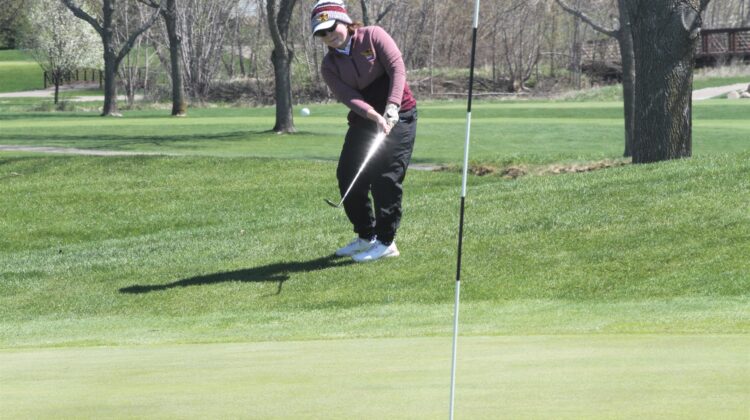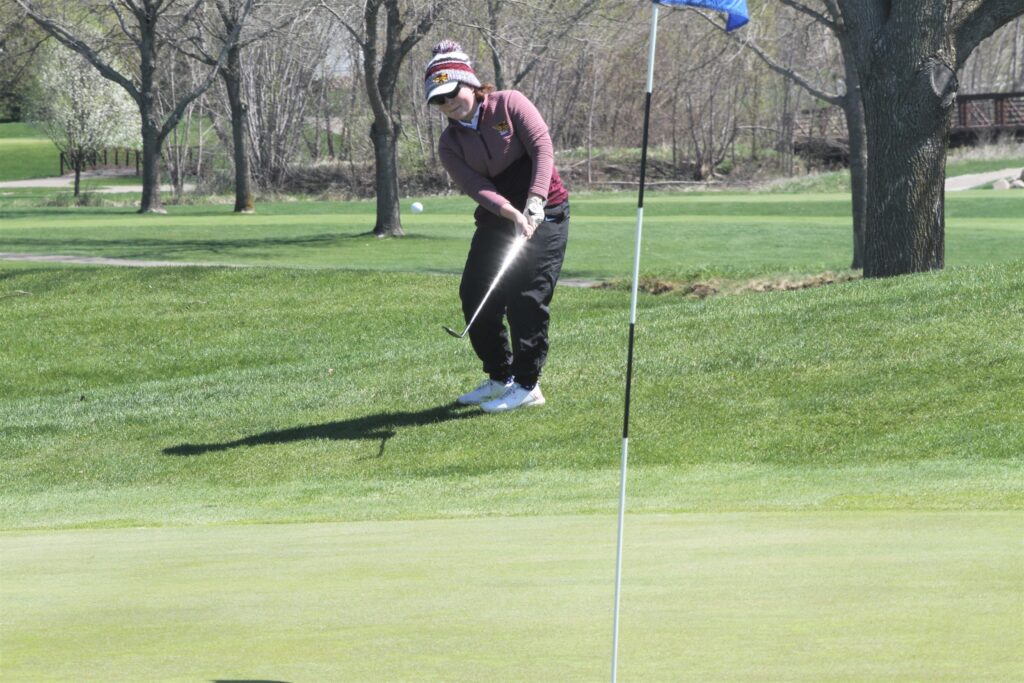 The last time Jaci Webb played in an official high school golf meet was more than 22 months ago, when she placed 12th in the Class 4A state meet.
Her game is still in pretty good shape.
The senior carded an 83 on Monday to earn medalist honors in the season-opening Ankeny Centennial Invitational at Briarwood Golf Course. The William Jewell recruit led the Ankeny girls' golf team to a runner-up finish in the eight-team field.
"I was pretty pleased with my round," said Webb, who captured medalist honors for the seventh time in her career. "I know I left some shots, mainly putts, out there today, but I am extremely pleased to shoot an 83 especially given the wind."
Gilbert won the tournament with a 396 total. Ankeny shot a 400, edging Johnston by two strokes for second place.
"I thought we battled really well today, and we narrowly missed first place by five shots," said Ankeny coach Seth Hagarty. "Even though it looked nice outside, it was extremely windy and definitely had an impact on all of the players. We stayed positive throughout the entire tournament and kept our heads when things didn't go the way we wanted them to. We were able to identify things that went well today and things we still need to work on to reach our ultimate goal this season!"
Centennial placed fifth on its home course. The Jaguars, who have no players with any varsity experience, posted a 452 total.
"I was pleased at the way we played today," said Centennial coach John Petersen. "We are really focusing on the score that we shot today–it gives us a mark we can use–to improve upon as the year progresses."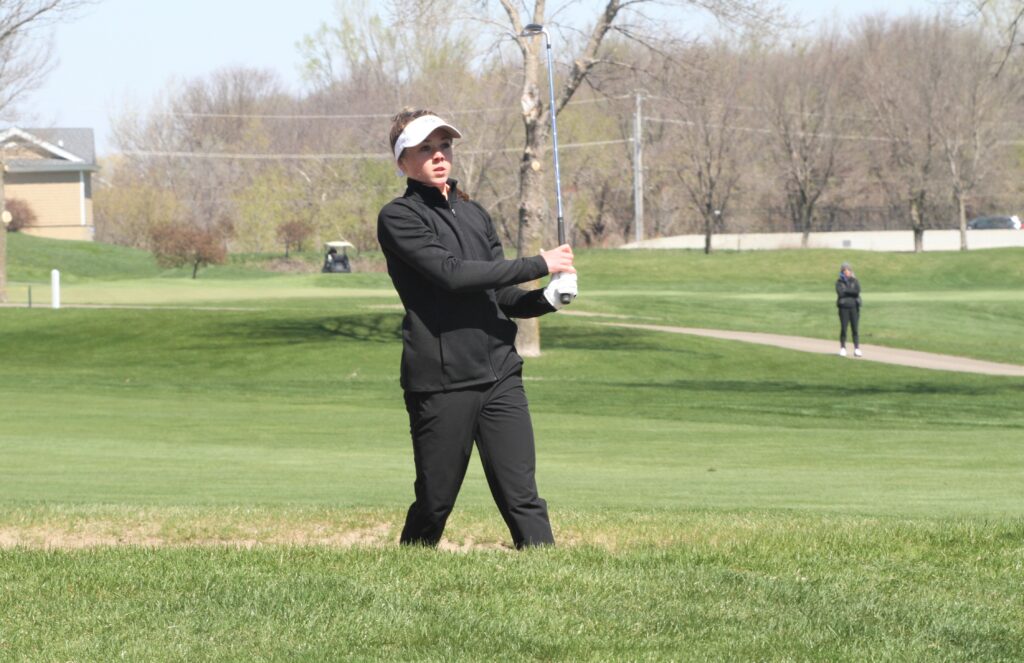 Webb shot a 40 on the back nine to finish two strokes ahead of runner-up Eden Lohrbach of Gilbert. They were the only two golfers to break 90 in the windy conditions.
Two other Hawkettes placed in the top 10. Kelsey Hensen took sixth with a 98, and Naomi SchraderBachar finished 10th with a 104–which included a 47 on the front nine.
Ankeny's Gabby Schnepf fired a 115. Olivia Froehlich had a 117, and Gia Blaser shot a 122.
"I am very proud of all of our girls today!" Hagarty said. "For half of them, this was their first time playing 18 holes in a competition and I thought they handled it very well. In addition, we had three placewinners, which is a great accomplishment!"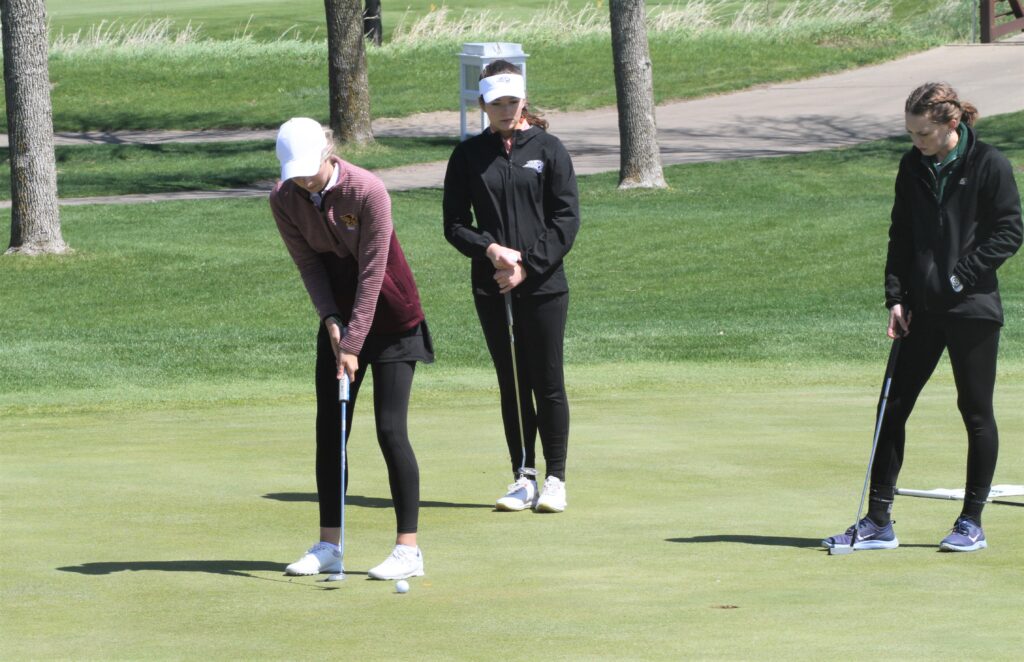 Centennial was led by Payton Drefke. She carded a 106, including a 49 on the back nine, to place 12th as an individual.
Kaitlyn Ault shot a 110 for the Jaguars. Olivia Joensen had a 117, Samantha Lazear fired a 119, Grace Miller had a 120, and Tessa Woerdehoff finished with a 122.
Ankeny will host a dual meet against Marshalltown on Tuesday at Otter Creek. It will be the CIML Iowa Conference opener for both teams.
"I could tell the girls were certainly tired after their rounds, but I'm sure with some rest tonight, we will be ready to go (Tuesday)," Hagarty said.
The Jaguars will host Mason City in their Central Conference opener on Wednesday at Briarwood before traveling to Marshalltown on Thursday.