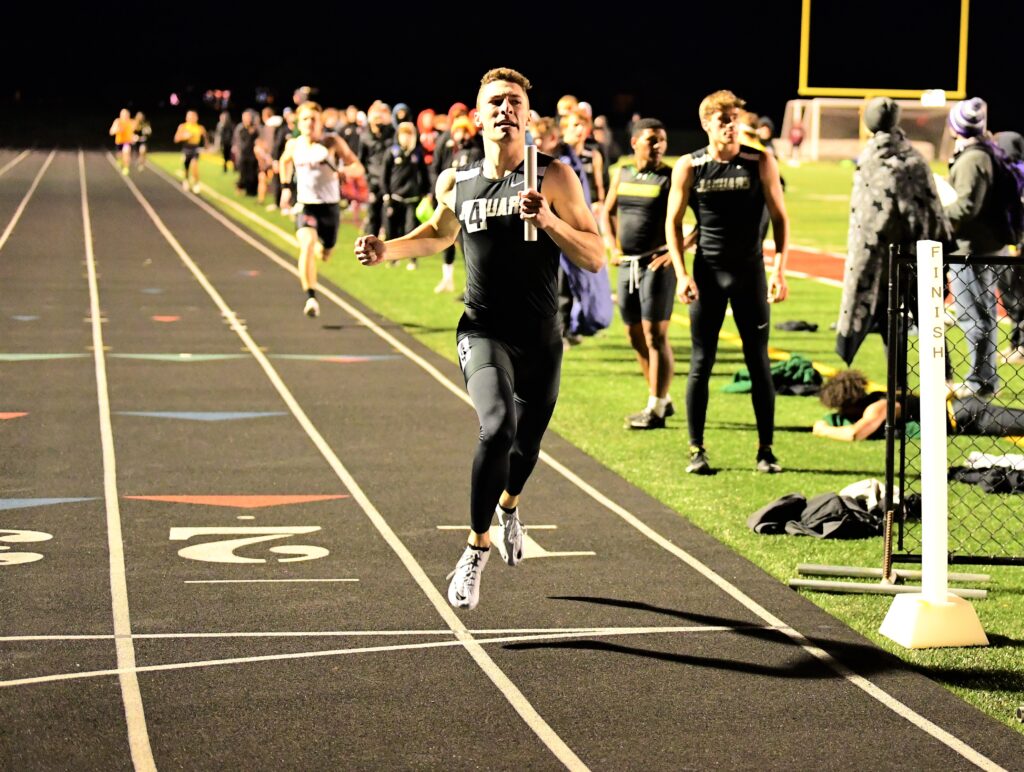 Despite the windy conditions, Tuesday's Fred Smith Hawk Relays produced some outstanding performances.
In the end, the top six teams in the 11-team field were separated by just 24 points. Indianola and Waukee tied for the team title with 85 points apiece.
Ankeny Centennial placed third with 80 points. The Jaguars were followed by North Polk with 68 points, Southeast Polk with 65, and Ankeny with 61.
Centennial scored 54 of its points in the relay events. The Jaguars won three relays and placed second in two others.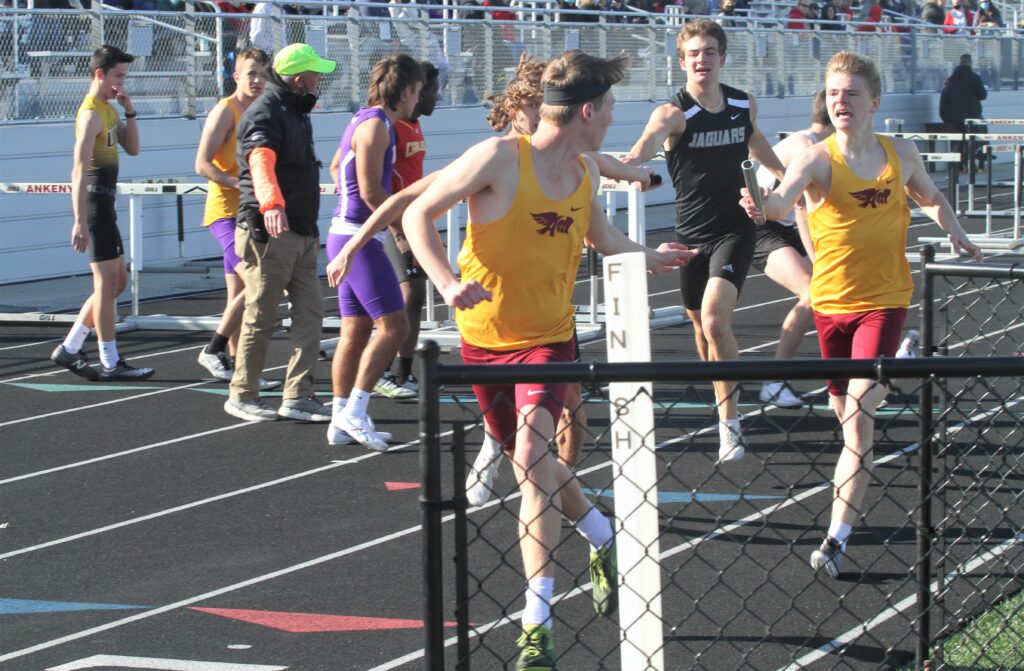 "I'm feeling pretty good about where our team is as a whole, as well as me personally," said Centennial senior Tommy Collins, who ran on two of the winning relays. "We've got some real studs coming out of injury to really shine right in time for Drake and the championship season, and I'm super pumped to see all the guys get out and really compete. I really think that the team environment we've created is a huge driving force in our successes so far, and it definitely pushes me to be my best every day. I love all these guys."
Ankeny had four first-place finishes. Tyrese Miller won the 400 in 49.76 seconds, while Mason Thompson took the 110 hurdles in 15.00.
"Things are starting to come together as a team," said Ankeny coach Nick Nelson. "The kids are running very well, and the times continue to drop. We are ready for some nice weather and a few days off to recover."
Thompson also ran the opening leg on the winning shuttle hurdle relay. He teamed up with Cael Boyd, Carter Accola and Thomas DeBrower to post a time of 1:02.51.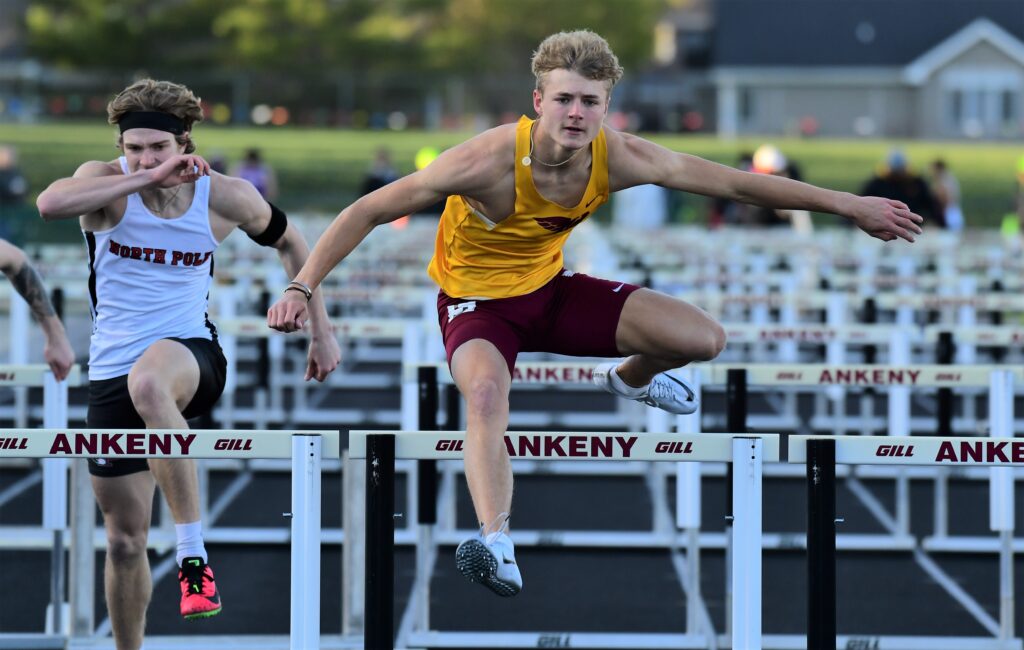 The Hawks also won the Scott Osborn 4×800 relay in a season-best time of 8:24.20. That team consisted of Jake Bosch, Cael Cox, Abel Squires and Levi Hill.
"That race was so much fun," Cox said. "As a distance group, we feel good about where we're at and where we're headed. Everyone is setting personal records left and right. The underclassmen that have competed for us are tough competitors, and it's awesome to watch. This is a result of a more competitive culture (assistant) coach (Jon) Lindaman has helped create within the distance group."
Centennial placed second in the 4×800 relay, which was renamed after Osborn to honor the longtime Ankeny track coach who died earlier this year after a three-year battle with ALS.
The Jaguars edged Waukee to win the distance medley relay in 3:37.39. D'Eric Smith and Austin Jones ran the first two legs, then Tommy Collins put Centennial in the lead with a strong 400-meter third leg, giving Connor Cunningham just enough of a cushion to hold off the Warriors' Nathan Holstrom by .18 seconds.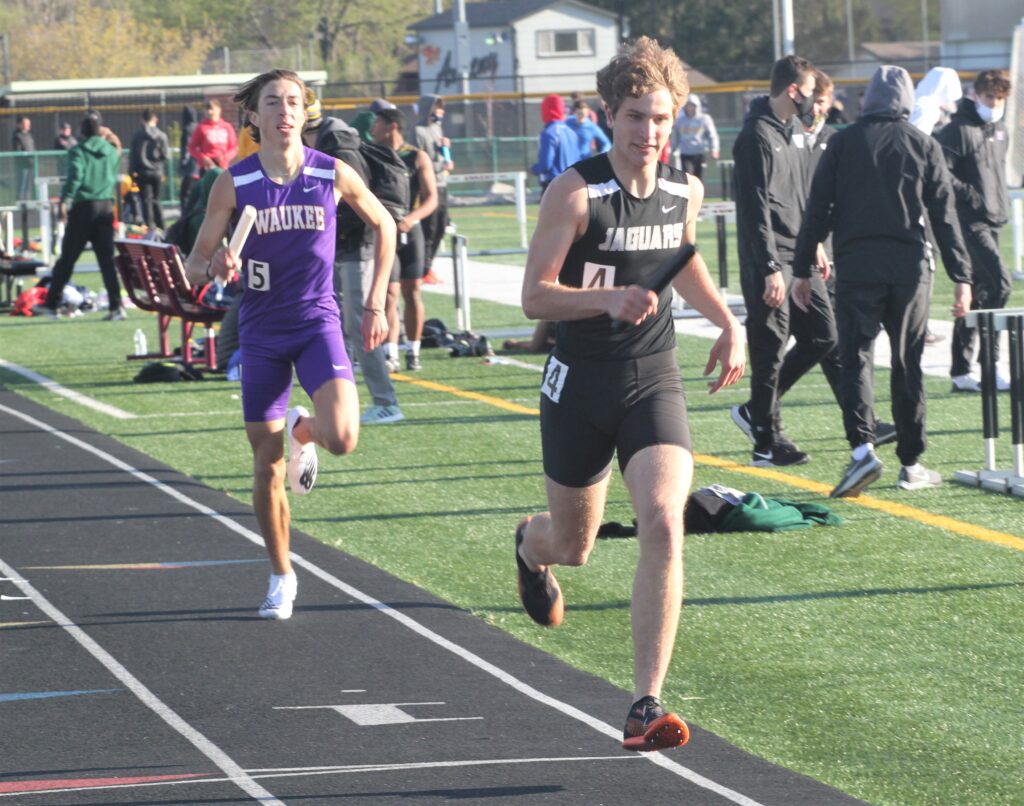 "I was absolutely confident Connor could keep that first-place spot," Collins said. "He's a strong runner who really capped off a talented team with D'Eric and Austin as well, and I think our group dynamic and the support we have for each other absolutely drives our overall team to several of the successes we're having."
Collins later anchored the winning 4×400 relay. He teamed up with Ryan Uhl, Jones and Michael Joensen to turn in a time of 3:27.50.
"Those 4x400s are all super fun, and we've got a whole lot of real dudes who can pump out some huge times," Collins said.
Centennial also won the sprint medley relay in 1:38.99. That team was comprised of Kobe Naber, Tyler Johnson, Uhl and Trey Hansen.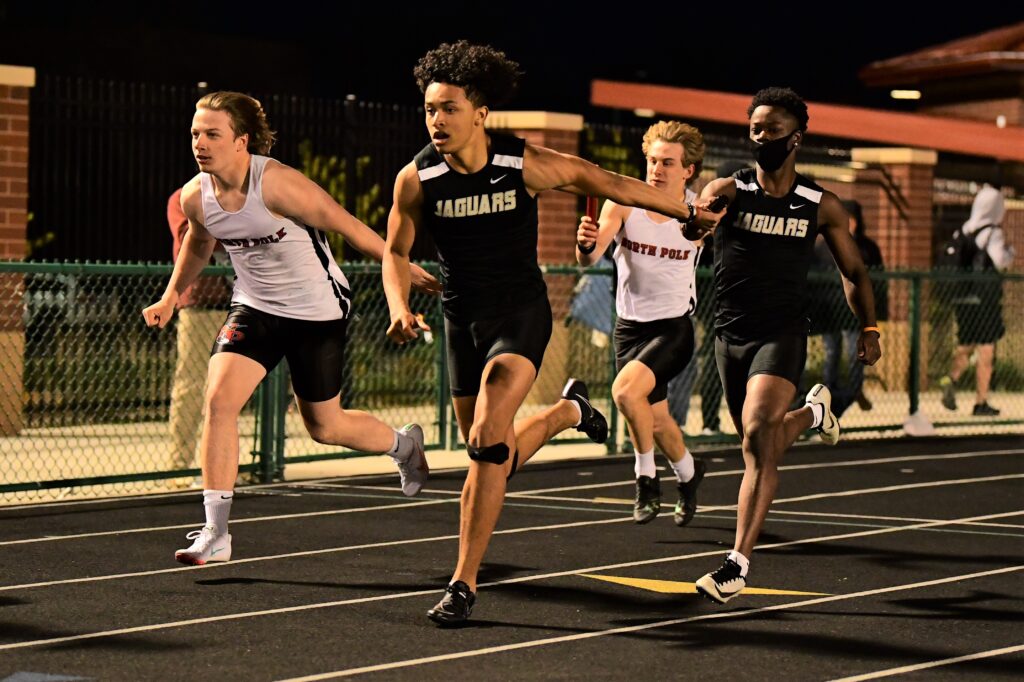 The Jaguars took second in the 4×100 relay in 44.46, finishing just .18 seconds behind Indianola. Naber also ran on that squad, teaming up with Smith, Dominic Berry and Nathan Wilde.
Centennial also got a runner-up finish from Jack Davis in the high jump. He cleared the bar at 6 feet.
Ankeny's Justice Miller placed second in the shot put with a throw of 47 feet 10.5 inches. He took third in the discus with a toss of 154-0.
The Jaguars got fourth-place finishes from Alec Schneider in the 200 (23.34), Joensen in the 400 (52.35), Tyler Schermerhorn in the 3,200 (10:25.23) and Blake DePhillips in the 400 hurdles (1:00.03).