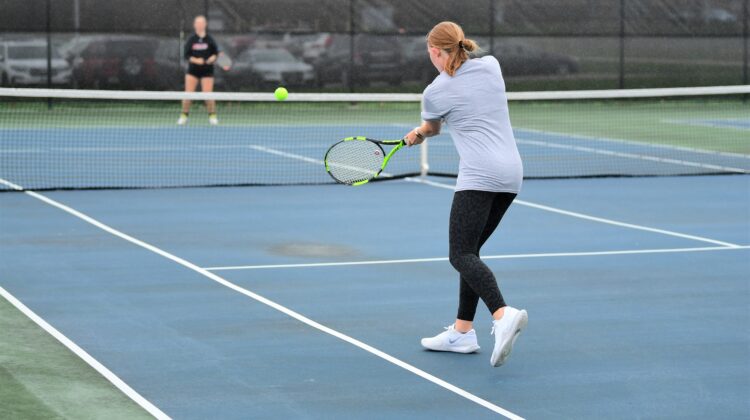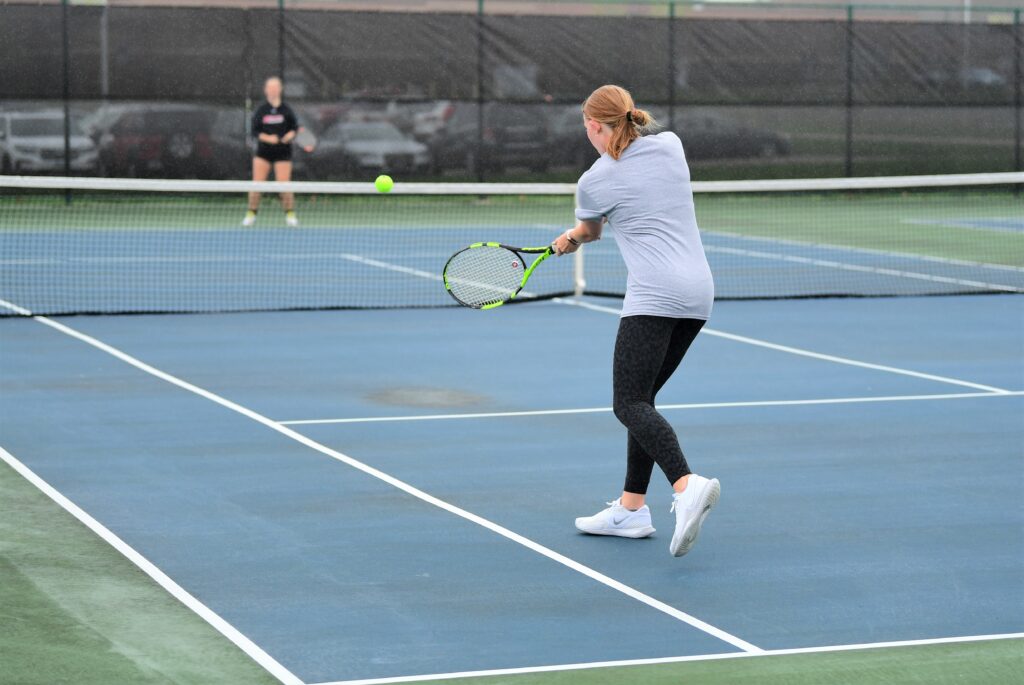 The Ankeny girls' tennis team may have spent more time on the bus Thursday than it did on the courts.
The Hawkettes traveled to Fort Dodge for their CIML Iowa Conference opener, and they came away with a dominant 11-0 victory. They won all 11 matches in straight sets, losing a combined total of just 29 games on the day.
"Our depth really was evident in this meet with our No. 3 through No. 10 players really dominating their matches," said Ankeny coach Steve Smith. "None of that group lost more than two games in any set across singles and doubles."
The win improved Ankeny's overall record to 2-1. The Dodgers dropped to 0-3.
The Hawkettes bounced back from an 11-0 loss to Waukee on Tuesday.
"It was nice to flip that result," Smith said.
Rachel Rolow and Sydney Otto each posted a 6-0, 6-0 win in singles. Otto then teamed up with Sophie Laib for a 6-1, 6-1 victory at No. 4 doubles.
"Sydney really stood out to me," Smith said. "She has really come on strong the last two meets, and she's got more pop on her shot now. Coach Grindberg and I can see her confidence building each match."
Ankeny now faces a grueling stretch with dual meets against three ranked opponents–No. 2 Dowling Catholic, No. 5 Ankeny Centennial and No. 4 Valley.
"It's a murderer's row," Smith said. "We know it'll be tough competition the next three meets, but we look forward to those challenges. In fact, when our Hoover meet was cancelled due to their team consolidating with East, we could have looked for a much easier opponent. I intentionally scheduled Valley to give our players the opportunity to play them.
"That's how I view these next three meets–three opportunities for our players to make some noise in the Iowa tennis community. Maybe we'll lose all 33 matches, and maybe we'll seize some of those opportunities. Regardless, I want them to continue changing the culture and reputation of this Ankeny girls' tennis program by competing with everything they have," he added.
Here are the match-by-match results from Thursday:
Ankeny 11, Fort Dodge 0
Singles–Sommerfeld beat White, 6-3, 6-4; A. Johnson beat Bell, 6-3, 6-2; Schmitz beat Black, 6-0, 6-1; Rolow beat Marxen, 6-0, 6-0; Brumm beat Balkenende, 6-1, 6-0; Otto beat Hamlow, 6-0, 6-0.
Doubles–Sommerfeld-A. Johnson beat White-Bell, 6-3, 6-4; Schmitz-Rolow beat Black-Marxen, 6-0, 6-1; Byrnes-O. Johnson beat Balkenende-Hamlow, 6-2, 6-0; Otto-Laib beat Gebers-McDonald, 6-1, 6-1; T. Johnson-Osburn beat Bhatt-Folsom, 6-2, 6-1.