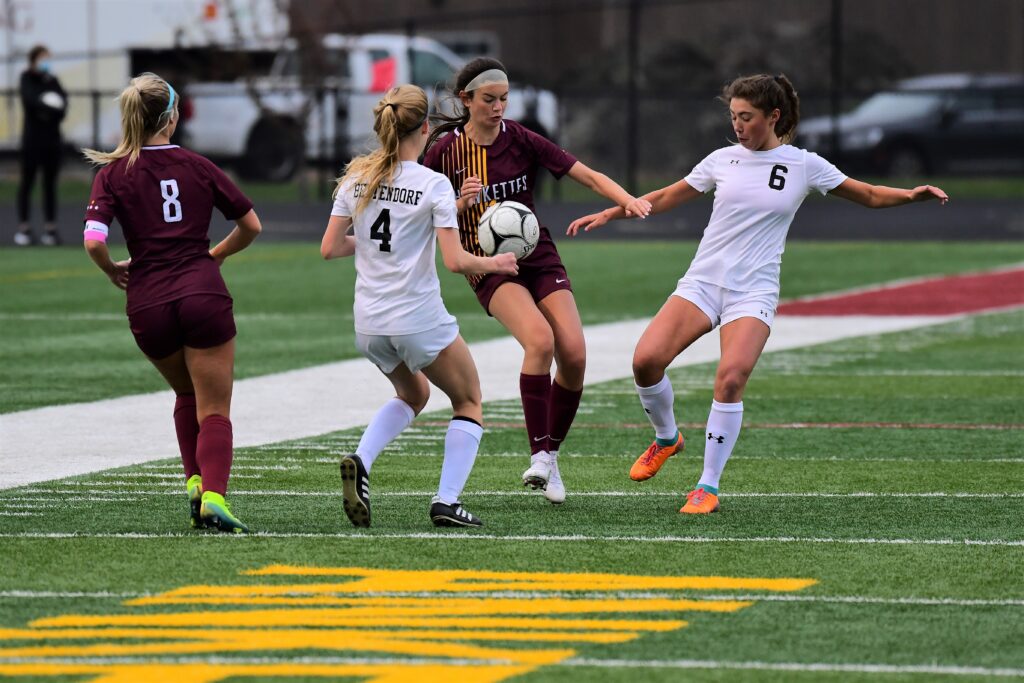 The Ankeny girls' soccer team couldn't find a way to score a goal during Thursday's game at Dowling Catholic.
The Hawkettes are not alone.
The Maroons got a goal from Julia Moore midway through the second half and posted a 1-0 victory for their fourth consecutive shutout. They have outscored their opponents by a 14-0 margin this season.
"We probably had more of the possession and the chances in the first half," said Ankeny coach Simon Brown. "And then the tide kind of changed in the second half. It was only going to be a one-goal game. It was really close–back and forth. They just took their chance that they had."
Moore scored off a cross to hand Ankeny (2-1) its first loss. Goalkeeper Jasmine Moser had seven saves for the Hawkettes, but it wasn't enough.
Moser's counterpart, CeCe Villa, recorded six saves to keep a clean sheet for the Maroons (4-0).
"She is probably one of the best around," Brown said of Villa. "Their defense is very good, and we just never scored that one goal to get them to come out of their shell."
Four of Ankeny's starters ran in a track meet at Urbandale before making the 3.2-mile trip to Dowling for the soccer game. Defender Lauren McMahon was one of them.
"I believe the skill level was pretty similar," McMahon said. "They have a solid midfield and were able to get the ball to a couple specific players which were then able to attack our back line with speed. We definitely were able to hold them for most of the game, but they had a good cross from the outside which they scored off of. We did well quickly pressuring and going into a tackle with confidence, but a couple times they were very strong when going for a ball in the air while we held back."
McMahon raced to a victory in the 3,000-meter run before heading to Dowling.
"Lauren obviously maxed out with a PR on the track, and then she came here and played 80 minutes in a high-intensity game," Brown said. "We have to try to limit her minutes because we don't want her to get injured."
Brown refused to blame the difficulty of playing two sports on the same night for his team's loss.
"That's not an excuse," he said. "It's just a matter of fact when you have so many multi-sport athletes."
The Hawkettes will play Pleasant Valley in the Bettendorf Invitational on Saturday. The Spartans are off to a 5-0 start that includes a 3-2 win at Ankeny Centennial last weekend.
"It's a quick turnaround, and I think everyone's counting Pleasant Valley as the No. 1 team (in the state) right now," Brown said. "It's a perfect time for us after a loss to play the best team."