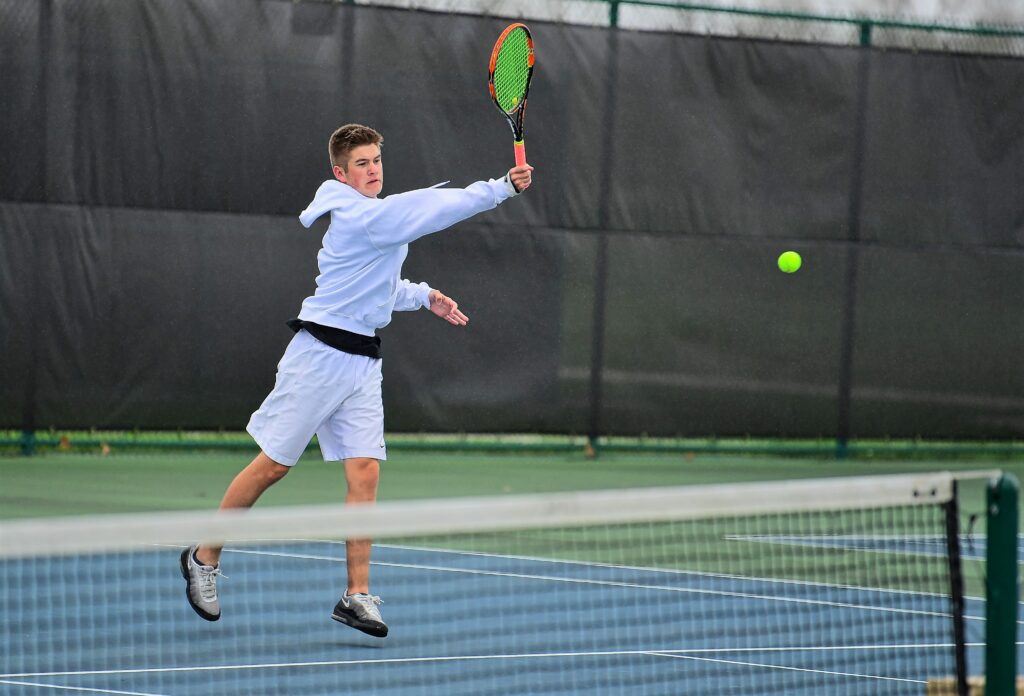 A long road trip to Bettendorf ended the same way it began for the Ankeny Centennial boys' tennis team–with a .500 record.
The Jaguars entered Saturday with a 2-2 record, and they returned home with a 3-3 mark. After dropping a 6-3 decision to Cedar Falls, Centennial bounced back with a 9-0 victory over Bettendorf.
"It was a great day of team building and while it didn't turn out the way we had hoped, I think it helped us take one step closer to being the team we know we can become!" said Centennial coach Tami Lewton.
Cedar Falls (4-0) won a spirited battle to remain unbeaten. The Tigers captured four of the six singles matches, then took two of the three doubles matches to seal the win.
"We ran into a very hostile crowd from Cedar Falls. The atmosphere was very similar to a college match and like nothing our players have ever seen," Lewton said. "Unfortunately, I think it very much affected some of our players. We had our chances but could not pull out the wins at No. 4 singles and No. 2 doubles. I was very pleased with the chemistry and play at No. 1 doubles with Will (Blevins) and Wesley (Clark), and of course Will and Caleb (Peterson) were rock solid in their singles matches."
The Jaguars then swept all nine matches against Bettendorf in straight sets. The Bulldogs dropped to 3-2 on the season.
"It was a great match to get our confidence back," Lewton said. "Logan Keenan had his first start at No. 3 doubles with Kiran Bhat. They played a very strong first set, and then won a tiebreaker in the second set to win the match."
Here are the match-by-match results:
Cedar Falls 6, Centennial 3
Singles–Blevins (AC) beat Shah, 6-2, 6-1; Peterson (AC) beat Chandra, 6-0, 6-0; Sampat beat Mackaman, 6-0, 6-2; Kota beat Clark, 6-3, 6-2; Anugu beat Ceplecha, 6-0, 6-0; Venem beat Keenan, 6-3, 6-0.
Doubles–Blevins-Clark (AC) beat Sampat-Kota, 6-3, 6-2; Shah-Chandra beat Peterson-Mackaman, 6-4, 6-3; Anugu-Venem beat Ceplecha-Bhat, 6-0, 6-2.
Centennial 9, Bettendorf 0
Singles–Blevins beat Matera, 6-0, 6-0; Peterson beat Reilly, 6-0, 6-0; Mackaman beat Carkner, 6-0, 6-1; Clark beat Brooks, 6-1, 7-5; Ceplecha beat Hancock, 6-1, 6-1; Keenan beat Swanson, 6-1, 6-1.
Doubles–Blevins-Mackaman beat Matera-Reilly, 6-0, 6-0; Peterson-Clark beat Carkner-Hancock, 6-0, 6-0; Keenan-Bhat beat Brooks-Swanson, 6-1, 7-6.