The cold and windy weather on Wednesday was more conducive for football than golf.
But that didn't stop the Ankeny and Ankeny Centennial girls' golf teams from showing some progress in their dual meet at Briarwood Golf Club.
The visiting Hawkettes posted a 187-211 victory to defeat Centennial for the second straight time. They also won the 2019 matchup after losing all five of the previous meetings.
"It was certainly not an ideal day to play some golf, but all of the girls from both schools persevered and played with a smile on their face," said Ankeny coach Seth Hagarty. "We shot a 187 as a team, and that is definitely our best nine holes on the season."
The win evened Ankeny's record at 1-1 in the CIML Iowa Conference. The Jaguars dropped to 1-2.
Centennial had shot a 241 in a loss at Marshalltown on Thursday.
"It was good to see our girls rebound from our outing in Marshalltown, shaving 30 strokes off our score," said Centennial coach John Petersen. "We know we need to keep improving, but this was definitely a positive move."
Ankeny's Jaci Webb carded a 2-over-par 38 on the back nine to earn medalist honors. She finished seven strokes ahead of runner-up Payton Drefke of Centennial, who finished with a 45.
"I was very happy with my round!" Webb said. "I feel like I'm playing pretty confident right now so that was a big thing for me."
Webb opened her round with a bogey on the par-4, No. 10 hole. She then reeled off seven consecutive pars before finishing with a bogey on the par-4 18th.
"Jaci bounced back after nearly driving the green on her opening hole, but then ended up with a bogey after trying to figure out the greens," Hagarty said. "She quickly did just that."
Kelsey Hensen shot a 48 for the Hawkettes. She overcame a quadruple bogey on the par-4, No. 11 hole.
"Kelsey had a fantastic round despite a rocky start," Hagarty said. "She bounced back quickly and was able to put together a solid round, which really helped us with the team score."
Ankeny's Naomi SchraderBachar fired a 50. Gia Blaser carded a 51, Olivia Froehlich had a 55, and Gabby Schnepf added a 57.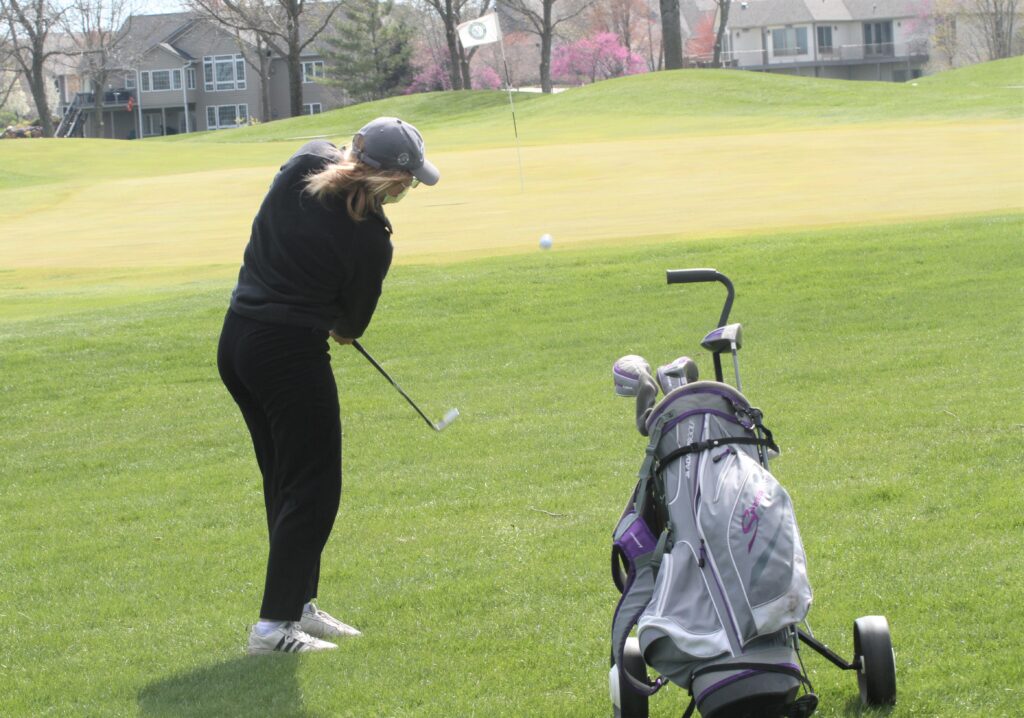 Kaitlyn Ault shot a 54 for the Jaguars. Olivia Joensen had a 55, Grace Miller carded a 57, Samantha Lazear shot a 58, and Delaney Miller finished with a 63.
Both teams will be back in action on Thursday, when the Hawkettes host the Toni Dickey Invitational at Otter Creek Golf Course. The meet begins at 9 a.m.
"We have had a couple of days off this week due to cold and windy conditions, and I think that's exactly what we needed going into this stretch," Hagarty said. "We play again (Thursday) and then again on Friday at Valley and Monday at Ames! And then we end the stretch with a trip to Fort Dodge on Tuesday for a dual.
"We have lots of opportunities to improve in the next couple of days!" he added.