Ankeny Centennial's Tommy Collins screamed with joy as he crossed the finish line in the boys' 4×400 relay at the Drake Relays on Thursday.
Collins ran the final 400 meters in 48.69 seconds, surging ahead of Valley's Matthew Mahoney and allowing the Jaguars to place second in the event with a time of 3:22.54.
"We're definitely super happy about the finish here in the 4×400 and about how the team did overall, but we know we've got some work to do," said Collins.
Trey Porter, Austin Jones and Michael Joensen ran the first three legs for Centennial. The Jaguars finished nearly 6 seconds behind Cedar Falls, which broke the Relays record with a time of 3:16.67.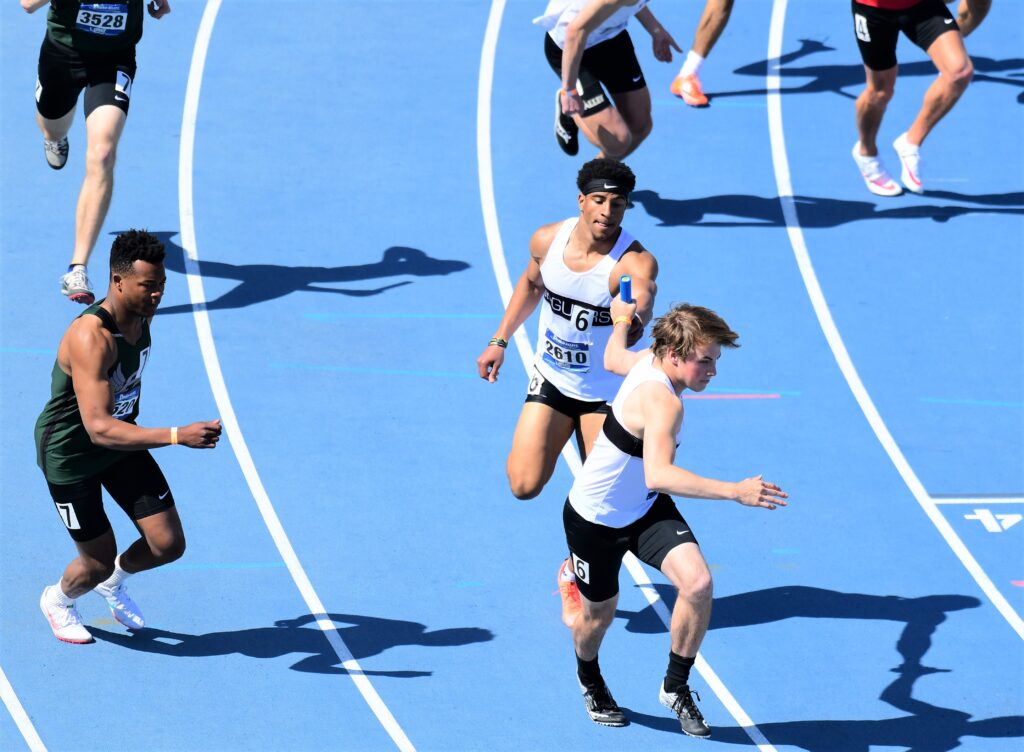 The winning foursome consisted of Alex Mujica, TJ Tomlyanovich, Joel Burris and Will Eastman.
"I absolutely knew Cedar Falls was out for that record. Anybody who knows anything about track knew it, too," Collins said. "But although we might not have guys who can run 47 out by themselves, we've got a bunch of hard-working sons of guns who are really about to turn it on coming into the championship season."
Collins and Jones also ran on Centennial's 12th-place 4×400 team at the 2019 Drake Relays. Last year's meet was cancelled due to the COVID-19 pandemic.
Porter and Joensen have now emerged to fill out the squad.
"Trey's really a legit speed guy and we're super excited to have him back in the lineup, and Austin's a guy I've ran in the 4×400 at Drake with before, and you know he's really out there to put his body on the line–quite literally after his fall following his exchange," Collins said. "And Mike is seriously a competitor. You know, he's out there every day to run his best and beat the people that we should be beating, and even some that people think we shouldn't."
Collins earlier placed fourth in the 400 in 49.28. Cedar Falls' Tomlyanovich won the race in 48.11, edging Ankeny's Tyrese Miller by .33 seconds.
"Honestly, I really wasn't happy with my open 400 and felt like I could've ran much faster," Collins said. "It was pretty frustrating, but I need to keep in mind that it's just Drake and not the state meet. I think in the future I'll definitely break 49 in that open."
Centennial earned medals in three other events, including the 4×200 and 4×100 relays. The Jaguars placed sixth in each of those events.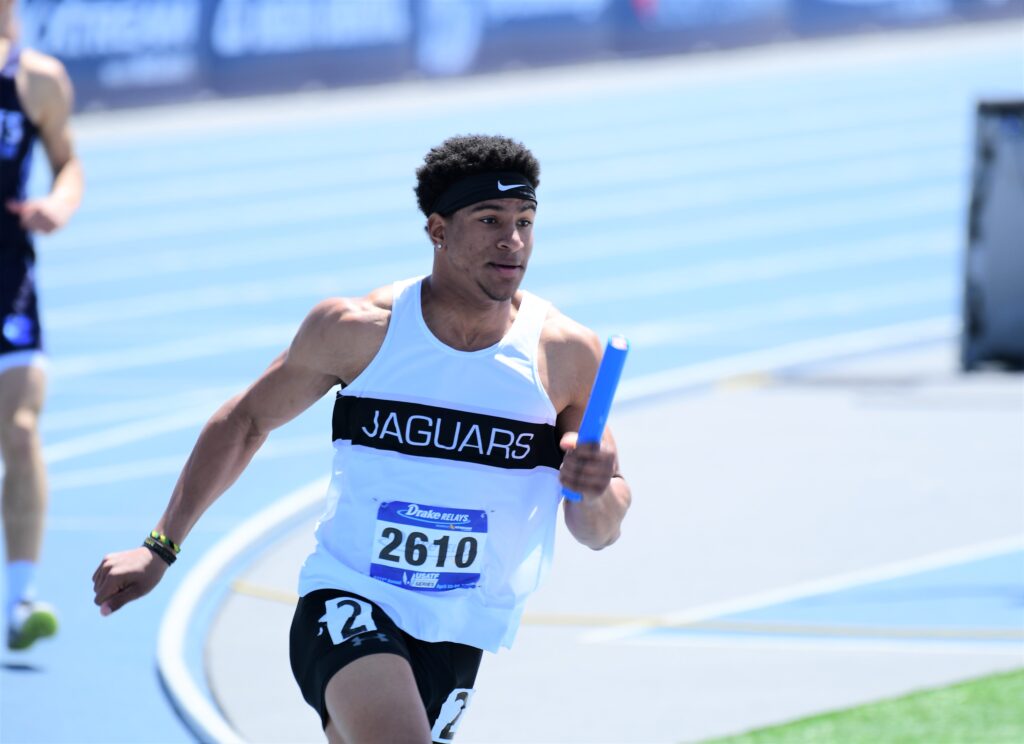 Porter and Jones teamed up with D'Eric Smith and Thomas Bunce to post a time of 1:30.33 in the 4×200. Southeast Polk won the race in 1:28.36, one of the Rams' three victories on the day.
In the 4×100, Centennial posted a time of 43.34 seconds. That team consisted of Smith, Dominic Berry, Tyler Johnson and Nathan Wilde.
The Jaguars also got a sixth-place finish from Berry in the 110 hurdles. He was clocked in 15.16 seconds.
Drew Bartels of Cedar Rapids Kennedy won the race in 14.40. Johnson also competed in the event, placing 23rd in 15.90.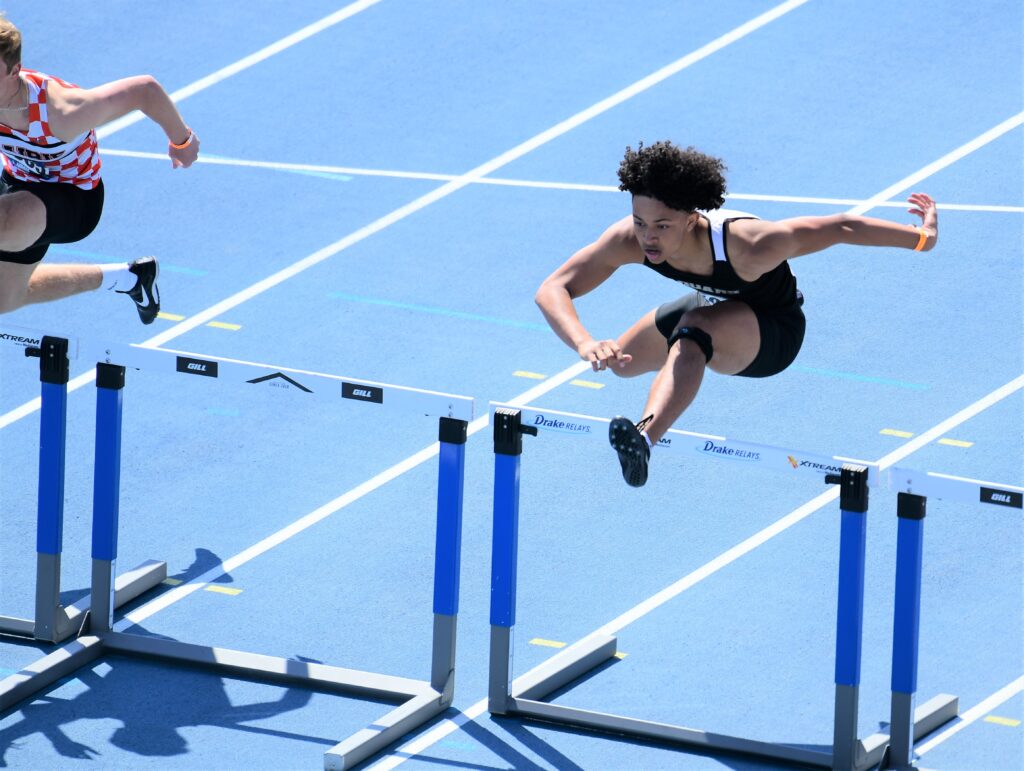 Johnson and Berry were part of the shuttle hurdle relay that also included Kobe Naber and Jack Davis. The Jaguars had some high hopes for that event, but they were disqualified after crossing the finish line in 1:04.40.
Smith added a 13th-place finish in the 100. He posted a time of 11.22 seconds.
Centennial earned a 10th-place finish in the 4×800 relay. The foursome of Connor Cunningham, Joensen, Nate Jones and Ryan Bybee was clocked in 8:11.50.
The Jaguars also placed 18th in the distance medley relay. The team of Alec Schneider, Keegan Smith, Ryan Uhl and Karsen Peters posted a time of 3:43.64.