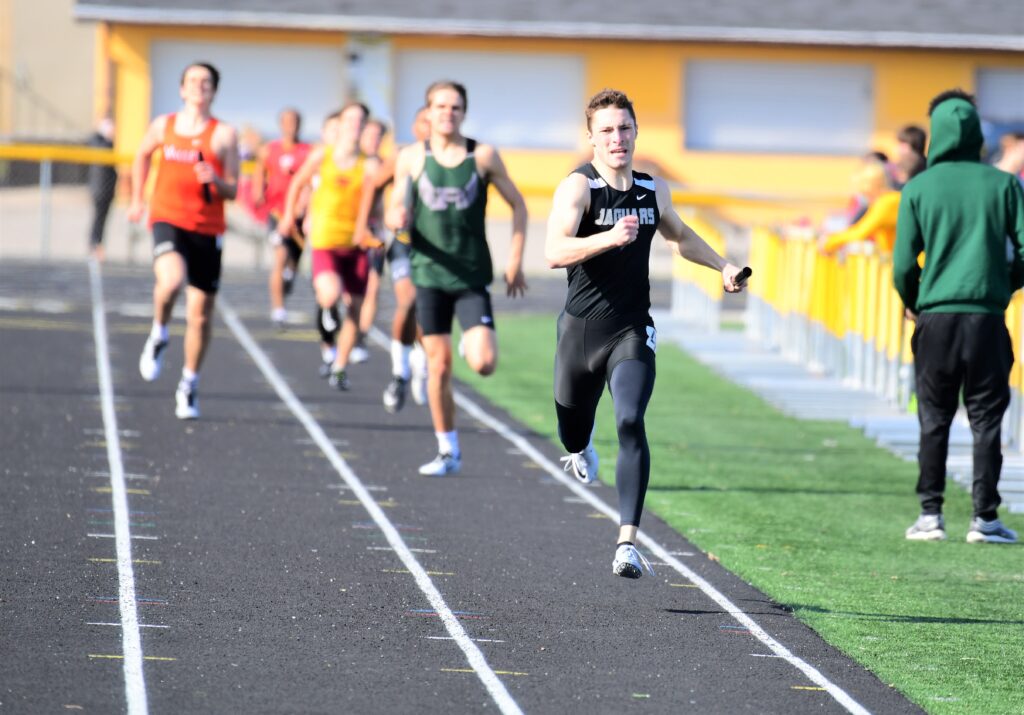 Ankeny Centennial senior Tommy Collins earned a pair of medals in the Drake Relays on Thursday at Drake Stadium.
Collins placed fourth in the 400 in a time of 49.28 seconds. He later anchored the Jaguars to a runner-up finish in the 4×400 relay, running the final leg in 48.69.
Here is some inside info on Collins:
You told me on Thursday that you weren't happy with your time in the open 400. Where do you think you could have improved your race?
I wasn't happy with my 400 time but like I said before, it's not the state meet and I know I can go faster than that come championship season. I'd much rather have a race like that now than in May. I'd say the weakest part of my race is the first 50 meters or so when everybody gets out flying, and I stay a little too relaxed.
Both you and Ankeny's Tyrese Miller are having outstanding seasons, and he placed second in that 400 in a time of 48.44. Did you know before the season started how good he was going to be?
I know for sure Tyrese got out faster than me and it really gave him that edge over me, and you know it's always frustrating to see the crosstown rival finish before you. But we got to talk a little before the race, and I think he was more ready than I was. He's a legit guy who I'm excited to see do some crazy things at state.
Cedar Falls' TJ Tomlyanovich won the race in 48.11 and has probably established himself as the favorite to win the state title next month. What will it take for someone to beat him?
It's going to take a whole lot of blood, sweat and tears to beat Tomlyanovich. I think some people are going to go out and try all sorts of crazy training techniques and what not, but at the end of the day the guy's fast and you know, the only way to run fast is to run fast. It just comes down to who's willing to put in that elbow grease.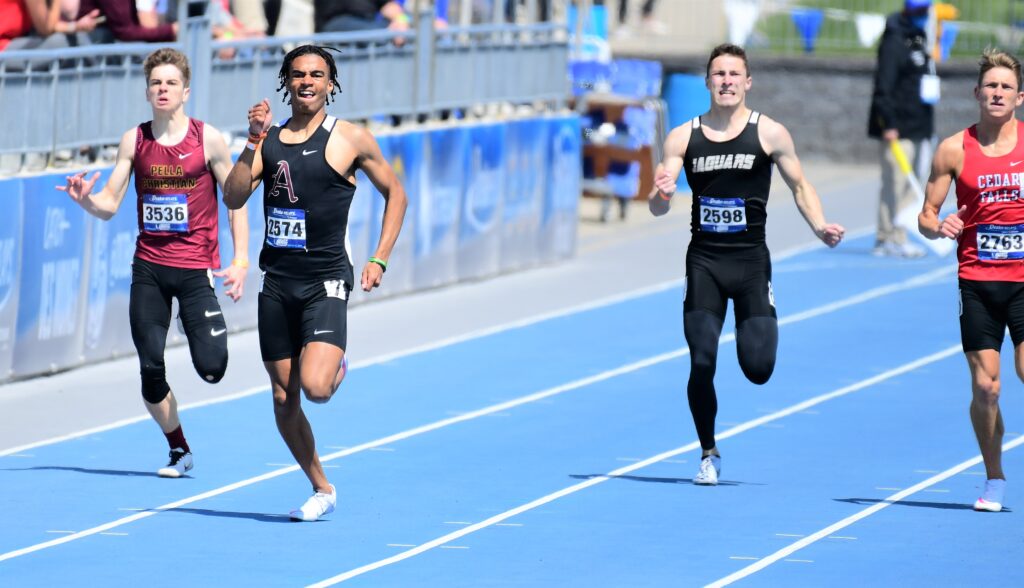 You had a great anchor leg in the 4×400 relay, passing Valley's Matthew Mahoney to give your team a silver medal. Were you confident that you were going to catch him the whole time?
Man, that Valley 4×4 is packed with some real dudes and they like to run fast. I got that baton quite a bit behind their anchor and I knew what I had to do. It was just like that 4×4 at Valley High School a couple weeks back, so I definitely had my work cut out for me. We all have lots of fun with it and (Valley's) Mason DouBrava asked me after the race if it's my job to chase down their guys so you know, we have a good time with it and they're some real dudes. I've got a lot of respect for those guys.
Your team finished nearly 6 seconds behind Cedar Falls, which broke the Relays record in the event. You told me on Thursday that you weren't surprised that Cedar Falls set the record, so did you feel like going into the race that the battle would be for second place?
Yeah, we all kind of knew those Cedar Falls guys were going to cream the field, but we'd absolutely LOVE to run them down (at the state meet).
That is a pretty big gap to overcome. If the Tigers run a clean race, do you think they're beatable?
I think we can easily take at least 4 seconds off of our time as a team, as the guys keep laying it all out there every day at practice and in the upcoming few meets. Austin (Jones), Trey (Porter) and Mike (Joensen) are all super hungry dudes and running with them is so exciting, and we all really push each other to get better. I don't think it's likely for anyone to beat Cedar Falls, but anything can happen. It's been shown time and time again that the state meet really brings the animal out of some guys.
You've shown that you can run everything from 200 to 800 meters. Do you feel like the 400 is your best distance, though?
I'd say 400 is my best distance, but it'd be pretty fun to get an open 200 in before the end of the year.
There are several different events that you could potentially run at the state meet. I'm assuming you'll be in the 400 and the 4×4. What other events, if you had to guess right now, do you think you'll be in?
I'm not 100 percent sure what exactly I'll be running at the state meet, but after some brief talks with coach Smith, I think I'll be anchoring the sprint medley and 4×4, along with running the open 400 and the 4×2. But again, anything can happen and whatever I'm in I'm just super stoked to get to run with these guys.
What is the team's overall goal for the state meet? Do you think you can be a top-10 team?
I think we can absolutely be a top-10 team. We've got a lot of diverse talent on the team but one thing that keeps us as a unit is we all are super excited to run and to be a part of something bigger than ourselves. I think it's pretty easy to see that in the atmosphere we've created as a team so we can all come to practice and enjoy ourselves, but also get down and dirty and ready to run fast.
Plans for next year? Are you going to run track somewhere?
The plan right now is to attend Iowa State and major in Advertising. I haven't had any talks with them about collegiate running so I may actually be done for good after this year, unless something changes unexpectedly. I'll be living at home with my family of nine, so if any colleges are looking they'll know where to find me. On a side note, I'd also love to add "Love you Mom" in there, just so she can be appreciated a little after all she does for me.