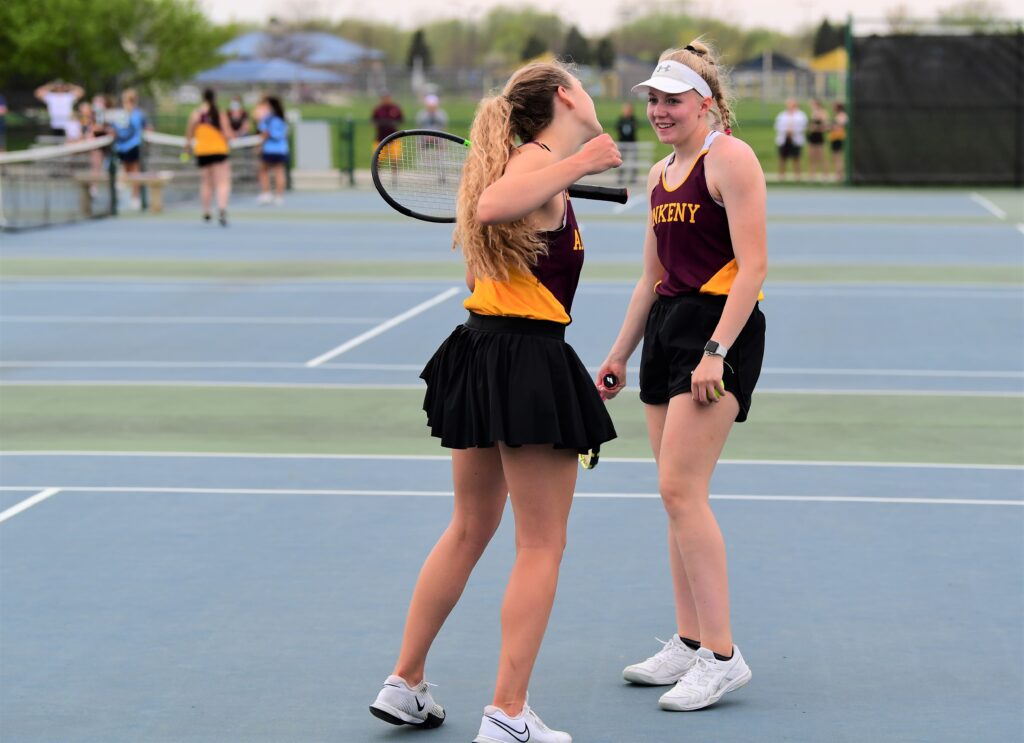 The Ankeny girls' tennis team got a much-needed victory on Tuesday.
And it came in thrilling fashion.
After losing four of their previous five meets, the Hawkettes edged visiting Des Moines Roosevelt, 6-5, in a non-conference matchup.
The meet came down to the final match at No. 1 doubles, where the Ankeny duo of Megan Sommerfeld and Abby Johnson posted a 7-6, 6-1 victory over Megan Pack and Anna Bright.
"Everyone was watching, and the teams were cheering loudly," said Ankeny coach Steve Smith. "It got done about 8 p.m., and the sun was going down. I've joked with (those two girls) several times that they are either my tennis turtles or just trying to get their money's worth as they have been the last match several times now.
"It was great to see a close match finally go our way, and it was even sweeter that it clinched the meet for the team. That match hopefully turned the tide for our team," he added.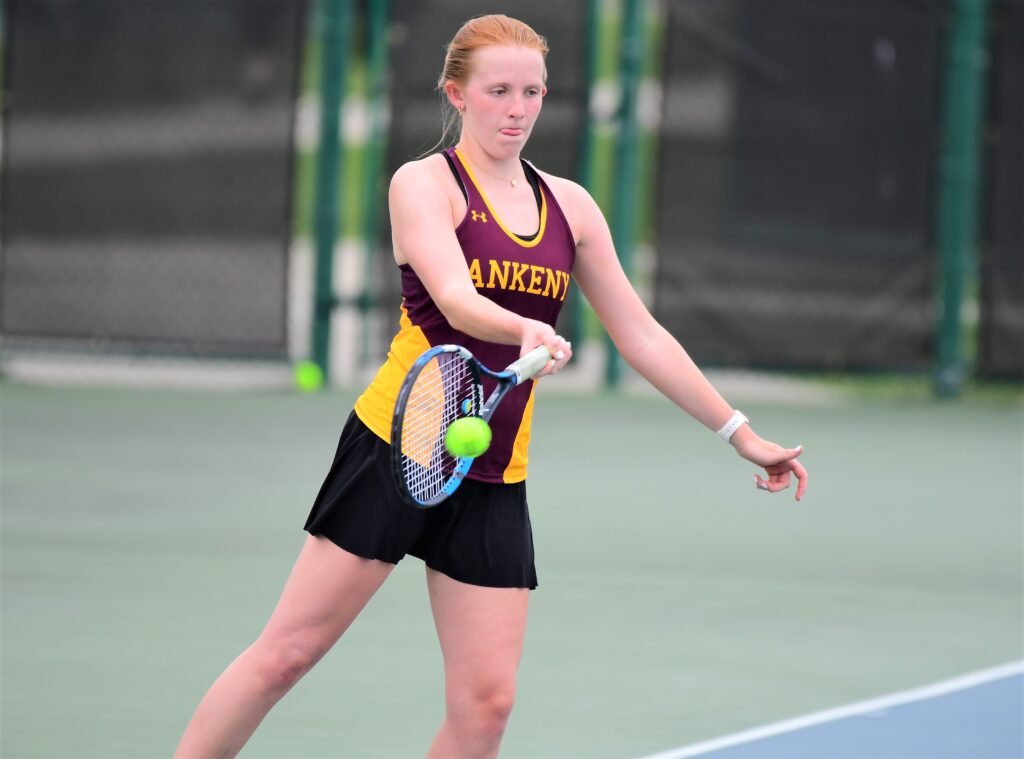 The win improved Ankeny's record to 3-4. The Roughriders dropped to 1-3.
The meet was tied at 3-3 after the two teams split the six singles matches. Roosevelt won two of those matches in three sets.
"We've been losing all the close matches, and that was the trend again–at least until the first set tiebreaker in the last match," Smith said. "Indeed, we lost all five tiebreakers prior to the last match."
Smith said his team is still learning how to win the close matches.
"I experienced the same phenomenon my first year as boys' coach," he said. "We didn't have much match-play experience then, and we had to learn how to win the pressure points. With very few players having any match-play experience going into this season, we're in a similar learning mode right now.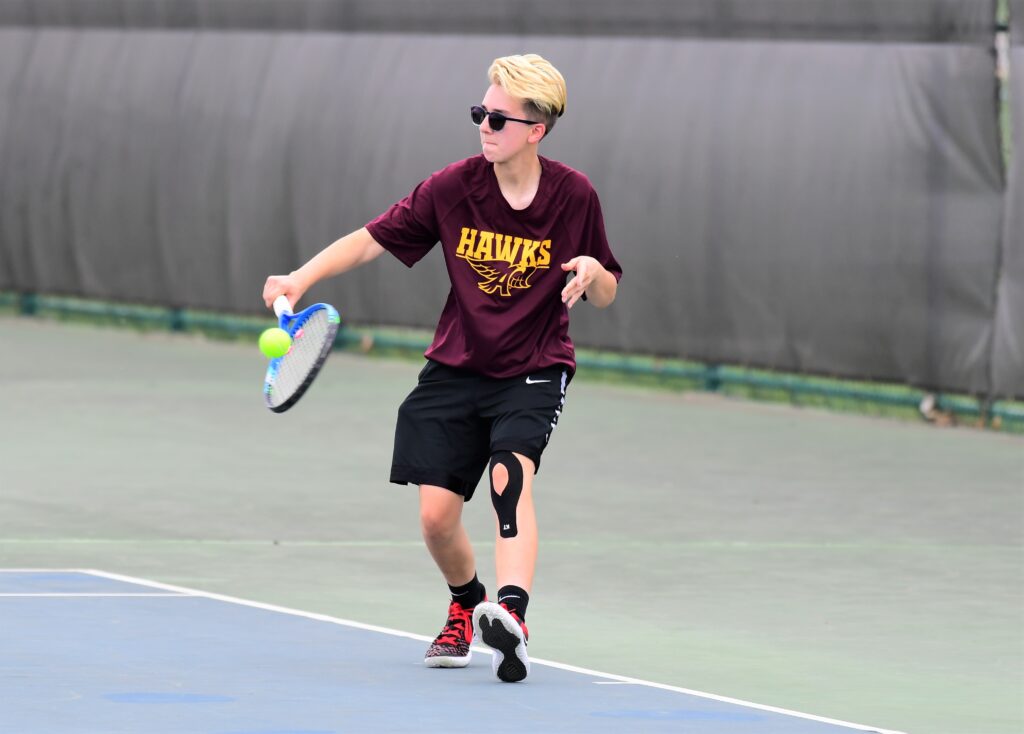 "We've got some very talented players on this team, but we're all learning. The players are learning on the job, and we–as a coaching staff–are learning what works with each individual player and doubles team to get them over the hump in the close matches," he added.
The Hawkettes got victories in singles from Johnson, Anna Schmitz and Rachel Rolow. Schmitz then teamed up with Sydney Otto for another win at No. 2 doubles, while the No. 5 doubles team of Tori Johnson and Lauren Osburn also prevailed.
"Anna came up big with two wins, including a strong performance in singles," Smith said. "Rachel had a solid performance in singles, too, and she and Emily Byrnes lost a tight match in doubles."
The Hawkettes finally won a close match, however, when it counted the most.
"Abby is really starting to play her best tennis now, and she's played really well the last two meets," Smith said. "That resulted in both a dominating singles win and the clutch doubles win. She's added so much to her game recently, which is great to see heading into the postseason."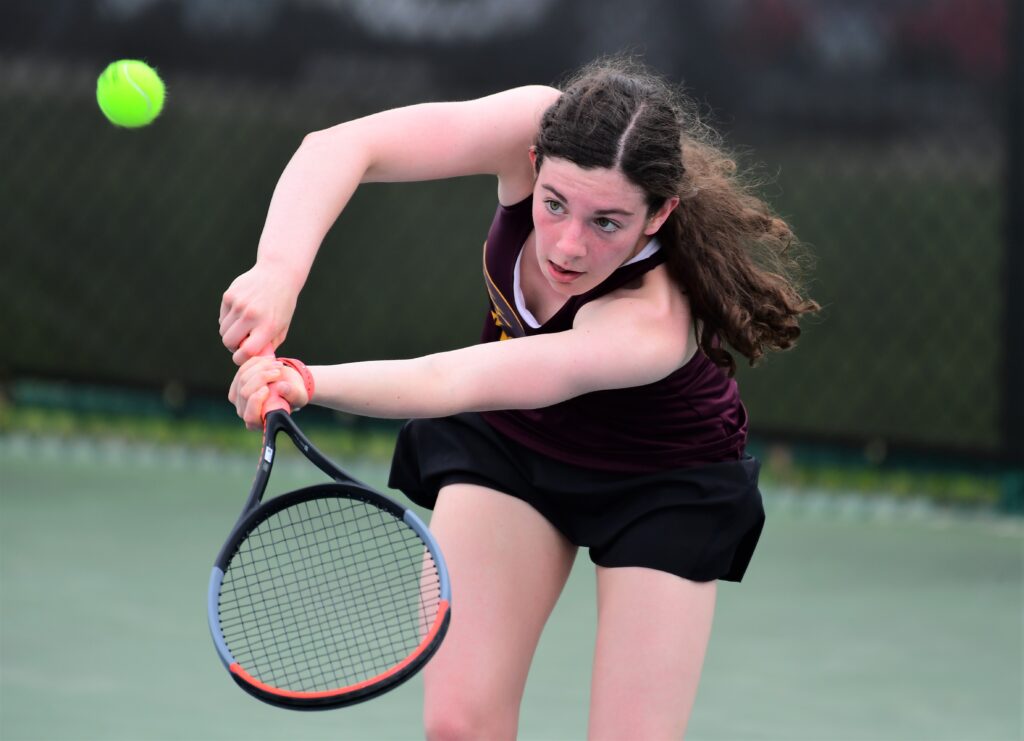 Ankeny will travel to Marshalltown on Thursday for a CIML Iowa Conference dual meet against the Bobcats.
Here are the match-by-match results:
Ankeny 6, D.M. Roosevelt 5
Singles–Pack (R) beat Sommerfeld, 7-6, 5-7, 1-0; A. Johnson (A) beat M. Palmer, 6-1, 6-0; Schmitz (A) beat A. Bright, 6-1, 6-2; Rolow (A) beat C. Bright, 6-0, 6-4; I. McFetridge (R) beat Otto, 4-6, 6-4, 1-0; Pennington (R) beat Brumm, 6-4, 6-3.
Doubles–Sommerfeld-A. Johnson (A) beat Pack-A. Bright, 7-6, 6-1; Schmitz-Otto (A) beat C. Bright-M. McFetridge, 7-5, 6-3; I. McFetridge-Pennington (R) beat Rolow-Byrnes, 7-6, 7-5; Bounds-Smith (R) beat O. Johnson-Laib, 6-1, 5-7, 1-0; T. Johnson-Osburn (A) beat Palmer-Cowan, 6-3, 6-3.