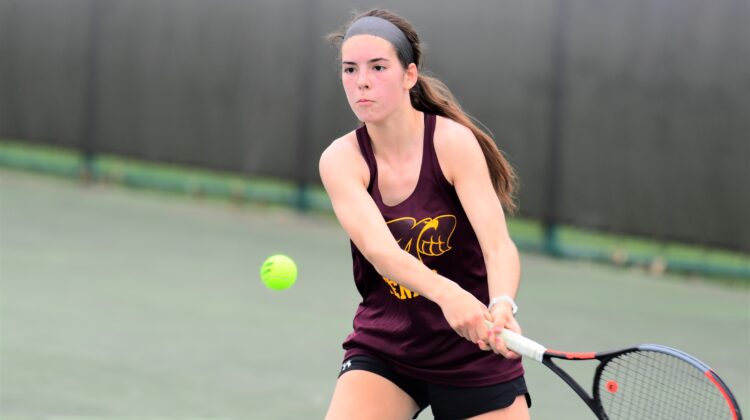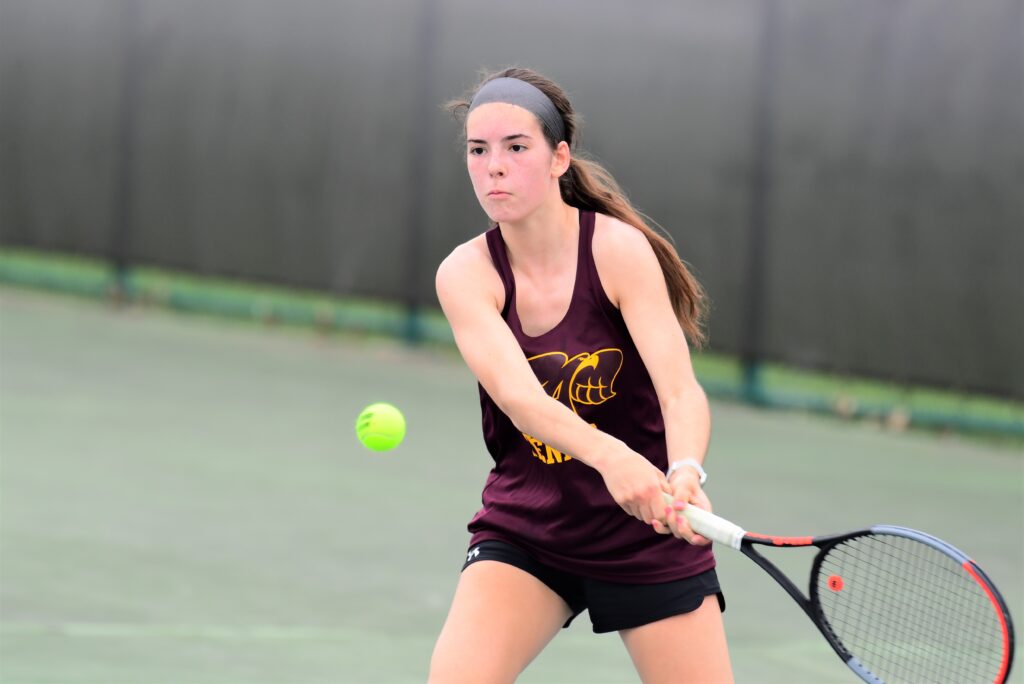 Even without one of its top players, the Ankeny girls' tennis team rolled to a 9-2 victory at Marshalltown on Thursday.
The Hawkettes played without senior Abby Johnson. She is the squad's No. 2 singles player and part of the No. 1 doubles team.
"Abby was gone for orientation in Aberdeen, (S.D.)," Ankeny coach Steve Smith said of Johnson, who will play basketball next year at Northern State.
Without Johnson, Smith was forced to make several changes to his lineup. Anna Schmitz and Sydney Otto were promoted to the No. 1 doubles spot, while Megan Sommerfeld–Johnson's usual partner–dropped down to the No. 2 spot to play with Rachel Rolow.
"We worked on playing pressure points in practice Wednesday, and it appears to have helped," Smith said. "We continued the momentum shift from the last match of the Roosevelt meet (on Tuesday) and won three of four tiebreakers."
Ankeny won four of the five doubles matches after taking five of the six singles matches. The Hawkettes improved to 2-1 in the CIML Iowa Conference and 4-4 overall, while Marshalltown's records dropped to 0-4 and 1-8.
"Looking ahead to districts, I intentionally put Sydney and Anna in a tough position in doubles as I wanted to see how they'd do against a state-caliber doubles team," Smith said. "Despite the loss, they impressed me by hanging with Marshalltown's No. 1 doubles team."
Bobcats coach John Fiscus told the Marshalltown Times-Republican that blustery conditions made things difficult for both teams.
"Each night out on the courts there is a learning curve for the team, and we are seeing that our practices are helping," Fiscus said. "I have to remember we are young and are improving, even if the final score doesn't show it."
Here are the match-by-match results:
Ankeny 9, Marshalltown 2
Singles–Sommerfeld beat Lecompte, 6-0, 7-6; Schmitz beat Smith, 6-4, 6-4; Rolow beat Downs, 7-6, 7-5; Otto beat Tiernan, 6-0, 6-2; Brumm beat Hargrave, 6-1, 6-0; Diggins (M) beat Laib, 6-4, 6-4.
Doubles–Lecompte-Smith (M) beat Schmitz-Otto, 7-6, 6-3; Sommerfeld-Rolow beat Downs-Tiernan, 6-0, 6-1; Brumm-Laib beat Hargrave-Diggins, 6-0, 6-1; O. Johnson-Byrnes beat Bohan-Jones, 6-2, 5-7, 1-0; T. Johnson-Osburn beat Bethel-Uhde, 6-4, 7-5.