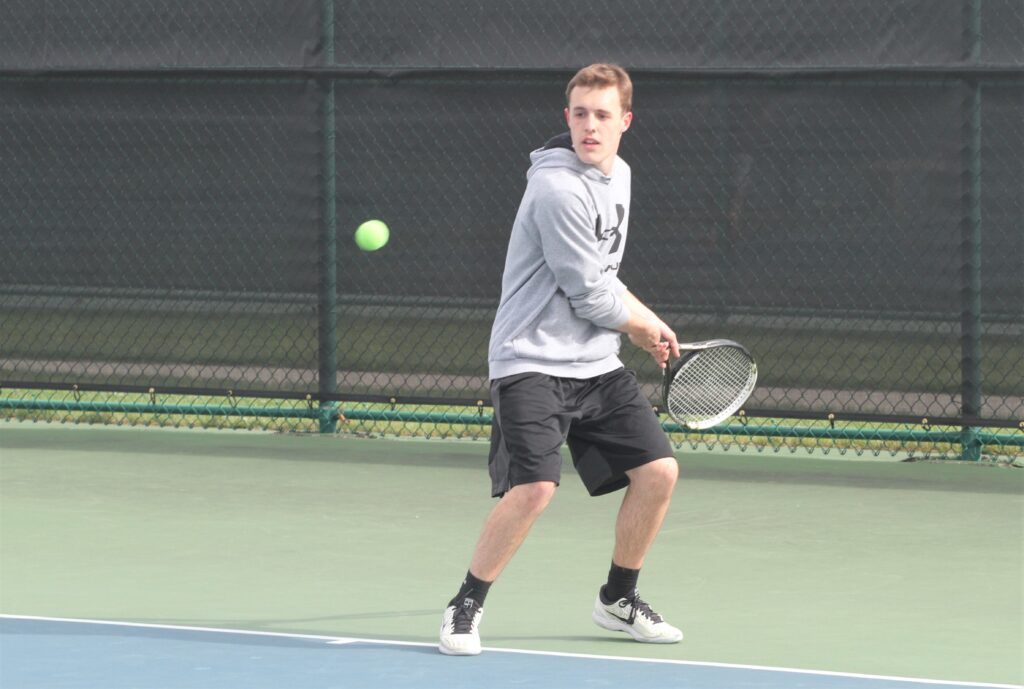 Will Blevins and Caleb Peterson usually grab most of the headlines for the Ankeny Centennial boys' tennis team.
On Thursday, it was Nic Mackaman and Wesley Clark who provided the key victories for the Jaguars in a 7-4 win at Ames.
Mackaman posted a 6-7, 7-5, 10-7 triumph over Tharun Raju at the No. 3 singles position, while Clark rallied for a 4-6, 6-4, 10-3 win over Taylor Xu at the No. 6 spot. If those two matches had gone the other way, the Little Cyclones would have pulled out a 6-5 win.
"I was super pleased with Wesley and Nic's performance," said Centennial coach Tami Lewton. "They pulled out two tough three-setters–as did our No. 5 doubles team of Kellen Jones and Jack Halverson."
Centennial won four of the six singles matches and three of the five doubles matches. The Jaguars improved to 3-1 in the CIML Iowa Conference and 6-4 overall, while Ames' records dropped to 1-3 and 4-4.
Blevins and Peterson each posted a 6-0, 6-0 win at the top two singles positions.
"Both of those guys remain undefeated at their respective spots, and they do such a good job of helping support their teammates," Lewton said.
Here are the match-by-match results:
Centennial 7, Ames 4
Singles–Blevins (AC) beat Arbuckle, 6-0, 6-0; Peterson (AC) beat Furukawa, 6-0, 6-0; Mackaman (AC) beat Raju, 6-7, 7-5, 10-7; Peng (A) beat Keenan, 6-0, 6-0; Li (A) beat Bhat, 6-0, 6-2; Clark (AC) beat Xu, 4-6, 6-4, 10-3.
Doubles–Peterson-Mackaman (AC) beat Arbuckle-Raju, 6-2, 6-1; Blevins-Clark (AC) beat Furukawa-Peng, 6-0, 6-2; Xu-Tian (A) beat Keenan-Bhat, 6-4, 7-6; Li-Sarda (A) beat Ceplecha-Nelson, 6-1, 7-5; Jones-Halverson (AC) beat Collins-Sinclair, 4-6, 7-6, 10-5.