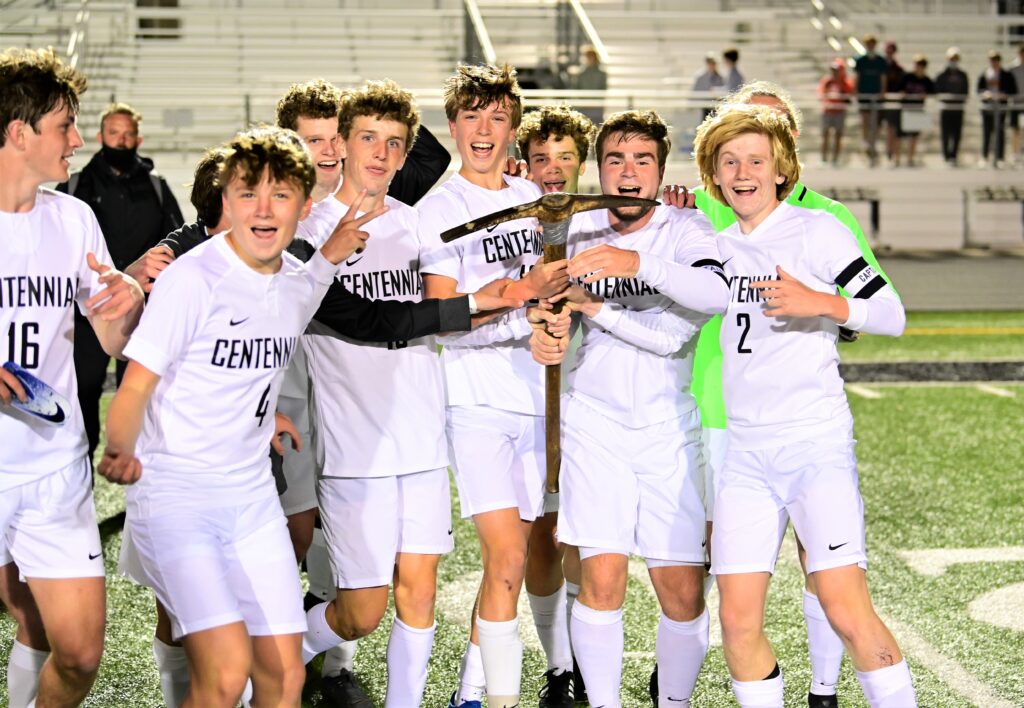 It's been a long time since the Ankeny Centennial boys' soccer players carried the Jag-Hawk pickaxe off the field following their annual showdown against their crosstown rival.
On Monday night at Northview Stadium, the Jaguars finally got to do it again.
Twelfth-ranked Centennial got a pair of goals from Spencer Thiele in the first 20 minutes of the game and went on to defeat No. 11 Ankeny, 3-1, in the Ankeny Derby.
"It feels great," said Thiele. "It's just exciting."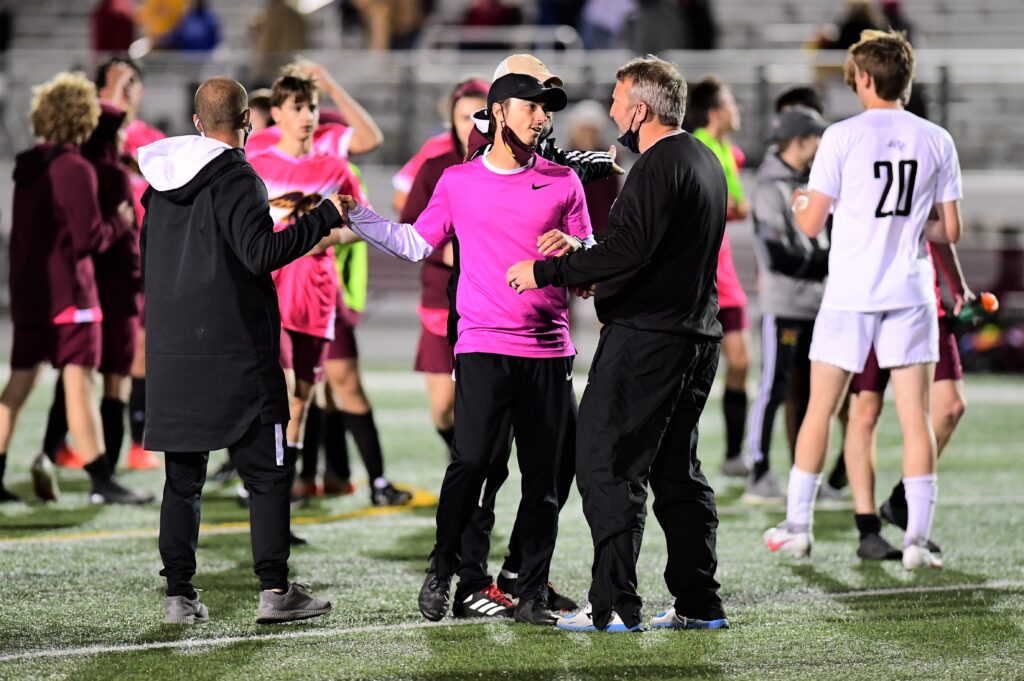 Afterwards, the Jaguars ran over to Ankeny's side of the field and grabbed the pickaxe trophy, which has resided on the south side of town since 2016. Aaron Ruff, who coached at both schools, came up with the idea for the trophy as a way to celebrate the rivalry.
"It feels good to finally turn the tide on this side of the tracks for once," said Centennial coach Brian Duax. "It's been five years, I think, since we've had that wonderful pickaxe that Mr. Ruff created many years ago."
Centennial's last victory against the Hawks came in 2015, when Duax was still coaching at Ankeny. He guided Ankeny to wins over the Jaguars in 2016-17 before moving to the north side to take over the Centennial program.
The Hawks extended their winning streak in the series to four games with victories in 2018-19 under coach Jordan Burns. Burns then departed and was replaced by former assistant Marcus Varnum.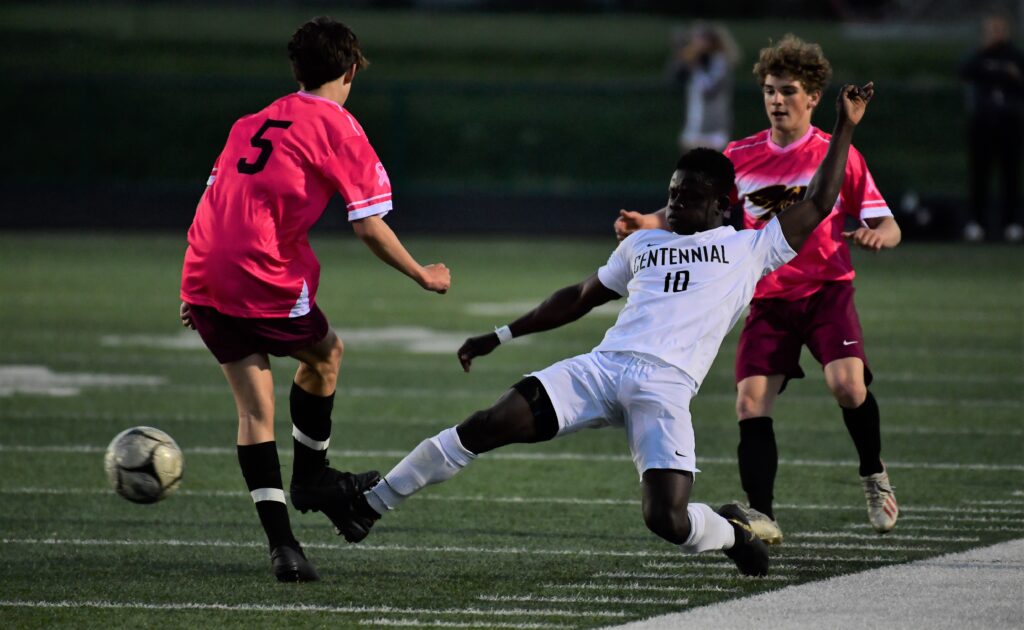 There was no Jag-Hawk game in 2020 as the entire season was cancelled due to the COVID-19 pandemic.
"We lost to them my freshman year, and it was painful," said Centennial junior Emmanuel Reichart. "But this feels amazing. It was a battle."
All of the scoring came in the first half, when the Jaguars benefited from a strong wind at their backs. Thiele scored the game's first goal in the 13th minute, then added another one about 6 minutes later.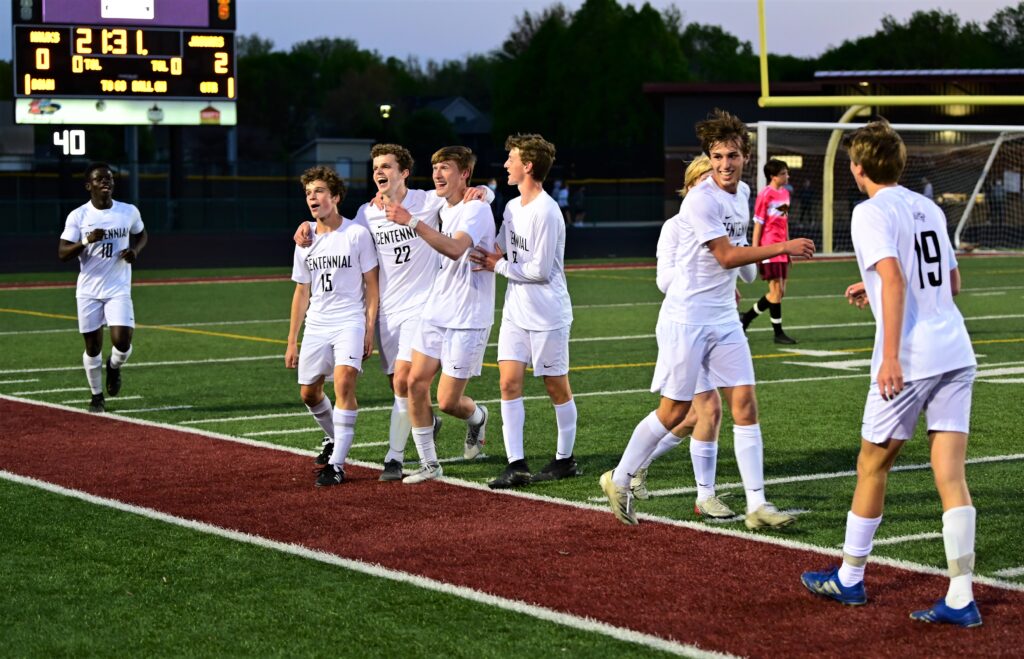 "I expected to play my best," Thiele said. "It was mostly my teammates getting the ball to me."
Reichart assisted on both of Thiele's goals. He now has a team-high seven assists on the season.
"I'll take an assist over a goal any day," Reichart said. "I was talking to coach about that. I want that assist."
Ankeny scored its only goal on a penalty kick. Conor Wahlberg converted at the 25-minute mark, pulling the Hawks to within 2-1.
But the Jaguars then answered with a huge insurance goal right before halftime. Ty Duax, the coach's son, put the ball away off an assist by Michael Poitry.
"I think the key for us was overloading the wings," coach Duax said. "Playing 2v1 out wide created our chances, and then we had to survive going into that wind the second half. It was tough."
The win improved Centennial to 3-0 in the CIML Iowa Conference and 9-4 overall. Ankeny's records dropped to 2-1 and 9-3.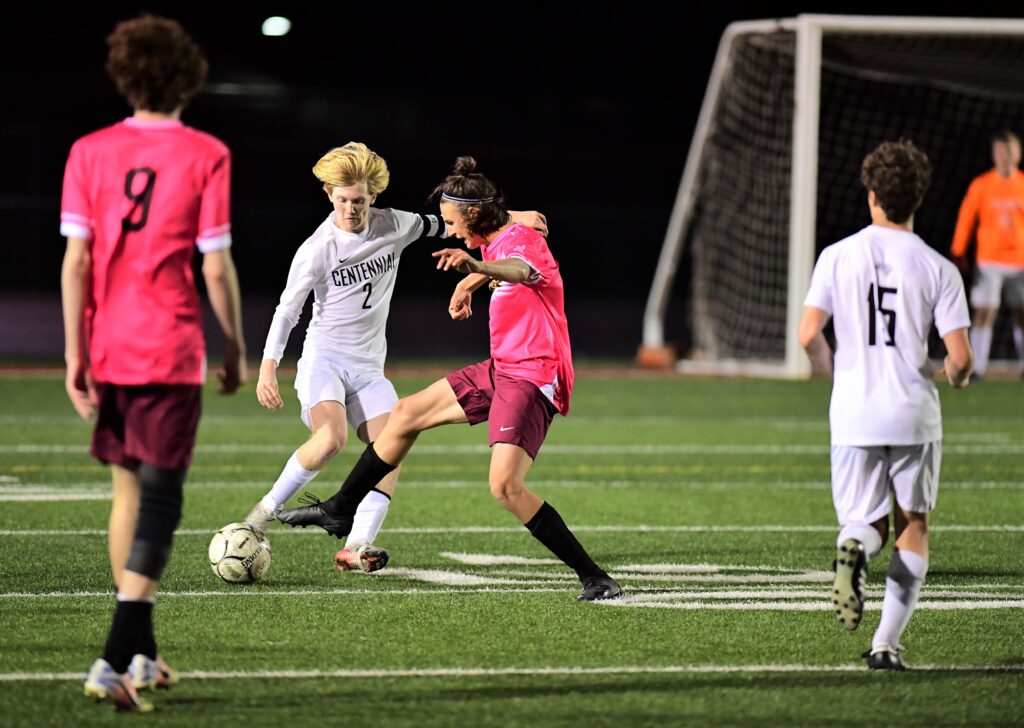 "You've got to give them credit. They're a strong team going forward," Varnum said of the Jaguars. "They like to press you and they don't want to get it out of their attacking third. Our style of play is to try to build out of that. We had to make some adjustments, and we started to. At the end of the first half we were getting there, trying to build some momentum, but tonight was their night. Kudos to them. They played well, and they're a good side. They're probably one of the best sides we've seen thus far. We can't do anything other than tip our cap to them."
Both teams had some chances to score in the second half, but neither could capitalize. Centennial goalkeeper Reece Frazell preserved the lead until leaving the game with a knee injury with about 10 minutes left.
"It was just effort," Thiele said of his team's win. "I feel like every year we have this AnkenyvAnkeny game it's whoever comes out the hardest."
The game became more physical–and even chippy at times–in the second half. None of that surprised Reichart.
"I was expecting that," he said. "We knew they were going to bring it. You've got to wear them down and take the win.
"Honestly, it came down to our work ethic. They're good players, but we're better. We have some ups and downs, but we came together and we played hard. It was always going to be our (game)," he added.
Varnum said he's looking forward to a potential rematch. The two teams have never met in the postseason.
"I would love to see them again," Varnum said. "They're a great team, but maybe down the line we'll get another shot at them."