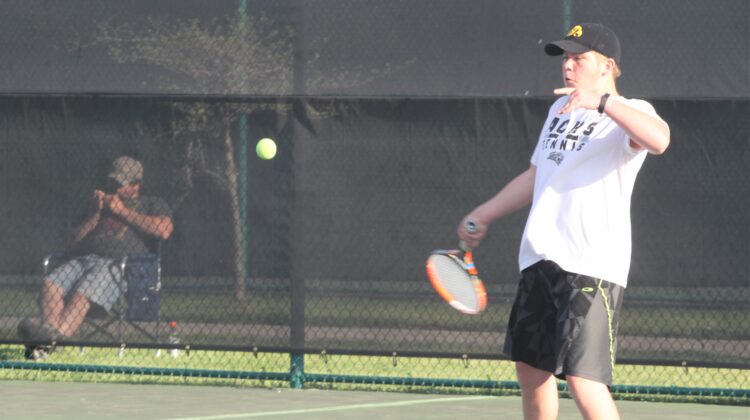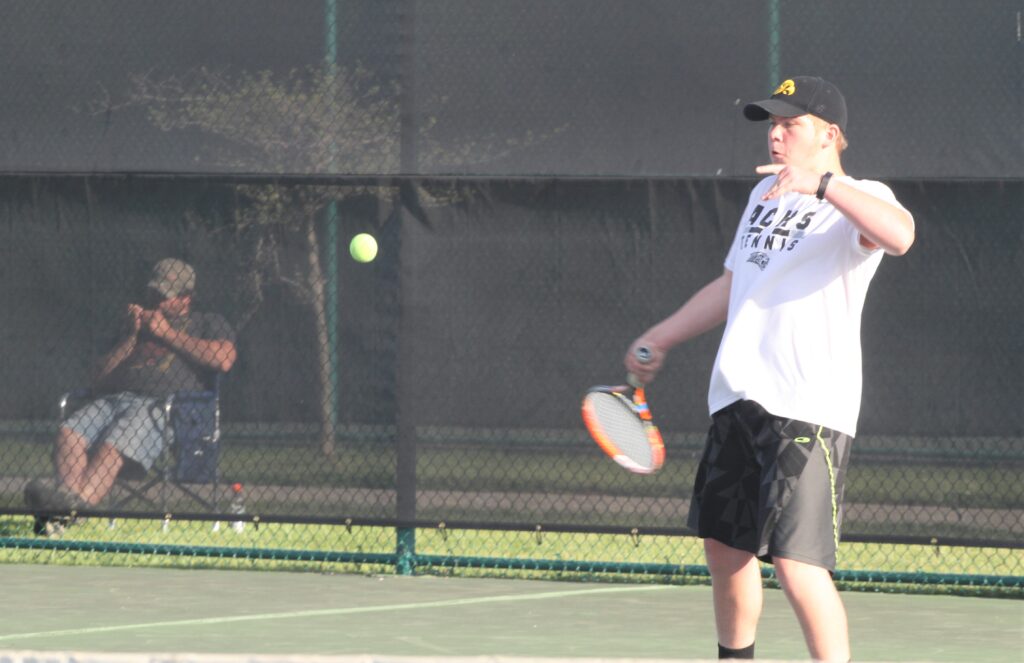 Will Blevins and the Ankeny Centennial boys' tennis team got another chance to see Dowling Catholic before Wednesday's Class 2A district tournament at Ames.
Thursday's dual meet at Ankeny produced some mixed results.
Blevins suffered his first loss of the year in singles, but then bounced back with a win in doubles as Centennial posted a 6-5 victory in the non-conference meet. The Jaguars finished the regular season with an 8-4 record.
"It was a rare tough evening for the top of our lineup," said Centennial coach Tami Lewton. "We lost at both No. 1 singles and doubles, which doesn't happen very often. Both were very hard-fought matches and could have gone either way. Considering Dowling is in our district, this was a good barometer on how it should go as a team."
Centennial won four of the six singles matches. Logan Keenan outlasted Adam Bialzak in three sets at the No. 5 position for his first singles win of the season.
"He is really starting to play well," Lewton said.
Dowling (5-4) got a three-set victory from Daniel Lu at the No. 1 spot. Lu posted a 6-4, 4-6, 10-8 win over Blevins in a matchup of two of the state's top players.
Lu placed fifth in the Class 2A singles tournament in 2019. Blevins, who finished fourth as a sophomore, had won all 11 of his previous matches this season in straight sets.
"I kind of went into today's match knowing that it had no effect on state since we will play each other again at districts on Wednesday," Blevins said. "So although I'd rather win today, I'll take a loss today rather than on Wednesday. I do think this match was definitely a learning experience for districts and how I can improve before then. I also learned a lot throughout the match which helped me come back in the second set."
Blevins then teamed up with Wesley Clark for a win at No. 2 doubles. The No. 5 doubles team of Kellen Jones and Jack Halverson also won in straight sets, allowing the Jaguars to earn the dual-meet victory.
"Kellen and Jack are really starting to find their stride," Lewton said. "They had a good win."
Here are the match-by-match results:
Centennial 6, Dowling Catholic 5
Singles–Lu (D) beat Blevins, 6-4, 4-6, 10-8; Peterson (AC) beat Schultheis, 6-0, 6-0; Mackaman (AC) beat Klemm, 6-0, 6-1; Patterson (D) beat Ceplecha, 6-4, 6-0; Keenan (AC) beat Bialzak, 6-3, 4-6, 10-4; Clark (AC) beat Eastman, 6-0, 6-0.
Doubles–Lu-Bialzak (D) beat Peterson-Mackaman, 6-4, 6-4; Blevins-Clark (AC) beat Schultheis-Klemm, 6-1, 6-2; Patterson-Eastman (D) beat Keenan-Bhat, 7-6, 6-2; Roberts-Cataldo (D) beat Ceplecha-Nelson, 7-5, 6-4; Jones-Halverson (AC) beat Seda-Townsend, 6-0, 6-4.