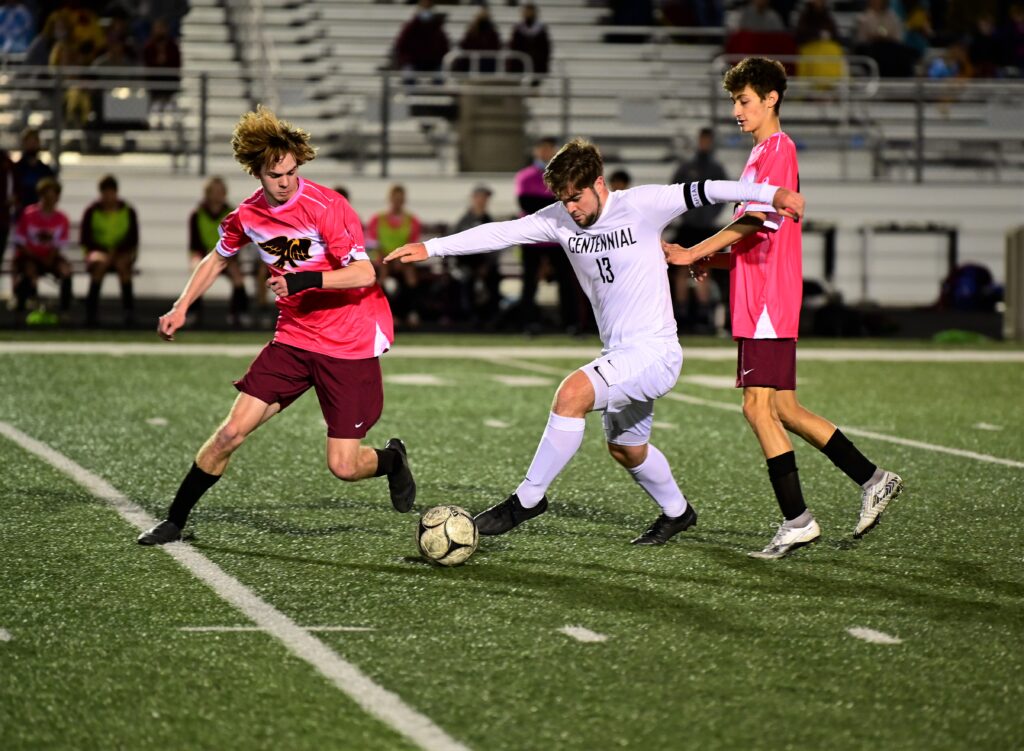 Senior forward Michael Poitry has helped the 11th-ranked Ankeny Centennial boys' soccer team to a 10-4 record. He has racked up eight goals and four assists, including a pair of goals in the Jaguars' 3-0 win over visiting Des Moines East on Friday.
Junior defender Conor Wahlberg has helped No. 10 Ankeny to a 9-4 mark. He leads the Hawks with 10 goals, most of them on penalty kicks.
Here is some inside info on the duo:
What do you think was the difference in the Jag-Hawk game on Monday?
Poitry: For me, the difference was the willingness to go out there and give everything. No one on the team had held that pickaxe (trophy) and we wanted to change that.
Wahlberg: I believe the difference was their two early goals and how they came out. I have seen them play before, and they changed a lot in their lineup in order to counter us. We didn't adjust fast enough, and they got two early goals and that was hard to come back from.
Conor, you converted a penalty kick in the 25th minute to cut Centennial's lead to 2-1, and you've had a lot of success on PKs this season. How do you know where to kick the ball on those PKs?
Wahlberg: Normally during my PKs, I will try to read the keeper. But during that game Reece (Frazell) did not move so I had to put it in the corner to make sure he could not save it.
Michael, you assisted on a goal by Ty Duax in the 39th minute, giving the Jaguars a 3-1 lead that stood up as the final score. How important was it to get that goal right before halftime?
Poitry: I feel like it was really important because it killed their momentum that they had near the end of the half. It also made their coaching staff have to pivot on their strategy for the next half.
How much of a factor was the wind in the game?
Poitry: The first half we had a nice advantage with the wind, but I wouldn't say it was the deciding factor in the game. It was just another factor to the win. It was unlucky for the Hawks that the wind died down for the second half.
Wahlberg: For Centennial, having the wind plays into their style because they love to play balls in behind the defense and they like to go long from goal kicks. To be honest I didn't notice it too much. It may have given them a little advantage–if any–in the first half, but I don't believe it had a giant impact on the game.
Conor, I know part of the Jaguars' strategy was to make you uncomfortable. Did they do anything that surprised you?
Wahlberg: Yes, they did a lot that surprised me. The biggest thing was that they man-marked me the entire game. They changed their whole formation in order to man-mark three players on our team and make us uncomfortable. This made it really hard for our team, and we struggled especially early in the game. I think we adjusted a bit later, but by then it was already too late. This led to them being able to sit back and play more defensive for the second half, and we just couldn't find the net.
Michael, you and your teammates really seemed to enjoy holding the pickaxe after the game. Did it provide some extra motivation for you guys, since Centennial had not defeated the Hawks since 2015?
Poitry: Of course it did. It was all anyone could think about before the game was getting the pickaxe. It was very rewarding. All the seniors wanted it. It was something that was elusive to us for four years, and we were going to get it.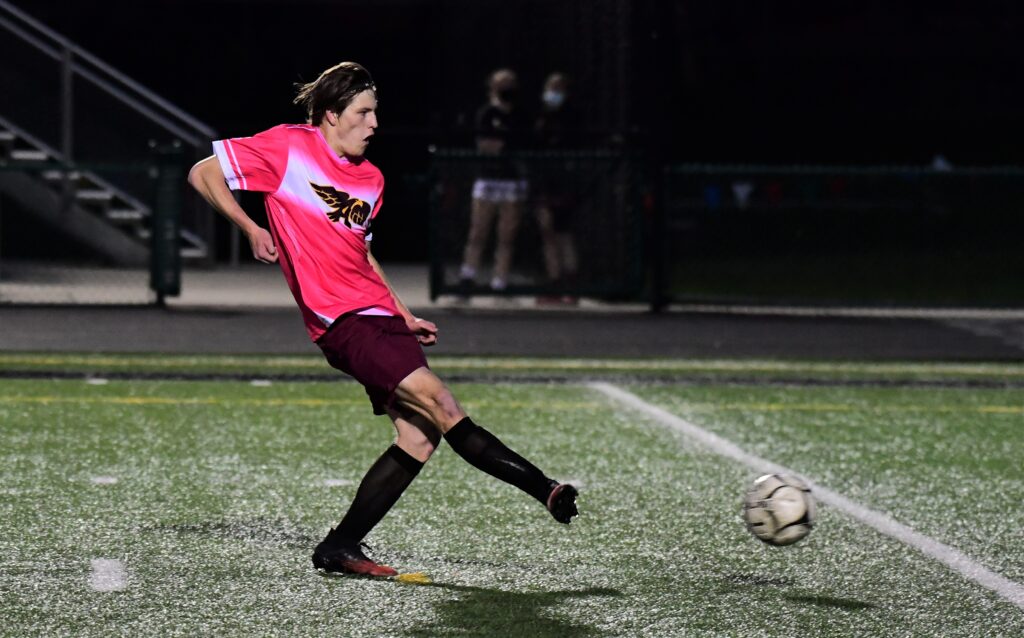 Conor, your team is having a solid season under coach Marcus Varnum, who took over the program in the fall of 2019 but had to wait until this spring to officially make his coaching debut. What has coach Varnum brought to the program?
Wahlberg: Marcus has brought a lot to this program, and I love playing for him. He is a great coach with a great understanding of the game. But he is even more than a coach; he loves to practice with us, and he used to play soccer at Ankeny, so he has a lot of pride for the school. He has brought a lot of heart to the program, and he has really implemented his playing style into our team. He has done an incredibly good job of getting his coaching across, and I really enjoy playing the way he wants our team to play. I think he has done a phenomenal job with this program and group of young kids.
Michael, coach Duax said before the Jag-Hawk game that your team was slowly becoming a Jekyll and Hyde squad because of its inconsistency. Do you feel like you're heading in the right direction now?
Poitry: I feel like it's a good starting point. I feel like the hype of the game definitely let us get our minds right and go and play. The real test to see if we are going right is the next few games.
The substate assignments came out on Thursday. Centennial has been placed in Class 4A Substate 2 along with No. 1 Waukee. Michael, what do you think of your team's draw?
Poitry: It's unfortunate, but we knew it was going to happen at some point if we wanted the big trophy at the end.
What do you think it will take for someone to knock off the Warriors?
Poitry: Preparation and confidence. We've shown that we can play with the best and beat the best with (a 3-0 win over) Pleasant Valley. We have a great coaching staff that will help us be the best we can be. It's all a mental battle at this point, and we have the will to refuse to lose.
Ankeny has been placed in Substate 8 along with No. 5 Valley. Conor, what do you think of your team's draw?
Wahlberg: I think it was a good draw for us. We will have played almost all of the teams in our substate by the end of the year so we will have a very good understanding of how they like to play, along with their strengths and weaknesses. Valley is a very good team, but having already played them I think it was a nice draw for us.
Your team won a shootout against Valley, 3-2, on April 17. Does that win give you confidence that you could do it again?
Wahlberg: Yeah, I definitely think that it gives us confidence, but we also understand that they are a very good team, and there are other good teams in our substate. So we all have to prepare and play our best in order to get another chance to play them. I think that because we beat them, they will be looking for revenge. I think it will be a very tough game, but I am excited and want the opportunity to play them again.
Michael, plans for next year? Will you play soccer somewhere?
Poitry: I am planning on attending the University of Dubuque to play soccer and major in sports management.
Conor, are you hoping to play soccer in college?
Wahlberg: Yes, I do have aspirations to play soccer in college. I have looked at a few schools, but I don't know fully what I am going to do yet. I will be going to several ID camps in the summer in order to try and see if I would like to play soccer at those schools, some of which are DI.