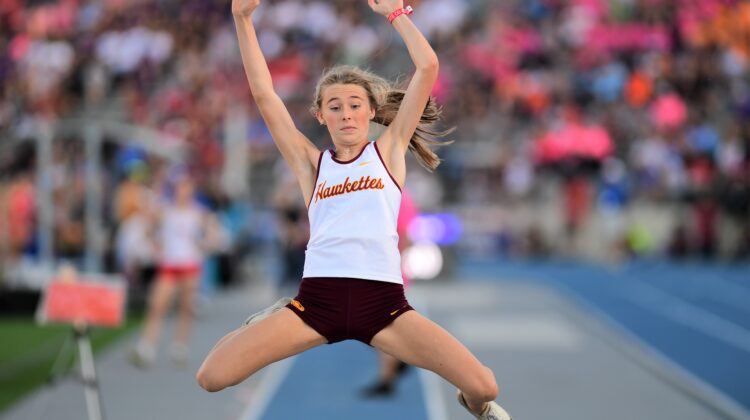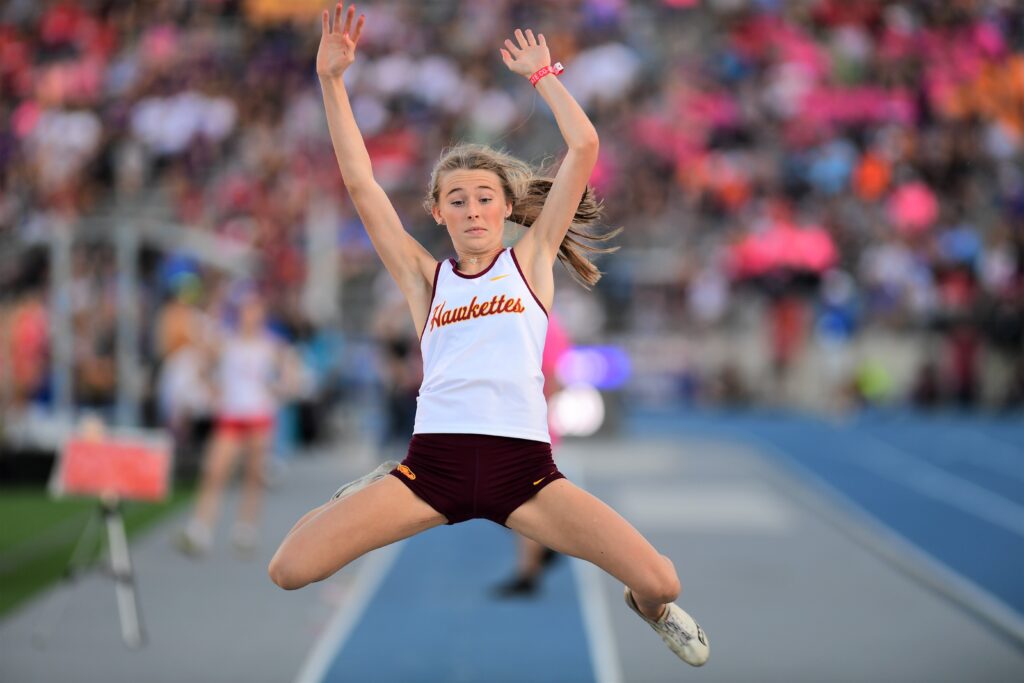 For the second day in a row, the Ankeny girls' track team walked out of Drake Stadium with an individual state title.
Senior Shelby Romig won the long jump at the Class 4A state meet on Friday, posting her victory about 24 hours after teammate Lauren McMahon raced to a win in the 3,000-meter run.
"I'm kind of at a loss for words right now," Romig said. "But I knew that if I just trusted my training and stayed consistent with what I was doing all year, I'd be in a good spot."
Romig took the lead with a jump of 17 feet 4 inches on her first attempt in the preliminaries. She improved her mark by a quarter inch on her next attempt.
Since nobody was able to surpass her, Romig had already clinched the victory when she lined up to make her last attempt in the finals. She then uncorked a personal-best leap of 18-0.75.
"I had a lot of adrenaline going in me, so I just went for it," Romig said. "I knew it was good. Oh my goodness!"
Romig had earlier posted a time of 16.16 seconds in the preliminaries of the 100 hurdles. She did not qualify for the final, placing 10th overall.
"I just had to put that in the past and look forward to my long jump," Romig said. "I was real excited for this event."
Ankeny coach Thomas Cotter wasn't surprised by Romig's victory.
"In November I had written down a 10 for Shelby at state," Cotter said, referring to the amount of points that Romig would earn for the win. "She put in so much work throughout the offseason and wanted the title so bad. To see her hit 18 (feet), a huge goal for her, on her last jump as a Hawkette is really special. I won't forget that anytime soon."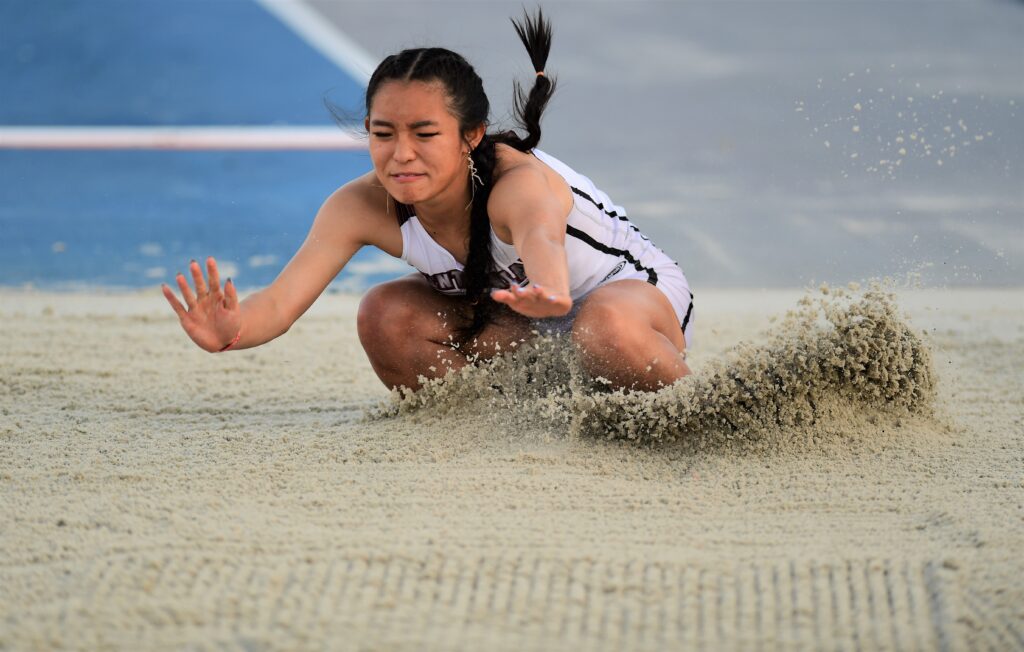 Ankeny Centennial's Jordan Su also advanced to the finals in the long jump. She placed sixth with a career-best jump of 16-10.5 on her last attempt.
Su's teammate, Kambria Leazer, took 23rd with a leap of 15-1.75. Ankeny's Mytika Mayberry jumped 14-11.25 and finished 24th.
Romig's win allowed the Hawkettes to move into fourth place in the Class 4A team standings. They have scored 24 points in the first two days of the meet.
Waukee leads the field with 49 points, 10 more than Pleasant Valley. Centennial is tied with three other teams for ninth place with 15 points.
Ankeny also got a sixth-place finish from Kendra Winfrey in the shot put. She had a throw of 37 feet 9 inches on her second attempt in the preliminaries.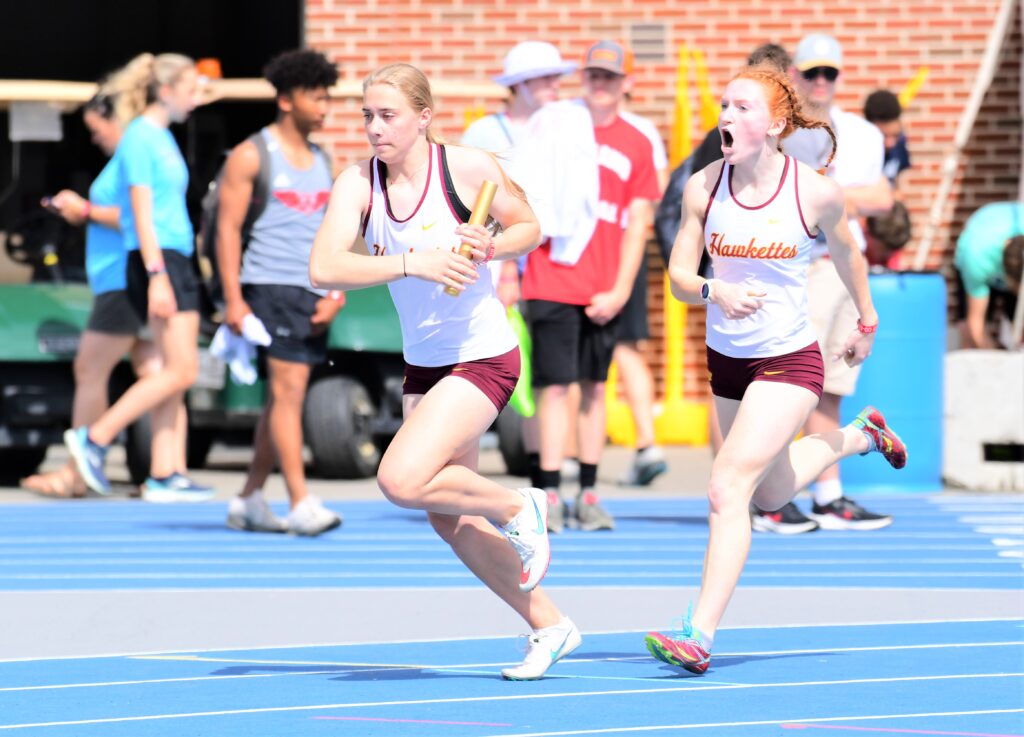 "The growth and confidence we have seen from Kendra the last month of the season has been really special," Cotter said. "About five weeks ago she had barely hit 30 feet in the shot put. To score three points and throw a lifetime best is a testament to her work ethic and being so coachable. Coach Gilbert did a phenomenal job with that group this season. I'm excited to see what's in store for her (in the future)."
Ankeny was also hoping to score some points in the distance medley relay, but the Hawkettes placed 10th in that event. The foursome of Eva van de Mortel, Karsen Jacks, Eva Fulk and McMahon posted a time of 4:19.15.
"Our last handoff with me and Lauren got a little tough," Fulk said. "A lot of girls were right there, so that handoff was kind of hard."
Centennial also ran into some trouble in that race. The team of Olivia Anderson, Maraye Breeding, Elle Street and Kathryn Vortherms was disqualified.
"I think we just messed up the exchange zones and didn't get the handoff in time," said Street, who ran the third-fastest 400 split in the race (1:01.29) to no avail.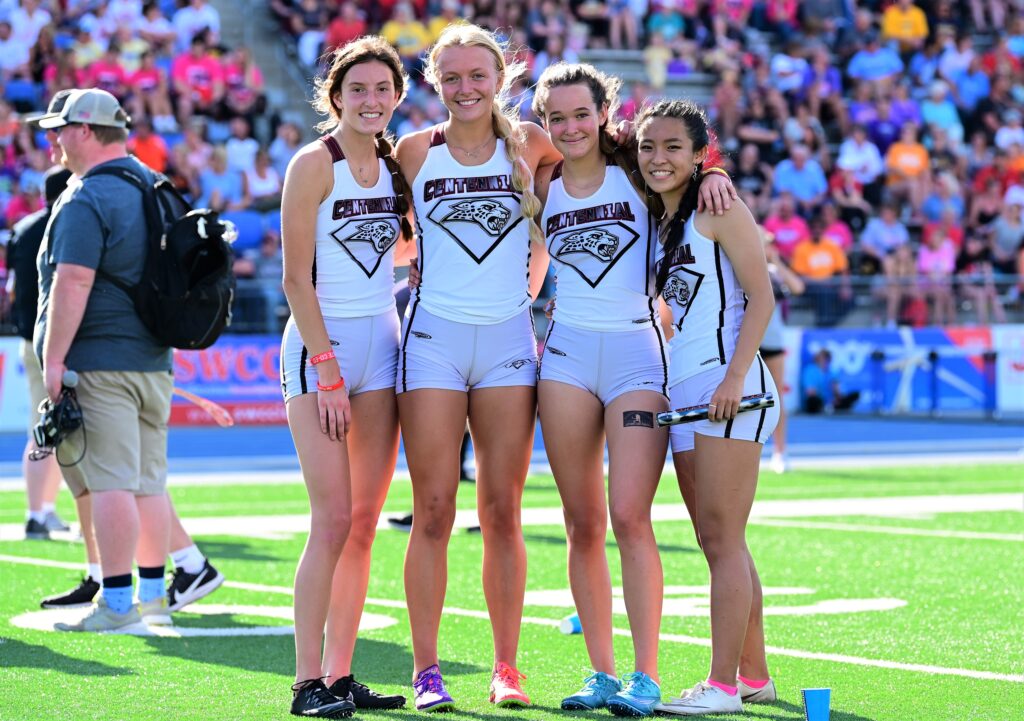 The Jaguars rebounded later with a fifth-place finish in the 4×200 relay. The quartet of Anderson, Street, Breeding and Su posted a time of 1:45.05, which set a school record.
"We were happy with it," Street said. "We came back from getting DQ'd so we used that as motivation."
Breeding said the girls simply tried to focus on the next race.
"We wanted to break the school record, and we did that," she said. "You've got to know how to turn around after those hard races, and we got our mindset back on and we got it."
Ankeny also competed in the 4×200 relay. The foursome of Macie Strnad, Macy Filling, Jenna Pitz and Lillian Smith placed 23rd in 1:50.78.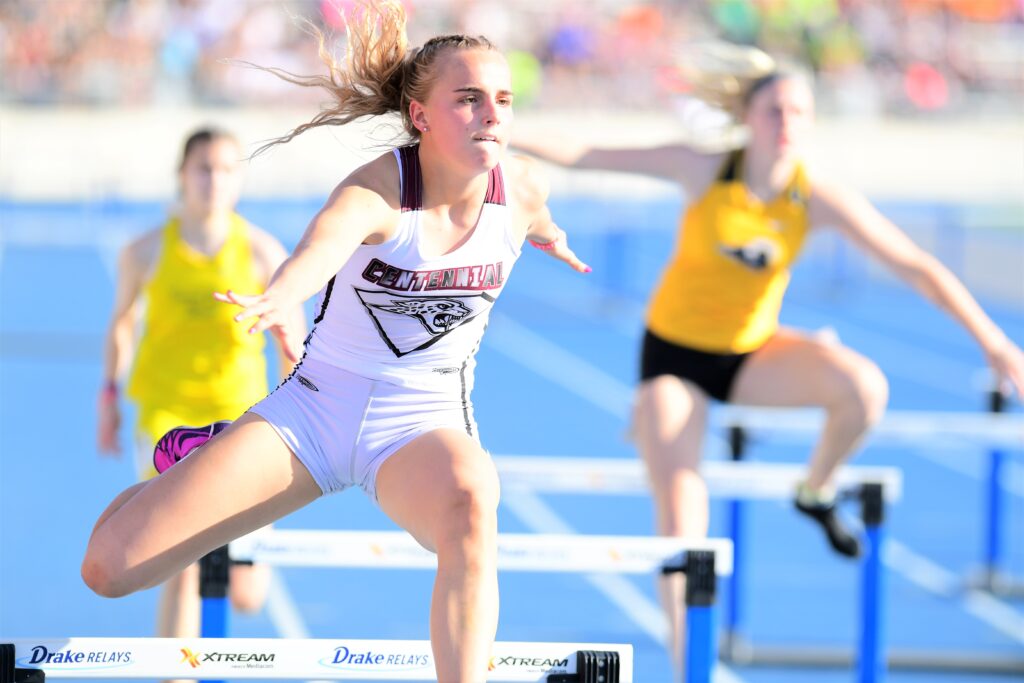 Centennial got a seventh-place finish in the 400 hurdles from Millie Hill, who was clocked in 1:06.82. Ellie Dalton took 19th for the Hawkettes in 1:10.79.
"It wasn't my cleanest race," Hill said. "But I feel like I competed. I started really strong. I haven't run in Lane 8 much, if at all, this season. So it was an adjustment, and I just worried about running my race and not worrying about the girls around me."
Hill later ran a strong anchor leg as Centennial qualified for the final in the 4×400 relay with the sixth-fastest time. She teamed up with Su, Street and Josie Bearden to post a time of 4:06.30.
Ankeny placed 11th in the event in 4:09.37. That unit consisted of Smith, Pitz, Zoe Shadravan and Fulk.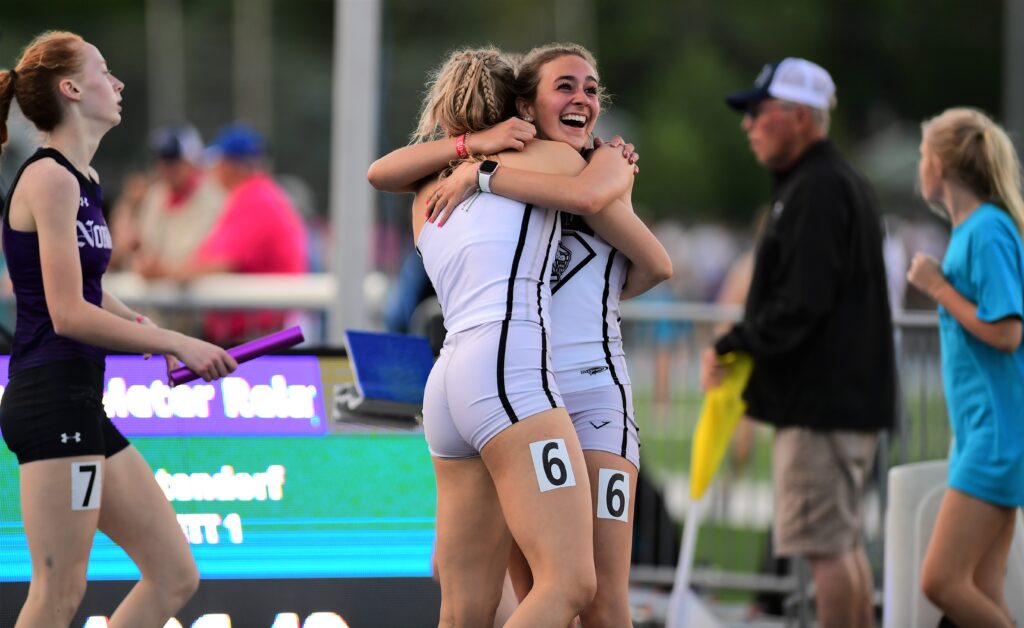 The Hawkettes advanced to the final in the 4×100 relay with the third-fastest qualifying time. The team of van de Mortel, Jacks, Fulk and Mayberry was clocked in 49.15 seconds.
Only Pleasant Valley (48.69) and Waukee (49.08) ran faster times on Friday.
"I think we can go faster," said van de Mortel, who joined Fulk and Mayberry on Ankeny's state champion 4×100 relay in 2019. "We have some work to do (with our handoffs), but it's nothing too dramatic. We'll get it done. I'm not too worried about it."
Centennial placed 13th in the event in 50.44. The team was comprised of Layla Hughes, Morgan Posusta, Morgan Severseike and Addison Arringdale.
The Jaguars were forced to change their lineup after Mariah Belzer came down with food poisoning and had to go home. Still, they dropped .7 seconds off their season-best time.