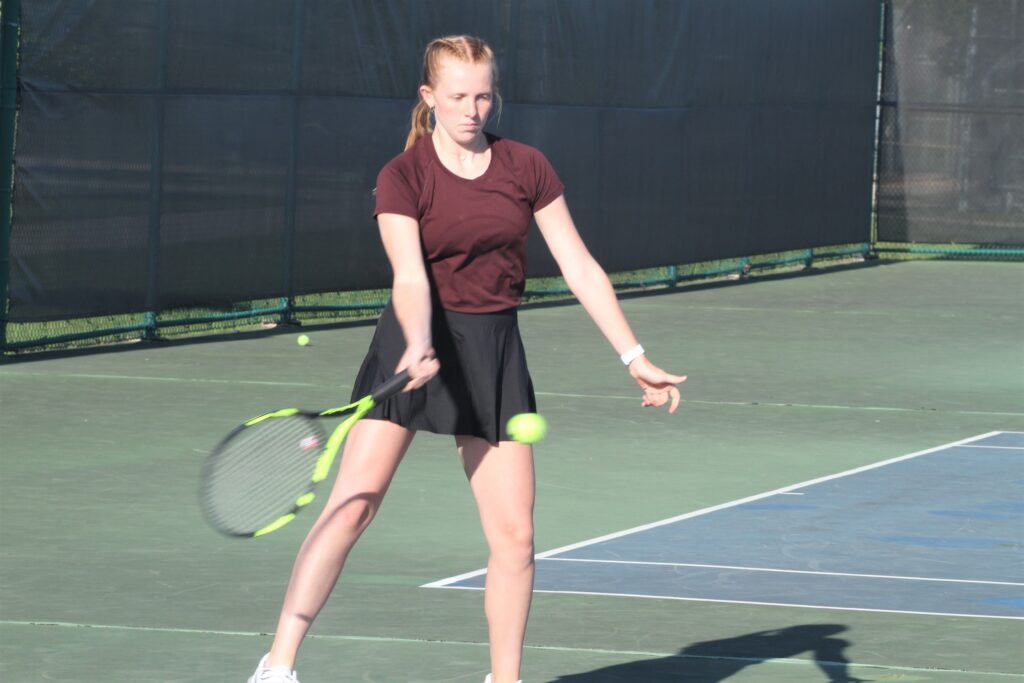 Although the Ankeny girls' tennis team dropped a 5-0 decision at Johnston in the semifinals of a Class 2A regional team tournament on Saturday, the final score didn't tell the whole story.
The Hawkettes got strong efforts from Anna Schmitz and Rachel Rolow in the loss, forcing Johnston to work hard to earn the victory. The Dragons then lost to Waukee, 5-2, in the regional final.
"It was great to see our young ladies compete against some of the top players in the state and hold their own," said Ankeny coach Steve Smith. "One of the parents of a player on the Waukee team that also plays at the Thrive Tennis Academy half-jokingly thanked me for tiring Johnston out as they had lost to Johnston earlier in the year."
Rolow was leading 6-4, 4-5 against Betsy Heiser when the match was called after the Dragons had sealed the victory.
"Betsy is one of the top No. 4 players in the state who had wins against Valley and Waukee earlier in the year," Smith said.
Schmitz lost to Jennifer Larson in three sets at the No. 3 spot. She battled back from a 4-0 deficit in the second set to force a third-set tiebreaker.
"Anna calmed herself down, refocused and won the second set before dropping a close tiebreaker against Jennifer, who is a Thrive elite group player who will play for Central next year," Smith said.
Ankeny finished with an 8-7 record. But the season isn't over for Megan Sommerfeld, who will compete in the state tournament on June 2-3 at Iowa City.
"I'm excited to see the energy around tennis and our program going into this summer and I'm eager to see what we do next year, but right now I'm focused on helping Megan best prepare for the state tournament," Smith said. "It's just a great time to be a part of the Ankeny Hawkette tennis program!"
Waukee will play Dowling Catholic in the Class 2A quarterfinals of the state team tournament on Monday at Ankeny.
Here are the match-by-match results:
Johnston 5, Ankeny 0
Singles–Christensen beat Sommerfeld, 6-2, 6-2; Svitashev beat A. Johnson, 6-0, 6-2; Larson beat Schmitz, 6-2, 5-7, 10-8; Heiser vs. Rolow, DNF; Monson beat Otto, 6-4, 6-0; Arbuckle beat Brumm, 6-2, 6-1.