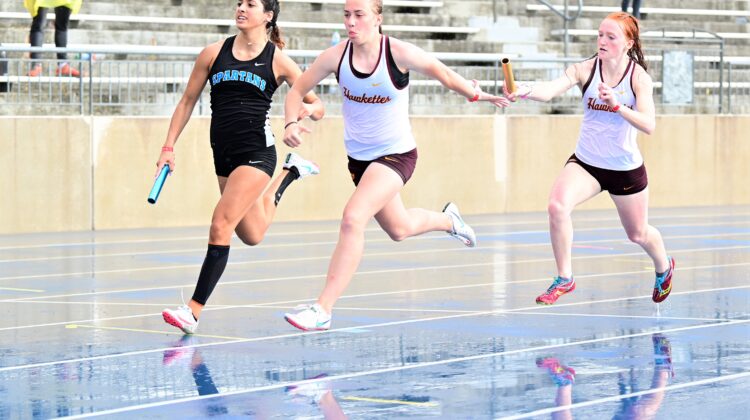 The bar has been raised for the Ankeny and Ankeny Centennial girls' track teams.
The Hawkettes tied for fourth place in the Class 4A state meet that concluded on Saturday at Drake Stadium. They finished with 40 points, matching Cedar Falls' total.
It was Ankeny's highest finish since 1997, when the Hawkettes earned runner-up honors in Class 3A.
"We discussed after the meet that competing for state titles and chasing the podium needs and should be our new standard," said Ankeny coach Thomas Cotter. "This raised the level for what Ankeny girls' track can be."
Centennial, meanwhile, scored 24 points–the most in school history–to place 14th. The Jaguars medaled in six events, tying a program high.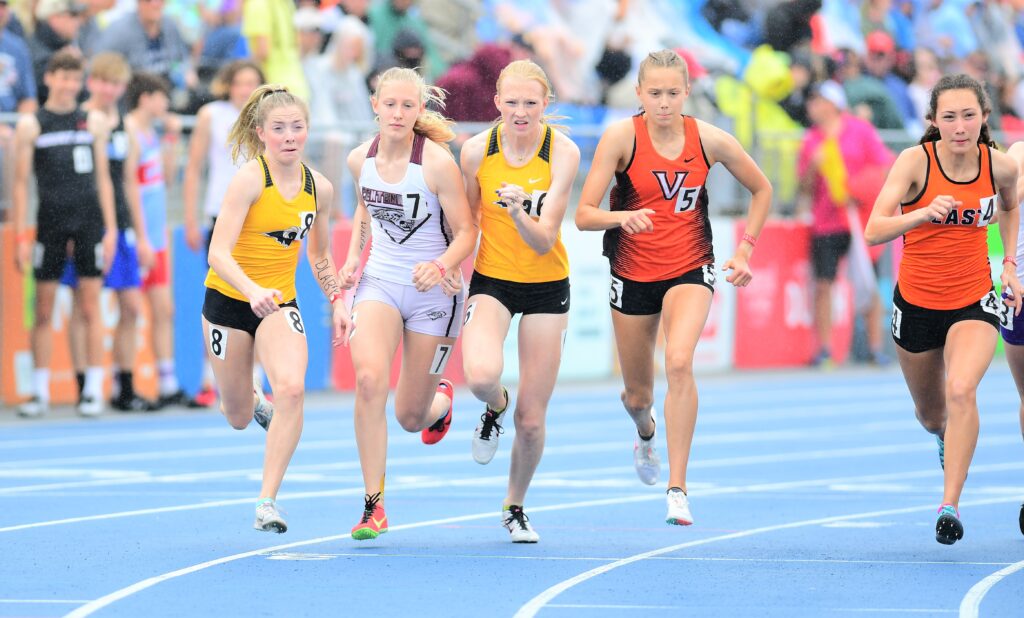 "I'm so happy about the team," said Centennial senior Kathyrn Vortherms. "All of the girls did amazing."
Centennial coach Andrew Kruzich was hoping to do even better.
"I thought we could score 30, maybe 35 points, if everything really broke our way," said Kruzich. "That didn't happen, but I'm really proud of how our girls battled this weekend. They were really focused, and showed a lot of toughness and spirit. I just can't say enough about how our seniors came through for us."
Ankeny got fifth-place finishes on Saturday from Mytika Mayberry in the 100 and Lauren McMahon in the 1,500. The Hawkettes also placed third in the 4×100 relay and seventh in the shuttle hurdle relay.
Mayberry posted a time of 12.74 seconds. Sioux City West star Holly Duax won the race in 12.12.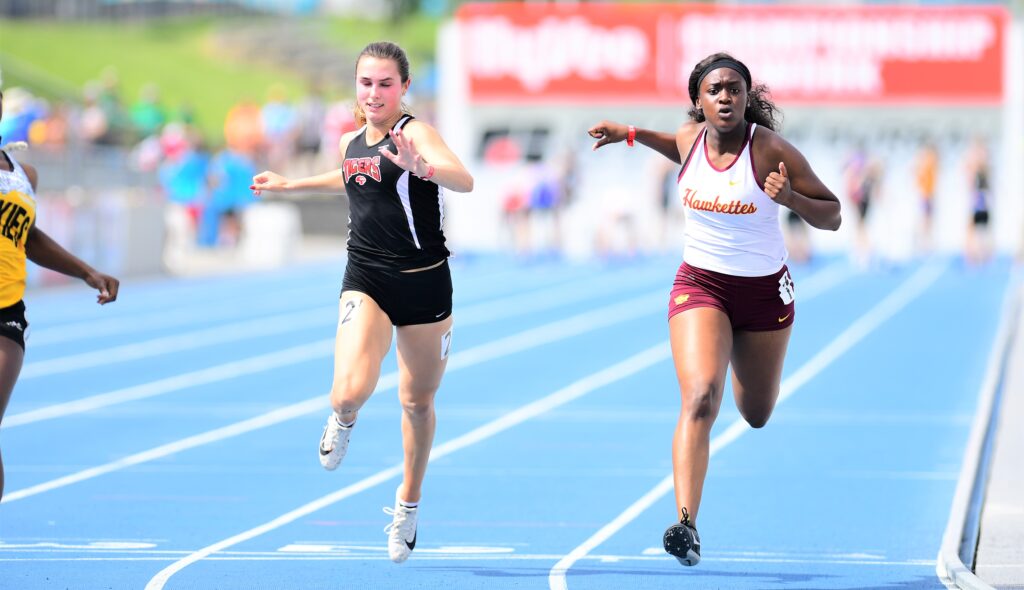 "I'm very happy with my place, because it's better than what I was (seeded)," said Mayberry, who ran in Lane 1 as the No. 7 seed. "There's a lot of variables in the race. But it's my senior year, and I just came here to have fun."
McMahon later posted a time of 4:45.86 in the 1,500. She was joined in the race by a pair of Centennial runners–Rondi Quass took 10th in 4:49.60, and Katie Jensen finished 16th in 4:57.42.
The race was held in a downpour.
"At the very beginning, everyone was running through puddles and getting splashed a lot," said McMahon. "After that point, I kind of just got in my racing zone and I really wasn't paying attention to the rain. There were standing puddles in the first lane so I was trying to avoid getting too close to the inside, but other than that I was mostly just focused on the race and the other girls. Also, I wanted to position myself well with one lap to go. I knew that the other girls would have a good kick at the end, so I really just wanted to stay right with them and give it all I had that last 100!"
McMahon had won the 3,000 in dramatic fashion on Thursday. In that race, Iowa City Liberty's Ashlyn Keeney surged into the lead on the final lap only to fade in the last few strides.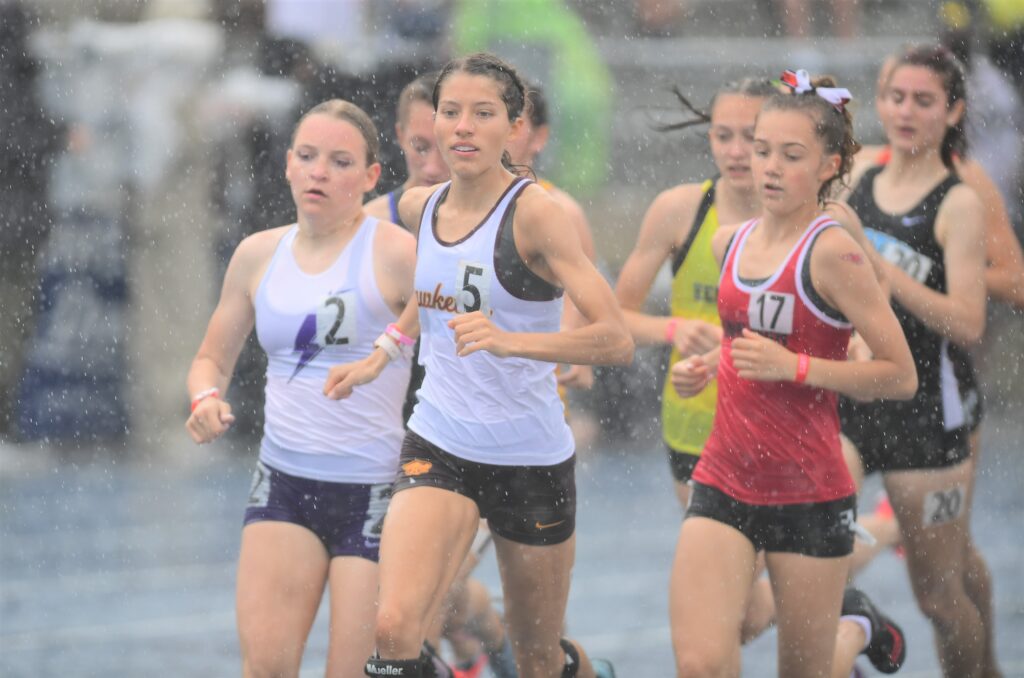 On Saturday, Keeney again made a bold move on the final lap. This time, she held on to win in a time of 4:41.30.
"Lauren ran a gutsy race in less than ideal conditions," Cotter said. "I'm proud of the weekend she had. She worked for everything she earned, and I'm excited to see all she accomplishes in the future."
Although the rain let up and eventually stopped, the track was still drenched for the final two events. Ankeny followed with its third-place finish in the 4×100 relay, posting a time of 50.46 seconds.
Pleasant Valley won the race in 49.91. Waukee was second in 50.17.
The Ankeny team of Eva van de Mortel, Karsen Jacks, Eva Fulk and Mayberry had posted a time of 49.15 in Friday's preliminaries.
"We were excited to run in the rain. I think it was a good time," Fulk said. "We just lost to some pretty good teams."
Fulk, Mayberry and van de Mortel all ran on Ankeny's state champion 4×100 relay in 2019. The Hawkettes weren't able to defend their title, despite running a clean race.
"We had good handoffs which we knew would be the key to keep us in contention," Cotter said.
Ankeny earlier turned in a time of 1:09.26 in the shuttle hurdle relay. The team was comprised of Ellie Dalton, Madeline Poock, Calyssa Wright and state long jump champion Shelby Romig.
The Hawkettes didn't quite match the clocking of 1:09.10 that they had in Thursday's preliminaries.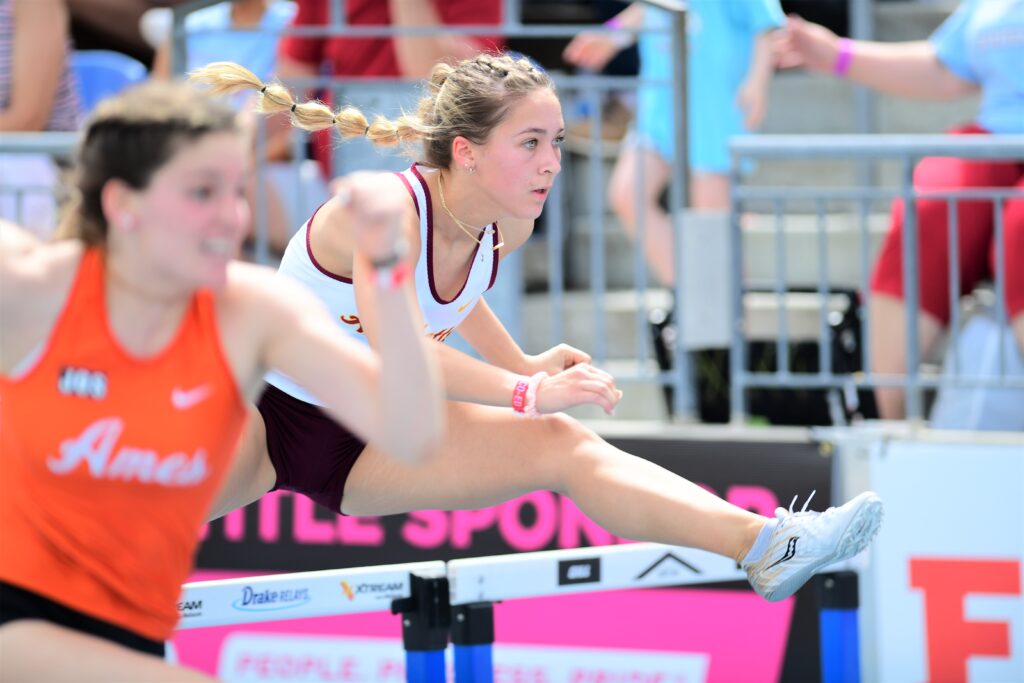 "I think we all went out strong," Wright said. "It definitely throws you off a little bit (running in Lanes 7 and 8), but we tried not to let it bother us."
Waukee easily won the shuttle hurdle relay in 1:00.75, posting the second-fastest time ever in Iowa. The victory helped the Warriors capture their fifth consecutive team title with 96 points, 39 more than runner-up Pleasant Valley.
Centennial got a third-place finish from Vortherms in the 800. She posted a time of 2:14.27, breaking her own school record.
Iowa City Liberty's Keeney also won that race in 2:12.70.
"Honestly, it was probably a faster race than I thought it would be," Vortherms said. "But it worked out."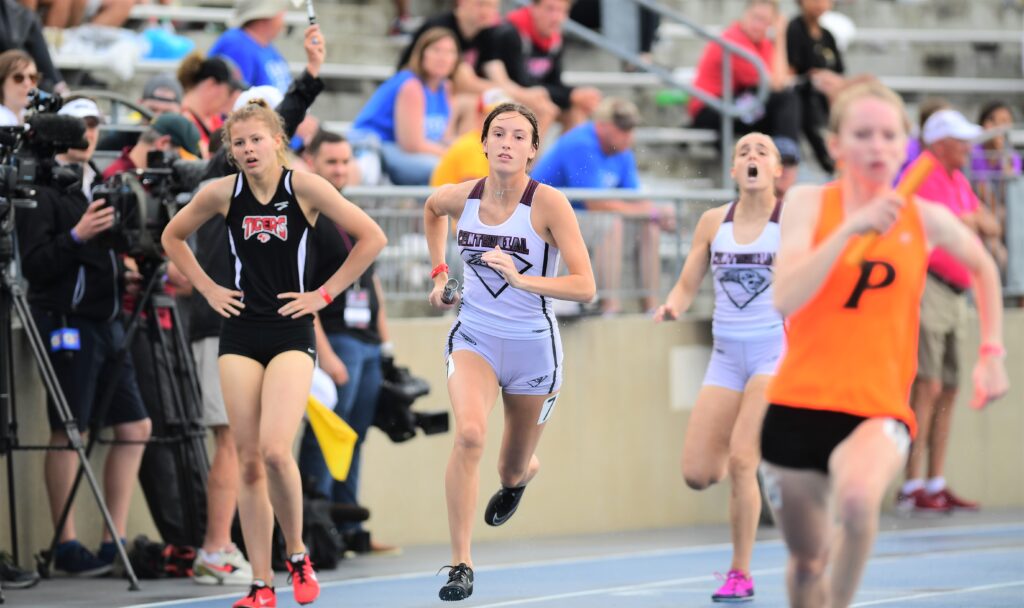 Vortherms got jostled a bit at the start of the race as she battled for position.
"I did throw a couple elbows," she said.
Vortherms later anchored the Jaguars to a sixth-place finish in the 4×400 relay. She teamed up with Millie Hill, Elle Street and Josie Bearden to post a time of 4:05.37.
Vortherms passed Cedar Falls' Maddy McFarland at the end of the race, finishing .02 seconds ahead of McFarland. That allowed Centennial's crosstown rival to tie the Tigers for fourth place overall.
"I'm not going to lie, I wasn't too sure if I could catch her," Vortherms said. "But then I got to the straightaway and I was like, 'She's not going to beat me.'"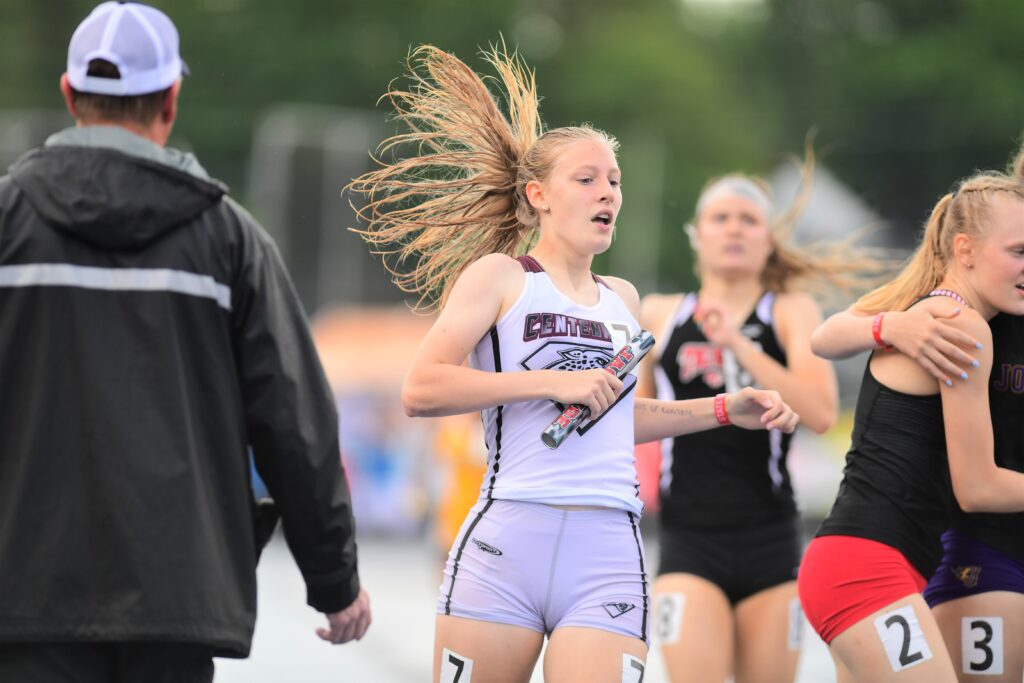 Both Ankeny and Centennial also competed in the sprint medley relay. The two teams ran in the same section.
The Jaguars placed 20th overall in a time of 1:54.54. That team consisted of Addison Arringdale, Morgan Posusta, Olivia Anderson and Maraye Breeding.
The Ankeny team of Larissa Miller, Macie Strnad, Jacks and Zoe Shadravan finished 22nd in 1:54.73.
"I'm so excited for our team," Mayberry said. "We got some wins, and we got a lot of girls here. It's been great."
Mayberry was part of a talented senior class that put the Ankeny program back on the map.
"I'm very proud of this group of kids and all they were able to accomplish together," Cotter said. "We mentioned a chance of the podium way back in November–they bought in and got to work. That can't happen without some amazing assistant coaches."