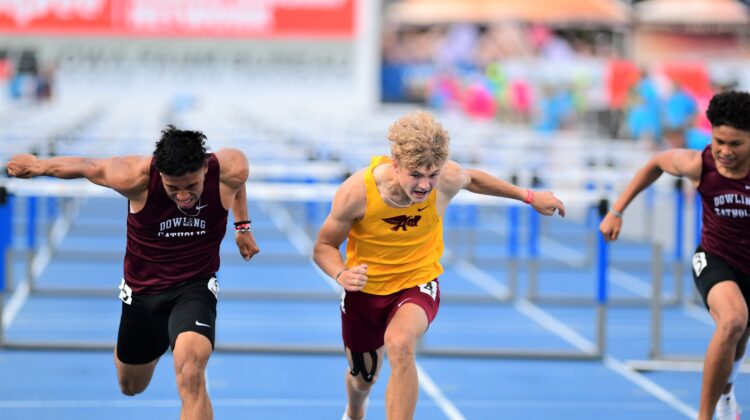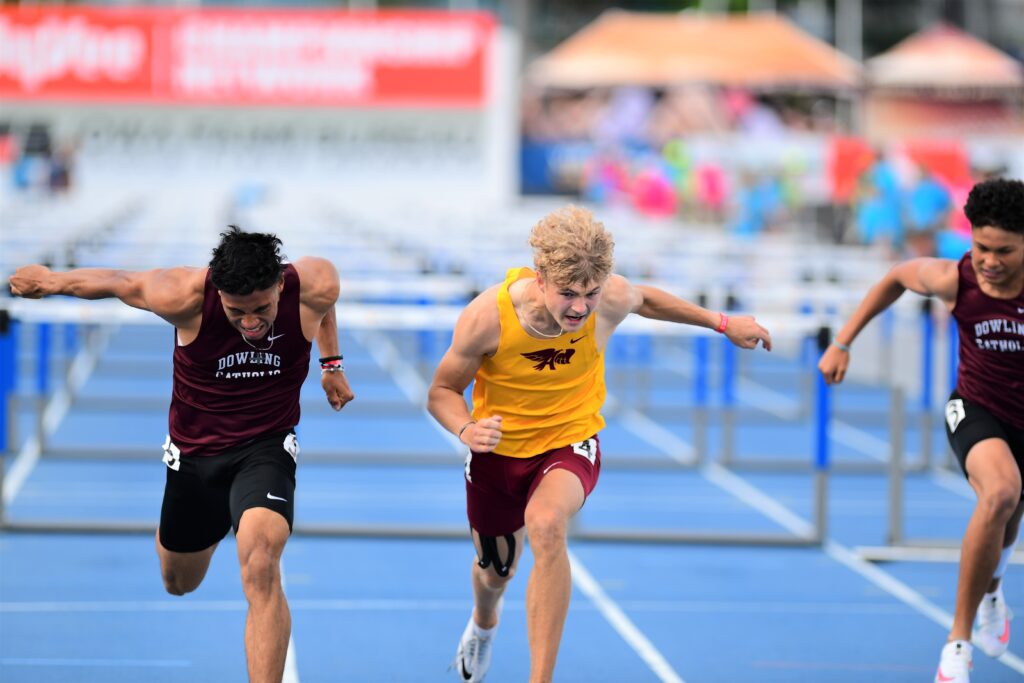 When he crossed the finish line at Drake Stadium on Saturday, Ankeny senior Mason Thompson wasn't sure if he had won a Class 4A state title in the 110 hurdles.
Nobody else was sure, either.
Thompson and the hurdler to his immediate right, Adam Wright of Dowling Catholic, leaned across the finish line simultaneously.
"It was either mine or his," Thompson said. "I knew it was really close. I wasn't looking to my side too much when we finished, but I just saw both our heads go down at the same time."
It took meet officials longer than usual–probably about 30 seconds–to post the final results. When the outcome was finally displayed on the scoreboard, it showed Wright winning the race by the slimmest of margins.
Wright posted a time of 14.505 seconds, while Thompson was clocked in 14.509. That's a difference of four-thousandths of a second.
Thompson, who posted the fastest qualifying time of 14.62 in the preliminaries, said he thought he had control of the race.
"I felt like I really had it over those first few hurdles, and then (Wright) did catch me," said Thompson, who set a school record. "We stayed neck-and-neck until the end after that."
Ceondae Adams of Cedar Rapids Prairie, who had earlier anchored the winning shuttle hurdle relay, was expected to contend for the title. But he was disqualified for a false start, forcing the seven other hurdlers to get back into their blocks for a second time.
"You've got to get nervous again and calm yourself down before the race starts," Thompson said. "It was definitely an obstacle, but the race still went well."
Thompson, a Grand View recruit, also helped the Hawks to a fifth-place finish in the shuttle hurdle relay. He teamed up with Cael Boyd, Carter Accola and Thomas DeBrower to post a season-best time of 59.47 seconds.
The Ankeny quartet won the first of two sections in the event, then watched from the infield as the second section unfolded. Prairie won the race in 57.73, followed closely by Cedar Rapids Kennedy, Dowling and Ankeny Centennial.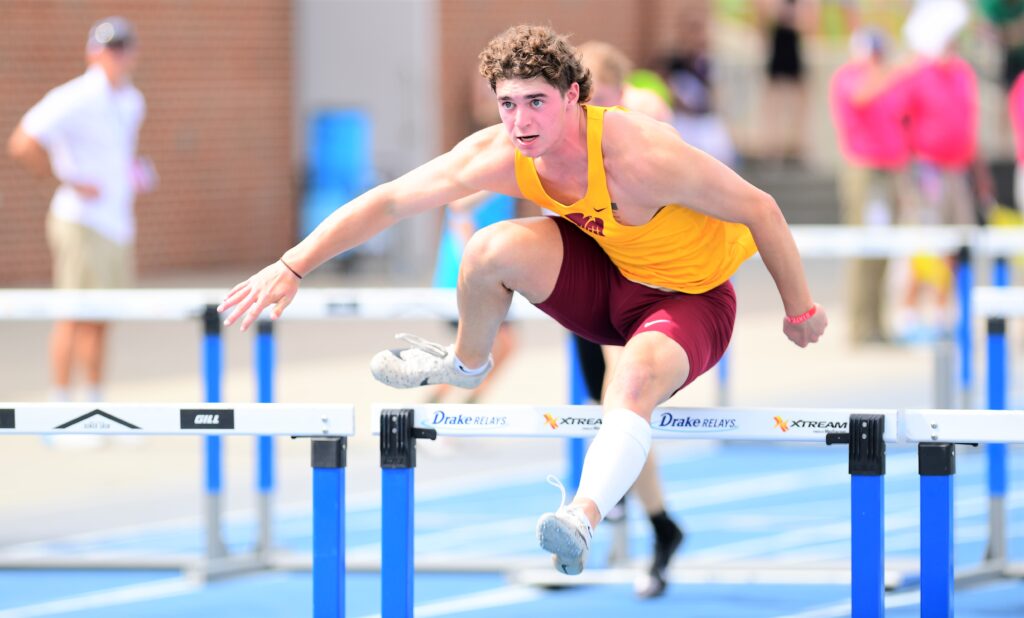 "We knew there were four good teams in the last heat," Boyd said. "We knew it was going to be a longshot (to win it). We tried our best and we got a PR, so you've got to be happy with that."
Dowling made a late charge for the Class 4A title, but ended up placing second with 77 points. Cedar Falls won the crown with 87 points, securing the championship trophy by winning the 4×400 relay.
Ankeny placed 15th overall with 20 points.
"I thought the team performed very well over the three days," said Ankeny coach Nick Nelson. "We had plenty to celebrate and plenty of growth that took place. We appreciate everything that the seniors have done for the program, and they will be missed. The coaching staff is very proud of the team this season and looking forward to what next season might bring."