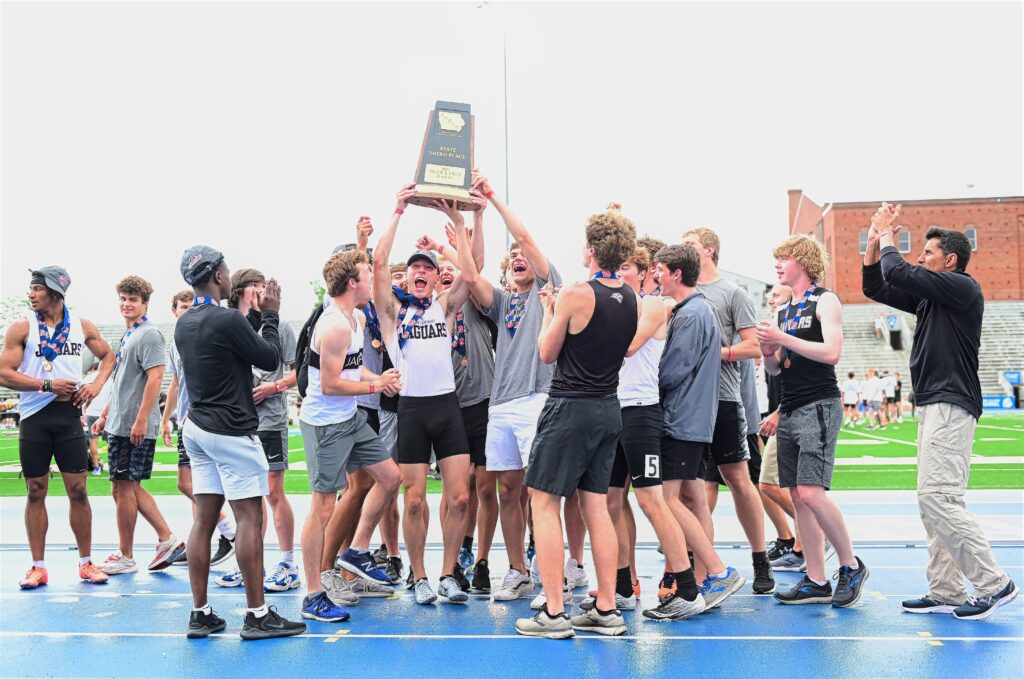 Tommy Collins held the Class 4A third-place trophy high above his head as he stood on the track at Drake Stadium.
Collins and his teammates on the Ankeny Centennial boys' track squad had accomplished one of their goals.
"I'm just so proud of the team. It was one heck of a run," Collins said after the Jaguars earned a third-place finish in the state meet on Saturday. "It really means everything to be a part of this team and all the relationships I've made. Our program is in a really good spot right now."
Collins anchored Centennial to a victory in the sprint medley relay and the Jaguars finished with 61 points, earning the highest finish in school history. The previous best finish came in 2018, when Centennial took fifth with 43 points.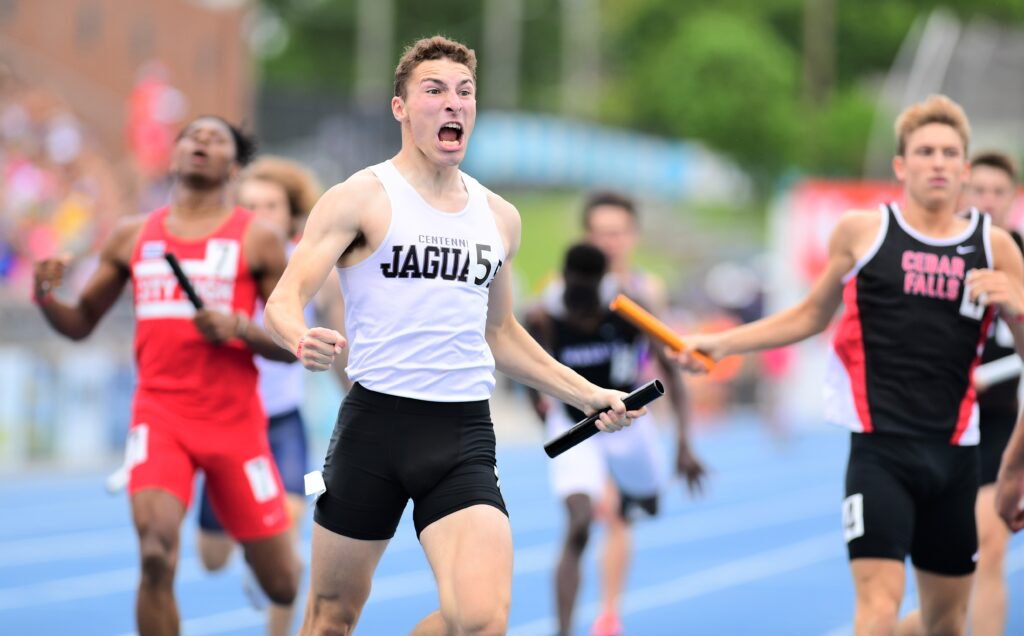 "This team took one event and one day at a time, stayed focused and took care of business," said Centennial coach Nate Smith. "It was great to see everyone supporting each other and being excited to compete. I'm proud of this team and staff."
Centennial opened the meet on Saturday by winning the third relay title in school history. The foursome of D'Eric Smith, Dominic Berry, Trey Porter and Collins posted a time of 1:31.72, which set a school record.
"It feels amazing," Porter said. "All the hard work we've done–it's finally paid off. We came in confident, and we just soared at the end."
Centennial was in third place when Porter got the baton to Collins on the final exchange. Collins then lifted the Jaguars to the victory, passing two other runners down the stretch.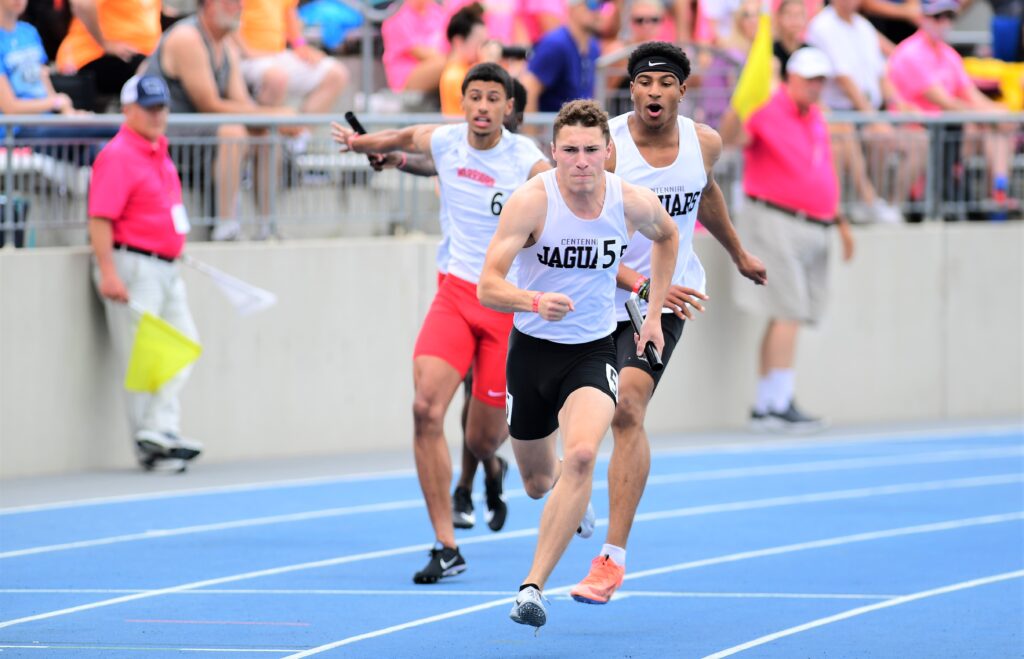 Cedar Falls was a close second in 1:31.93.
"That was pretty cool. All glory to God for that," Berry said. "We got around the track. We had great handoffs all the way around, and Tommy brought it home like the ace he is. We've seen him run people down countless times."
Centennial won the shuttle hurdle relay in 2017 and the 4×200 relay in 2018. Now, the Jaguars have added a title in the sprint medley relay, posting the eighth-fastest time in state history.
"That felt awesome. That was everything to me," Collins said. "Crossing that finish line, that's a moment I'm going to remember for the rest of my life.
"I came around probably 200 meters and thought, 'I'm getting third place.' But something kind of clicked. I'm not getting third place. I kind of told myself, 'I can't let my teammates down. I can't let myself down like that.' We came in wanting to win it, and we won it," he added.
It was also a sweet victory for Smith, who is a relative newcomer to the track.
"It feels so good, especially my first year coming out. There's nothing better than this," Smith said. "The last time I ran track was in seventh grade at a middle school in New Jersey. So this is pretty big for me."
Smith later placed second in the 100 in 10.94 seconds. He has committed to run for Indian Hills Community College next year.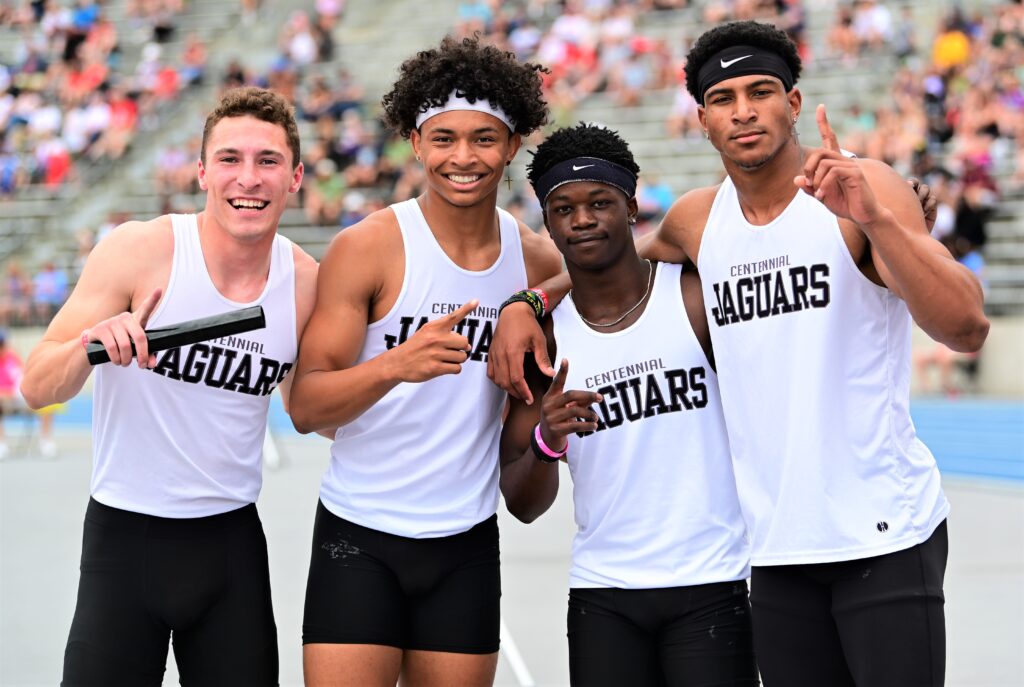 "I knew I was fast," Smith said. "I didn't know I was going to be with the top runners in Iowa. I just kept working because I knew I was years behind."
Smith had posted the fastest qualifying time of 10.81 on Thursday. He got off to a good start in the final and thought he was in control of the race.
However, Mikey McClain of Dowling Catholic came from behind to win in 10.79.
"I'm a competitor. I went into it with the best time, so I expected to win," Smith said. "We had a little headwind. I got out of the blocks good, but Mikey's a great runner. He's got that top speed. He just beat me.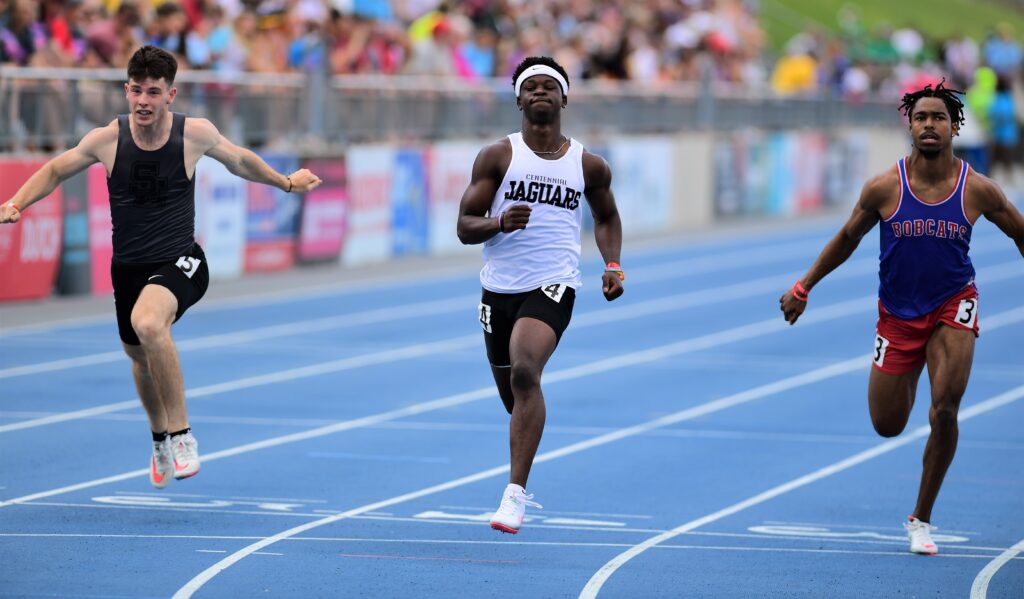 "I felt like I really had everyone until like the 60-meter mark when he got up with me. I can live with it being my first year. I don't have as much experience as these guys. I just thank God that I made it here. I'm happy with how I did," he added.
Smith later helped Centennial to a fourth-place finish in the 4×100 relay. He teamed up with Berry, Nathan Wilde and Porter to post a time of 42.89 seconds on a wet track following a heavy downpour.
Southeast Polk won the event in 42.35.
"We got fourth, and that was good," Smith said. "We had to catch up a little bit, but Trey's a great anchor in our 4×1 and 4×2. He really gains us more places when we have to catch up, so I'm glad we have him."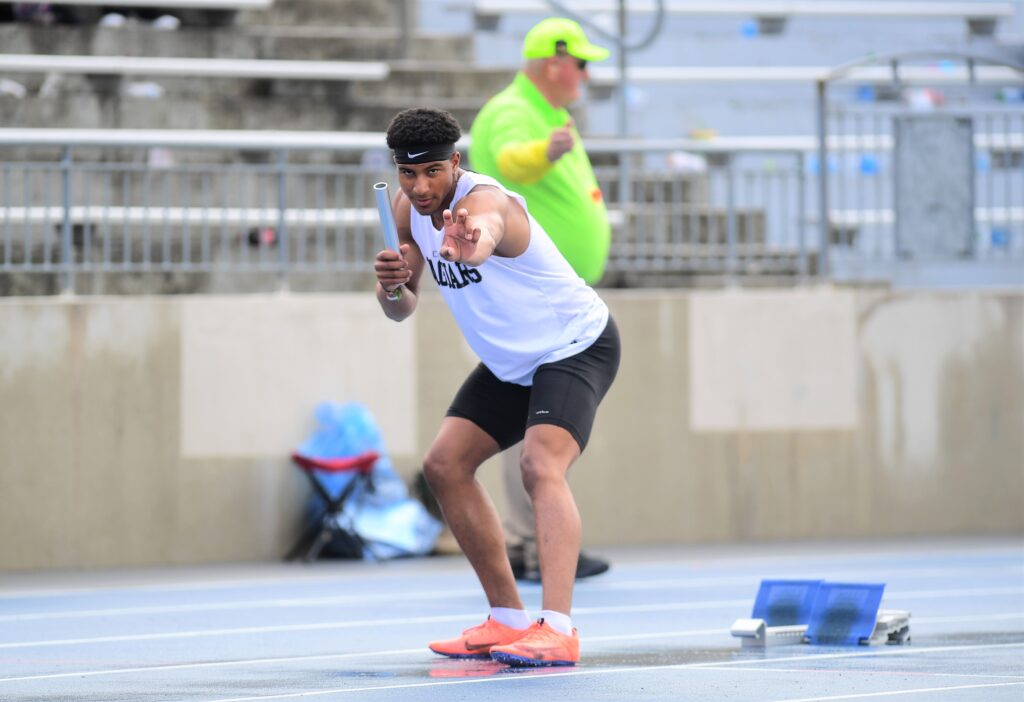 Centennial then closed out the meet with a runner-up finish in the 4×400 relay. The quartet of Porter, Austin Jones, Michael Joensen and Collins set another school record with a time of 3:18.55.
Cedar Falls won the race in 3:15.85, which allowed the Tigers to wrap up the team title as well.
"Cedar Falls is a bunch of dudes," Joensen said. "We were all trying our best. I'm proud–we got the school record. We had to go through a little adversity there with the rain, but I couldn't be happier. We got a medal and we got third overall, so we got a trophy. I'd say we got the job done."
Porter ran the opening leg in 47.95 seconds to put the Jaguars in the lead. But Cedar Falls eventually moved to the front and got the stick to anchor runner TJ Tomlyanovich, who had finished more than a second ahead of Collins to win the 400 on Thursday.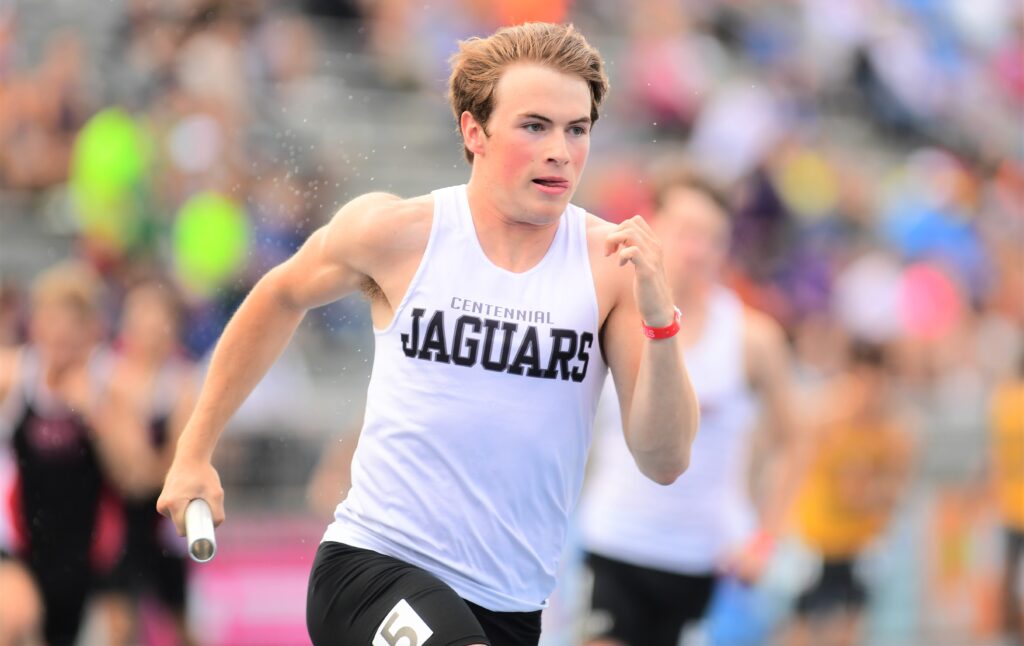 "TJ's a freak of nature," said Collins, who ran the final leg in 48.65. "He's a lot of fun to run with because he pulls me along, but he's just different. He can just do whatever his body needs him to do. Honestly, I didn't think I was going to get him. I'm pretty confident in my abilities but not against him."
Cedar Falls won the Class 4A crown with 87 points. Dowling was second with 77.
Centennial also picked up some valuable points in the hurdles events on Saturday. The foursome of Berry, Kobe Naber, Jack Davis and Tyler Johnson placed fourth in the shuttle hurdle relay in a time of 58.72 seconds.
"We ran a good time," Berry said. "The other teams just did better than us, and that's how it goes sometimes."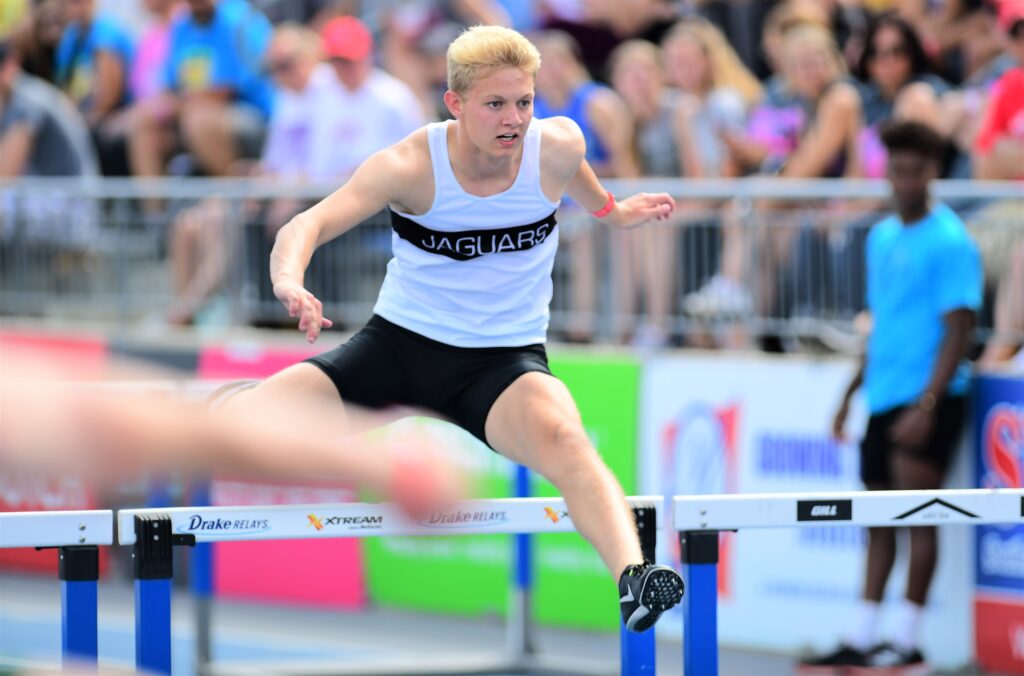 Cedar Rapids Prairie won the race in 57.73, followed closely by Cedar Rapids Kennedy and Dowling.
"Our goal was just to run a clean race and put some points on the board," Davis said. "The team race was at stake, so the ultimate goal was just to finish the race. You can't be mad when you PR by half a second and get fourth. At the end of the day, we got a medal.
"We knew this race was wide open. We took our opportunity, and I'm proud of it," he added.
Berry later placed fifth in the 110 hurdles in 15.13 seconds. Johnson was sixth in 15.22.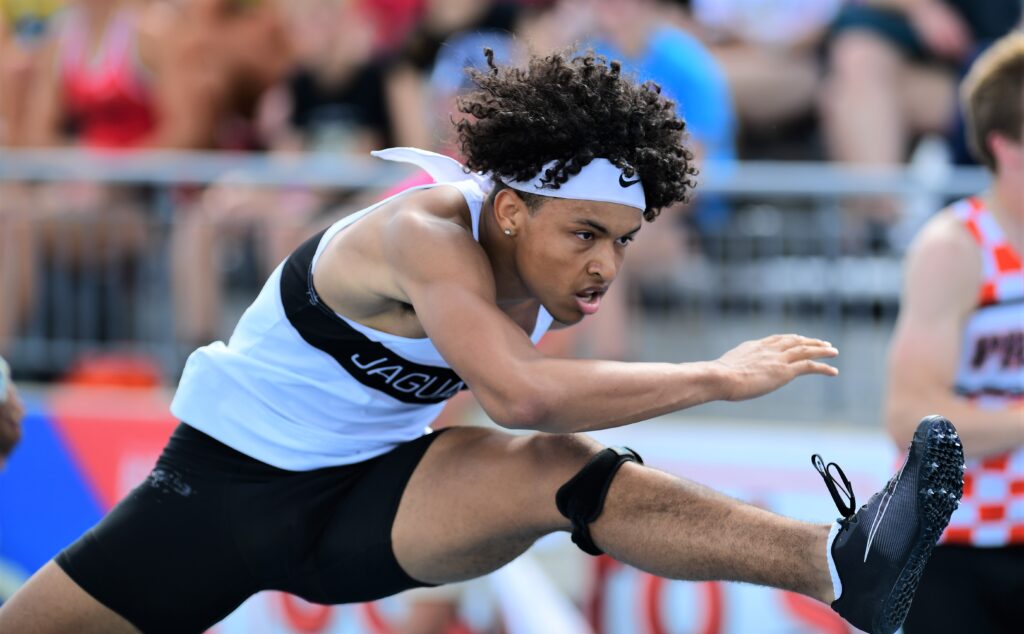 Dowling's Adam Wright won the race in 14.505, edging Ankeny's Mason Thompson by four-thousandths of a second.
"I felt really good about my race," Berry said. "I had a good start out of the blocks. We're doing really well racking up the points, and it's not just an individual thing. We want to win for everybody, including the people that didn't get a chance to run last year (due to COVID-19)."
In another event, Centennial got a 14th-place finish from Connor Cunningham in the 800. He set a personal record with a time of 1:58.68.
"I felt like I raced smart," Cunningham said. "I wanted to get out in front of that first pack and not get boxed in. I'm pretty happy with it."
Cunningham ran in the first of two sections, which was won by Cedar Falls' Tomlyanovich in 1:53.08. Tomlyanovich set a blistering pace in an effort to run a time that would be faster than the winner of the second section.
His strategy almost worked–he ended up placing second after Ames' Aniey Akok won the second section in 1:52.95.
"I don't know why (Tomlyanovich) was in the slow heat," Cunningham said. "I was just going to let him go, but if anybody else tried to keep up with him, I was going to go with them."