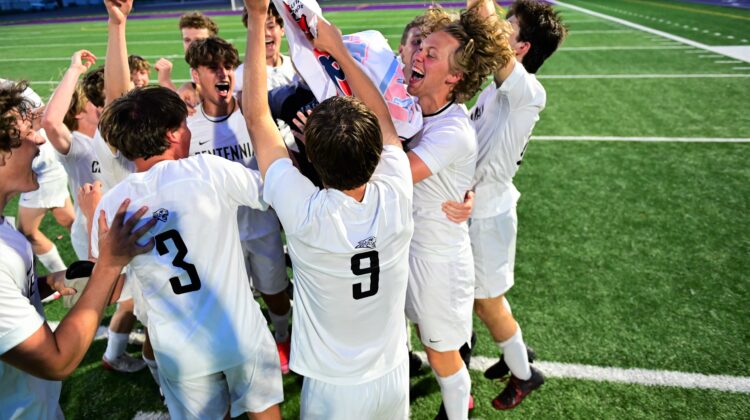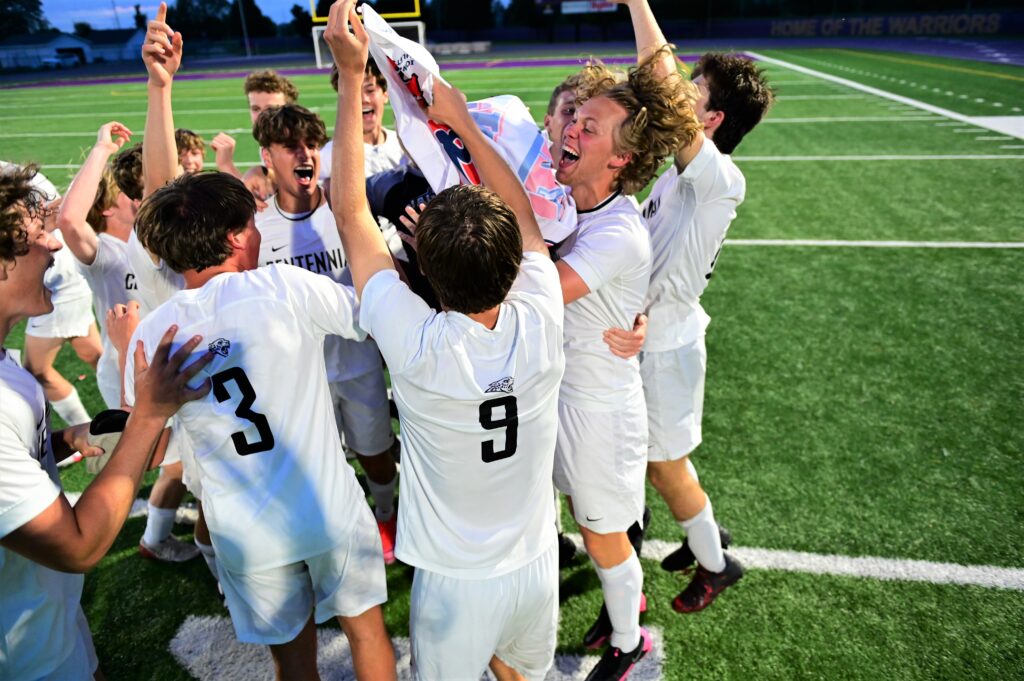 The Ankeny Centennial boys' soccer players weren't intimidated by top-ranked Waukee's 46-game winning streak.
After all, the Jaguars were the last team to defeat Waukee–three years ago.
"We wanted to go out there together and prove that they weren't infallible," said Centennial goalkeeper Jonathan Stockwell, who was a freshman on that 2018 team that posted a 1-0 victory over Waukee in a shootout. "Our coaches in our pregame compared this matchup to the biblical story of David and Goliath as well as to the 'Miracle on Ice' to get us motivated for the game, which all of us bought into and used that in our drive for the game."
Stockwell made several huge saves and Centennial shocked the world–or at least the boys' soccer community in Iowa–with another shootout victory over the Warriors. Emmanuel Reichart converted the game-winning penalty kick to give the No. 6 Jaguars a thrilling 2-1 win in a Class 3A substate final on Wednesday at Waukee.
Centennial (15-4) will play No. 4 Valley (16-4) in the Class 3A quarterfinals on Tuesday at 5:10 p.m. at Cownie Soccer Park.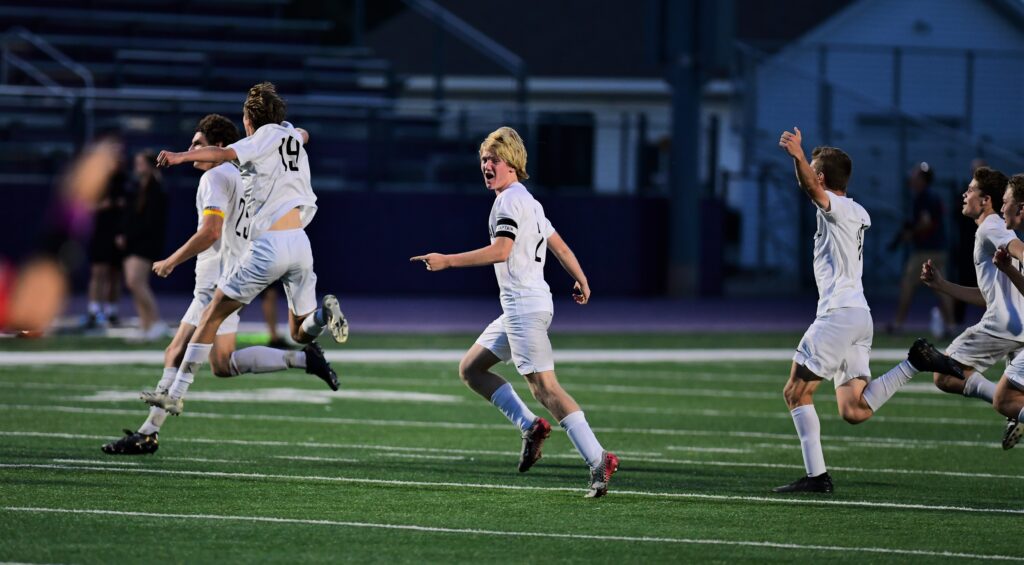 "Pride and the ability to go to state were on the line," said Centennial senior Michael Poitry. "(Waukee) came into it like they had already won, and we took advantage of that. We wanted it more, plain and simple."
Waukee, the two-time defending champion, finished the season at 18-1. Prior to Wednesday, the Warriors had allowed only three goals all year and had won every game by at least two goals.
"Our coaches gave us a formation and how to play it, which would put Waukee in a situation they haven't experienced this season," said Centennial senior Jack Heckenliable. "It was all the coaching staff. All we had to do was just play at 110 percent for 80 minutes–or 100 in this case."
Each team scored a goal during regulation, but neither squad could find the net in the two overtime periods. That forced a shootout to determine the outcome.
Joe Krueger converted Centennial's first kick, then Stockwell made a save to offset a miss by teammate Evan Larson.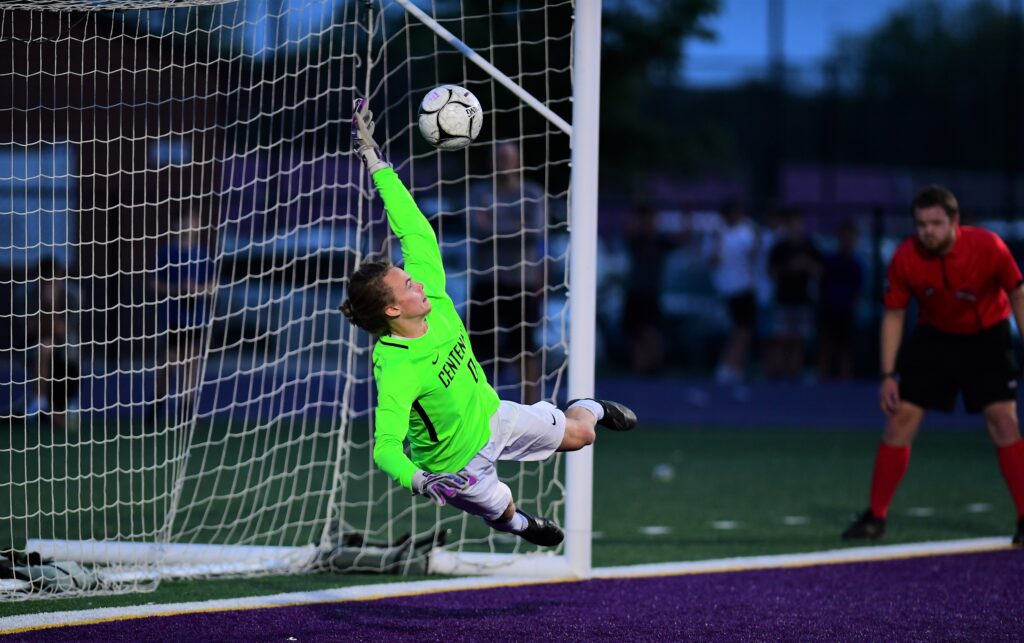 "Upon Evan missing his, I wasn't fazed by it and when I was walking into the frame I told him, 'Don't worry about it, I got another one in me,'" Stockwell said. "Which it turned out that I did."
Braden Thiele and Ty Duax converted the Jaguars' next two kicks to match Waukee, leaving the score at 3-3. Another save by Stockwell, his eighth of the game, put Centennial in the driver's seat.
"J Stock played out of his mind," Centennial coach Brian Duax said on the Ankeny Fanatic weekly podcast on Wednesday night. "He stood on his head a few times."
Reichart then followed with the game-winner, sending the Jaguars to the state tournament for the first time since 2018. The muscular junior has been battling lower back and hip spasms, and he did not play in Centennial's win over Southeast Polk in a substate semifinal on Monday.
"He's not fit," Duax said of Reichart. "The back spasms were gone, but we had to use him very sparingly–like 10-12 minutes at a time. But he plays club ball with all of those (Waukee) guys. So it only seemed fitting that he had the chance to get the game-winner for us."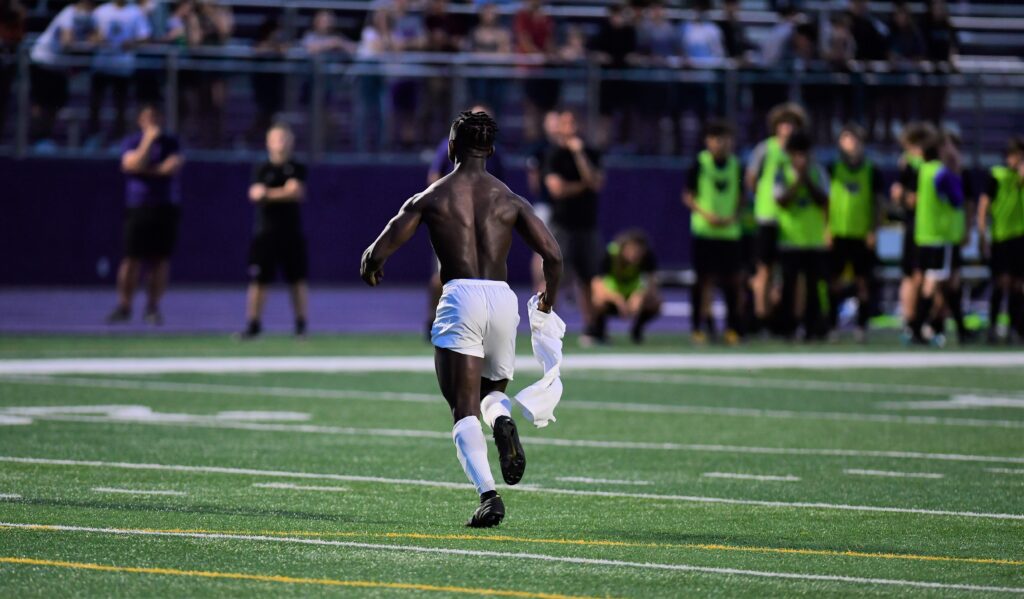 Afterwards, the Jaguars posed for photos with the state qualifier banner. They were ecstatic, but hardly surprised by the victory.
"Everyone called us the underdogs, but we saw ourselves as the ones to beat because of how we prepared and in the confidence we had in ourselves and each other," Poitry said. "And it worked."
Unlike most of Waukee's opponents, Centennial tried to play the Warriors straight up. The Jaguars did not just sit back and defend.
"Waukee is very technically sound," Duax said. "If you try to sit in, they're so good they're just going to pick you apart. So we picked a couple spots on the field where we were going to let them have the ball and they were going to have to beat us from there, and they were really good. They hit the post a couple of times, but we were up for the occasion."
After a scoreless first half, Centennial took a 1-0 lead on a goal by Ty Duax in the second half. He was assisted by Heckenliable.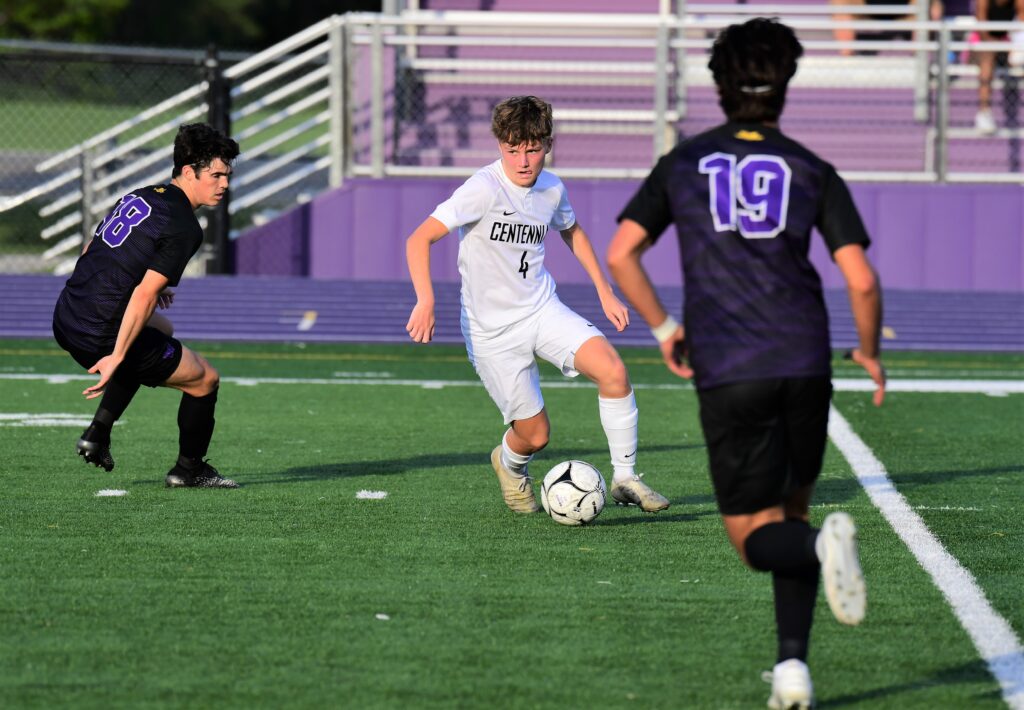 "Ty scored on a great run, and we had all the momentum," Duax said. "Unfortunately, the ref for about 4 minutes gave Waukee some free kicks, and they scored on one."
In overtime, the Warriors were awarded a penalty kick that could have ended the game. But Stockwell came up with a gigantic save.
His confidence only grew as the game headed to a shootout.
"My mindset was really just to go out there and do my job," Stockwell said. "I didn't really think too much during the shootout, but I knew what I was capable of and especially making that save in (overtime) and the save on the second (PK) in the shootout gave me confidence that I had more in me."
Duax said the game was all about heart and passion–and which team wanted it more.
"We went blow for blow with them," he said. "There were points in that game that felt like a track meet. Toward the end, you could see the fatigue on both sides. But I had all the confidence in the world that our five guys would make (their kicks) and J Stock would come up with at least one save, and he came up with two."
The Jaguars will now prepare to knock off another perennial powerhouse. Valley advanced to the state tournament with a 3-1 victory over Ankeny.
"It feels amazing, and we aren't going to be looking back now," Poitry said. "We have three more games, and we plan on taking it one at a time all the way."
Heckenliable said the team's mental approach will remain the same against the Tigers, who posted a 4-2 win over Centennial on April 6.
"We fully know that if we get cocky we tend to suck, but we now know that if we play our best we can beat anyone," he said. "We just need to keep that mentality until we beat whoever in the state final."