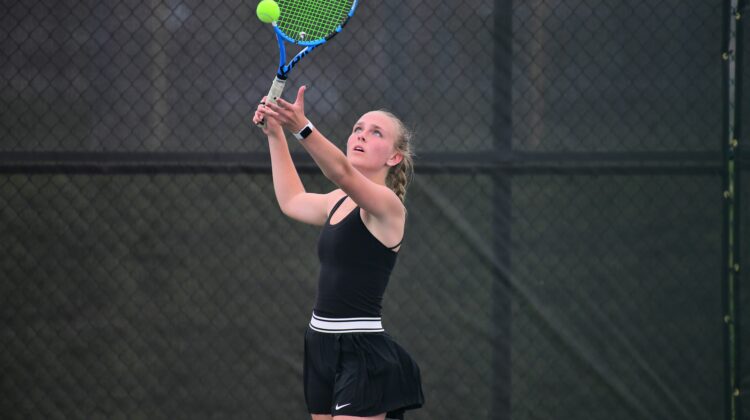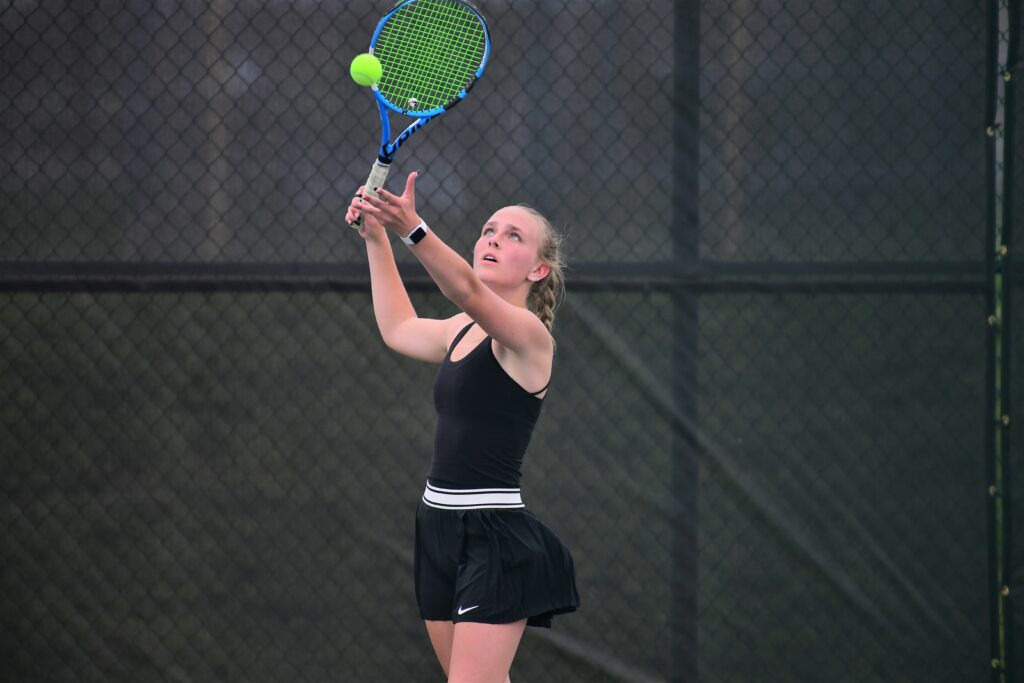 Ankeny Centennial senior Jordyn Gustafson closed out her high school tennis career with a second appearance in the girls' Class 2A state tournament last week in Iowa City. She won a first-round consolation match on Wednesday before being eliminated from the tournament.
Gustafson helped Centennial to a 9-3 record this season. The Jaguars won the CIML Iowa Conference title and advanced to the quarterfinals of the Class 2A state team tournament before dropping a 5-3 decision to Valley.
Here is some inside info on Gustafson:
Congratulations on a great season. Are you satisfied with everything that you and the team were able to accomplish?
Yes, I was very pleased with how the season ended up. Overall, this was a very strong team and we all played super well. And personally, my goal at the beginning of the season was to make it back to the state tournament after missing out on my junior season due to COVID-19, so as a senior I was grateful to get back there one more time.
What was the highlight of the season for you?
I had tons of highlights, but to name a couple, making it to individual state in singles this year and making it to team state for the first time in school history. A couple of my match highlights were winning my second match at state and pulling out a big decision match against Valley during team state.
You dropped a 6-1, 6-0 decision to Lauren Masengarb of Pleasant Valley in the opening round of the state tournament. Did you know anything about her before you played her?
Overall, against Masengarb, I had no idea how she was going to be as an opponent. She came out super strong and just didn't make any errors.
Did you have any first-match jitters, or were you pretty relaxed since you had been to state before?
I was definitely nervous going into the match and although this may have had some impact on my game, she was a great player and definitely deserved to be at the state tournament.
You then posted a 6-0, 6-3 victory over Ankeny's Megan Sommerfeld in a first-round consolation match. What was the key to beating her since the two of you know each other so well?
Against Megan, it was definitely a fun match. I found out that I needed to be consistent and needed to play my own game. With this being my first win at the state tournament, it was a big match for me.
I'm sure that's a memory you'll remember for a long time. How did the match end? Did you hit a winner?
To be honest with you, I can't remember if I hit a winner to win that match–it was all kind of a blur. But I do remember the feeling of excitement as the last point finished and I knew I was advancing in the tournament.
You then dropped a 6-1, 6-1 decision to Ella De Young of Iowa City West in a second-round consolation match. De Young had just lost to your teammate–Abbie Peterson–in the quarterfinals, so did Abbie give you any advice on how to play her?
Going into my match with Ella, Abbie didn't give me much advice on how to play her.
I heard that Ella had a lot of fans there for her match against Abbie. Was there a pretty big crowd for your match as well?
Ella didn't have as big of a fan base for her match against me, so that was good because that was something I was a little worried about. Overall, even after the tough loss, I feel that was some of the best tennis I've played all year against a great opponent.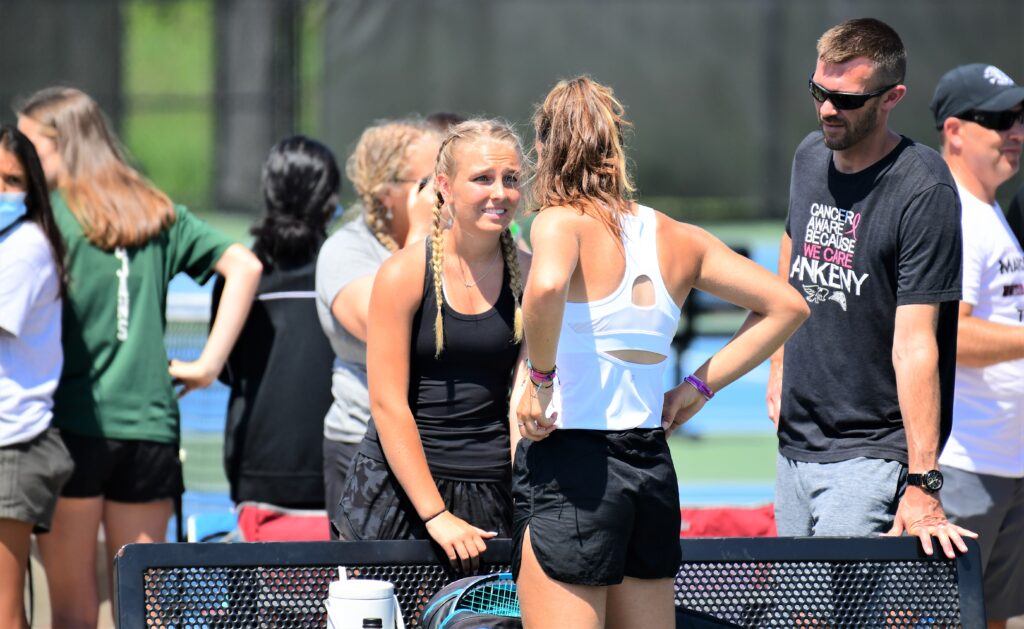 Abbie went on to earn a fourth-place finish, which surpassed the fifth-place finish by your sister Alli two years ago as the highest finish in school history. That was a pretty impressive performance by a freshman, wasn't it?
When it came to Abbie, she had a very impressive finish as a freshman and all of us are super proud of her. I can't wait to see what her future tennis career holds for her.
I know you played against Allison Szalay of Dowling Catholic in the doubles tournament in 2019. Szalay defeated Peterson in the semifinals and went on to win the singles title. Did you see that kind of potential in Szalay two years ago?
When I played against Allison, I knew she had lots of potential and was a great player then. She's a great player and overall has a great game. I think she went into it pretty confident, and overall fought hard for her title.
Your teammates Claudia and Esther Guan also qualified for state and placed sixth in doubles. What did you think of their performance?
Claudia and Esther played great, and I couldn't be more proud. They pulled through some tough matches and ended up with a great finish.
What are your plans for next year?
I plan to attend the University of Iowa to pursue a career in psychology. I hope to continue playing tennis for fun.