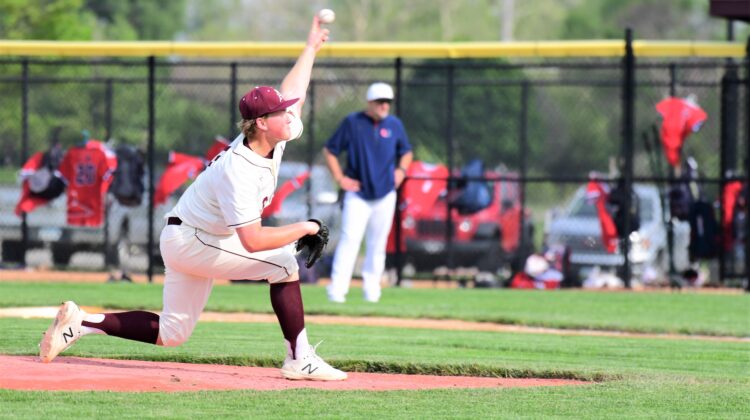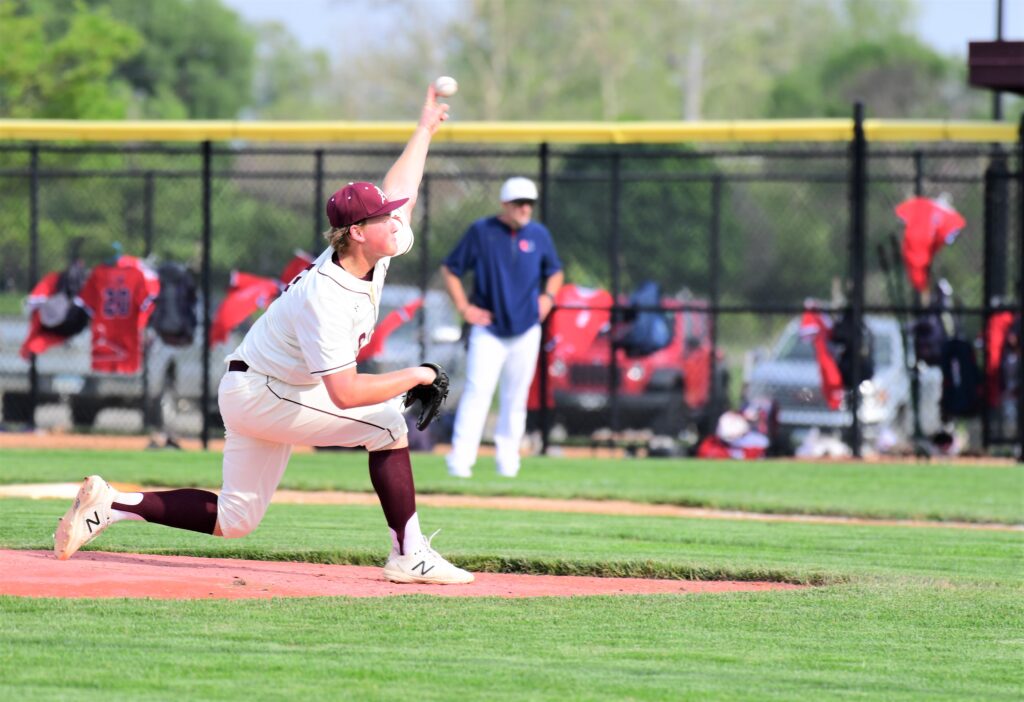 Ankeny pitcher Weston Fulk didn't realize how many strikeouts he had until he left the first game of Wednesday's baseball doubleheader at Ames with two outs in the fifth inning.
"When I got done throwing, I was thinking about my start and then that was when I realized that no one put the ball in play for an out," said Fulk. "It's cool to have every strikeout but that also takes a toll on your pitch count as well. My fastball was in control for most of the time, and the curveball was a pretty good putout pitch when I needed it to be."
Fulk racked up 14 strikeouts–and also allowed six walks–in 4 2/3 innings as the fifth-ranked Hawks posted a 6-3 victory in the opener of the twinbill. He gave up one earned run on two hits while evening his record at 2-2.
After throwing 111 pitches, Fulk was forced off the mound. Relievers Dylan Schlee and Easton Dunwoody then got the last seven outs, finishing the combined three-hitter.
Ankeny used a four-run fourth inning to break a 1-1 tie. The Hawks pounded out 10 hits, five of them for extra bases.
Jase Bauer went 2-for-4 with a homer and two RBIs. It was his third home run of the season.
Brody Brecht added a three-run blast, his first of the year. Fulk had a double and then later homered in the nightcap.
"It's not just Brody, Jase and I," Fulk said. "I think up and down our lineup we have guys that can really swing it. We just need to keep staying hot and continue to get on a run because it's really fun to be a part of this team right now when there's absolutely no weak spot in your lineup and you have confidence with every guy stepping in the box."
Kade Somers went 2-for-4 and drove in a run in the opener. Colin Riggs went 2-for-4 with a double, and Tamden Webb-Tate also had a double.
In the second game, Ankeny scored four runs in the third inning and went on to post a 7-2 win to complete a sweep. The Hawks extended their winning streak to 10 games.
Fulk hit his third homer and had two RBIs. Bauer knocked in three runs, giving him 28 RBIs in just 18 games.
Webb-Tate went 2-for-3 with two doubles and one RBI. Riggs also drove in a run.
Somers had a triple, while Brecht and Ryan Crandall each added a double. The Hawks now have 66 extra-base hits on the season.
Will Johnson (2-1) was the winning pitcher. He allowed one run on seven hits and had four strikeouts over the first five innings.
Ankeny improved to 10-0 in the CIML Iowa Conference and 13-5 overall, while the Little Cyclones' records dropped to 2-8 and 10-10. The Hawks have opened up a three-game lead over second-place Mason City, which split a twinbill at Ankeny Centennial on Wednesday.
Ankeny will play a non-conference doubleheader at Southeast Polk (11-8) on Thursday.