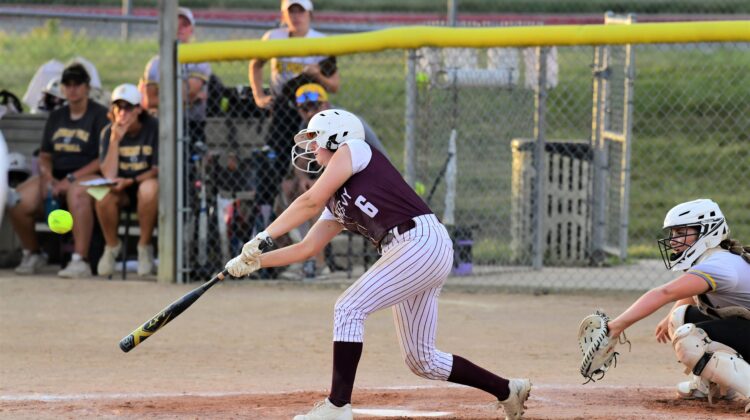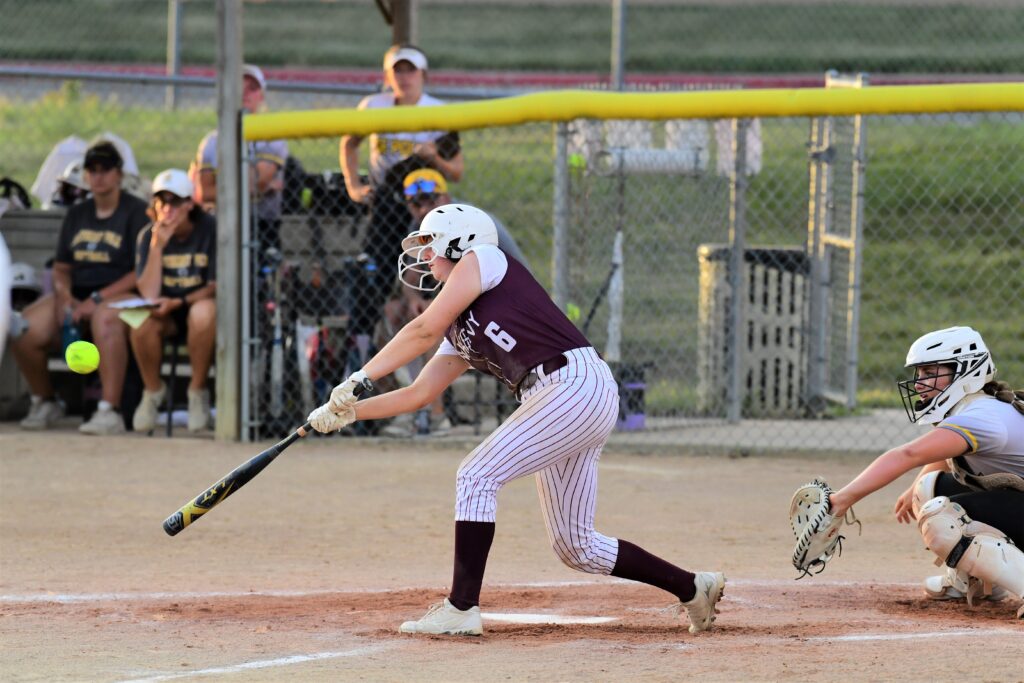 Senior first baseman Gillian Overturf has helped the Ankeny softball team to a 19-16 record.
Overturf is batting .452 with 44 RBIs. She leads the Hawkettes with five home runs and 16 doubles.
Here is some inside info on Overturf:
Congratulations on an outstanding season thus far. What has been the highlight for you?
Thank you! This season has been so much fun! Just having the chance to be with my teammates and friends! After COVID, it's been amazing being together and being able to do more team activities and dinners. Playing in tournaments like the one in Fort Dodge and even the (Brent) Prange tournament, they all have so many memories attached to them. I think it'll be impossible to forget the love I have for this team and the opportunity to be able to play a game I love with my best friends. These girls will always be the highlight.
You've already surpassed your totals of two homers and 21 RBIs from a year ago. To what do you attribute your success?
I think I can attribute my success thus far to my work in the offseason! I did a lot of indoor hitting at ISA and in my garage in the winter, and the tournaments I played in the spring season were really good chances for me. Extra reps always help! In addition to hitting, I started to work out two to three times a week with Jason Hill at 360 Athlete. He really helped me gain some more muscle and taught me how to use it appropriately for softball and the movements that are a part of the game. I also focused a lot trying to work out my mental game. Before this season, I spent a lot of time worrying about everything surrounding softball, but this season I let all that go and just play the game I love.
Which of your home runs from this season do you remember the most? Is there one that sticks out for some reason?
The home run I hit while we were in Ames a couple weeks ago was pretty memorable! I hit it right off the left field foul pole. There was also a game where Marina (Carter) and I hit back-to-back home runs on back-to-back pitches, so that was a pretty crazy thing to happen as well.
Your team has obviously had some ups and downs. Why do you think the team has been so inconsistent?
I think that every team has ups and downs, and the best thing we can do with it is learn from it and continue to push forward. We work really hard in practice to make sure that our errors are kept to a minimum, and we will continue to do that all the way through the rest of our season. I have confidence in my team and what we are able to accomplish. We're playing together and for each other right now, and that is what we focus on.
Your team will host a doubleheader against Ames on Tuesday to close out the regular season. How important do you think it is to get a couple of wins to build some momentum for the postseason?
I think it's extremely important to get these last couple wins during the regular season. Every team will feed on momentum, and our team isn't any different. Obviously we want to win the rest of our games going into the regional, but regardless of what happens, we're going to do everything we can to continue playing through July. The best way we can do that is to stay together and have fun.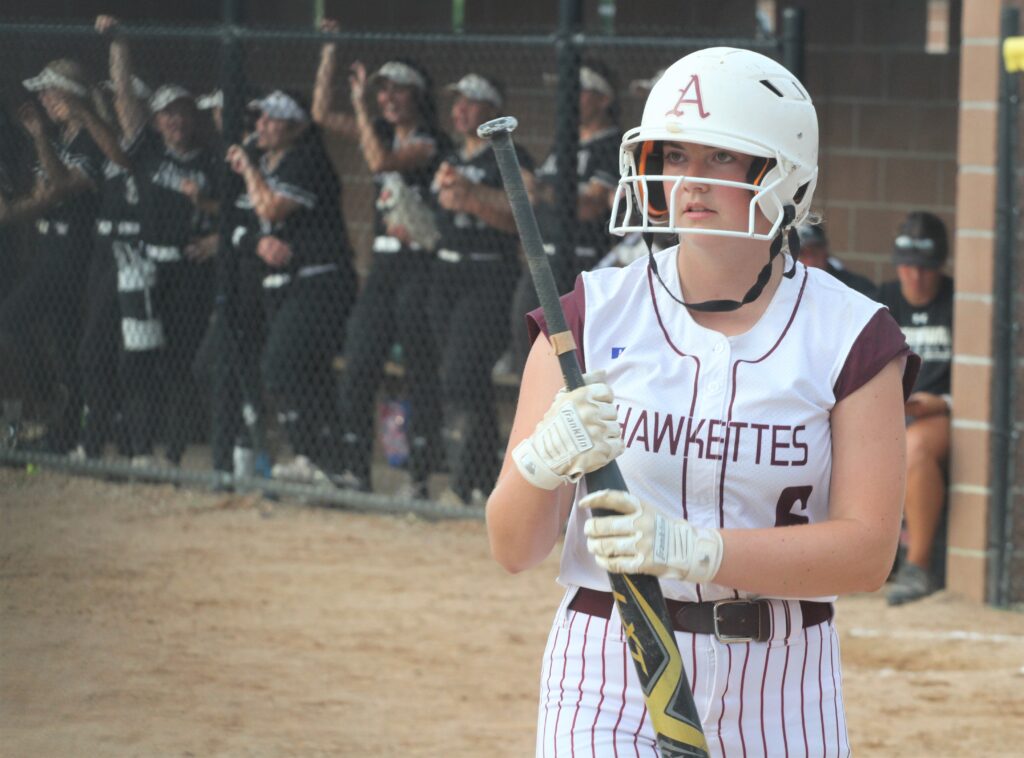 Your team will play at 10th-ranked Ankeny Centennial in a Class 5A regional semifinal on Saturday. Are you glad that you get another crack at the Jaguars?
I think that it's really special to play the Jags one last time. A lot of us seniors have grown up playing with the girls on Centennial so it's always super fun to play them, and we all have a little bit more of a competitive edge when we're playing. The Jags are a good team, and I've always loved playing against them. The atmosphere is amazing, and I'm sure it will be no different when we play them on Saturday.
Centennial won three of the four meetings against the Hawkettes this season, but your team's three losses came by a total of five runs. Do you feel like the two teams are pretty evenly matched?
I do think the two teams are evenly matched. Centennial is well prepped when we play them, but we are too. They have really good hitters that all have their own areas they excel in, but we are ready to defend against anything and score the runs we need to to win that first regional game.
What will be the key to beating the Jaguars?
I think the key to beating the Jaguars is just staying positive and playing together as a team. We can get their pitching down and once we start hitting, the excitement and confidence builds and that is when we are at our best. Ideally, we need to start with high confidence and keep it high, no matter what happens in the game. On our end, we just need to control what we can control and play softball like we know how.
The winner of that game would likely have to win at No. 4 Indianola in the regional final in order to qualify for state. Do you know much about the Indians?
Right now, we are focusing on one game at a time. I know Indianola is always a strong team and when we play them during fall and spring tournaments the games were super competitive. When we get to that point, I have confidence we'll be ready to perform and we'll know what we need to know!
You are headed to Grand View to play for the Vikings. Do you think you'll have a chance to contribute right away?
I feel confident I'll get a chance to contribute and I know that I'll have to work for it, but I'm definitely willing to do that. Coming into any program as a freshman can be nerve-racking but I'm willing to put in the work during offseason workouts and during practice and that's as much as I can do! I'll be happy in any role I'm put in. I'm just extremely excited to have the opportunity to play at a higher level and for coach Yacinich.
What do you think will be the biggest adjustment you'll have to make in order to play at the collegiate level?
I think the most difficult thing to adjust to is balancing the school workload, softball, and everything else. I know walking in as a nursing major will be tough as it's a work-heavy class load, but I think Grand View does a really nice job supporting their student athletes and coach Yacinich is super supportive as well. I think the 5 a.m. lifts are going to be a struggle for me as well…I really love to sleep in!