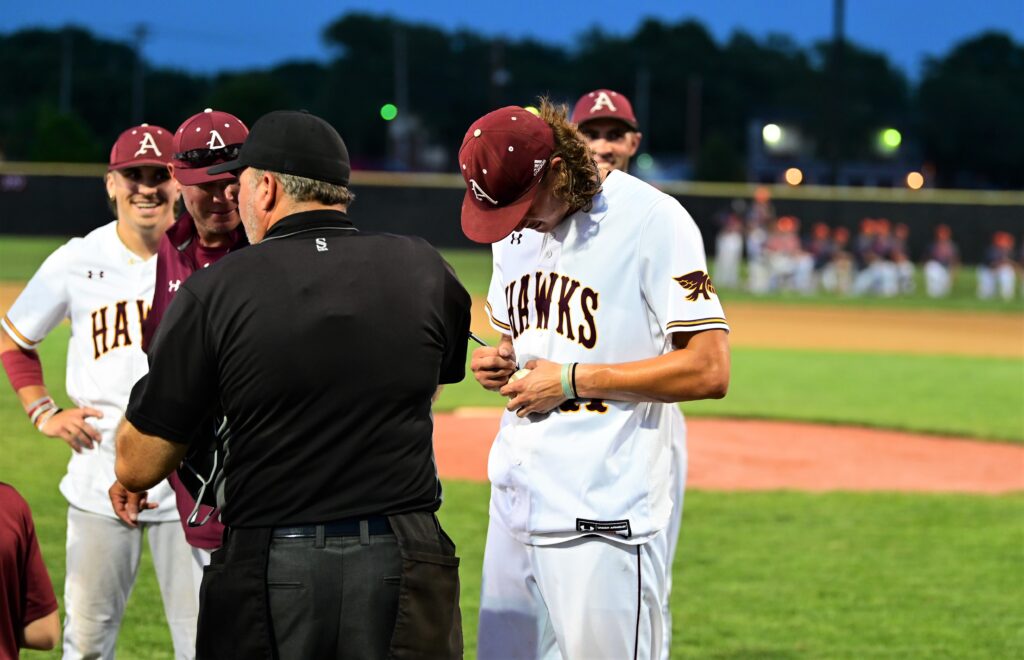 Jase Bauer almost felt sorry for his opponents after the Ankeny baseball team defeated visiting Ames, 15-5, in five innings in the first game of a doubleheader on Tuesday.
"I was telling someone after we 10-runned these guys and Will (Johnson) pitched a gem and we've got Brody (Brecht) coming out for the second game, that's got to be demoralizing for (Ames) knowing we got an MLB prospect coming to the mound now," Bauer said. "Our pitching staff is awesome. It's one of the deepest in the state."
Things only got worse for the Little Cyclones in the nightcap.
Brecht tossed a no-hitter and racked up a career-high 17 strikeouts as second-ranked Ankeny completed a sweep of the twinbill with a 7-0 victory. The senior righthander allowed four walks but got stronger as the game went on, fanning the last 12 batters that he faced.
"That was my first time throwing at home since Urbandale (on May 24)," said Brecht. "I had to get back in the groove on the mound. Once I settled in, I felt like everything was clicking for me. I just had to settle in and get rid of those walks and focus on playing catch with Tam(den Webb-Tate)."
Brecht raised his mark to 7-0 while lowering his ERA to 0.68. He's got a chance to break the single-season ERA school record of 0.74 held by former major leaguer Benj Sampson.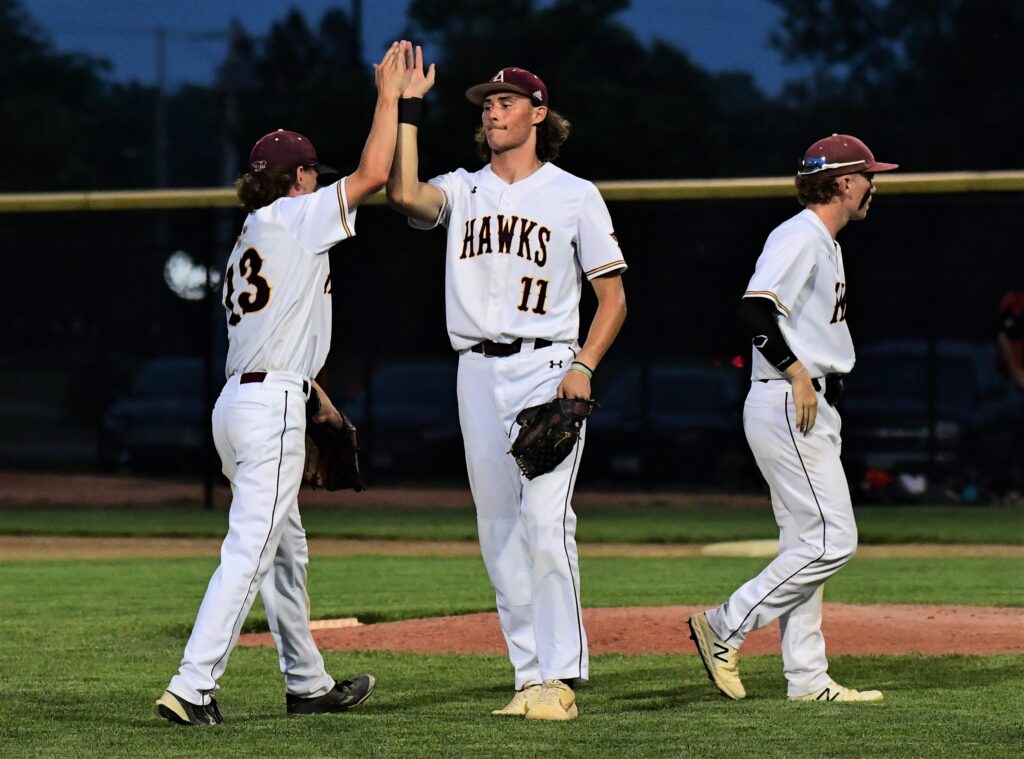 "I got one ball over to me, but just watching Brody throw and do his thing…you could tell he was in a groove," said Ankeny first baseman Weston Fulk, who had another monster night at the plate. "After he struck out six straight, I knew nobody was going to touch him. It's great to see him do that."
Brecht nearly threw a no-hitter on June 23 at Fort Dodge, where he was four outs away before giving up a single. On Tuesday, the 2020-21 Gatorade Iowa Player of the Year was not going to be denied–especially after teammate Cael Boyd robbed Ames of a base hit in center field early in the game.
"I'd be lying if I said I didn't (think about the no-hitter)," Brecht said. "I tried to keep it out of my head so I didn't jinx it. Cael made a great catch–that was one of the best catches I've ever seen. And (second baseman) Carter (Smith) and Wes, they all made plays out there."
Brecht tied the school record of 17 strikeouts that was set by Sampson in 1993. His previous high of 16 strikeouts came in last year's Class 4A quarterfinals against Pleasant Valley.
"Honestly, all of (my pitches) were working," said Brecht, who ranks third in the state with 89 strikeouts. "I started throwing the curveball the last three innings. That was working. I'd start throwing that first pitch and getting ahead, then I'd hit the fastball and come back with the slider. My slider was on all game."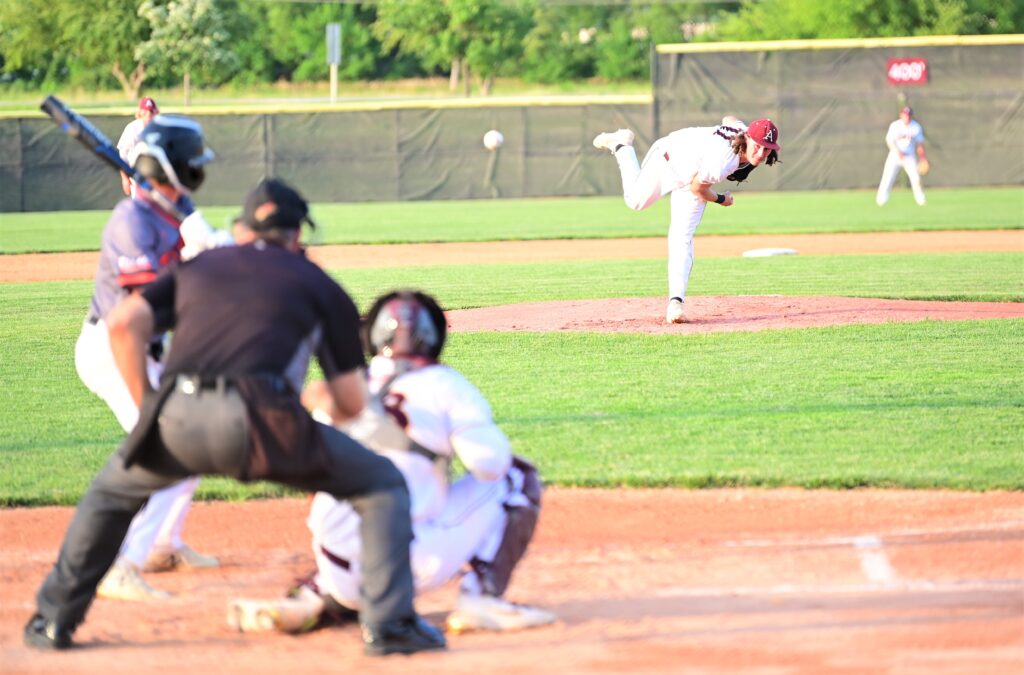 Like Sampson, who was selected by the Minnesota Twins in the sixth round of the MLB amateur draft 28 years ago, Brecht will have an opportunity to turn pro. This was his final start before the 2021 draft, which begins on Sunday.
Brecht, who was ranked the 77th best prospect by MLB.com in the latest rankings, is expected to be chosen in the first few rounds of the draft. He has committed to play football and baseball at Iowa, but will likely have to turn down a seven-figure signing bonus in order to make it to Iowa City this fall.
"What can you say about Brody?" asked Ankeny coach Joe Balvanz. "It took him awhile to find his tempo, but it's been awhile since I sat through a 17-(strikeout) no-hitter. He threw some pitches up there that were unhittable. I'm proud of him–he's a special athlete and he's got a bright future ahead of him, no matter what he decides to do."
Fulk went 5-for-7 on the night with seven RBIs as Ankeny finished a perfect 20-0 in the CIML Iowa Conference and improved to 25-6 overall. The Little Cyclones' records dropped to 5-15 and 17-19.
"It feels really good to win the conference and go undefeated," Fulk said. "That was one of our goals–to win the conference. And now we're going to try to make a push in the postseason."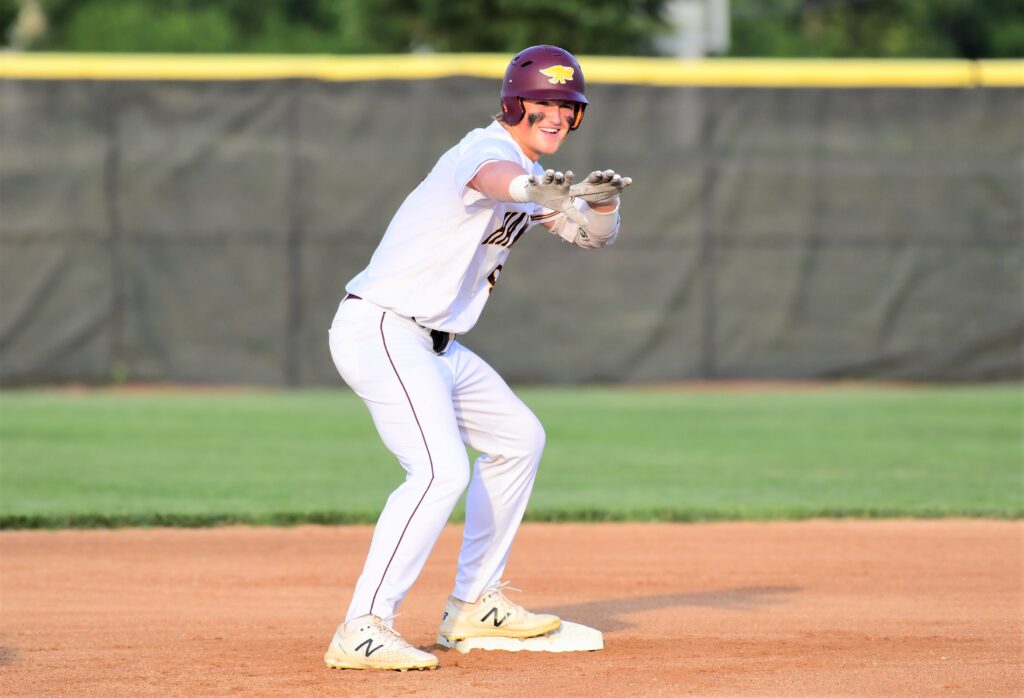 Fulk homered and doubled in both games and now leads the state with 119 total bases. He is tied for the state lead in doubles (19) and hits (57).
Fulk tied the single-season school record for doubles that was held by Kalvin Johnson. He's also closing in on Johnson's mark of 15 home runs.
"I didn't really know it was 15, but it's definitely something to look into," said Fulk, who is tied for third in the state with 11 homers. "I'm glad I'm in that company up top. We'll see how it goes the rest of the year.
"We're just trying to square up balls and then obviously see where it goes. Squaring up allows me to drive the ball to all fields and a lot of them are going out," added Fulk, who also ranks fifth in the state with 53 RBIs, just six shy of Joe Ferin's school record.
Bauer continued his hitting tear as well. He went 4-for-4 in the opener with a homer, two triples and five RBIs.
After Ames took a 1-0 lead in the top of the first inning, Bauer answered with a leadoff homer in the bottom of the frame. It was his seventh roundtripper of the year.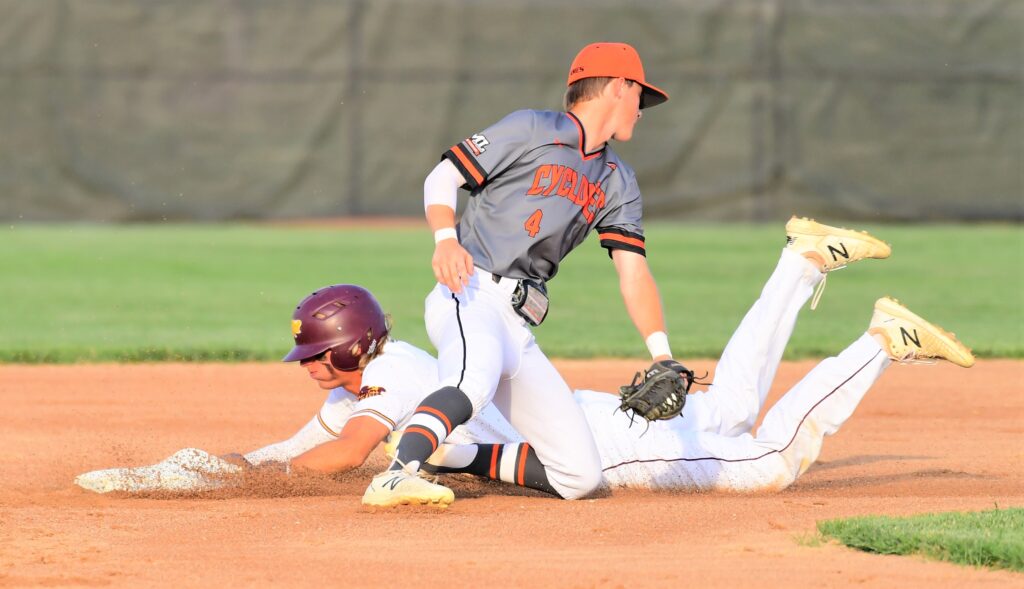 "It's awesome when we're all hitting the ball like that," said Bauer, who is tied for third in the state with 53 hits. "I couldn't be more happy with the way all the guys are playing."
Boyd went 2-for-3 with a double, a triple and two RBIs. Brecht also drove in two runs, while Colin Riggs went 2-for-3 with a double and one RBI.
Johnson (5-1) allowed no earned runs on two hits over the first four innings. He had four strikeouts.
"We got good pitching, we played good defense when we had to, and we swung the bats really well," Balvanz said. "We were hitting the ball pretty hard all night long."
Brecht went 2-for-4 with an RBI to help his own cause in the second game. Ryan Crandall went 2-for-3 and knocked in a run.
The Hawks will play a non-conference doubleheader at Des Moines Roosevelt (26-10) on Wednesday, beginning at 3:30 p.m.