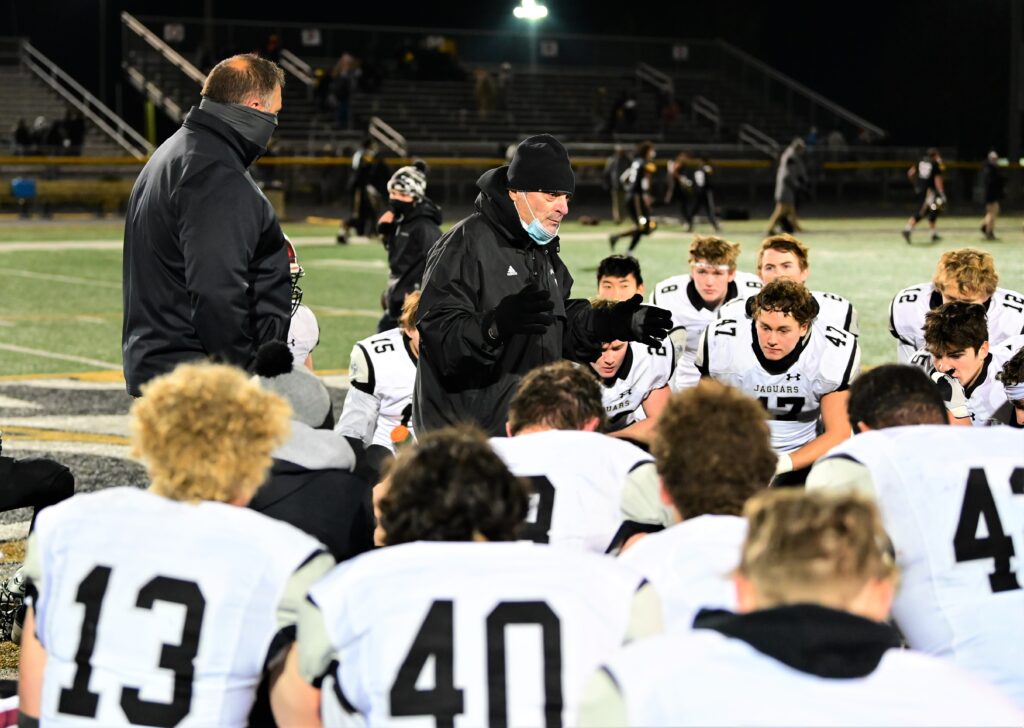 The losses stick out in Jerry Pezzetti's mind much more than the victories.
Over the last six decades, there haven't been a lot of them.
"People talk about the wins, but I think I remember the losses a lot more than the wins," said Pezzetti, who has been coaching high school football for 60 years. "Someone asked me how many wins (I have), and I don't really know what it is. But I know the losses are 166. I keep track of that."
Ankeny Centennial's co-head coach enters the 2021 season with a career record of 431-166-1. He needs two more victories to become the all-time winningest coach in the history of Iowa high school football.
Dick Tighe set the mark of 432 victories over a 63-year career at five different schools.
"He's well deserving of (the record)," said Centennial co-head coach Ryan Pezzetti, who is Jerry's son. "When he first started coaching, those kids were coal miners' kids in his hometown. And to get to this point where he is now, we're all trying to get it for him."
The Jaguars will open their season on Friday at Indianola. With a win over the Indians, Pezzetti could break the record on Sept. 3 against crosstown rival Ankeny.
"I want him to get that (record)," said Centennial senior Carter Cahill. "He's a legendary coach and a great guy, too. I love playing for him."
Centennial is looking to bounce back from a rare losing season. The Jaguars went just 2-6 in 2020, capped off by a 41-7 loss at Southeast Polk in the second round of the Class 4A playoffs.
"We had a great winter, a great spring and summer was very exciting being able to get back on the football field," said Ryan Pezzetti, whose team will be part of the new Class 5A division this season. "We hit the ground running in August. Right now to this point, we're healthy and we're optimistic about things."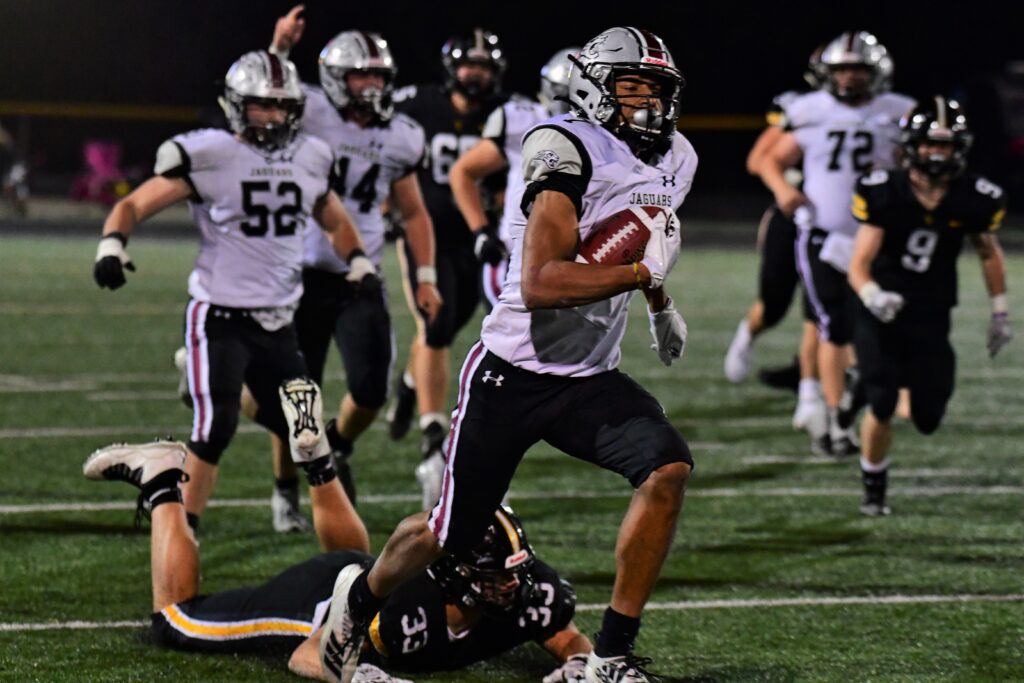 Centennial returns several standouts from last year's team, led by Cahill and fellow senior Trey Porter. Porter, a Northern Illinois recruit, was named to the Class 4A all-state third team by the Iowa Print Sports Writers Association as a running back.
"Everyone's put in the work in the weightroom in the offseason," said Porter, who was also a first-team all-district pick as a junior. "All the coaches and players are 100 percent invested in this team, and we're ready to go."
Porter rushed for 582 yards and five touchdowns on 92 carries last season. He also caught seven passes for 93 yards.
Porter has been ranked the 33rd-best player in the state according to The Des Moines Register.
"Obviously, I know I'm higher than 33, but the rankings don't matter," Porter said. "It's what you do on the field on Friday nights."
Porter is expected to see action on both sides of the ball this season.
"Trey is going to play (defense), and he's going to run the football," Jerry Pezzetti said. "He's got the speed and the moves. He's an excellent football player."
Cahill will be another two-way player for the Jaguars. He made 39.5 tackles as a junior and was a second-team all-district selection as a defensive back.
On offense, he ran 33 times for 103 yards and caught eight passes for 68 yards. Cahill said he wants to be a team leader both on and off the field.
"Every team has got issues, and you need guys to resolve those issues," he said. "I feel like I can be one of those guys."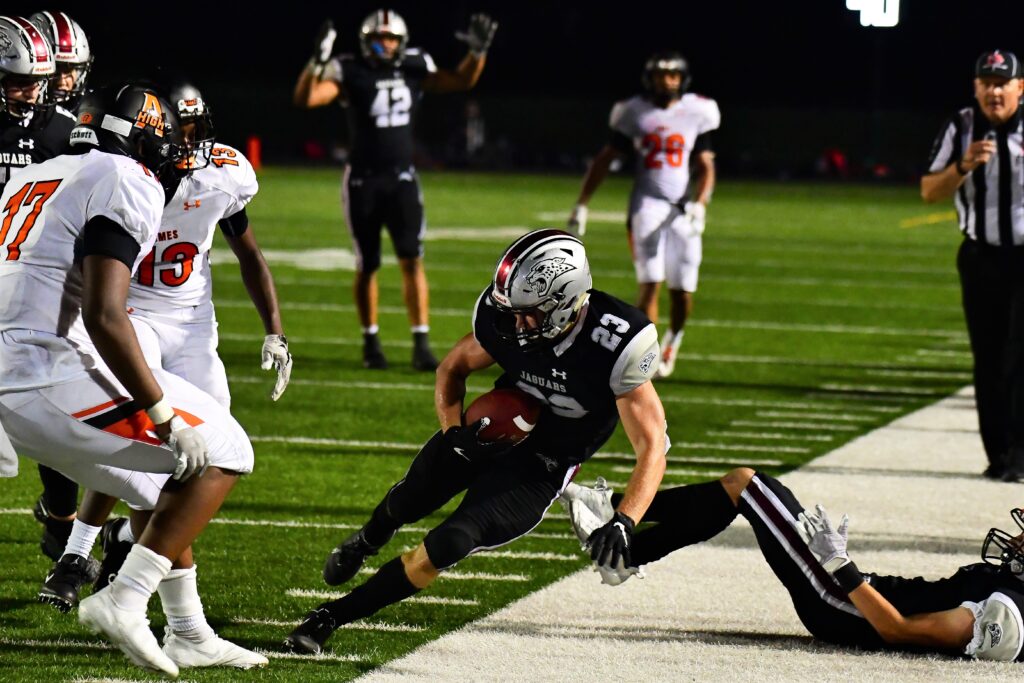 Among Centennial's other returnees are seniors Keegan Andriano, Peyton Goode and Isaiah Sterns, and juniors Zach English and Brody Targgart. They all received all-district honorable mention a year ago.
Sterns, a wide receiver, caught 24 passes for 310 yards. Goode caught 20 passes for 351 yards and three touchdowns, but has moved to quarterback and is battling Ames transfer Trenton Smith–a sophomore–for the starting job.
"Peyton can run, and he can pass," said Jerry Pezzetti. "He's worked very hard for that position, and he's been elected captain by the team."
English, a linebacker, made 43.5 tackles a year ago. Andriano, a defensive back, had 31.5. Targgart, a defensive lineman, added 31.
"Our defense is looking very deep," Porter said. "The starters and backups are looking pretty even–they're fighting for spots. They're looking good."
Cahill said he thinks the Jaguars will benefit from the difficult schedule that they played a year ago. This year's schedule won't be any easier.
"We've got a really experienced squad," Cahill said. "I think that's going to take us a long way this season."
Indianola is fourth in Class 4A in the Register's preseason rankings. The Indians are coached by former Ankeny player Eric Kluver and boast one of the state's best running backs in Kael Kolarik.
"He's a great young man, and he played for us," Jerry Pezzetti said of Kluver. "He'll have his team ready, and he's got one of the best teams he's had. They're expecting big things. We know we'll have our hands full."