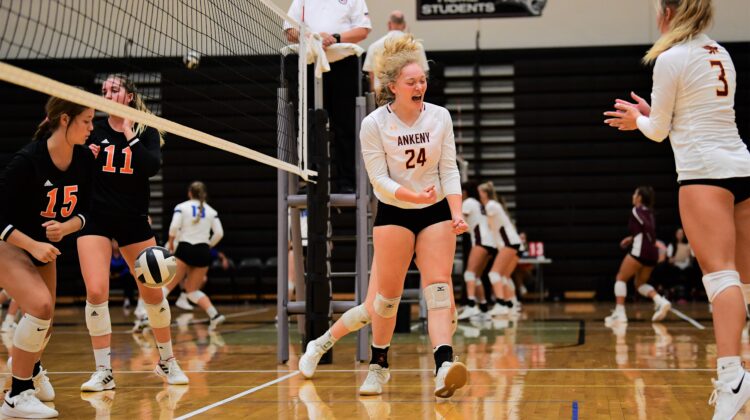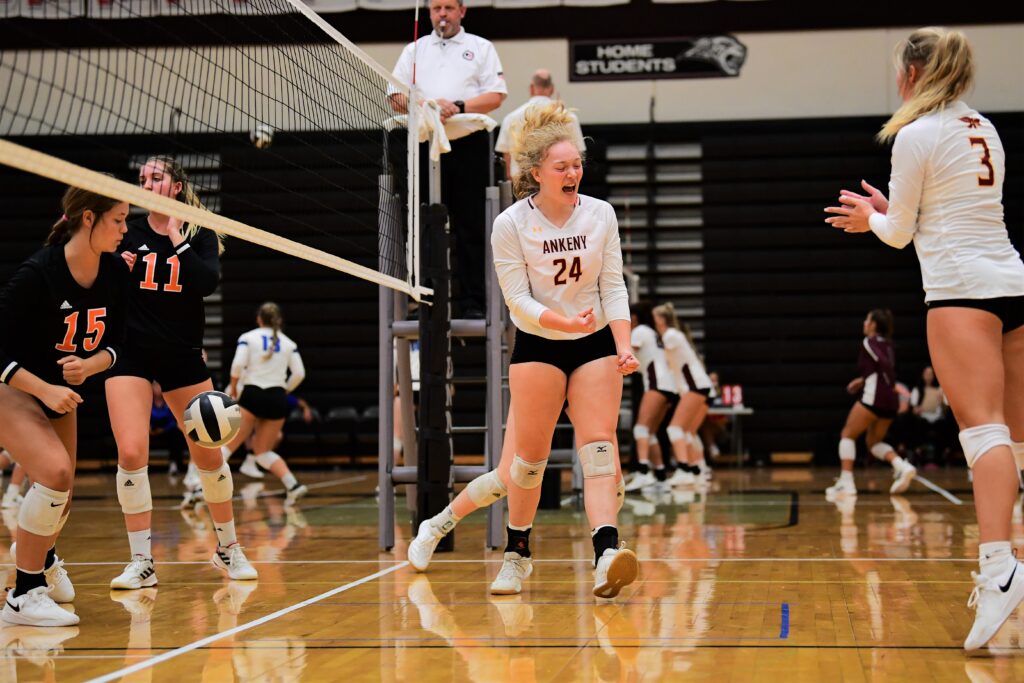 There will likely be a new No. 1 team in Class 5A when the Iowa Girls' High School Athletic Union announces its volleyball rankings later this week.
And it will be the same squad that raised the state championship trophy last November.
Third-ranked Ankeny knocked off the top two teams in Class 5A to win the Marj White Classic on Saturday at Valley. The Hawkettes outlasted No. 1 Iowa City Liberty in the semifinals before defeating No. 2 Valley in the championship match.
"Our saying this year is 'Every Point'–we have to play and try to win every point That is the effort the girls gave today," said Ankeny coach Dave Whims, whose team improved to 13-1 on the season. "They were engaged mentally, physically and emotionally on every point. This produced great team play and effort."
After going 3-0 during pool play, Ankeny posted a 21-19, 20-22, 15-13 victory over Iowa City Liberty in a rematch of last year's Class 5A final. Ava Reynolds had 16 kills and three blocks to lead the Hawkettes.
Aowyn Schrader chipped in 10 kills, while Hannah Baier added six. Adalyn Goodwin dished out 17 assists, and Jesa Wallace contributed 15.
Lexi Stephens racked up 22 digs in the win. Myra Carlson had three blocks.
Liberty dropped to 8-3 on the season.
In the final, Ankeny avenged its only loss with a 25-23, 21-17 win over Valley, which had defeated the Hawkettes in the quarterfinals of the Ankeny Centennial Invitational on Aug. 28. The Tigers' record fell to 7-3.
Reynolds had 10 kills in the victory, while Schrader added eight. Wallace (11) and Goodwin (8) combined for 19 assists.
Stephens finished with 11 digs. She also completed all 10 of her serves and had three aces.
"Our serving and defense were excellent," Whims said. "We found more offensive punch in our lineup by moving a few of our hitters around. Our back-row play was stellar as they read the hitters and moved into position to dig the strong hitters of Dowling Catholic, Liberty and Valley. There was no one player that carried us today but a team effort by everyone. That is exactly what it takes to play this game–team effort. I think the players proved to themselves they can compete with any team out there if they bring the effort and focus of playing to each match, each set and each point."
The Hawkettes posted a 21-19, 21-16 victory over No. 11 Dowling in the final match of pool play, getting a kill from Schrader to close out the win. They also defeated Dowling to win the Dallas Center-Grimes Invitational on Aug. 24.
Ankeny opened the tournament with a 21-12, 21-16 win over Waukee Northwest, then followed with a 21-9, 21-6 rout over Waukee. The Hawkettes defeated Waukee for the second time this season.
Ankeny will visit Johnston on Tuesday for a non-conference match against the No. 10 Dragons (7-3).