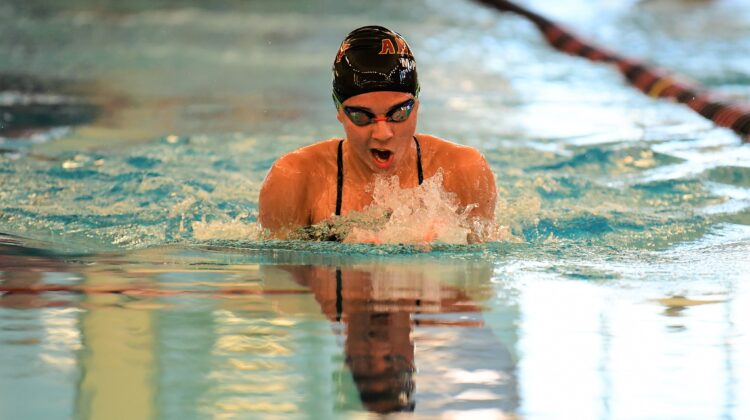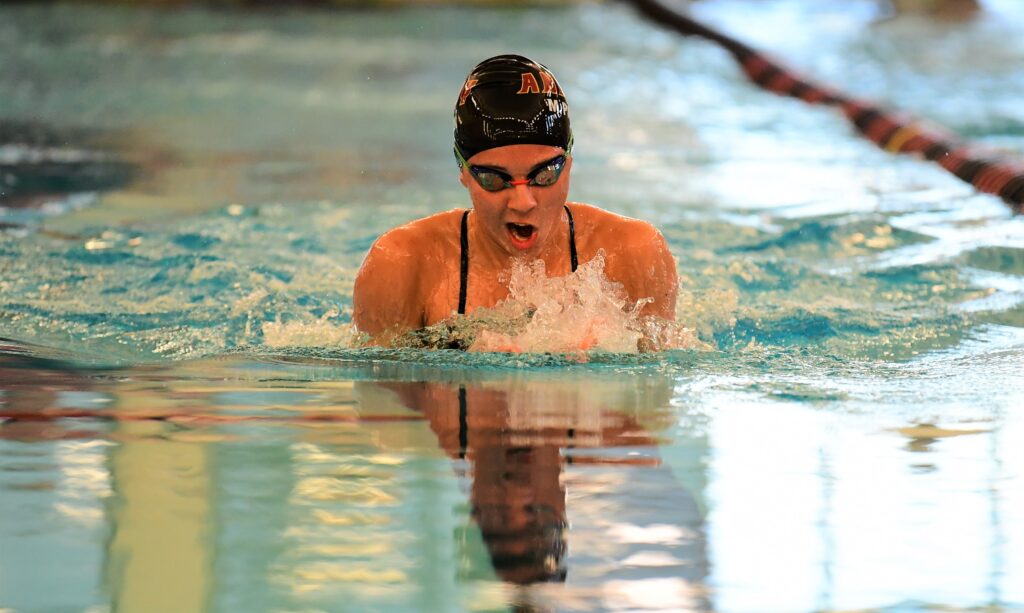 The Ankeny girls' swimming team adjusted to a different pool and cruised to a 113-57 victory at Newton in a non-conference dual meet on Thursday.
It was the second convincing win in three nights for the fifth-ranked Hawkettes, who are now 2-1 on the season.
"This meet is in a 25-meter pool which is slightly longer than the 25-yard pool that we typically race in, but the girls adjusted wonderfully," said Ankeny coach Michelle Stout. "Also, the 500 freestyle is converted to a 400-meter race in this type of pool. In addition, Newton does not have a diving board, so our divers had a night of training at home."
Ankeny won 10 of the 11 events. Alexis Henning and Gracie Lindaman each won two individual events and also swam on two winning relays.
Henning captured the 100 freestyle in a time of 1:02.33. She later took the 100 breaststroke in 1:22.21, edging Newton's Alexa Heiar by .66 seconds.
"Alexis won a close breaststroke race," Stout said. "We know she's great at backstroke–she holds the school record–but this is another strong event for her."
Lindaman won the 50 freestyle in 28.99 seconds. She also took the 400 freestyle in 4:56.67.
"Gracie is showing great versatility," Stout said of the freshman.
Josie Parton won the 200 freestyle in 2:17.31. Sydney Madetzke took the 200 individual medley in 2:43.46, and Abbi Brown captured the 100 backstroke in 1:12.35.
Ankeny opened the meet by winning the 200 medley relay in 2:07.93, edging Newton by .10 seconds. That team consisted of Rachel Rolow, Mariah Parton, Caroline Walker and Henning.
The Hawkettes later won the 200 freestyle relay in a time of 1:55.47. That unit was comprised of Josie Parton, Maddie Carleton, Walker and Lindaman.
Parton, Lindaman and Carleton then joined Henning on the winning 400 freestyle relay. Ankeny was clocked in 4:10.78.
"Newton has a number of talented girls and we expected some great races, especially in the relays," Stout said. "The 200 medley and 200 free relays came down to some close finishes and included some lead changes throughout the races that were exciting to watch."
Ankeny will travel to Fort Dodge on Tuesday for its CIML Iowa Conference opener against the Dodgers.