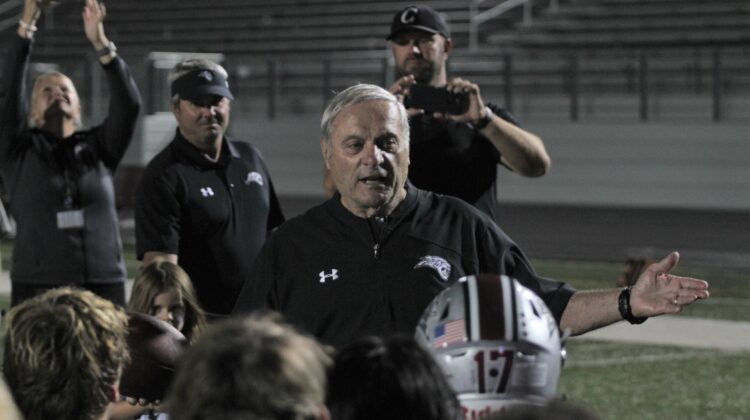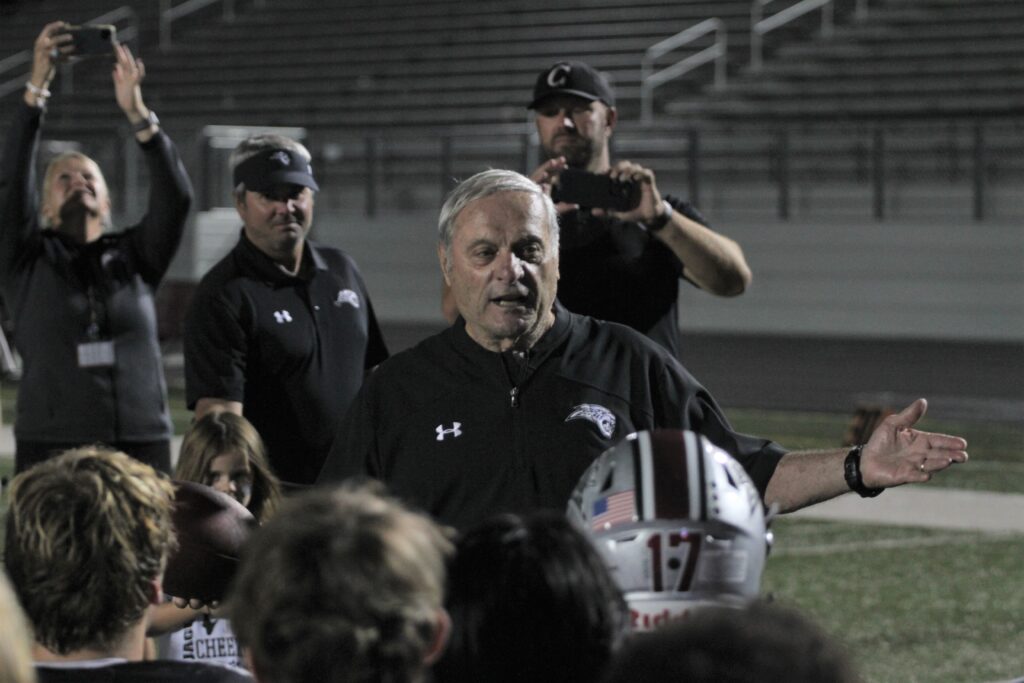 Jerry Pezzetti now stands alone.
The Ankeny Centennial football team scored six first-half touchdowns and rolled to a 42-7 victory over visiting Waukee on Friday, allowing Pezzetti to become the all-time leader in coaching victories. He now has 433 career wins, surpassing previous leader Dick Tighe.
"I'm very proud to be one of the top coaches in the state," said Pezzetti, who co-coaches the Jaguars along with his son Ryan. "I'm so proud of all the coaches that have worked with me throughout the years. They've done the job and of course the players (are) No. 1–we've had some great players throughout the years. Our young people tonight got fired up for (the game), and they played great football. I'm very happy that I was lucky enough to have administrators throughout the years that supported me."
Pezzetti was awarded a commemorative football after the game as his players surrounded him on the field and chanted his name.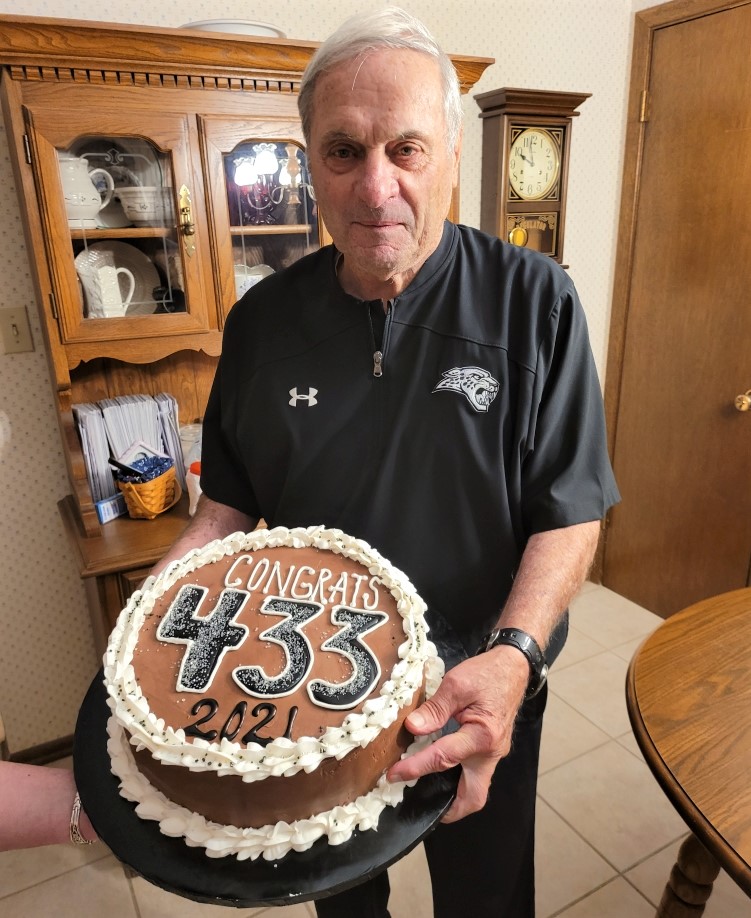 "That was great," said Centennial senior Trey Porter. "I never even realized Jerry had that many wins. It's just awesome to see. We played great, and we did it for Jerry."
Pezzetti spent most of his 60-year career at Ankeny High School, where he led the Hawks to a pair of state titles. He previously coached at Murray and Melcher-Dallas.
Pezzetti moved across town to Centennial to begin the Jaguars' program in 2013. Nine seasons later, he owns a record that will probably never be broken again.
"I think somebody brought it to his attention a year ago, and he's not big on individual accomplishments and neither is our program," said Ryan Pezzetti. "But to have something like this is a collective effort. You go back at Melcher-Dallas and Murray to Ankeny and all the different kids and adults and grandfathers now that he's been a part of, it's a pretty special moment for everybody."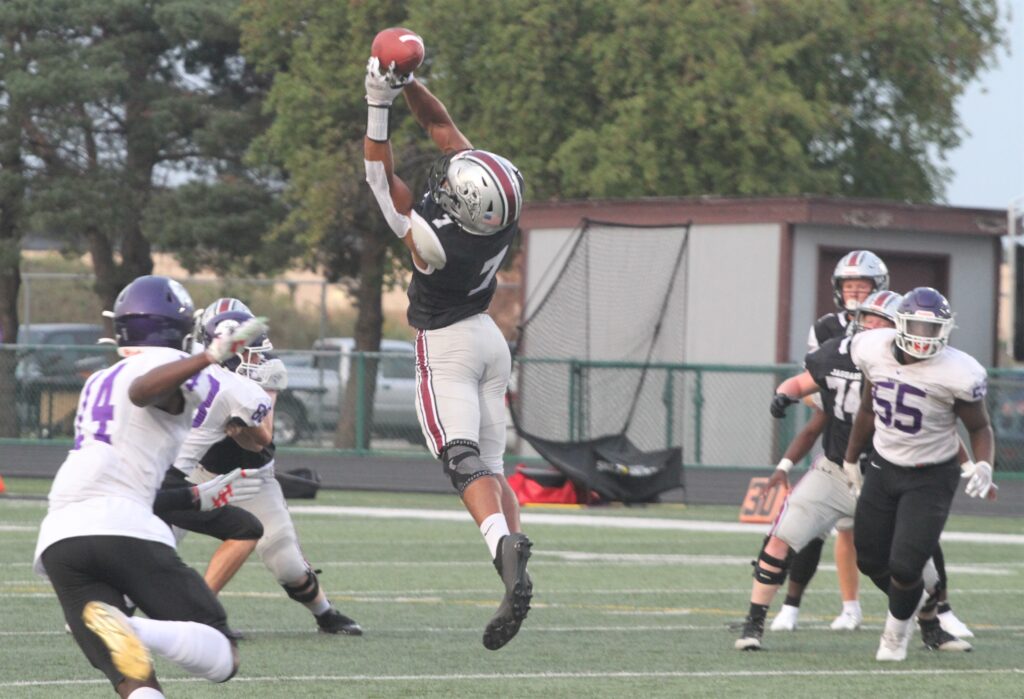 The Jaguars (2-1) turned in a dominant performance on Pezzetti's record-setting night. They built a 35-0 lead with 2 minutes 55 seconds left in the first half, putting the running clock into effect.
"We just came out and played hard," said Centennial quarterback Peyton Goode, who completed 6-of-9 passes for 56 yards. "We didn't expect to blow them out like this. They're a good team, and we just played hard. It's wonderful to be a part of Jerry's record. It's amazing."
Carter Cahill ran seven times for 82 yards in the win. He scored on a 3-yard run midway through the first quarter to ignite the rout.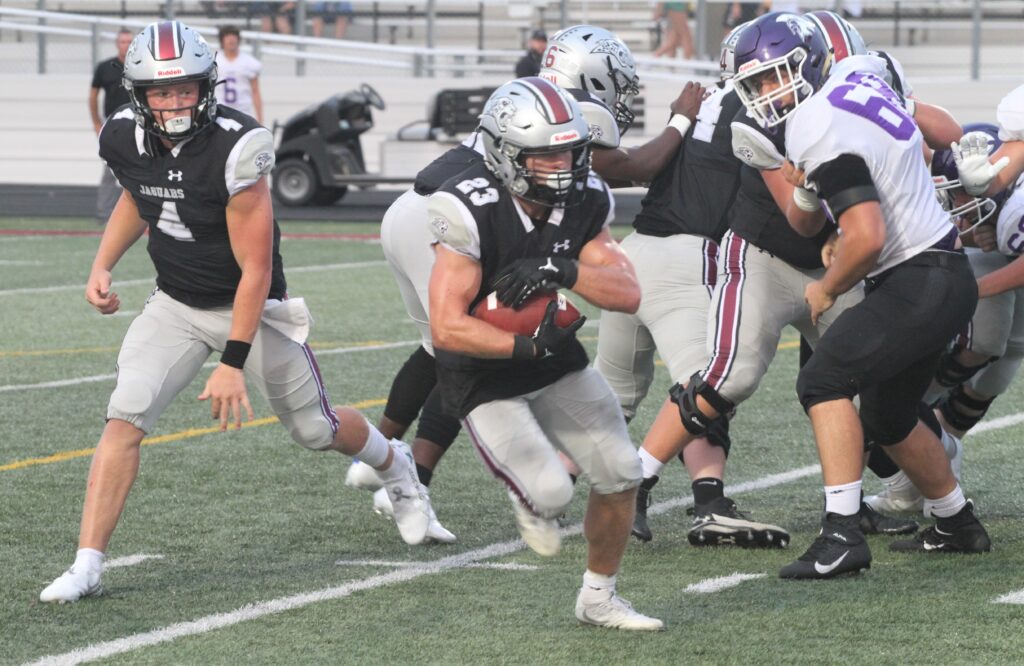 Joe Talmadge then blocked a punt by Waukee (0-3) shortly thereafter, setting up a 5-yard scoring pass from Goode to Jackson Wyble two plays later.
"Our people really hit hard and played hard throughout the game," said Jerry Pezzetti. "I'm very proud of them. We're improving."
Centennial's defense held Waukee to just 223 total yards. The Jaguars extended their lead to 21-0 when defensive lineman JT Turner picked off a Blake Hauck pass and returned it 53 yards to the end zone with 1:38 remaining in the opening period.
The margin later grew to 28-0 when Ty Morgan broke a tackle at the line of scrimmage and ran 9 yards for a touchdown. He finished with 63 yards on nine carries.
"It's a lot of hard work in the weight room, to be honest," Morgan said of his second effort. "I feel like it's all paying off."
Easton Miller scored Centennial's next touchdown on a 5-yard run up the middle. Then, on the ensuing kickoff, Kaden Kaiser picked up a fumble and dashed 25 yards to the end zone for the Jaguars' final points.
"That's just awesome to know that forever we'll be the team that was there when Jerry got the record," said Porter, who had 2.5 tackles on defense and also caught three passes for 29 yards.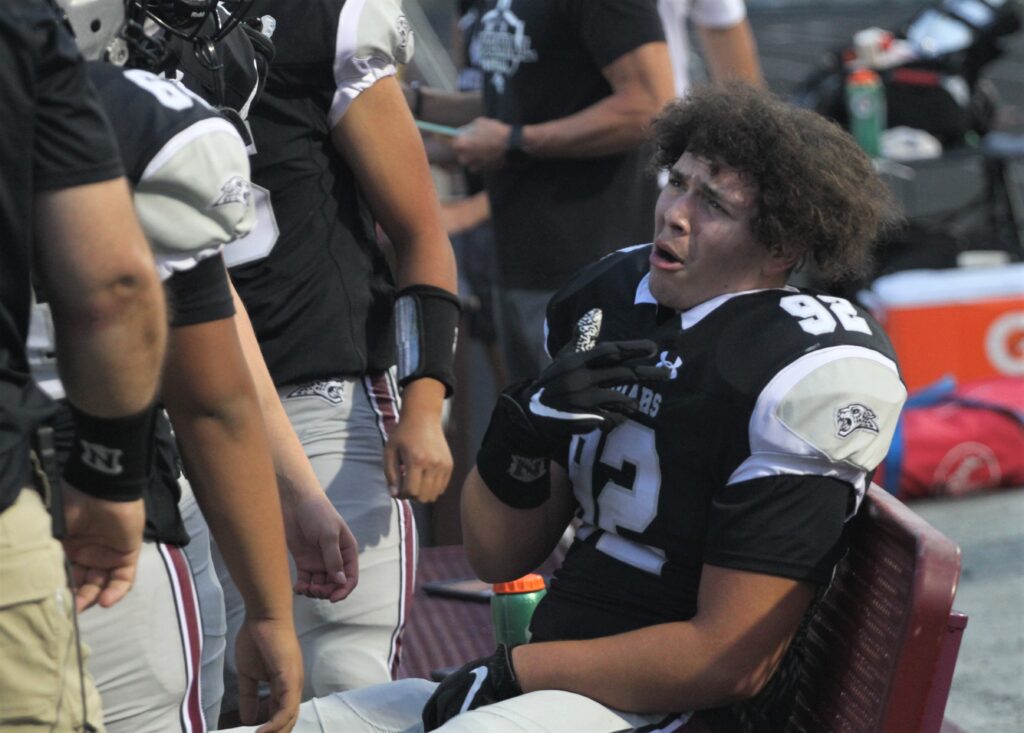 Keegan Andriano led Centennial's defense with seven tackles. Miller had 6.5, and Zach English added six.
"Our kids came out and you're always worried about a down week after coming off a big win (over Ankeny)," said Ryan Pezzetti. "But they came out and played phenomenal. We still have room for improvement, but we're excited going into the middle third of the season."
None of the players will ever forget Friday's win.
"We were all doing it for Jerry," Morgan said. "He broke the record, and it was a good win. It feels great to be a part of history. But we're not done yet. We've still got work to do."