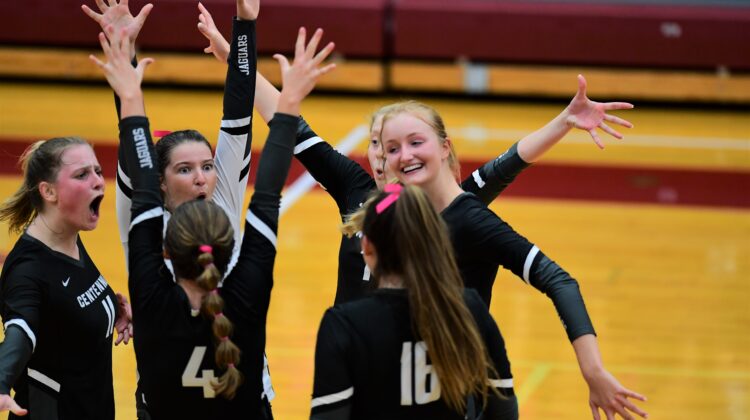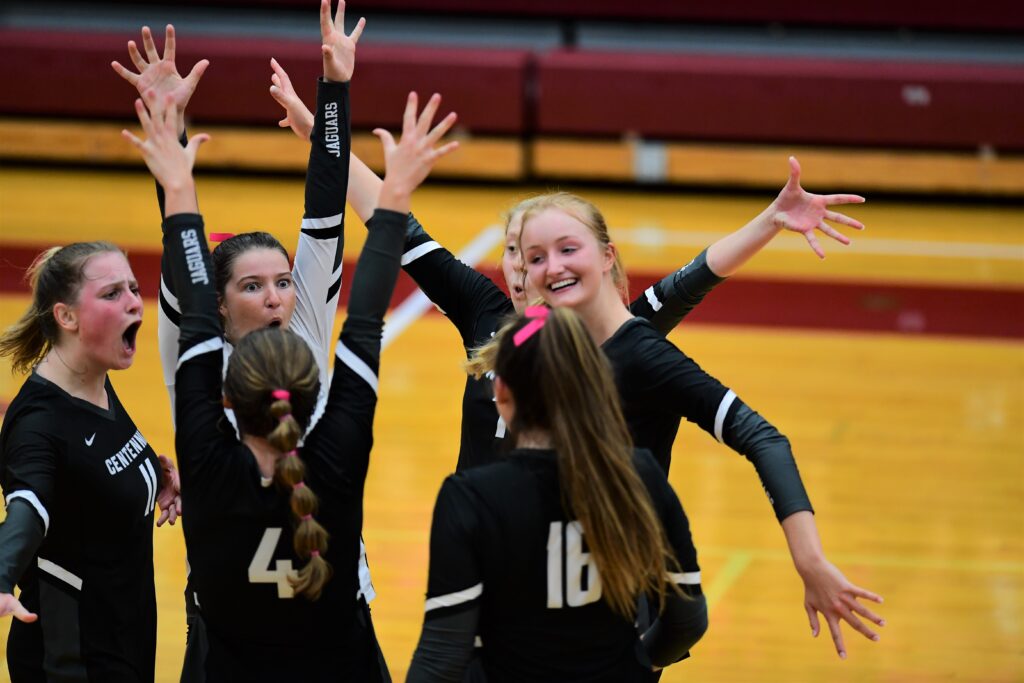 There was no letdown for the Ankeny Centennial volleyball team.
Riding the momentum of Tuesday's victory at Ankeny, the fourth-ranked Jaguars captured the championship of the Urbandale Invitational on Saturday. They rallied for a 23-25, 25-18, 15-8 win over No. 3 Urbandale in the title match.
"It was a huge day for us," said Centennial coach Jessica Rinehart, whose team improved to 23-5 on the season. "The fact that we were able to show up after a huge match on Tuesday, during Homecoming week and go the distance says everything about this team."
The Jaguars overcame 17 kills by Lily Dykstra to avenge an earlier loss to Urbandale. The J-Hawks (22-7) had defeated Centennial at the season-opening Dallas Center-Grimes Invitational on Aug. 24.
"We got down the first game to Urbandale, and our girls dug in and kept competing," Rinehart said. "We had great contributions from our bench and great performances from different people throughout the day."
Centennial won all three of its matches during pool play, including a 21-18, 21-12 victory over Pella, the No. 10 team in Class 4A. That win avenged an earlier loss to the Dutch at the Southeast Polk Invitational on Sept. 11.
The Jaguars rallied for a 12-21, 21-15, 15-9 triumph over Council Bluffs Lincoln. They also posted a 21-0, 21-10 win over Des Moines Lincoln.
Peyton Mitchell served 21 straight points in the first set against the Railsplitters, giving Centennial a rare shutout.
In the quarterfinals, the Jaguars rolled to a 25-21, 25-17 victory over Waukee Northwest. They then followed with a 25-20, 28-26 win over Indianola, the No. 13 team in Class 4A.
Centennial played without senior outside hitter Olivia Anderson, who suffered a left knee injury during Tuesday's match. She will have an MRI on Wednesday.
"We were able to avenge two of our prior losses," Rinehart said. "We are still working out some kinks from not having Liv on the court, but I feel great about where our team is at."
The Jaguars will host a rematch against Waukee Northwest on Tuesday.