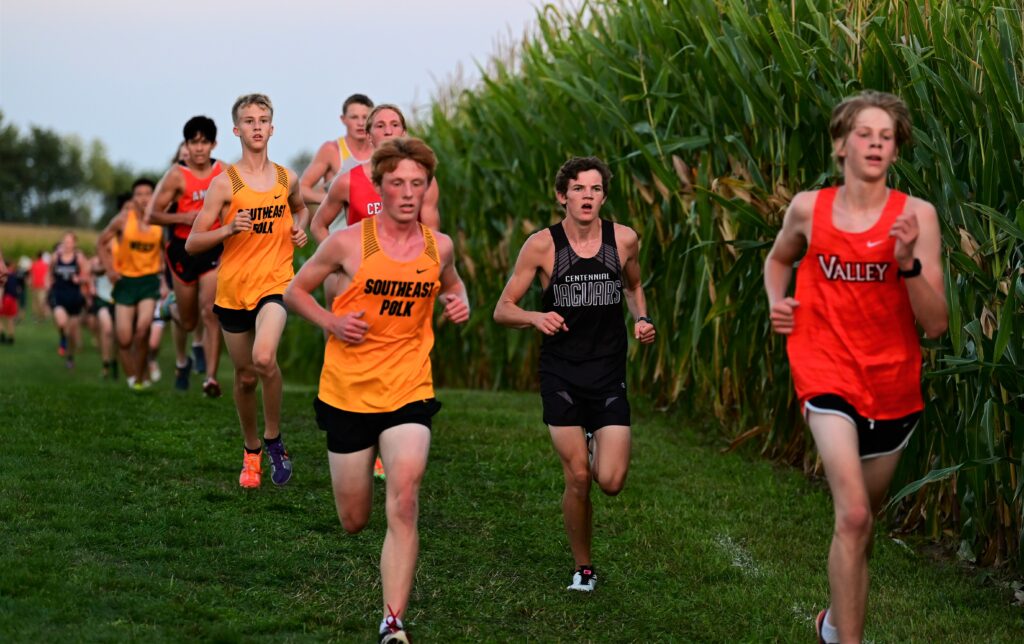 The last time the Ankeny and Ankeny Centennial boys' cross country teams ran against each other, the Hawks edged the Jaguars by five points for seventh place in the Bobcat Invitational on Sept. 9 at Marshalltown.
On Thursday, 15th-ranked Centennial reversed the outcome against its crosstown rival. The Jaguars placed seventh among 26 teams in the Fort Dodge Invitational with 218 points, while No. 12 Ankeny finished eighth with 236 points.
The two teams have taken turns defeating each other this season. Both the Hawks and Jaguars have won two of the four meetings.
"It was a great race for us tonight," said Centennial coach Chad Fickbohm. "It really is a confidence booster to execute a plan in a big race like this one."
The meet featured five of the top 10 teams in Class 4A, competing on the course that will host the state meet later this month. No. 1 Sioux City North easily won the team title with 41 points.
No. 2 Dowling Catholic was second with 73 points. No. 5 Johnston took third with 114.
Aidan Ramsey of Dallas Center-Grimes won the 5k race at Lakeside Golf Course in a time of 15 minutes 29 seconds. He finished ahead of a pack of Sioux City North runners, who took the next three places.
Ankeny was led by Levi Hill, who placed 24th in a time of 16:41. He finished just ahead of Centennial's Karsten Peters, who took 25th–also in 16:41.
Tyler Schermerhorn placed 28th for the Jaguars in 16:45. AJ Schermerhorn was 39th in 16:53, and Cooper Majors finished 53rd in 17:07.
"Karsten, Tyler, and AJ had great races with Cooper right behind, but Cooper knows he can be up there with Tyler and Karsten," Fickbohm said.
Centennial's Carter Lust placed 80th in 17:30. Noah Segar was 99th in 17:48, and Parker Lundberg finished 105th in 17:53.
"Carter finally is getting back to where we know he can finish, and it helps the team tremendously," Fickbohm said.
Peters, Tyler Schermerhorn and Majors–who all ran in last year's state meet–improved their times by an average of 40 seconds from that race.
"It's very encouraging to compare their times from state last year to the race tonight and see the seniors are all running faster," Fickbohm said. "Everyone is excited to keep improving together."
Jake Bosch placed 32nd for the Hawks in 16:48. Abel Squires took 49th in 17:02, London Schuchart was 63rd in 17:14, Christian Rathje placed 76th in 17:26, Truman Patterson was 82nd in 17:32, and Levi Stember finished 84th in 17:34.