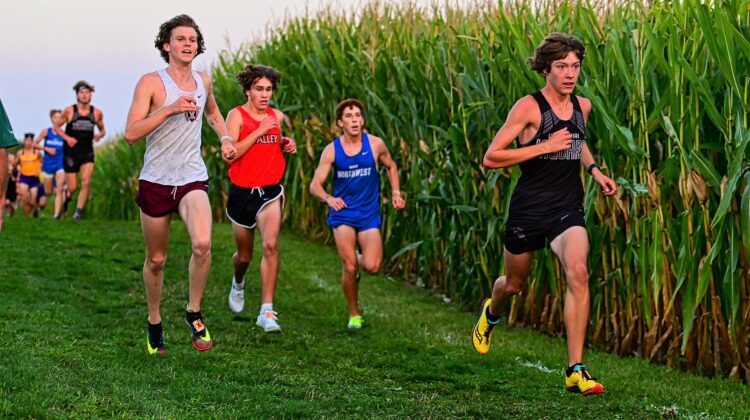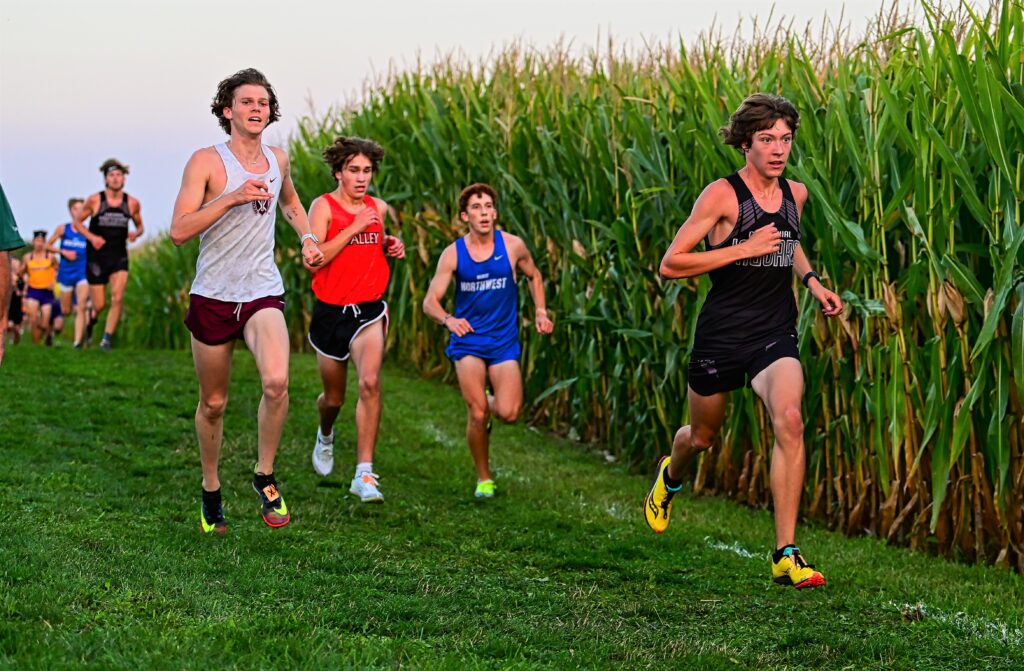 Senior Tyler Schermerhorn helped the 15th-ranked Ankeny Centennial boys' cross country team to a seventh-place finish in the Fort Dodge Invitational on Thursday at Lakeside Golf Course, while junior Levi Hill led No. 12 Ankeny to an eighth-place finish.
Schermerhorn placed 28th in the 5k race with a time of 16 minutes 45 seconds. Earlier this fall, he was the Jaguars' top finisher at the first four meets of the season.
Hill, who is 30th in the Class 4A individual rankings, took 24th on Thursday in 16:41. He has been the Hawks' top finisher at the last four meets.
Here is some inside info on the duo:
How is the season going thus far?
Hill: My season has gone pretty well so far. Like most teams we have been training pretty hard through our meets, and I know I still have a lot left to give and we still have a lot left to give as a team as well. We were lucky to have a great group of freshmen come in who have helped our varsity squad as well as a great group of seniors who have brought a lot of leadership and positivity to the team.
Schermerhorn: I'm excited with how the season has gone so far. I am really excited with what this team can do. We have had some struggles with finding a consistent No. 5 guy on our team due to injuries and illness, but we had the performance that we needed on Thursday.
Were you happy with your race on Thursday?
Hill: I was not very happy with my race. I had a good first mile and then started to drop back and was not able to make that time back up. I finished strong in the last half mile and I know I still have a lot more to give on that course and a PR there before the season is over is the goal.
Schermerhorn: Yes, I was very satisfied with Thursday's race. I shaved close to a minute off my previous time at Fort Dodge, and I also had a good experience of what the state meet could look like.
What did you think of your team's performance?
Hill: We definitely had some strong finishes from our varsity runners. We have a very deep team and a lot of guys in contention for varsity spots and that has made for a very competitive top 10. Although we did have some strong finishes and good times from our guys, we did not get done what we were hoping to and we are excited to get back out on the race course and show teams what we can do.
Schermerhorn: I was proud of our team's performance. We had Carter Lust, who had been battling illness for most of the season, finally bounce back when we needed him to. More so than in past years, our team has learned to run as a pack. Cooper Majors, Karsten Peters, AJ (Schermerhorn) and I have made sure we are racing together to share the workload and make it easier for each other. Our second pack of Noah Segar, Parker Lundberg, and Brendan Owens have also run well together and have made solid progress this year.
Did you learn anything about the course on Thursday that could be beneficial for you if you and/or your team is able to qualify for the state meet later this month?
Hill: Having the Fort Dodge meet just a few weeks before the state meet is definitely an advantage and gives us an opportunity to refresh ourselves on the course and make note of areas that we can use to our advantage when given the chance to run there again in a few weeks.
Schermerhorn: Yes, I learned how to manage the sharp turns while running in a large crowd and the importance of packing up with teammates in such a large race.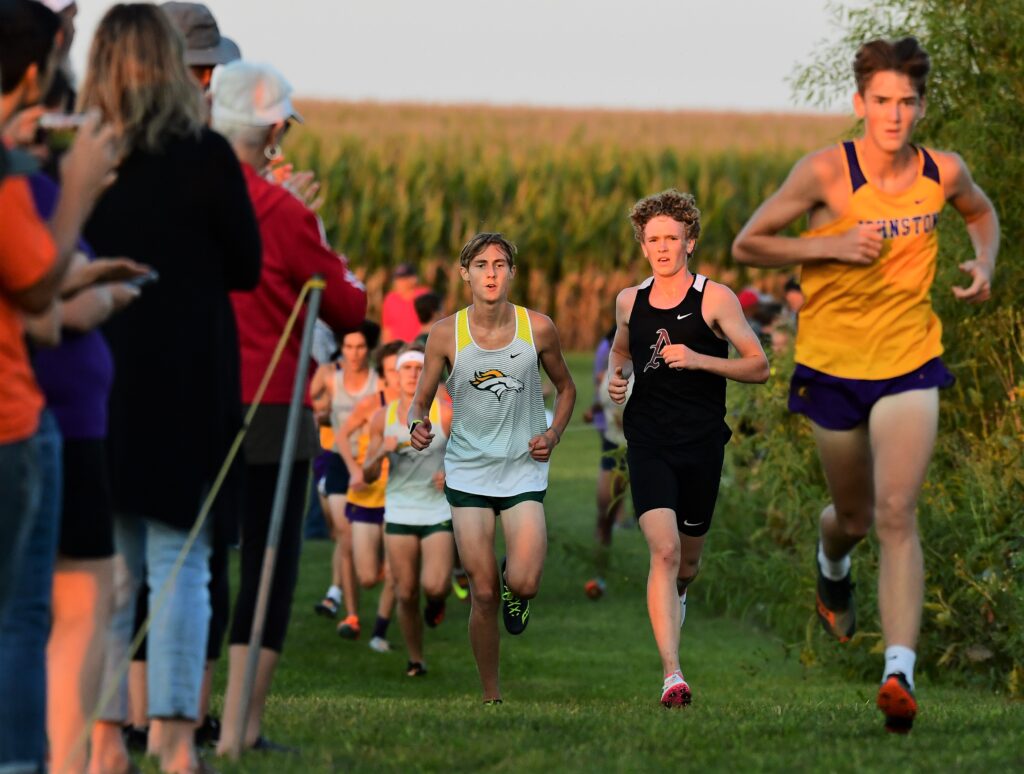 How were the running conditions?
Hill: The conditions were great. We had temps in the low 70s and very little wind along with a great course made for a great night to run.
Schermerhorn: They were almost perfect, and it was a great course to run on. The weather was a little warmer than ideal, but better than most races that we have had this year.
You both have emerged as one of your team's top runners. Have you tried to be a vocal leader for the team as well?
Hill: When in the position of being one of the team's top runners you have influence on the team and their actions as well. So I think leading by actions is one of the biggest impacts I can have on the team as well as having a positive attitude toward practices because that positive energy feeds down through all the runners on the team and can really impact the team's attitude toward workouts and meets and can do a lot of good for the team.
Schermerhorn: Yes, this year more than anything we have tried to make sure that all members of the team are heard, not just the top guys. With last year being restricted due to COVID-19 we have a lot of guys that haven't had a real cross country season. This year we have worked on integrating them with our team's culture so that we can keep them around for following seasons.
Goals for the rest of the season?
Hill: Coming into the season I had the goal to go sub-16 minutes. My current PR is 16:25 on the Marshalltown course which was my second meet of the season. Marshalltown is a fast course but so are DMACC and Fort Dodge which will be where we will be running the rest of our meets so that will hopefully give me a few more opportunities to get to that sub-16:00 mark. Team-wise we are hoping to qualify for the state meet and should have a good chance to do so with the strong team we have this year. We are pumped to have districts be a home meet this year at DMACC, and we are exited to see what we can do as a team!
Schermerhorn: Our goal from the start of the season was to get the team back to state. To do that we have to make sure the team stays healthy. Most of our team has battled with illness in one way or another. Going into these last couple of weeks, we need to make sure that we stay healthy so that we can reach our goal of getting back to the state meet.
Are you planning to run in college? Have you looked at any schools?
Hill: I am planning on running in college. So far I have just toured Wartburg and done a quick walkthrough of St. Thomas. Where I will go might depend on how the track season goes next spring and how the next cross country season goes.
Schermerhorn: I am looking at colleges where I hope I can run such as Wartburg, St. Ambrose and Loras.
What are you planning to study?
Hill: As of now I am thinking something in business, but that may change as I continue to try different classes and consider my options.
Schermerhorn: Physical therapy/kinesiology.