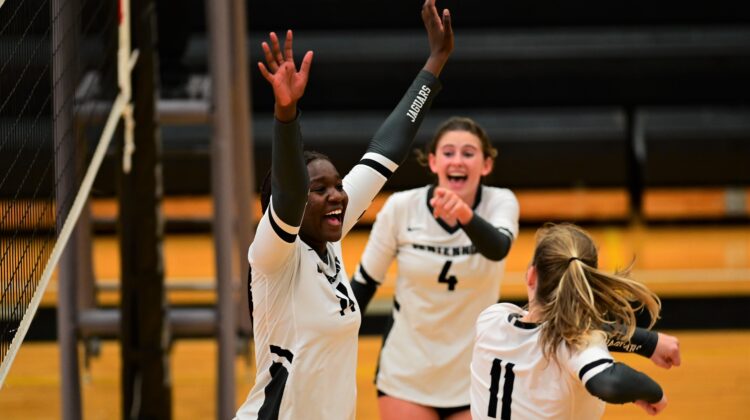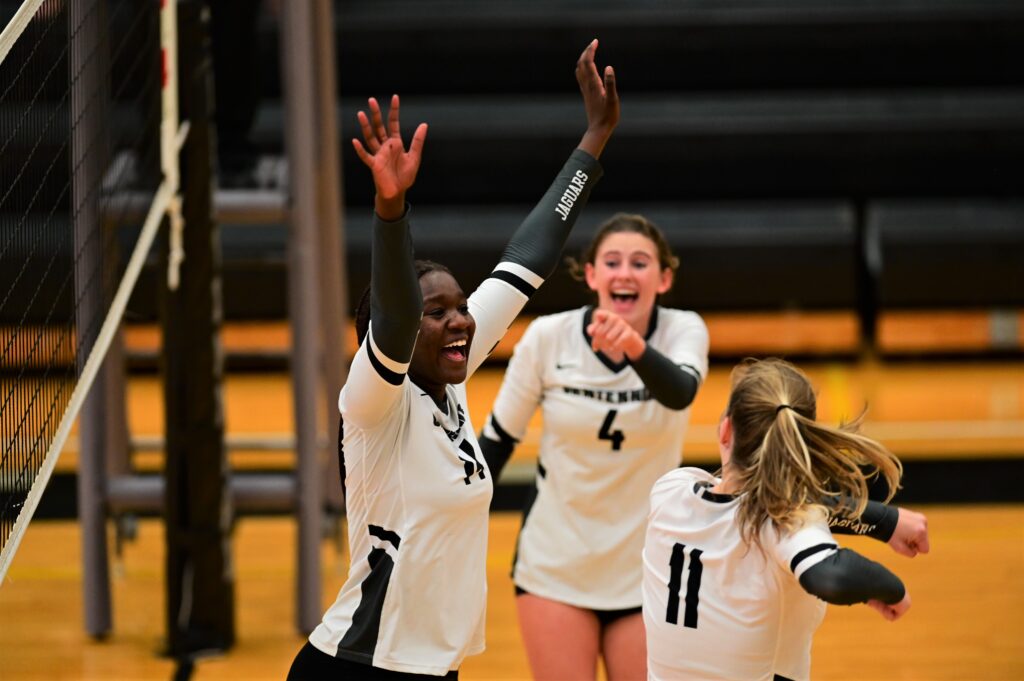 After letting the outright CIML Iowa Conference title slip away, the Ankeny Centennial volleyball team wasn't about to lose a share of the crown, too.
The sixth-ranked Jaguars rolled to a 25-8, 25-13, 25-14 victory at Mason City on Tuesday to tie for the conference title with No. 4 Ankeny and Waukee Northwest. All three teams finished 5-1 in league play.
Centennial moved into sole possession of first place with a sweep at Ankeny on Sept. 28, but the Jaguars then lost to Northwest in four sets last week. The Hawkettes and Wolves also won on Tuesday to secure a piece of the championship.
"Tonight was fun," said Centennial coach Jessica Rinehart, whose team improved to 27-8 overall. "The girls played well. We served really tough and controlled every aspect of the game."
Freshman Delaney Miller had four of the Jaguars' nine aces. Reagan Angus chipped in three aces, and Peyton Mitchell added two.
Centennial hit .343 on the night and had nine different players combine for 33 kills. Monica Mirembe and Delainey Winkel led the way with six kills apiece, while Marissa Meyer and Mitchell each contributed four.
Morgan DenBeste dished out 29 assists and also had six digs. Libero Ella Becker racked up 13 digs.
"Ella did a nice job taking a lot of court and setting a quick tempo," Rinehart said.
Mirembe and Kendra Kasperbauer each had a pair of blocks for the Jaguars, who will close out the regular season on Thursday with a triangular at Sergeant Bluff-Luton, the No. 8 team in Class 3A.
Mason City finished 2-4 in the conference and dropped to 9-18 overall. The Mohawks recently went nearly a month without a win, losing the first of 14 straight matches on Sept. 11 before they finally snapped the streak with a pair of wins at the Mason City Invitational on Saturday.
"We were able to continue working on specific things in preparation for regionals," Rinehart said. "All in all, I think everyone enjoyed being on the road trip together and playing good ball."
Centennial will host Des Moines East or Des Moines Roosevelt in a Class 5A regional semifinal on Oct. 21 at 7 p.m.