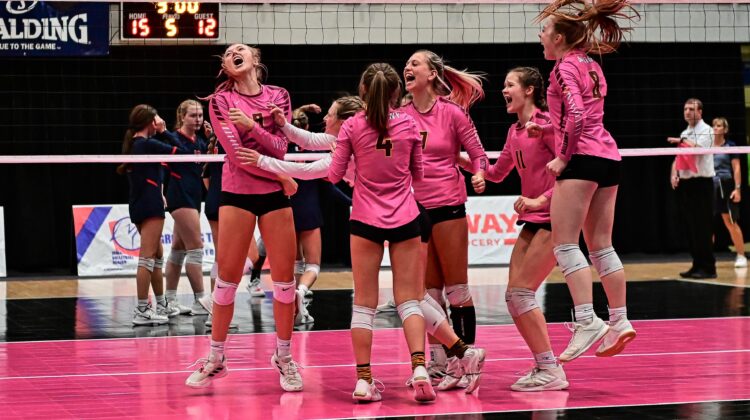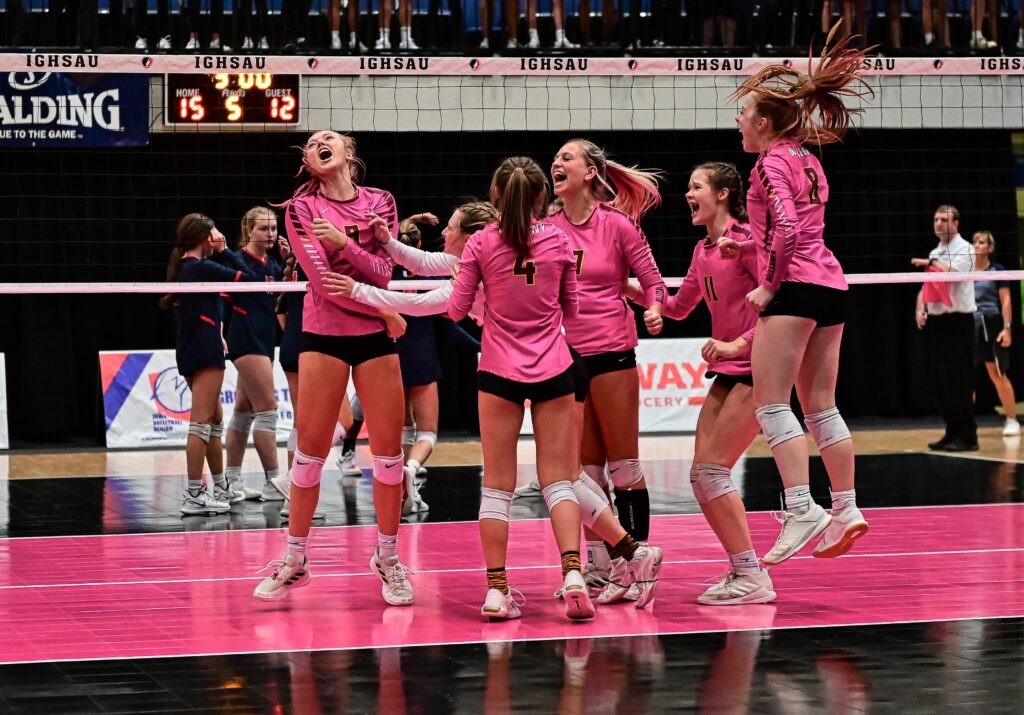 University of Minnesota football coach PJ Fleck provided some inspiration for the Ankeny volleyball team on Monday.
After the third-ranked Hawkettes lost two of the first three sets against No. 6 Urbandale in the Class 5A quarterfinals, Ankeny coach Dave Whims channeled his inner Fleck before the fourth set.
"The girls were kind of down after losing two (sets in a row), and I talked to them about 'rowing the boat'–because that's a book that is out now by (Fleck)," Whims said. "You've just got to keep rowing, even when you have adversity, and things will turn around. You just have to keep hustling."
And that's exactly what the Hawkettes did.
Ankeny rallied for a heart-stopping 25-23, 23-25, 14-25, 25-22, 15-12 victory over the J-Hawks at the Alliant Energy PowerHouse in Cedar Rapids. The Hawkettes (40-5) advanced to Wednesday's semifinals against No. 2 Pleasant Valley (31-4), which ousted No. 7 Ankeny Centennial earlier on Monday.
"It was a very stressful match," said Ankeny senior Ava Reynolds, who led the Hawkettes with 27 kills. "I'm just glad we could keep pushing through and having fun together. We were able to push through the hard spots and come together as a team."
Ankeny outhit Urbandale by a .218 to .186 margin in the 1-hour, 56-minute match. The J-Hawks finished with a 33-9 record.
The CIML rivals had split a pair of earlier meetings.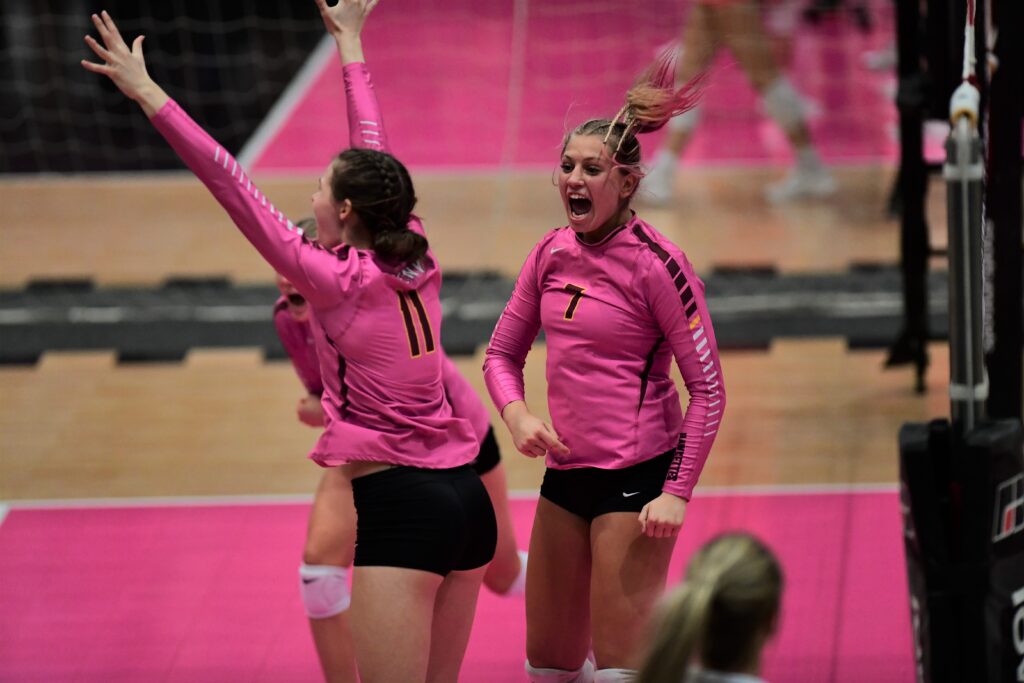 "It was an even match," Whims said. "It could have gone either way."
Ankeny overcame an electrifying performance by Urbandale junior Lily Dykstra, who racked up 30 kills and five aces in the loss. Dykstra almost single-handedly lifted the J-Hawks to a victory, committing just nine hitting errors in 72 total attacks.
"She is such a good player," said Ankeny libero Lexi Stephens, who finished with 19 digs. "I'm really happy I got to play against her. She's going to make everyone who plays against her that much of a better player because she mixes up her shots and she swings quite hard."
After Ankeny won the opening set on a kill by Tanith Roush, Urbandale led most of the way in the second set. The J-Hawks eventually closed it out on a kill by Attiyah Lazard to tie the match.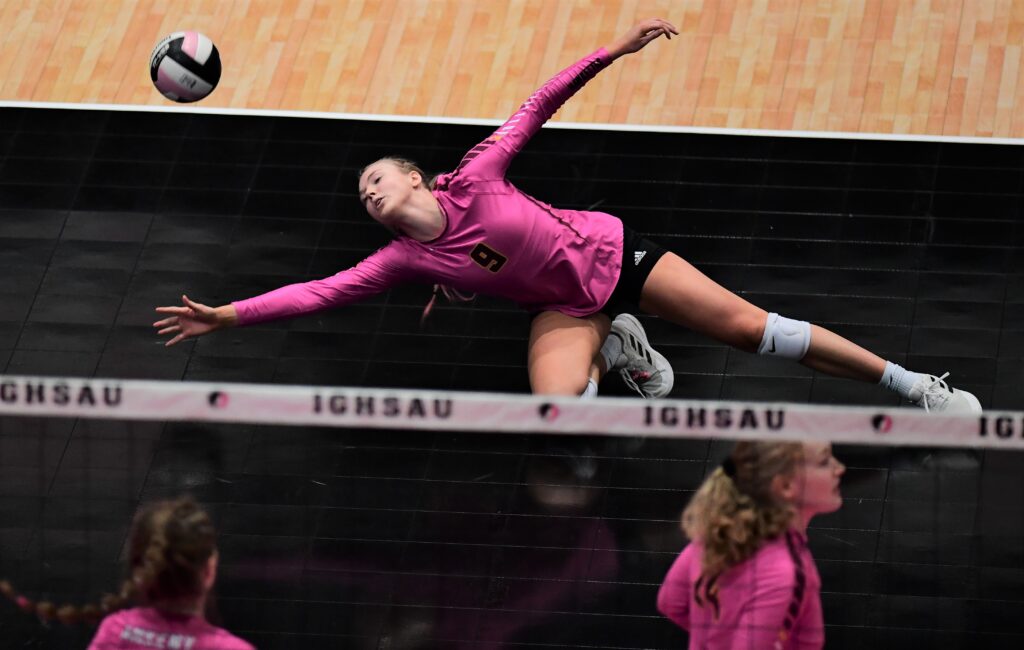 Urbandale then dominated the third set as Dykstra pounded nine kills. She also had a pair of aces in a 5-0 run that broke a 3-3 tie.
Reynolds had seven kills in the set, but it wasn't nearly enough.
"Lily's a fun opponent to play against," Reynolds said. "We've been practicing and preparing for her. We knew she was going to get some points, but we just had to come back and get the next one and make sure she didn't go on any runs. I think we did that well."
The J-Hawks took an 8-5 lead in the fourth set after three consecutive hitting errors by Ankeny, but Aowyn Schrader then responded with four kills in a row to spark the Hawkettes' rally. She later pounded two more kills to close out the set.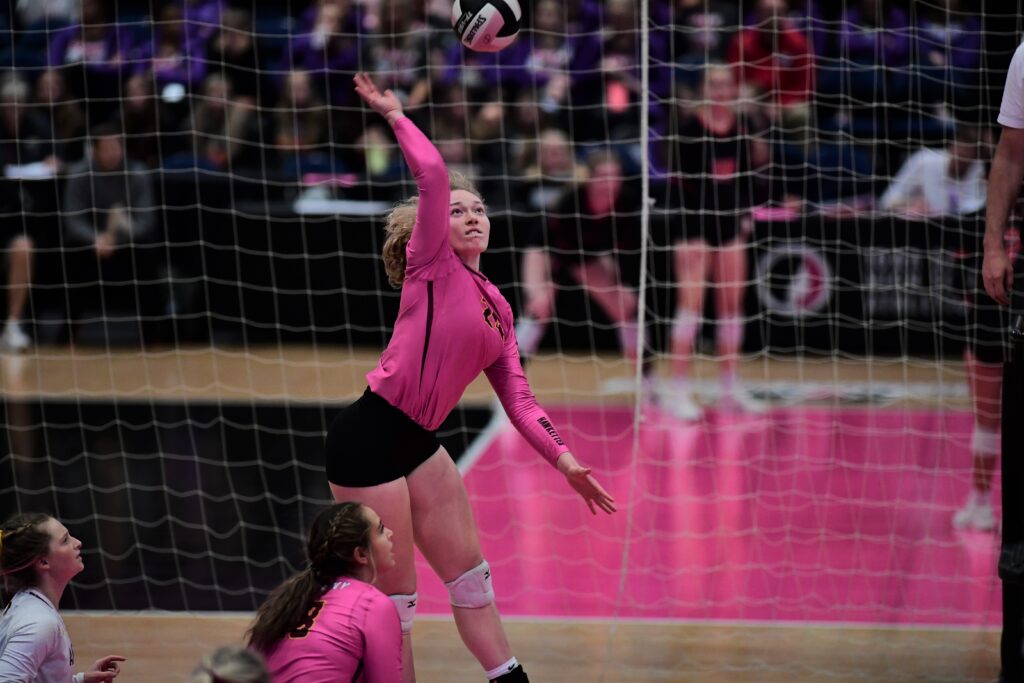 "We just had to remember that we had to have fun, no matter if we win or lose," Stephens said. "You're out there with your best friends, and it's just a good experience to go play with everyone."
Ankeny never trailed in the fifth set. Urbandale fought off three match points before Reynolds slammed her sixth kill of the set to seal the win.
"We knew they were going to be a good team and a tough opponent," said Reynolds, who also had 14 digs. "We knew we were going to have some struggles, but we had faith that we could push through it."
Schrader had 19 kills in the win. Olivia Harpenau contributed seven kills and five blocks, while Roush added five kills.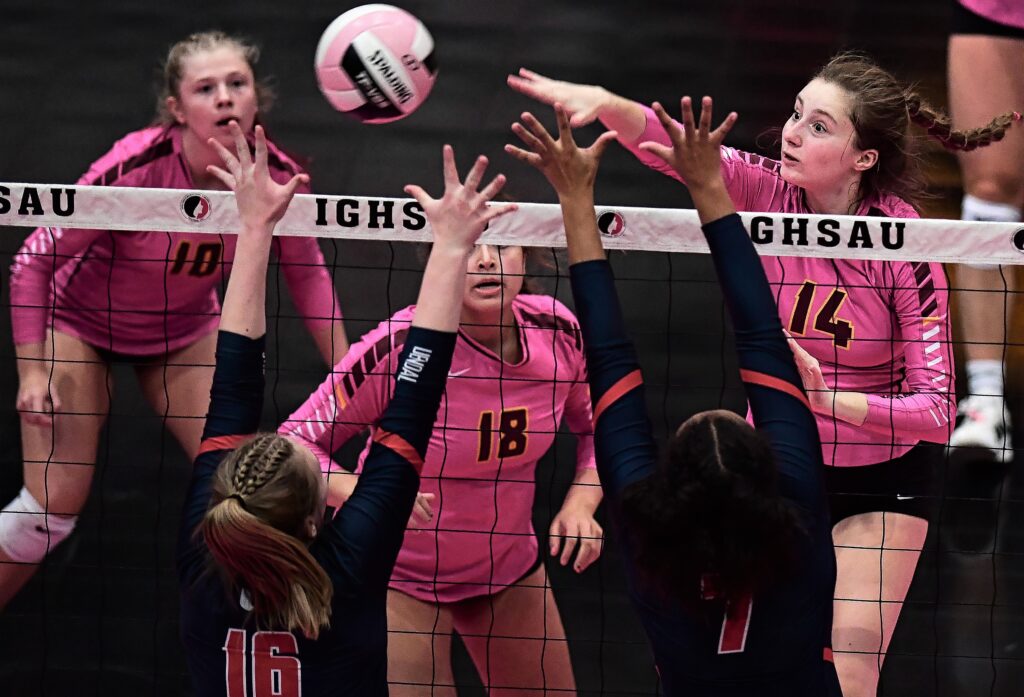 Adalyn Goodwin dished out 40 assists. Jesa Wallace chipped in 16.
"We just kind of stayed the course," Whims said. "Jesa got hurt–she twisted her knee or something, and we had to take her out. But the trainer said she had a hip pointer and if she could keep moving she could work it out, so she came back in.
"When we got to game 5, we just wanted to beat them to five points, beat them to 10 and beat them to 15. Fortunately, we hung on and were able to do that," he added.
Maddie Foels had three aces for the Hawkettes. Halle Ouellette racked up 16 digs.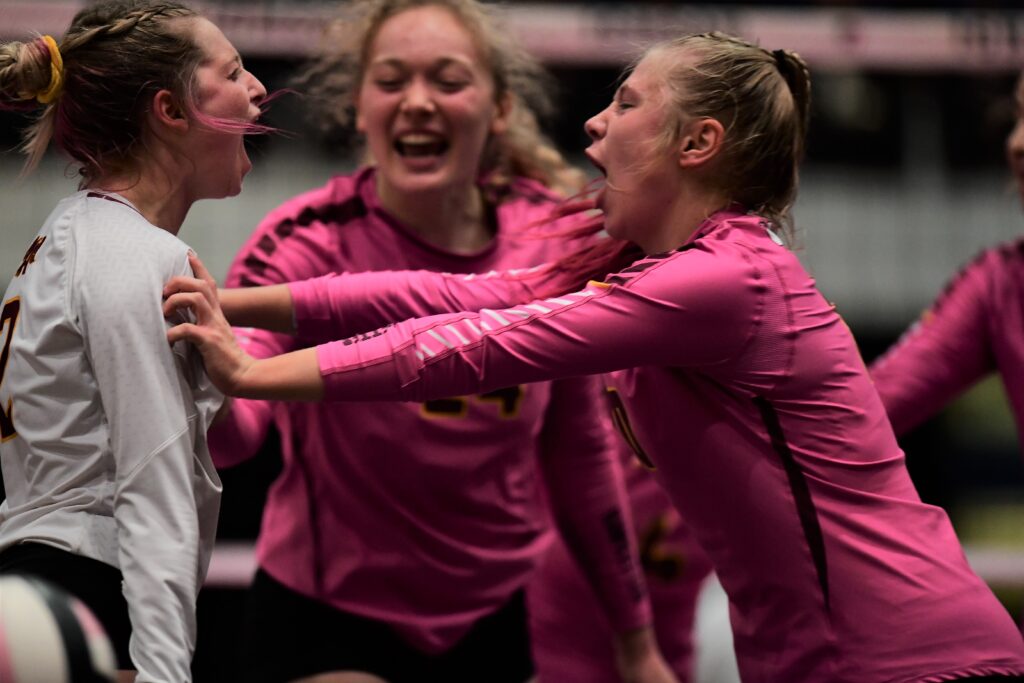 Lazard had eight kills and five blocks for the J-Hawks. Riley Peters finished with 42 assists, while Meredith Hews had 24 digs.
"Urbanddale's a pretty good team," Stephens said. "I expected them to come out strong and just push to the end and go down fighting."
Ankeny will now face Pleasant Valley in a semifinal rematch on Wednesday at 10 a.m. The Hawkettes won a five-set thriller en route to the Class 5A title a year ago.
"They're a really good team, too," Reynolds said. "We're going to go back and start practicing. But I think we have what it takes (to get the job done)."