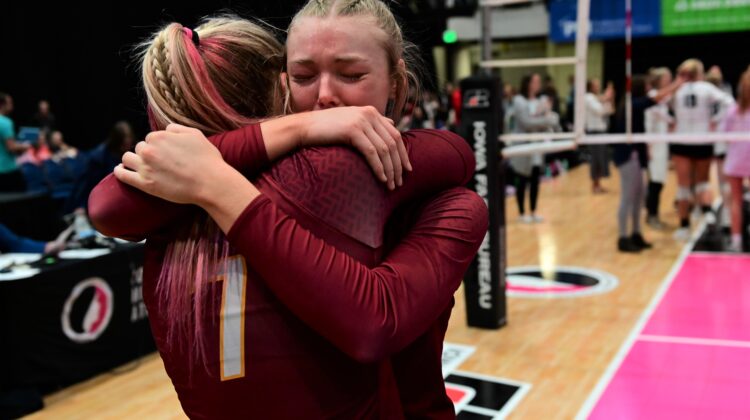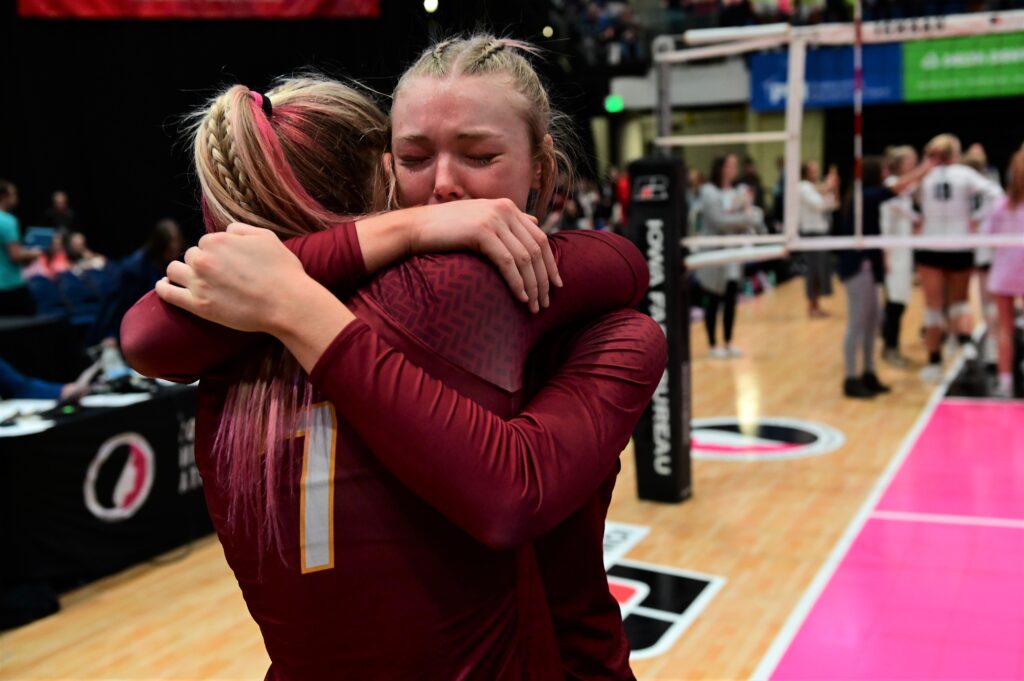 A talented squad with a lot of motivation proved to be a bad combination for the Ankeny volleyball team on Wednesday.
Second-ranked Pleasant Valley posted a 25-16, 32-30, 15-25, 25-17 victory over the No. 3 Hawkettes in the Class 5A semifinals at the Alliant Energy PowerHouse in Cedar Rapids. The Spartans avenged last year's five-set loss to Ankeny in the semifinals.
"It feels amazing," said Pleasant Valley junior Halle Vice, who had the kill to close out the match. "Obviously, we wanted it really bad since last year they got us in this same exact match. We just prepared really hard this week, and we executed pretty well."
The Spartans (32-4) are seeking their first state title. They will play No. 4 Cedar Falls (32-8) in Thursday's championship match at 10 a.m.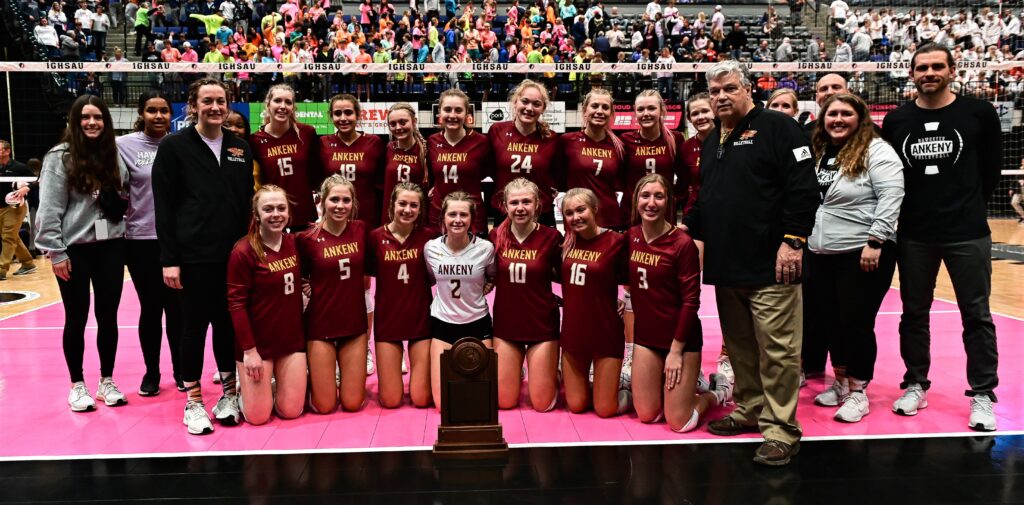 Ankeny ends the season with a 40-6 record.
"We fell to a better team today," said Ankeny coach Dave Whims. "Their length was a factor. They got us out of system, and we did not get them out of system. We played hard and gave great effort. We just fell short on the scoreboard."
Pleasant Valley relied on a balanced attack to offset a match-high 19 kills from Ava Reynolds and 15 more from Ankeny teammate Aowyn Schrader. Vice led the Spartans with 17 kills, Chloe Cline and Arra Cottrell each had 13, and Emily Goodpaster added nine.
Pleasant Valley outhit the Hawkettes by a .211 to .163 margin. Setter Kora Ruff dished out 49 assists for the Spartans.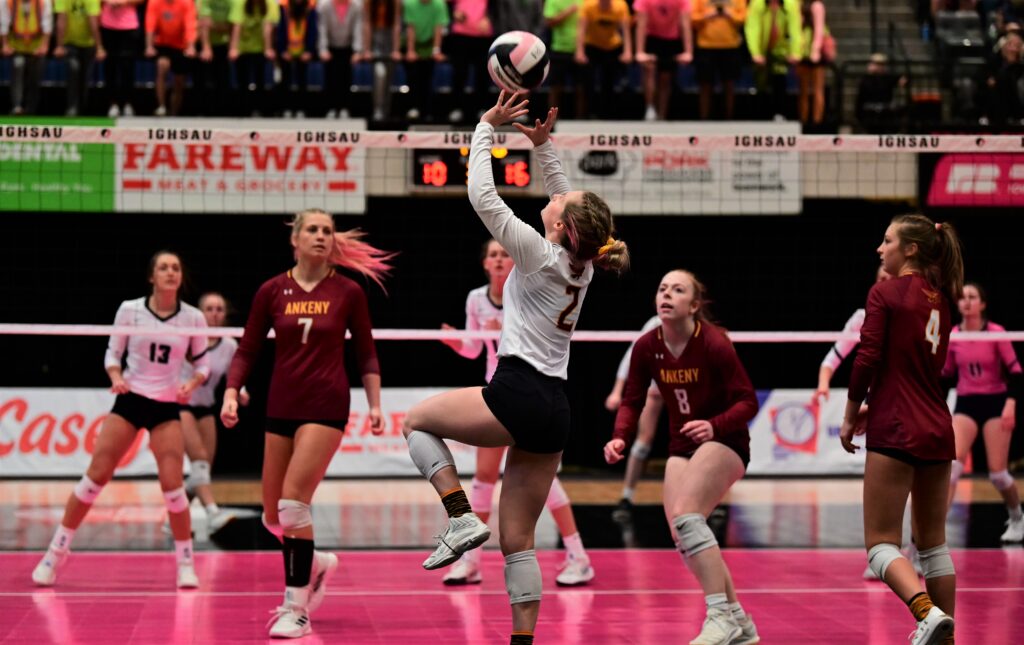 "Their ability to spread the hitters and run a fast-tempo offense helped them out greatly," said Ankeny libero Lexi Stephens, who finished with 16 digs. "Ruff has good hands and is able to hide where she is going because of her quick release."
After Pleasant Valley pulled away to win the first set, both teams raised their level of play in Set 2, when the Spartans hit .364 to Ankeny's .275. The Hawkettes battled back from a 17-10 deficit and went on a 7-1 run to tie the score at 23.
The two teams then traded blows for the next several minutes, alternating sideouts for the next 15 points. Each time, Pleasant Valley would take the lead–only to see Ankeny then respond with a sideout to prolong the set.
The Hawkettes ran out of rotations toward the end of the set, forcing them to use an unsual lineup that put some of their shorter players in the front row. But they persevered, getting a kill from Myra Carlson to tie the score at 28 and another one from Reynolds to tie it at 30.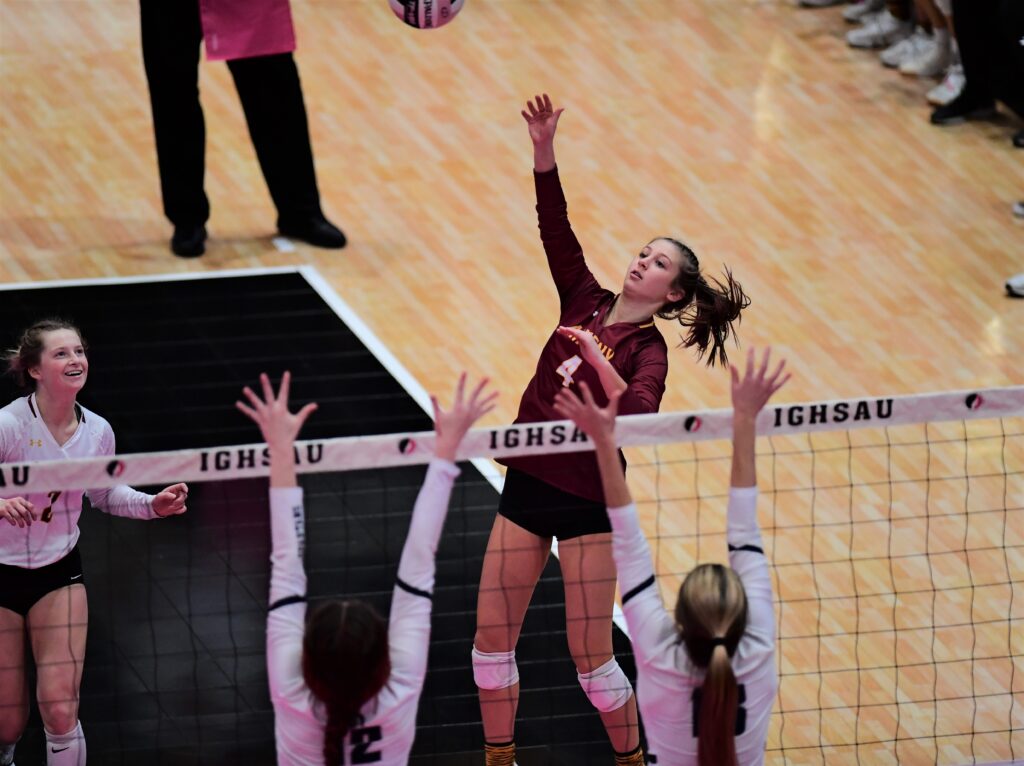 The Spartans regained a 31-30 lead on a kill by Cottrell, then finally closed out the set on a kill by Vice–who beautifully placed the ball to an open spot on the court.
"That definitely showed that we're mentally tough," Vice said. "We didn't give up at all, and Ankeny didn't give up, either."
Cottrell pounded nine of her kills in the second set. Reynolds and Schrader each had five to keep the Hawkettes alive.
"We came out with a lot of energy. That was kind of one of our goals–to get on it right away," said Ruff. "And then that second set was just kind of a grind back and forth. It took a lot of grit and it took a lot of energy out (of us), but I thought we did a good job of bouncing back after that third set."
Ankeny dominated the third set by hitting .417. The Hawkettes went on a 12-4 run to build a 20-11 lead and eventually closed out the set on a block by Tanith Roush.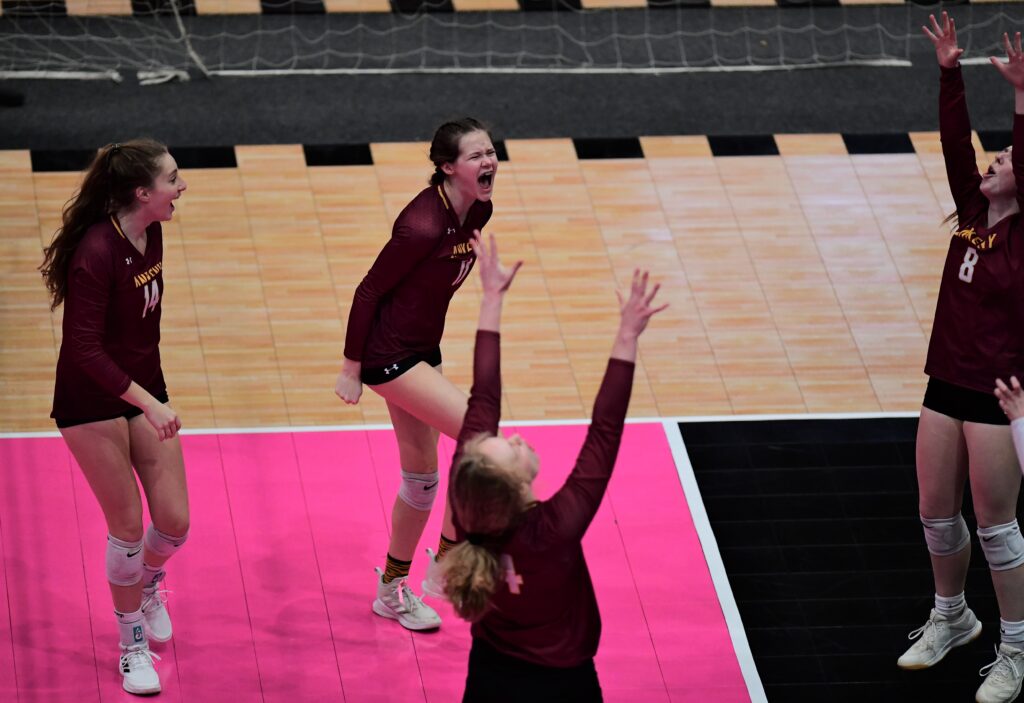 "(The second set) was definitely a momentum shift," said Pleasant Valley coach Amber Hall. "But I felt like we spent so much energy that we couldn't catch up in the third, and Ankeny capitalized on that and did a great job. I thought we did a good job of keeping our composure and our cool in those pressure situations."
Pleasant Valley never trailed in the fourth set. The Spartans used an 11-3 run to pull away and took an 18-9 lead on a kill by Goodpaster.
"Once we got down we had a hard time digging ourselves out of a hole, but we still had fun," Stephens said.
Ankeny later closed the gap to 19-14 on a pair of kills by Schrader, but Pleasant Valley then scored five of the next seven points. The Hawkettes fought off one match point on a kill by Schrader before Vice closed it out with another well-placed ball.
"I think having lost a set in the first match (against Ankeny Centennial) helped us not get nervous or scared when we lost that third set," Ruff said. "It feels amazing to win this one. We kind of took it as a redemption match from last year, and to get (to the final) is super exciting. But we've still got one more match."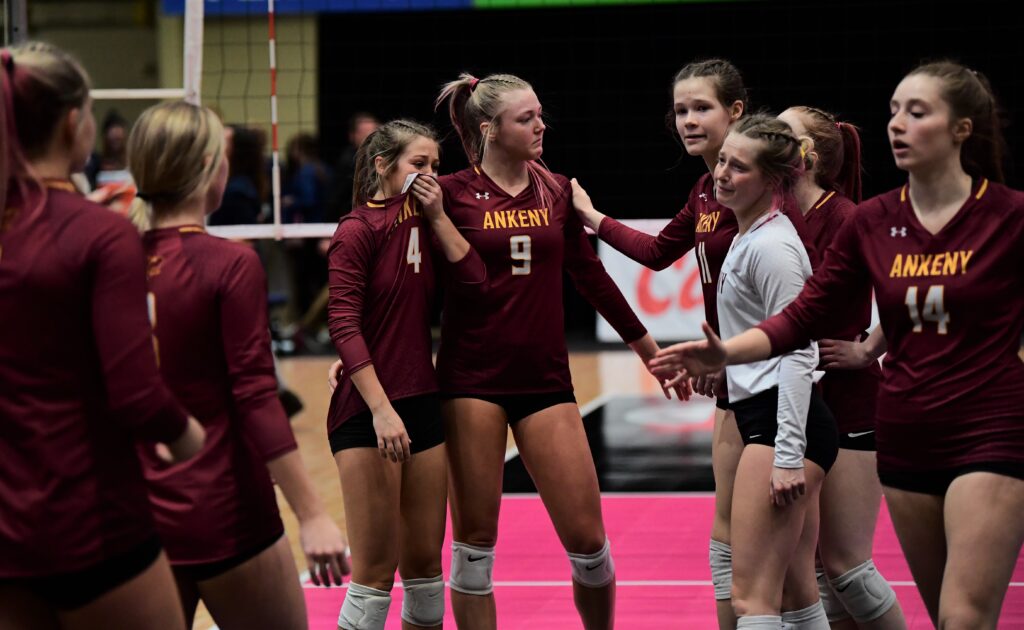 The Hawkettes struggled to a .000 hitting percentage in the fourth set, when they matched their nine kills with nine hitting errors.
"That was a tough one to lose, but I am so proud of everything this team has accomplished," Stephens said. "There have been some ups and downs this season, and we kept our heads up and played through it. Not many people can say they had a 40-6 record. Overall, this season has been one to remember, and I couldn't have asked for a better group of girls to play next to."
Molly Albrecht had three of Pleasant Valley's eight aces. Livia Thomsen racked up 18 digs.
"This is obviously our first time getting past the semifinals," Vice said. "I think our team played super well. Ankeny gave us their best performance as well. It feels great to move on."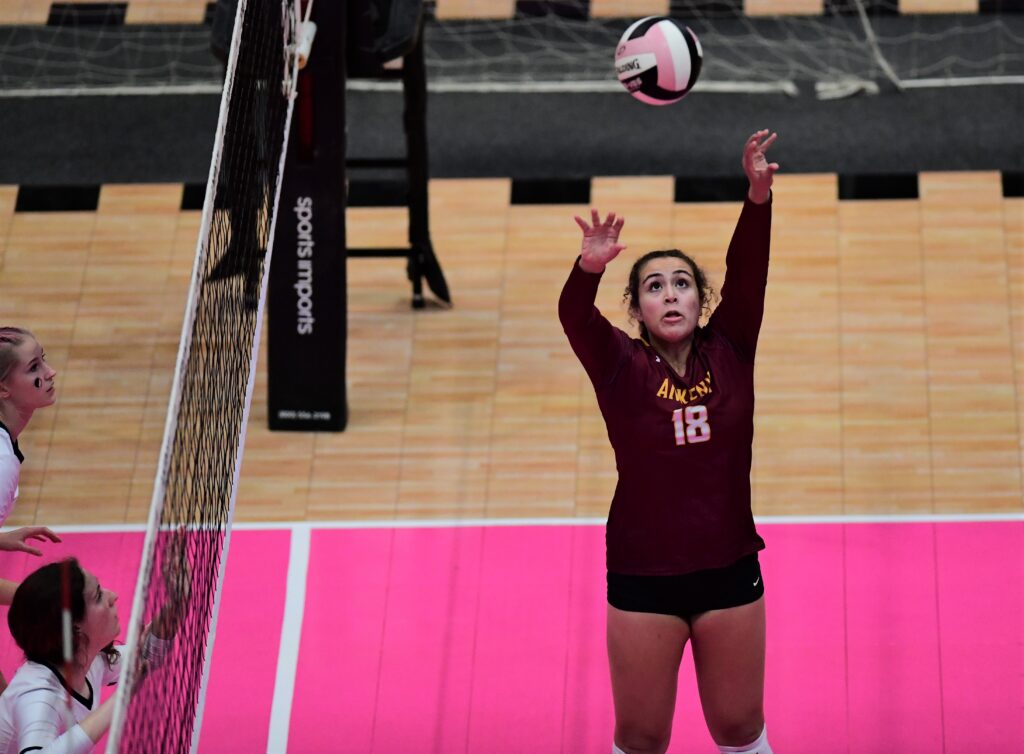 Ankeny's Jesa Wallace had 18 assists, while Adalyn Goodwin added 16 and also had three aces. Reynolds finished with 11 digs and four blocks, while Olivia Harpenau had a match-high five blocks.
"Their hitters and blockers are amazing, so we just knew we would have to play really good serve receive and really good defense," Hall said. "Ankeny is such a great team and a great program, so it's definitely a big win and a great opportunity for us and our program."
The Hawkettes will have to replace eight seniors, including Reynolds, who will likely be named to the all-tournament team on Thursday for the second straight year.
"Overall, in the big picture, it was a great season," Whims said. "I'm really pleased with the effort and the grit the girls showed all season. The seniors provided great leadership, and they left their mark (on the program) over this two-year period in time."