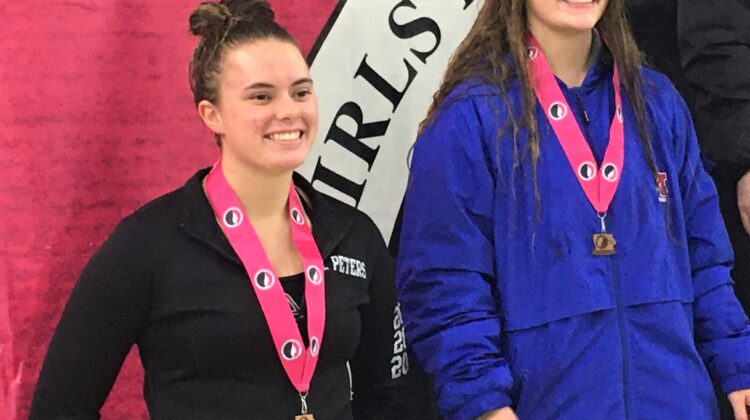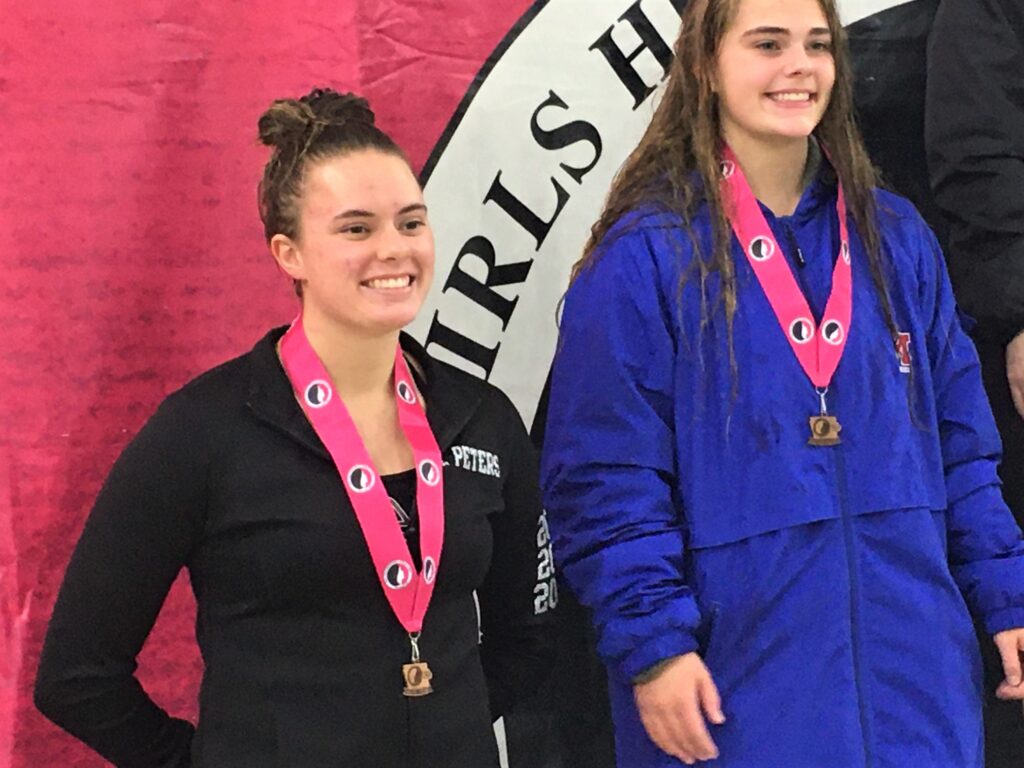 The Ankeny girls' swimming team sits in eighth place with 13 points after the diving portion of the state meet on Friday at Marshalltown.
Senior Erica Peters capped off her high school career with a second consecutive sixth-place finish. She scored a total of 447.55 points in the 11-dive event.
"I'm pretty happy," said Peters. "I definitely wanted a little bit better, but I'm still glad that I made the podium this year."
Peters advanced to the finals after scoring 200.6 points through her first five dives. Teammate Hannah Kolars just missed making the finals, finishing 21st overall with 182.55 points.
Peters had two of her best dives in Rounds 7 and 8, posting back-to-back scores of 46.0 and 48.3. That gave her a total of 331.45 points and pulled her within six points of the lead with three dives left.
"It was really close the entire meet, which was really crazy," Peters said. "It was good competition."
Avery Hogan of Waterloo East won the title on her last dive, finishing with 470.10 points. Trista Thompson of Grinnell was the runner-up with 469.45.
Cedar Rapids Kennedy placed two divers in the top nine and leads the meet with 22 points. Waterloo East has 20 points.
Afterwards, Peters reflected on the end of her prep career.
"It is a little bit sad, but I'm excited to cheer my team on the rest of the weekend to finish it out," she said.
On Friday night, Ankeny swimmers Maddie Carleton, Alexis Henning, Sophie Loeffler and Caroline Walker each qualified for Saturday's finals in two individual events. Teammate Anja Peck qualified in the 100 breaststroke.
Henning posted times of 23.88 in the 50 freestyle and 56.81 in the 100 backstroke, qualifying for the 'A' final in both events. That means she is assured of two top-eight finishes, barring a disqualification.
Henning broke the school record in the backstroke during the preliminaries for the second straight year. She dropped nearly a second off the time that she posted last year (57.68).
Loeffler posted a time of 1:54.65 in the 200 freestyle. She will be joined in the 'A' final by Carleton, who was clocked in 1:54.99.
Carleton also qualified for the 'A' final in the 500 freestyle, turning in a time of 5:10.68. Loeffler advanced to the 'B' final in 5:11.81, which means she will place between ninth and 16th.
Walker qualified for the 'B' final in both the 50 freestyle and 100 butterfly. She posted times of 24.60 and 59.28, respectively.
Peck swam a time of 1:06.13 in the breaststroke, allowing her to qualify for the 'B' final. Her time was more than 1.5 seconds faster than her seventh-place time in last year's 'A' final.
The swimming finals will begin at noon on Saturday with the 200 medley relay.
Here are the rest of Ankeny's results from Friday's preliminaries:
200 freestyle–Josie Parton, 2:00.69 (29th).
200 individual medley–Peck, 2:13.35 (21st); Rachel Rolow, 2:14.45 (28th).
50 freestyle–Gracie Lindaman, 25.44 (31st).
100 freestyle–Lindaman, 55.29 (26th).
100 backstroke–Rolow, 1:00.73 (24th); Abbi Brown, 1:01.75 (30th).