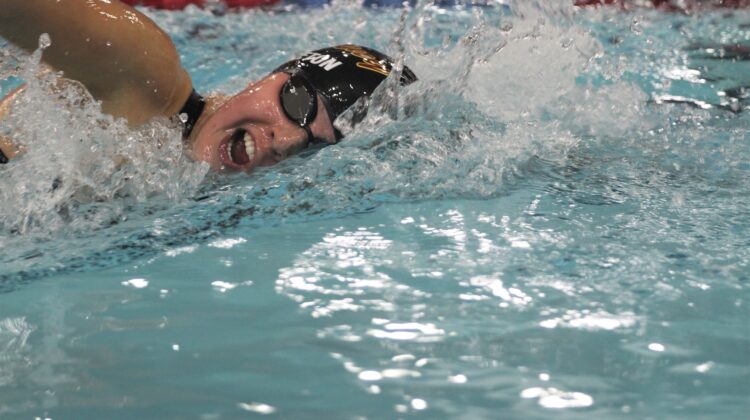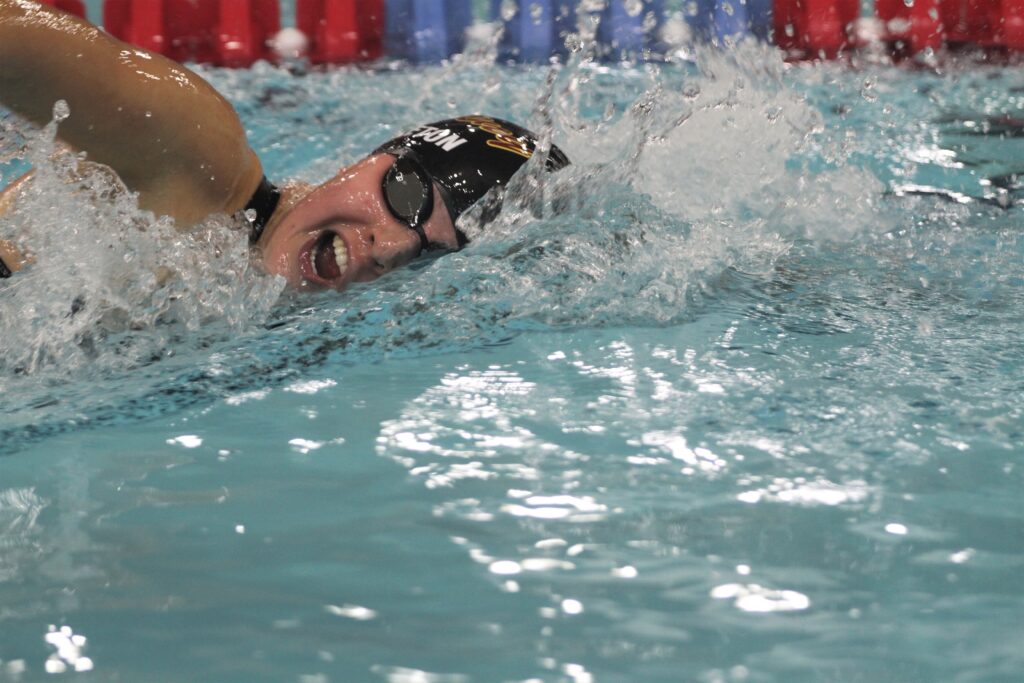 The Ankeny girls' swimming team has been ranked among the top five squads in the state most of the season.
The Hawkettes capped off a successful campaign with a fifth-place finish in the state meet on Saturday at Marshalltown. They finished with 168 points, edging CIML rival Johnston by six points for fifth place.
"Finishing fifth was a huge accomplishment for this team," said Ankeny coach Michelle Stout, who has guided the Hawkettes to seven consecutive top-seven finishes. "Throughout the season, our greatest successes have been a total team effort and this weekend reflected that."
Waukee racked up 357 points to easily capture its first state title. Defending champion Ames was the runner-up with 260 points.
Ankeny improved on its seventh-place finish from a year ago, when the Hawkettes scored 105 points.
"We were really happy with fifth," said Ankeny sophomore Anja Peck. "We had a big improvement from last year, and we had a lot more girls in the finals–which was good."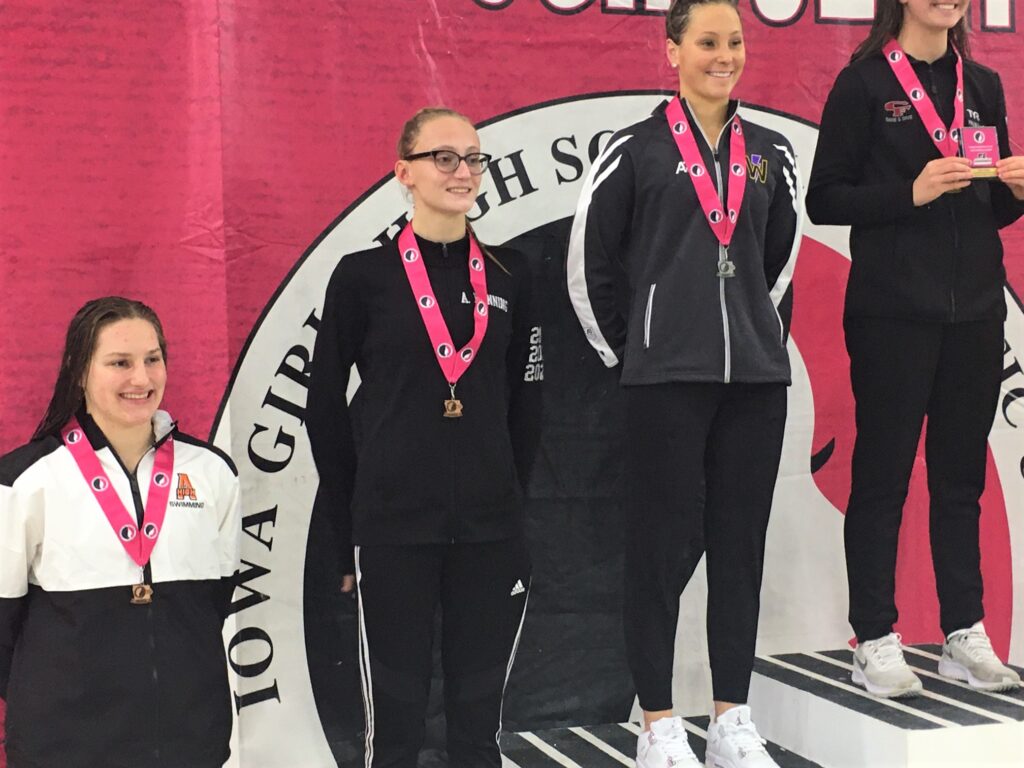 Ankeny was led by seniors Maddie Carleton and Alexis Henning. They both recorded a pair of top-eight finishes.
Henning placed seventh in the 50 freestyle in 24.69 seconds, then later took fourth in the 100 backstroke in 57.54. She broke her own school record in the backstroke during Friday's preliminaries, when she was clocked in 56.81.
"I'm so happy," Henning said. "I'm just really glad I got (the record) done and out of the way so that whatever happens in finals happens, and I just got my best time in prelims."
Like Henning, Carleton was unable to match her times from Friday. She placed seventh in the 200 freestyle in a time of 1:56.26, then later finished eighth in the 500 freestyle in 5:17.40.
"I was happy with my individual races (in the prelims), more so than my races on Saturday," Carleton said. "My overall goal for this meet was to score points for the team, swim fast and have fun!"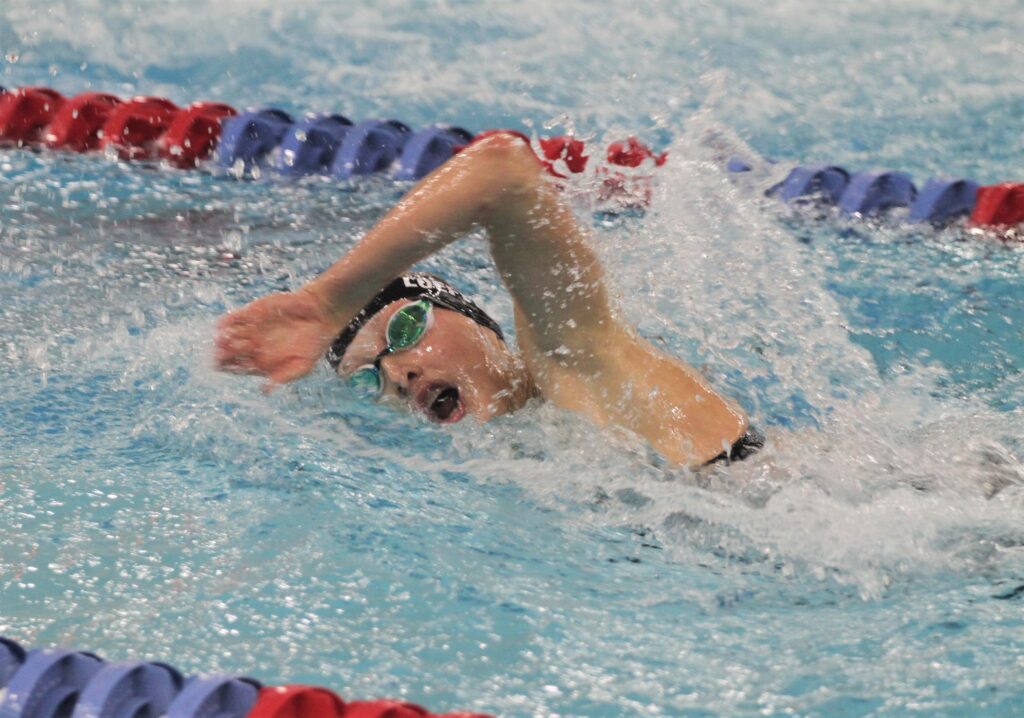 Carleton competed against teammate Sophie Loeffler in both of her individual events. Loeffler, a freshman, got on the awards podium with a sixth-place finish in the 200 freestyle, posting a time of 1:55.68.
"I knew going in that I was ranked fairly high in both events, so I definitely wanted to be in the A-final and make the podium," said Loeffler, who also finished 11th in the 500 freestyle in 5:13.43. "I was really excited to swim the 200 free and knew it would be tough and it would come down to the hundredths (of a second)."
Ankeny's Caroline Walker also competed in two finals on Saturday. The junior placed 11th in the 50 freestyle in 24.85 and finished 16th in the 100 butterfly in 1:01.29.
"I was extremely excited," Walker said. "Going into state I didn't think I was going to make the finals in either of my individuals, and the fact that I made it in both and dropped my 50 free seed by five places, I'm really happy with it."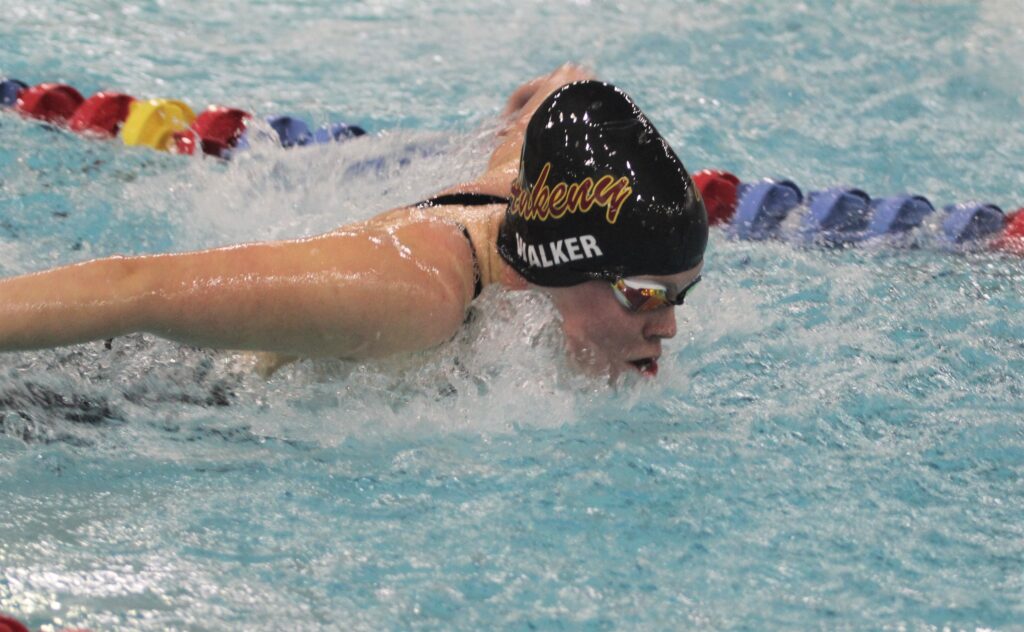 Peck later contributed a ninth-place finish in the 100 breaststroke. She won the B-final in a time of 1:06.28.
"I would have liked to be in the fast heat, but it was ok. It was really fast this year," said Peck, who took seventh in the event last season. "I just did my best with what I got."
Peck also helped Ankeny to a fourth-place finish in the 200 medley relay. She teamed up with Henning, Walker and Gracie Lindaman to post a time of 1:47.64.
Henning swam the backstroke leg in 26.80, the second-fastest split in the race. Peck swam the breaststroke leg in 29.87, Walker swam the butterfly leg in 26.19, and Lindaman swam the freestyle leg in 24.78.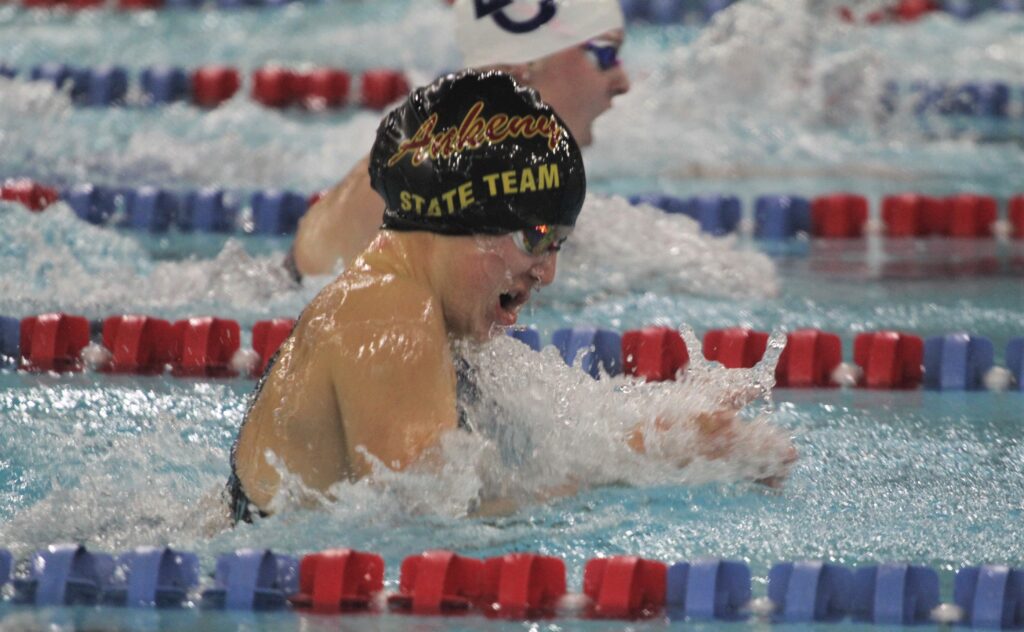 "I think we all did our best," Henning said. "We just were cheering so hard for everyone, and I think we all just did really good. I'm very proud of us."
Ames got a 26.62 backstroke leg from Jordon Kloth and went on to win the race in 1:44.14, edging Waukee by .03 seconds.
"We were ranked second going in, but we knew some of those other teams weren't fully tapered," Walker said. "We were ready for it. We all swam very well, and our splits were good. It was a very good team race."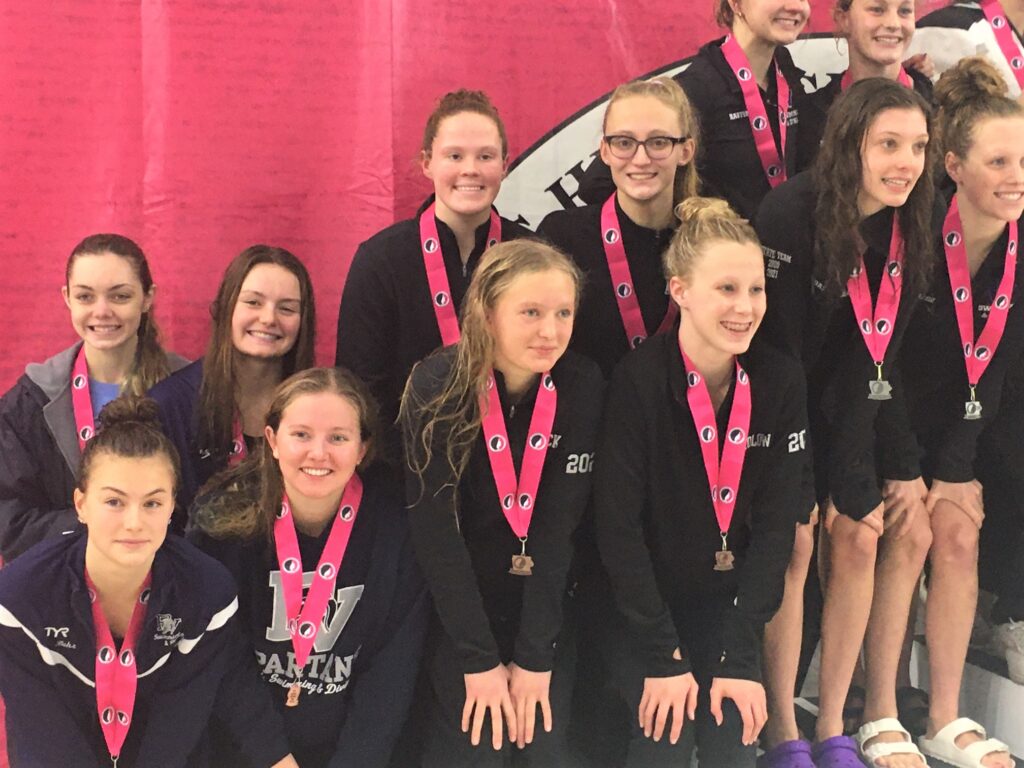 The Hawkettes later placed ninth in the 200 freestyle relay. The foursome of Lindaman, Josie Parton, Walker and Loeffler posted a time of 1:39.86.
Ankeny ended the meet with an eighth-place finish in the 400 freestyle relay. The team of Loeffler, Parton, Carleton and Henning was clocked in 3:37.19.
Henning swam the anchor leg in 52.91.
"Today was just amazing," Henning said. "My entire team did great. I'm very proud of how everyone swam, and I'm very proud of how I swam as well."
Ankeny scored points in every event except the 200 individual medley and 100 freestyle. The Hawkettes got a sixth-place finish from Erica Peters in the diving event on Friday.
"It's extremely difficult to place in the top 10 without a state champion performance at this meet, and the girls certainly overcame that with multiple finishes in the top 10," Stout said. "We had some great individual swims by Alexis as well as our distance girls Maddie and Sophie. Caroline and Anja moved up from their seed placings in the B-final to score critical points as well."