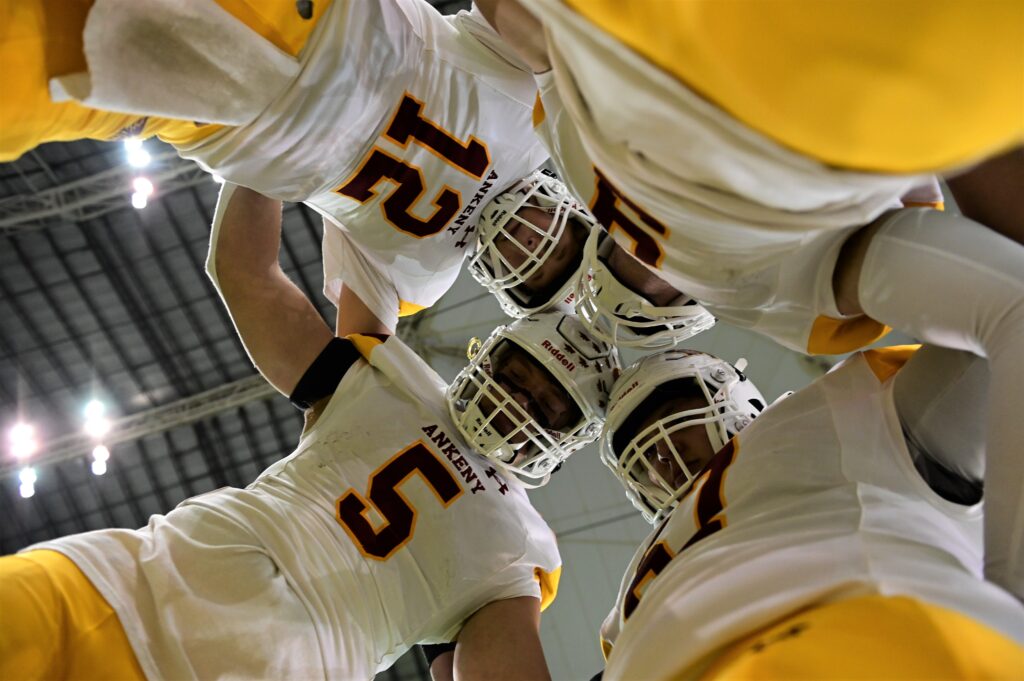 If you missed this week's Ankeny Fanatic podcast sponsored by Coldwell Banker Mid-America, check it out. We broke down Friday night's Class 5A championship game with seven different guests.
So will Ankeny capture its second straight title and the fourth in school history? Or will Southeast Polk claim its first championship?
The Hawks have won the last three meetings against Southeast Polk by a combined score of 87-35, including a 42-14 thumping in last year's Class 4A title game. The Rams have not scored more than 14 points against Ankeny since 2013, which is the last time they defeated the Hawks. Back then, Southeast Polk coach Brad Zelenovich was in his first season at Ankeny after the split into two high schools.
Now, Zelenovich has built a powerhouse program in Pleasant Hill, but he's still seeking his first win against his former team. He is 0-4 against Ankeny coach Rick Nelson, who guided the Hawks to a 30-10 victory in 2015 and a 24-14 win in the first round of the 2019 playoffs. Earlier this season, Ankeny posted a 21-7 triumph over the Rams.
Southeast Polk's star safety, Xavier Nwankpa, did not play in the game on Sept. 17. He is now healthy and could make a huge difference all over the field at the UNI-Dome–on defense, offense and on special teams. Widely considered to be the state's best player, Nwankpa is capable of making a game-winning play, like he did in the season opener when he caught a Hail Mary to beat Dowling Catholic.
But Ankeny is clicking on all cylinders and has to be confident after dominating this series in recent years. The Hawks can pound away at Southeast Polk's defense with a steady diet of Colin Kadolph runs, and that will set up some timely JJ Kohl-to-Brady McCullough passes. I don't think the Rams can consistently stop Ankeny's explosive offensive attack.
Conversely, the Rams will need to score more than 14 points in order to win. They haven't been able to do that for a long time, but a healthy Nwankpa does make them more dangerous and could open up the ground game for running backs Titus Christiansen and Abu Sama. I do think Southeast Polk will be able to move the ball, but finishing drives against Ankeny's aggressive defense will be a challenge.
The Hawks forced four turnovers in last year's title game, and I wouldn't expect a repeat of that. But I do think one or two turnovers could decide the game. It usually does.
I've thought all season long that Ankeny at its best is the best team in the state. If the Hawks show up and play their "A" game, they're going to defend their title. They just have to avoid the offensive struggles they had against Ankeny Centennial and the defensive breakdowns they had in the first meeting against Valley.
Southeast Polk is good enough to dethrone Ankeny, but I think the Rams will need a big play from Nwankpa–either a pick six or a kick return for a touchdown–in order to pull off the win. However, the Hawks are planning to kick the ball away from Nwankpa, and Kohl has thrown only three interceptions all season. Prediction: Ankeny 27, Southeast Polk 21.