Fans of the Ankeny Centennial athletic teams will be able to watch all of the home events this winter from the comfort of their own homes.
Centennial parent Andy Pollock will be live streaming all of the home girls' basketball, boys' basketball and wrestling events through Facebook. Coverage will begin with the basketball doubleheader against Southeast Polk on Nov. 30.
"Our goal first and foremost is to create a quality production that allows fans and followers of Centennial activities to stay connected to the programs," Pollock said. "The business support from the community as we get this started has been outstanding, and we look forward to adding more camera angles as well as graphics to the productions."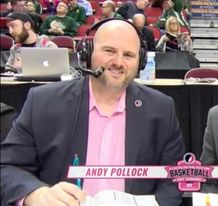 Pollock has 25 years of broadcasting experience with local radio stations in Iowa, the Central Iowa Sports Network and the IGHSAU Digital Network. He started streaming some live events during last summer's softball season, which led to the idea for the Centennial Digital Network.
"With four active daughters in the Centennial district and constantly streaming their events to grandparents, others took notice and started asking for the links," Pollock said. "It took on a life of its own during the Jags' state softball tourney run last summer and then continued into volleyball. I decided if I'm going to continue to do this we are going to make sure it's done right."
Pollock is working to get students and more of the community involved in the productions. His goal is to have lower level events on as well as concerts if resources allow him to expand.
"(Centennial Activities Directors) Rob Scott and Ian Smith, along with the winter sports coaches, are huge supporters of this and understand in 2021 there is really an expectation that one would be able to find games online," Pollock said.
Viewers can go to Facebook.com/CentennialDigital to see the telecasts. You can email CentennialJagsDigital@gmail.com if you have any questions.