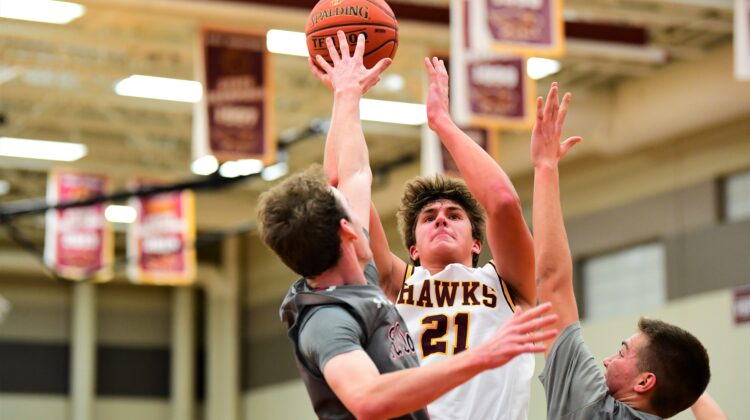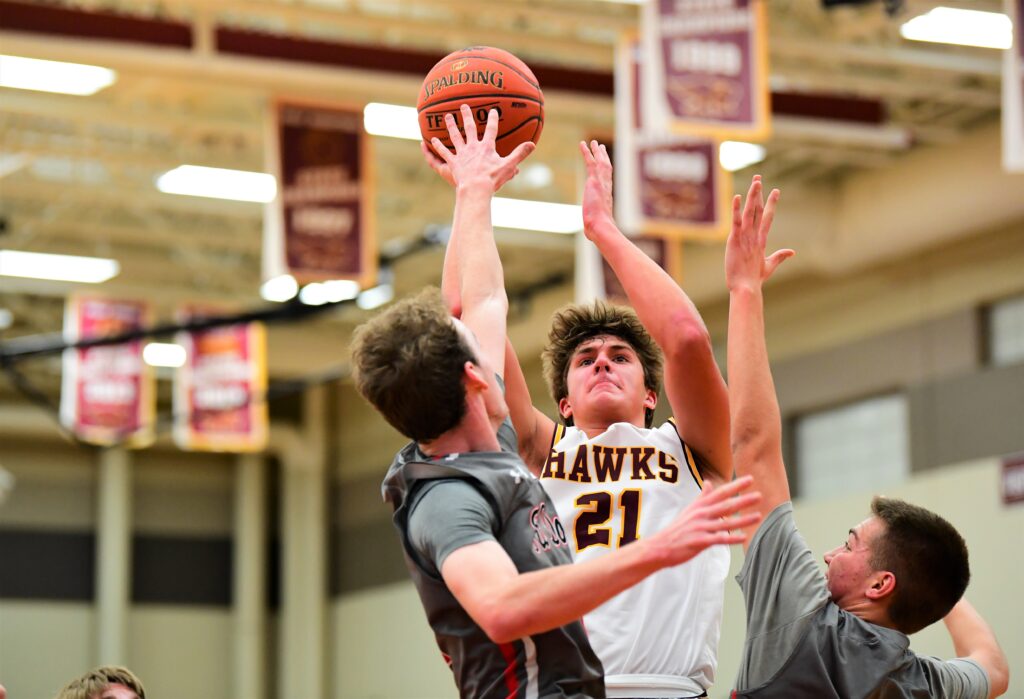 There won't be any break for Ankeny football standouts Ryan Crandall, JJ Kohl and Braden Simonsen.
After helping the Hawks to a runner-up finish in the Class 5A playoffs on the gridiron earlier this month, the trio has made a quick transition to the basketball court. The Ankeny boys' squad will open its season on Friday with a difficult road test at Ames, one of the early favorites to capture the Class 4A championship.
"We love competition here at Ankeny, and Ames is one of the best–if not the best–teams returning from last season," said Ankeny coach Brandt Carlson. "We are looking forward to the challenge of playing them and the other teams on our schedule. We view our team as a championship-level program, so I know our guys will be ready to compete and hopefully we can start the building process of maximizing our potential this year."
Both Crandall and Simonsen were key reserves on Ankeny's state championship team in the 2019-20 season. They both moved into starting roles last year, helping the Hawks to a 10-10 record.
Crandall, a senior wing player, averaged a team-high 11.0 points and 7.3 rebounds. He also led Ankeny with 55 assists and 37 steals.
Crandall, who was named to the CIML Iowa Conference first team, is weighing his college options. He earned all-state honors in football as a defensive back.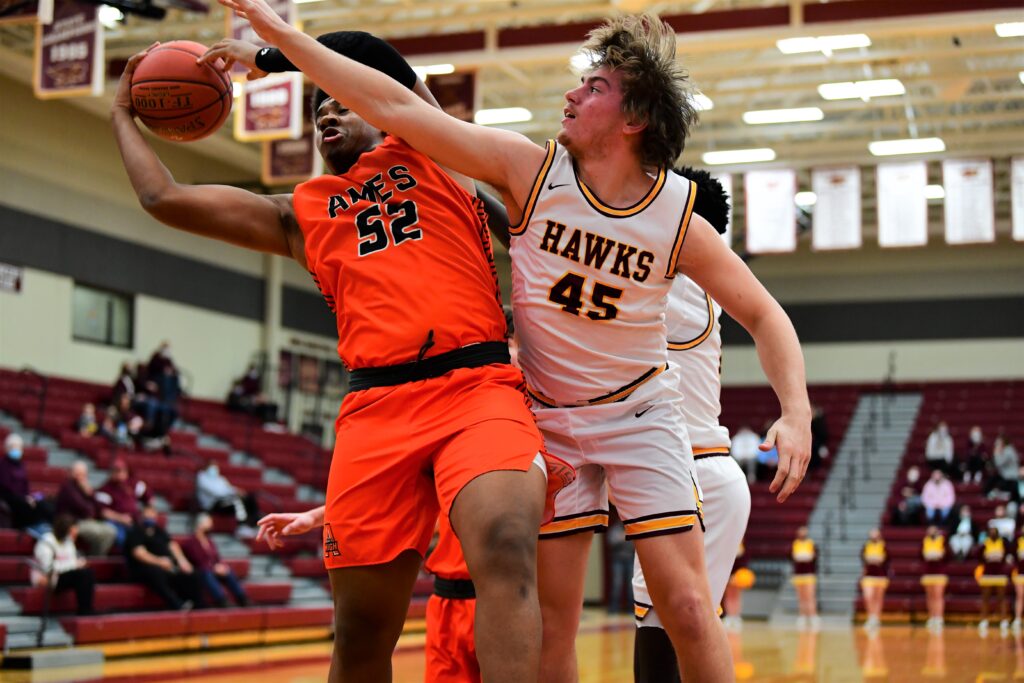 Simonsen, a senior post player, will again provide some toughness around the basket. He averaged 6.6 points and 3.9 rebounds as a junior.
Simonsen received all-conference honorable mention along with Kohl, who was one of the team's top reserves. Kohl, a junior forward, averaged 7.4 points and 5.6 rebounds while tying for the team lead in blocks with nine.
Two other key returnees are junior guard Karson Wehde and sophomore guard Carson Johnson. Johnson played in 17 games, starting 14 times, and averaged 8.1 points.
Johnson shot 42.0 percent from 3-point range (29-of-69) and 87.5 percent from the free-throw line (21-of-24). He also earned all-conference honorable mention.
Wehde, meanwhile, averaged 3.3 points off the bench. Fifteen of his 17 baskets came from behind the arc.
"When you go through learning seasons like we did last year, it benefits the following season greatly," Carlson said. "We have many athletes who have put in a great amount of time to help continue building our program's history of success. Carson, Ryan, Braden, JJ and Karson all were high-level contributors last season, and we look for them to lead well this year."
Ankeny has been strengthened by the addition of sophomore Lio Aguirre, a transfer from Ankeny Centennial. A versatile player, Aguirre can play both inside and on the perimeter.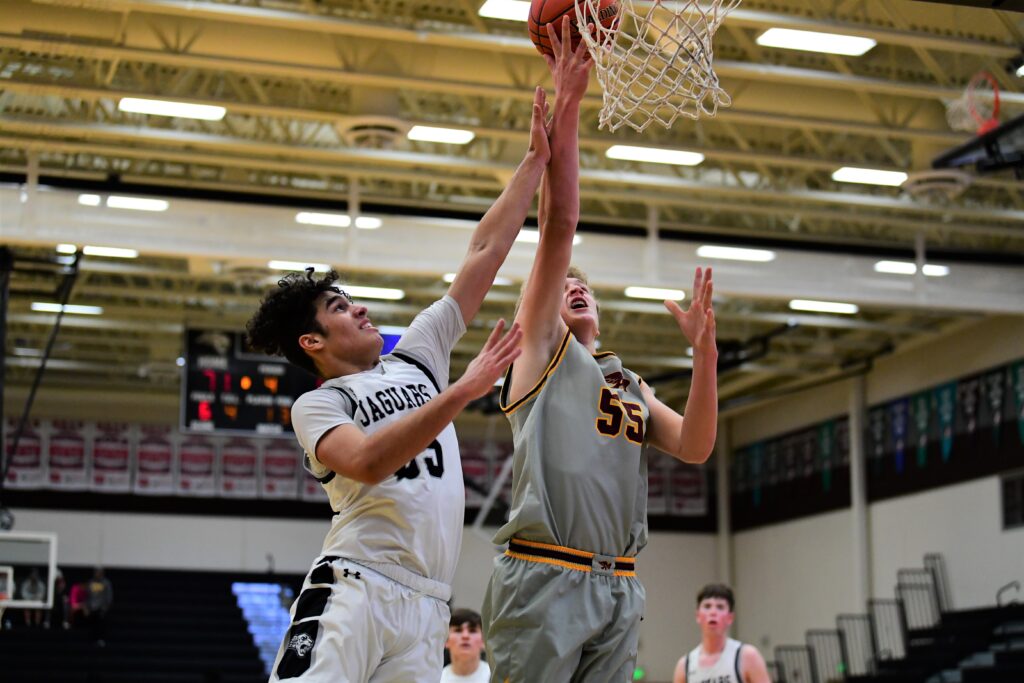 Aguirre averaged 9.5 points and 3.7 rebounds while shooting 50.0 percent from the field (72-of-144). He was a second-team all-conference pick.
Some other newcomers are also expected to contribute.
"We have a number of new guys on our varsity team this year that are going to compete for time on the floor," Carlson said. "We are extremely happy with how together our squad has been so far, and we expect to see a unified group of players go on this journey together."
In addition to Friday's opener at Ames, the Hawks will also play Valley, Indianola and Waukee Northwest before the holiday break. All of those teams are expected to be strong contenders as well.
"The practices have been great," Carlson said. "Ankeny basketball players never have to be coached on their work ethic, which makes it easier to get things done."
Carlson said he's excited about his team's potential.
"The keys for this team will be unselfishness, consistent execution on the offensive end, and defensive toughness," he said. "We have a group that if healthy we will be working toward adding to the legacy of Ankeny basketball that has been established so many years ago by coach (Larry) Ireland and coach (John) Petersen."