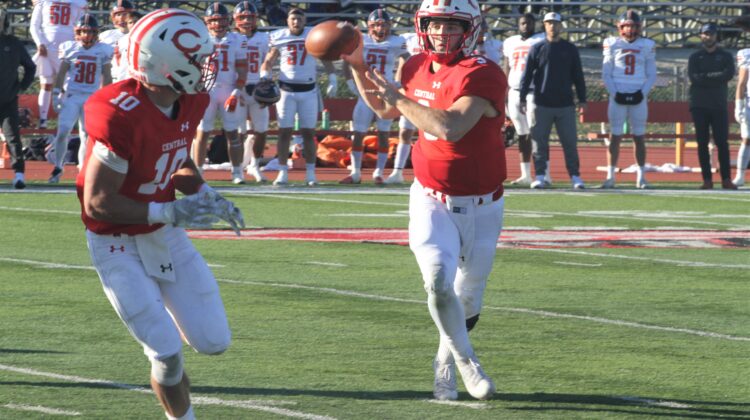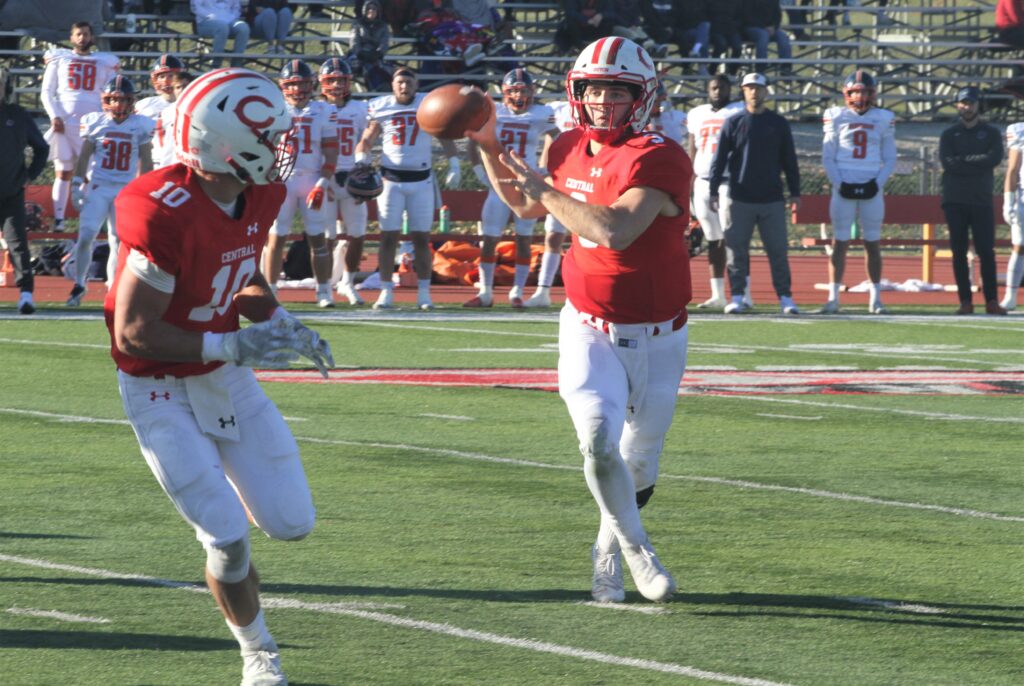 Blaine Hawkins entered Saturday's second-round NCAA Division III playoff game with a chance to make some football history.
The former Ankeny quarterback etched his name in the record book in the most dramatic way possible.
Hawkins found teammate Tanner Schminke in the corner of the end zone for a 3-yard touchdown pass on the game's final play to give 10th-ranked Central College a thrilling 30-28 victory over No. 9 Wheaton College (Ill.) at Pella. It was Hawkins' fourth scoring pass of the game and his 61st of the season, allowing him to tie the Division III all-time season record set by Brett Elliott of Linfield (Ore.) in 2004.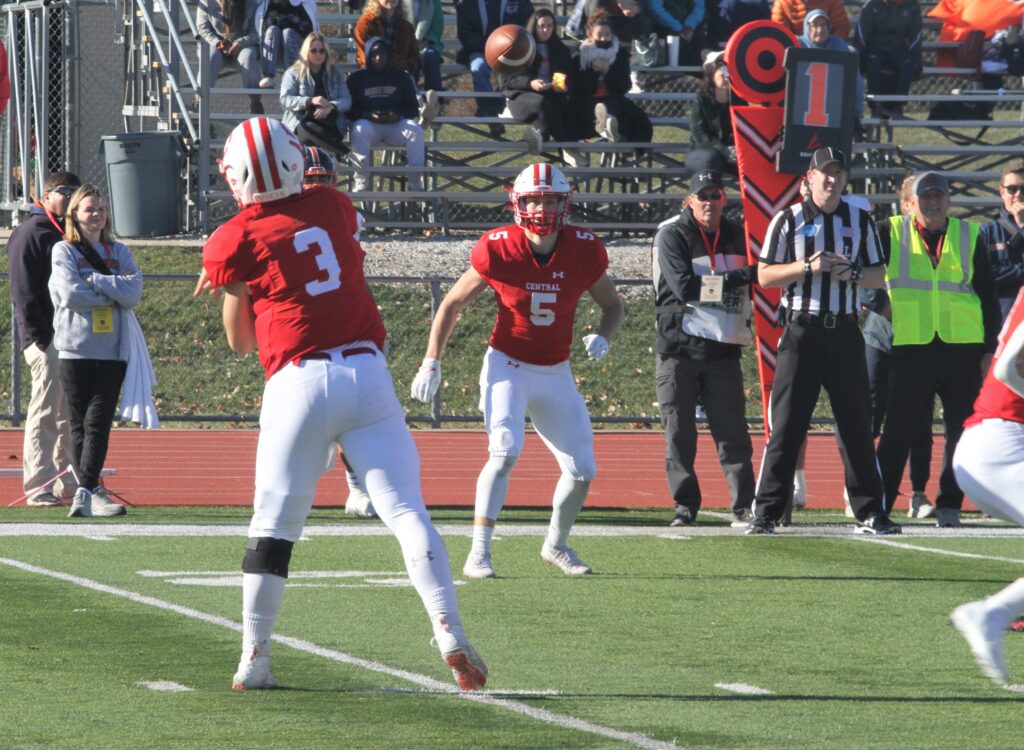 "It never crossed my mind during the game," Hawkins said of the record. "I was entirely caught up in focusing on each possession as we were mounting the comeback. One of my teammates or coaches mentioned it to me after the celebration. It is pretty unique to be mentioned with some of the guys on the all-time lists. I have been lucky to be surrounded by a great group of teammates and coaches, and I am proud knowing I can share this record with them."
Hawkins completed 41-of-65 passes for 434 yards in the win. The fifth-year senior also set a single-game school mark for most pass attempts.
Most importantly, though, Central advanced to the quarterfinals for the first time since 2007. The Dutch (12-0) will play at the No. 3 University of Wisconsin-Whitewater (12-0) on Saturday at noon.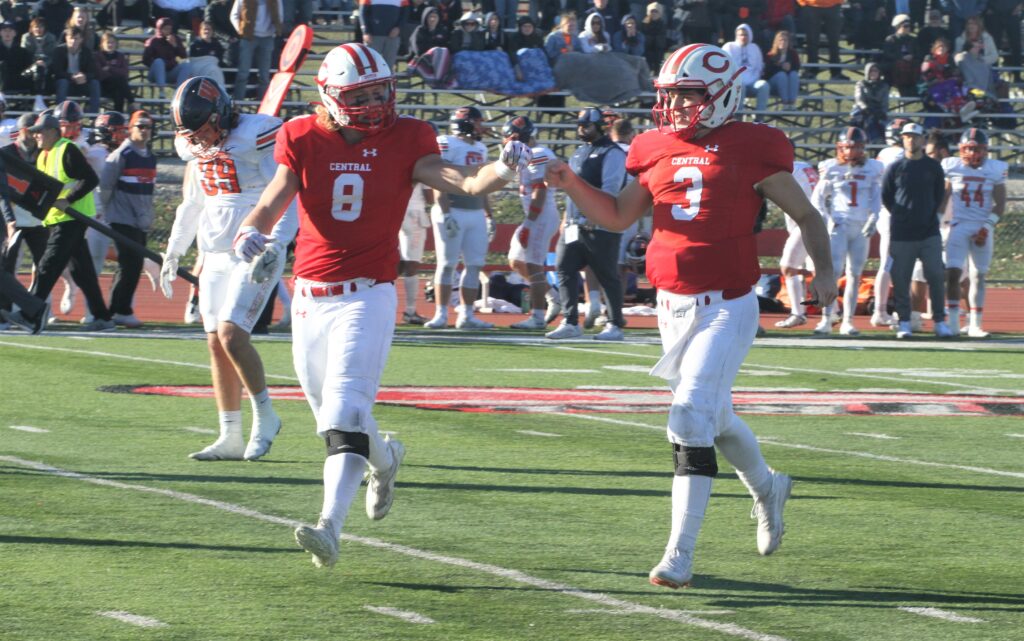 Hawkins called it the most memorable win of his legendary career.
"This is definitely No. 1 for me," he said. "We had a pretty exciting one in 2019, but this one was definitely up there. We knew we were playing a really tough opponent. We didn't execute really well in the first half–I personally didn't make some throws that were there. At halftime we just needed to relax, and we had some opportunities out there. I'm just really proud of the guys for being ready to respond and stepping up, and it was awesome."
Hawkins saved his best for last, engineering three consecutive fourth-quarter scoring drives to rally his team from a 21-10 deficit. He threw a 30-yard pass to Schminke with 11:22 left to close the gap to 21-16, then found Jeff Herbers from 8 yards out for a go-ahead score with 8:47 remaining.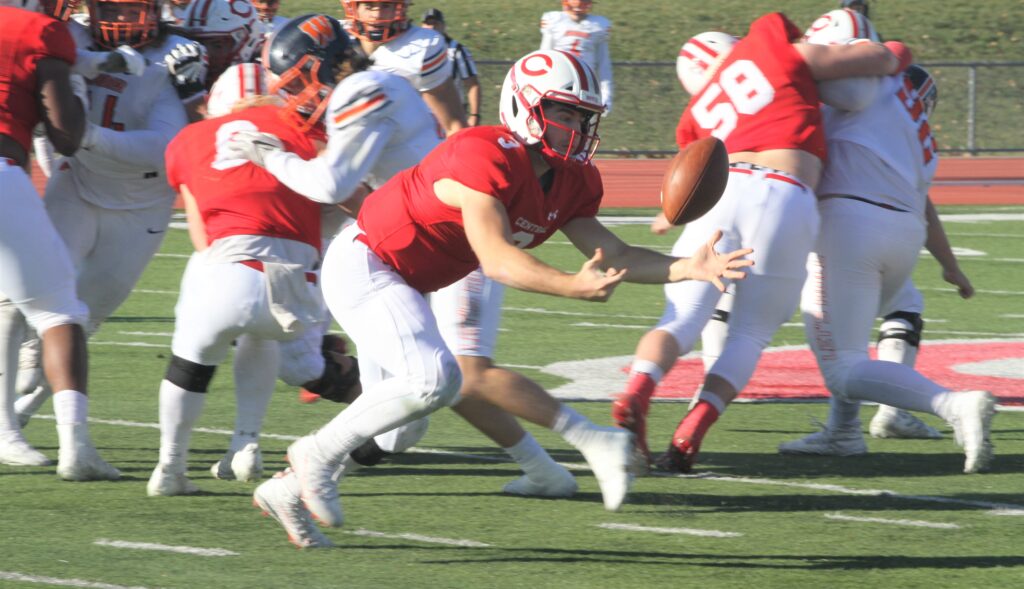 "This is the guy you want to give the ball to," Central coach Jeff McMartin said of Hawkins. "He's obviously a special player, and one of the things that makes him special is the fact that he's very even-keeled and cool under pressure. He just continues to execute."
The catch by Herbers came on a fourth-and-2 play and would have been a spectacular game-winner, if Wheaton hadn't responded with a scoring drive of its own. Herbers, who had a school-record 16 catches for 163 yards, caught the ball between two defenders in the end zone and somehow got his foot down before falling out of bounds.
Wheaton then answered with a 10-play, 75-yard drive that took more than 6 minutes off the clock. Luke Anthony tossed a 13-yard pass to Terrelle Brown, who made a juggling catch on his back in the end zone, to give the Thunder a 28-24 lead.
Just 2:41 remained, but that was enough time for Central's Division III-leading offense.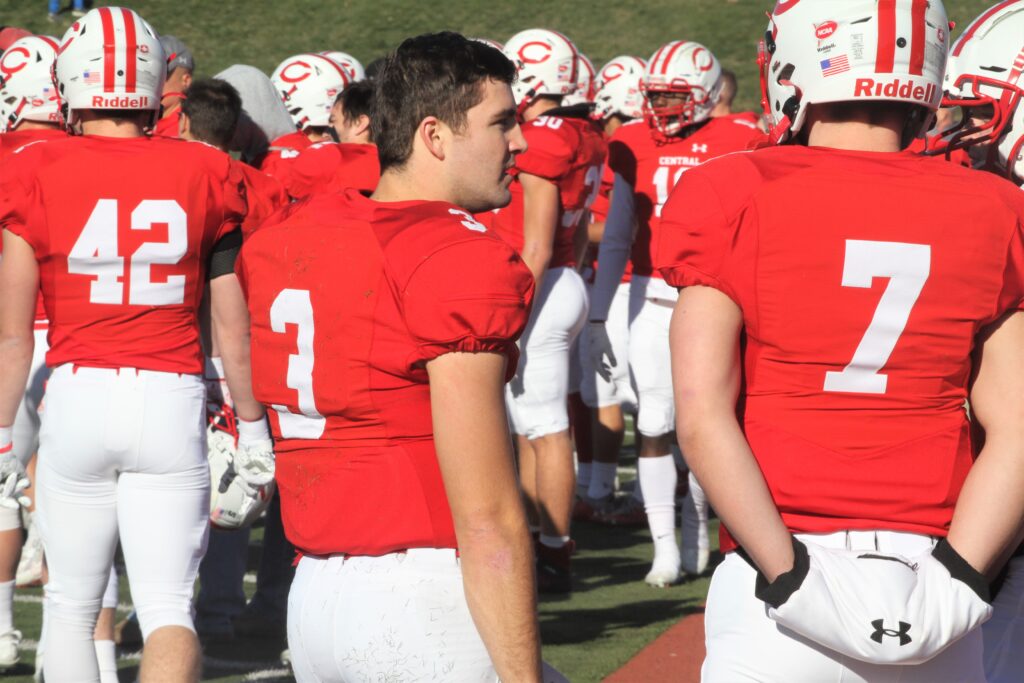 "Those earlier drives in the fourth quarter gave us confidence. We were kind of on a roll," Hawkins said. "We're definitely a team that feeds on getting the momentum, especially on offense. If we get one first down, we're like, 'All right, the drive's on.' We definitely had no doubt that we could do it. We haven't played in a bunch of close games like this this year, but we practice 2-minute situations every week and I think we were just prepared for the moment. It was business as usual, and we just had to take care of business and it will all work out."
It took the Dutch 13 plays to drive 63 yards in the final 2:37. Hawkins twice kept the drive alive with clutch fourth-down conversions, hitting Schminke for a 9-yard gain to the Wheaton 32 and then finding Jason Hopp on fourth-and-10 for 16 yards to the Wheaton 3.
"We were really trying to live on the quick passing game all day," Hawkins said. "They've got a really tough defensive line and that makes running the ball pretty tough. We kind of just found a couple plays that were working, and we just kind of stuck with them. We kept running them until they stopped them, and they really didn't there toward the end. They made us work on that last drive, playing some really soft coverages, but we were able to fight and claw our way down the field."
Hopp was injured after making his catch, and that stopped the clock with 6 seconds left. Central did not spike the ball when the clock restarted, and the final seconds began to tick down.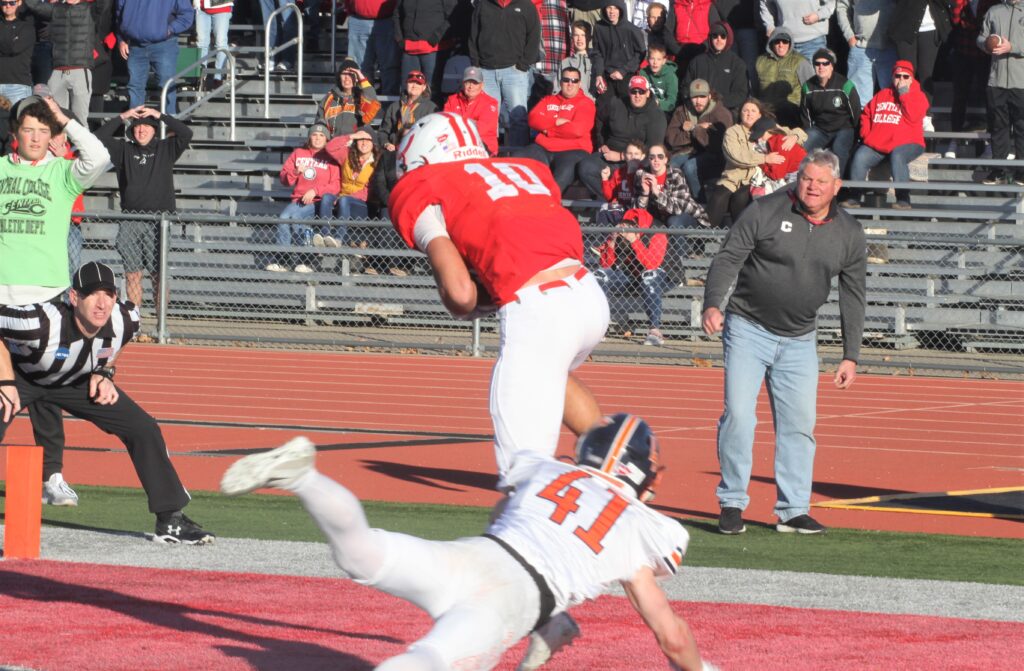 6….5….4….
Hawkins took the snap out of the shotgun formation, and this was going to be the last play of the game. He then lofted the ball to an open Schminke for the game-winner, setting off a wild celebration.
"Blaine extends plays," McMartin said. "He made some great runs in the second half and on that last drive just to get us first downs and keep us going. He found open receivers, he made some key fourth-down plays. You're not going to find a lot of quarterbacks that are able to do that kind of stuff but that's what you get with Blaine Hawkins."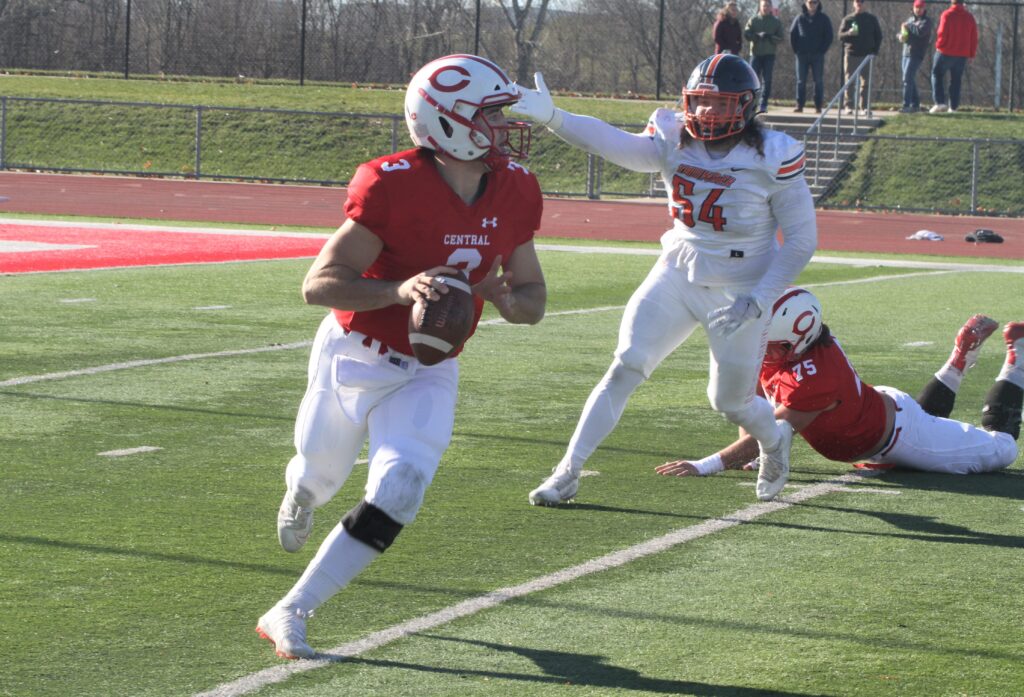 The win allowed Central to avenge a 49-13 loss to Wheaton in the second round of the 2019 playoffs. Hawkins was one of 15 fifth-year Dutch players who elected to return for an extra season after the 2020 campaign was effectively wiped out due to COVID-19.
On Saturday, Hawkins had to overcome gusty winds of 25-30 mph and one of the nation's top defenses.
"The wind was definitely a factor on some throws," said Hawkins, who was recently named a Gagliardi Trophy semifinalist and received the American Rivers Conference Offensive Player of the Year Award for the second time. "You've got to realize if you make a throw into the wind that it's going to hang up there, and I had one or two that were not great into the wind and kind of got lucky that we avoided turnovers there. It's something that you definitely have to think about, but at the same time it's affecting both teams. We knew when we could take some shots down the field with the wind at our back."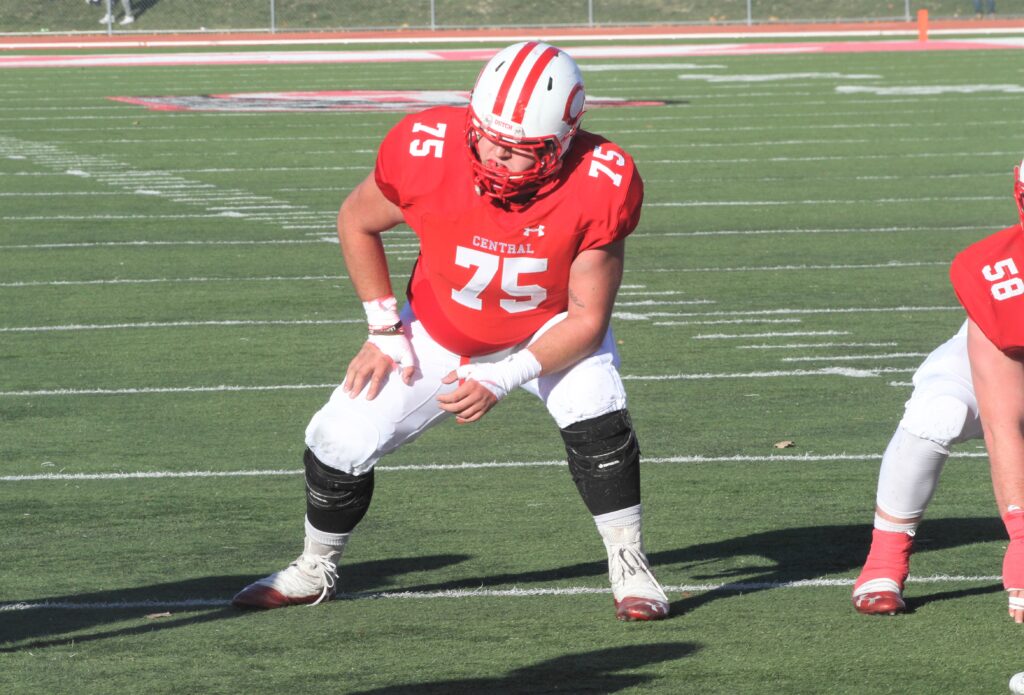 Former Ankeny Centennial offensive lineman Griffin Sargent also played a key role for the Dutch. He didn't start, but was pressed into duty when one of his teammates left the game with an injury.
Central ran for just 8 yards, but Sargent–a fifth-year senior–and the rest of the line limited Wheaton to just four sacks when the Thunder knew that Hawkins was going to pass on just about every play.
"I thought our offensive line did a really good job against their defensive line," McMartin said. "That defensive line is special. Player to player, those guys are really, really good. They have no weaknesses up front. And so I give our guys a ton of credit."