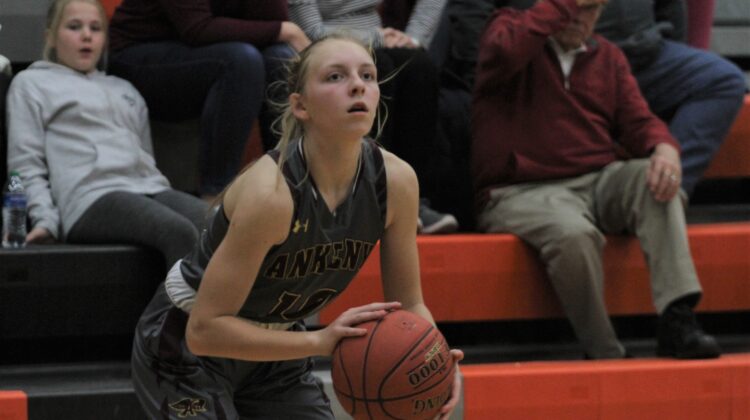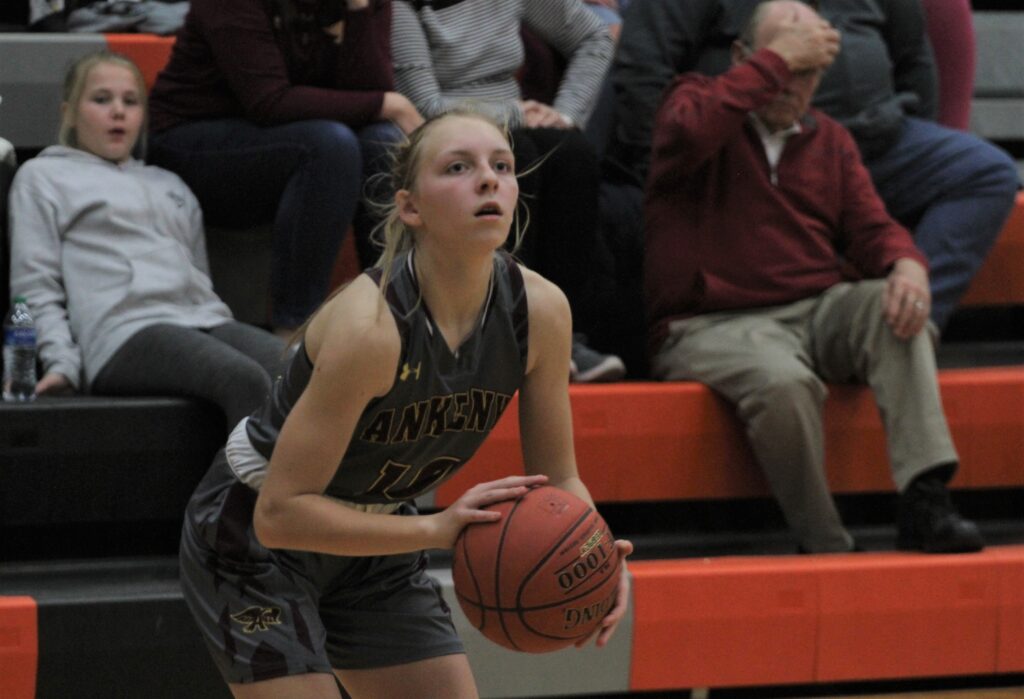 The Ames girls' basketball team lost its first three games by an average margin of 65 points.
A matchup against visiting Ankeny on Friday wasn't the breather that the Little Cyclones needed.
The Hawkettes had 25 steals while forcing 33 turnovers and rolled to a 65-12 victory in their CIML Iowa Conference opener. They used a full-court press to turn the game into a track meet.
"We challenged them in practice–got back to some fundamental transition things–and it showed tonight," said Ankeny coach Dru McAnelly. "We got out and ran better."
Nobody benefited from the pace of the game more than freshman guard Savannah Gage, who was a state cross country qualifier in the fall. She scored a career-high 20 points and had five steals.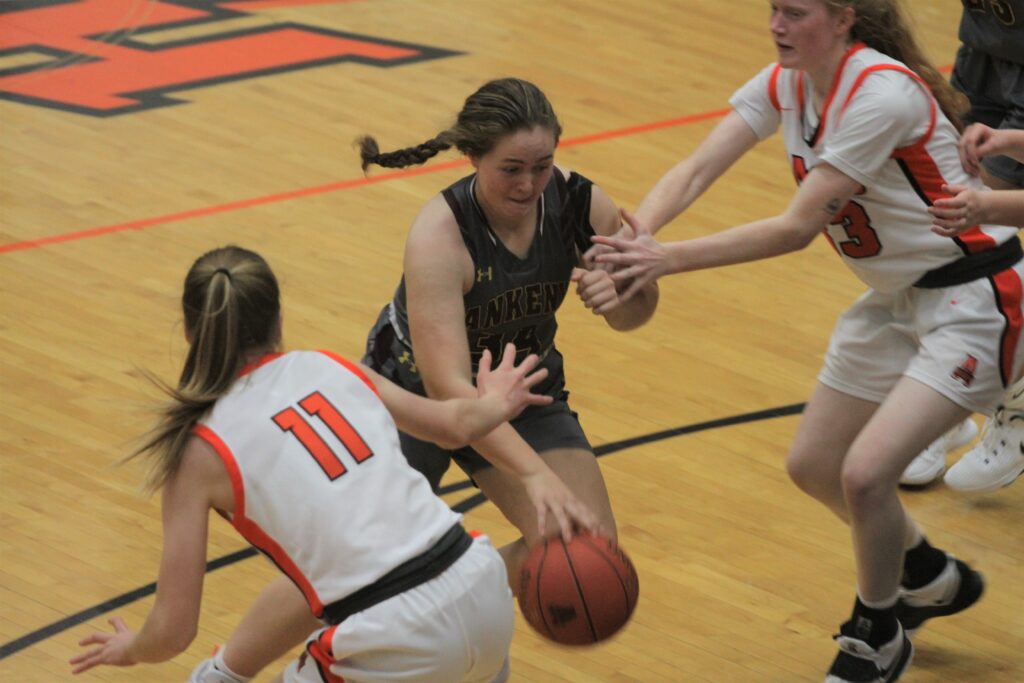 "Our game plan was to come out fast and play as a team and move the ball pretty well," said Gage. "We came out and took care of business."
Gage made 8-of-12 shots from the field, including 4-of-7 3-pointers.
"That's the Savannah we saw all summer," McAnelly said. "She's a confident kid, but I'm not sure if she was totally comfortable yet. But I think we're figuring things out."
The Hawkettes outscored Ames in the second quarter, 27-4, to build a 42-9 advantage. Gage had 13 points in the first half.
"It's just a really great team atmosphere," Gage said. "Everyone was so welcoming to me coming in, and it's been really fun playing with this team."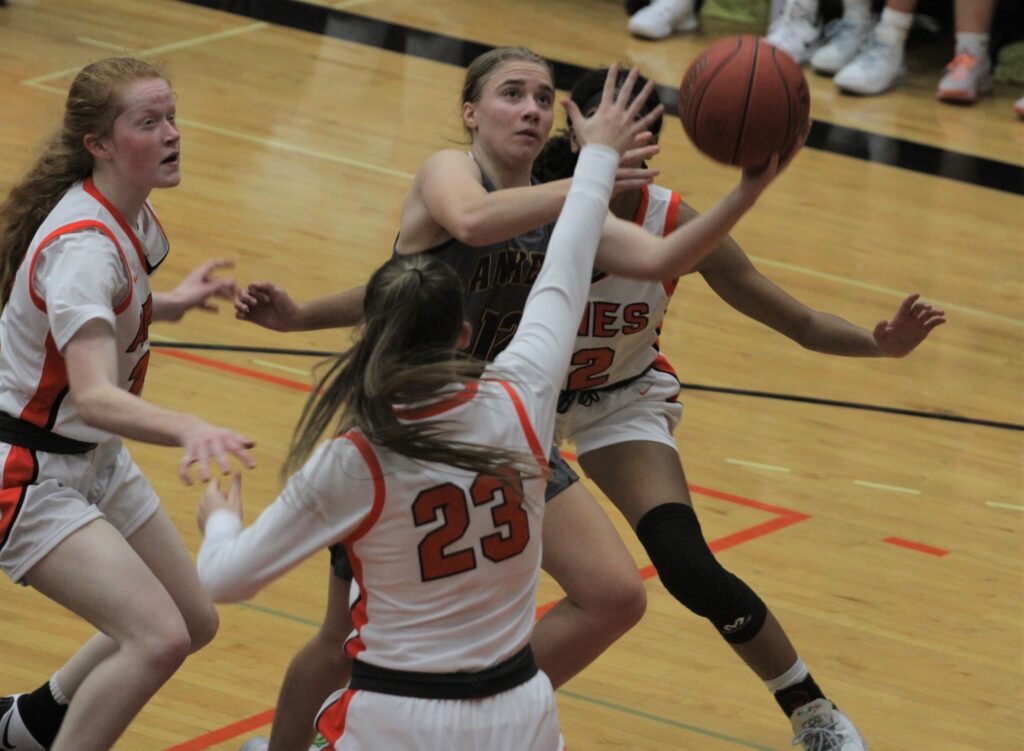 Ankeny's Karsen Jacks scored a career-high 18 points on 8-of-11 shooting. She also grabbed six rebounds.
Jenna Pitz chipped in 10 points, seven assists and five steals. Kendra Lewis added eight points and four steals.
"The biggest thing tonight was the way we shared the basketball," McAnelly said. "That's what I'm most proud about. We kept the foot on the gas and kept the team concept going even in the second half when it's easy not to sometimes. We made seven or eight extra passes where a girl had a good shot but she passed it to a teammate for a great shot."
Ankeny improved its record to 2-1 on the season. Ames, which shot just 10 percent from the field (3-of-30), dropped to 0-2 in the conference and 0-4 overall.
The Hawkettes will host sixth-ranked Valley (4-0) on Tuesday. The Tigers posted a 48-45 win over Des Moines North on Friday–four days after Ankeny beat the Polar Bears by a similar margin, 44-40.