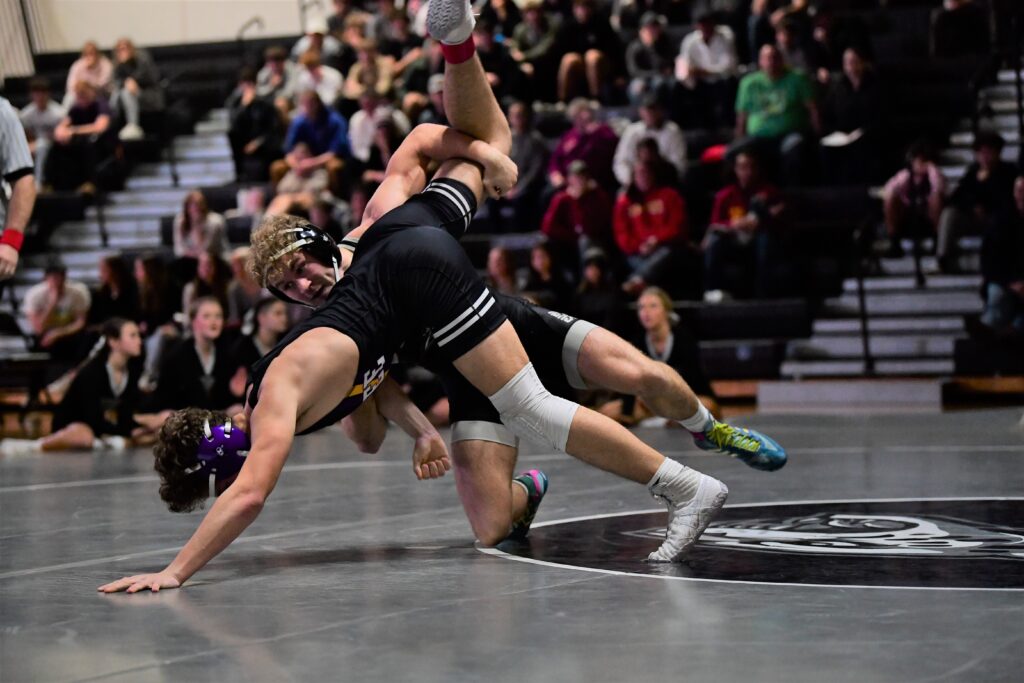 Ankeny Centennial's varsity wrestling lineup could undergo a lot of changes before the end of the season.
The one that the Jaguars have right now is already pretty good.
Centennial placed third among 14 teams in the Mustang Invitational on Saturday at Dallas Center-Grimes. The Jaguars finished with 174 points.
"As a team we have a lot of room for improvement," said Centennial senior Carter Cahill, who was one of three individual champions for the Jaguars. "Our lineup now compared to the end of the season could look a lot different, and we all have things to polish up individually. I believe this team is capable of a lot."
Creston/Orient Macksburg captured the team title with 187.5 points. Dallas Center-Grimes was the runner-up with 182 points.
The Jaguars battled for the lead all day with those two teams before settling for their third-place finish.
"We started strong and wrestled pretty well early on," said Centennial coach Jay Groth. "We had three champs out of four finalists, so I was happy with that."
Centennial got individual titles from Cael Hron at 126 pounds, Cahill at 160 and Zach English at 182. Sam Watson also reached the finals at 195 before earning a second-place finish.
Cahill, who is ranked fourth, posted a 4-3 decision over No. 9 Gabe Carver of Urbandale in a matchup of rated wrestlers."That win (over Carver) was huge to just get the season kicked off and to shake off the rust," Cahill said. "I've got a lot of things to work on for the end of the season, but I felt alright."
Cahill, who pinned Lucas Phillips of Oskaloosa in 3 minutes 7 seconds in the semifinals, improved his record to 4-0.
"I expect Carter to win every match, and he wrestled tough," Groth said. "He gave up a takedown late in the second period against Carver that made it closer than it should have been, but he got an escape and then he had a tough ride in the third period to win it. There was no way that Carver was getting out."
Hron posted a 4-1 decision over Carson Springer of Dallas Center-Grimes in the finals. He won his first two matches by fall.
"Cael is going to be a big factor for our team," Groth said. "He won his first varsity title, and so did English. They both wrestled really well."
English recorded a 3-2 victory over Eli Green of Interstate 35 (Truro) in his title match. He also won a one-point decision in the semifinals, 7-6, over Austin Pfantz of West Marshall after earlier recording back-to-back falls.
"Those were good, gritty performances by Zach in his last two matches," Groth said. "He scored with 7 seconds left in second period to take the lead (in the finals), and then he scored late in the third to seal the deal."
Watson won a pair of decisions to reach the finals at 195. He then dropped a 5-1 decision to Nathan Tapken of ADM.
The Jaguars got a third-place finish from Logan Song at 170. Song defeated Sterling Rodman of Carroll, 5-4, in the third-place match.
"Logan did what he does well. He just hammers people," Groth said. "He's got a big gas tank, and he's strong as a bull. He just keeps coming at you, and you could tell in the third period that kid wanted no part of him."
Centennial got fourth-place finishes from No. 8 Cody Vandermark at 106, Carter Bennett at 145 and No. 10 Drew Dunn at 152.
"Song was our only winner in the consolation rounds, so we need to figure out how to finish strong," Groth said. "I think some of our guys need to find the right weight to wrestle at. Carter and Drew may drop down to 138 and 145, and they may find that they'll have more success at those weights. Things are going well, but we're going to work to keep getting better."
The Jaguars will host a non-conference dual meet against Ottumwa on Thursday before hosting the Centennial Duals on Saturday.