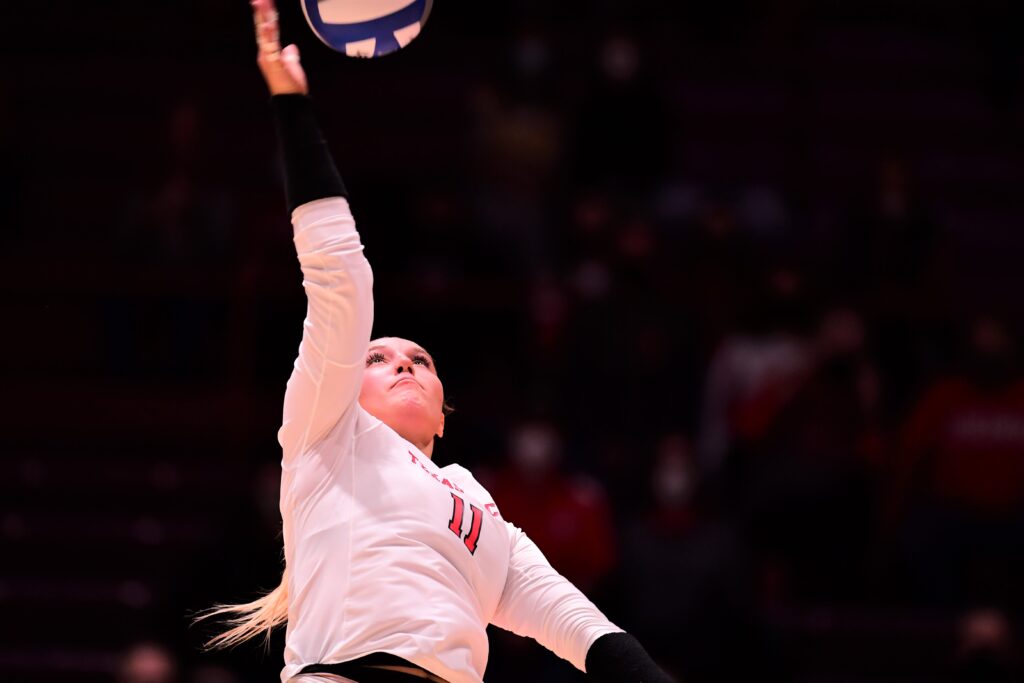 The anticipated matchup between former Ankeny Centennial volleyball stars Devyn Robinson and Kenna Sauer in the NCAA Tournament never materialized.
While Robinson's Wisconsin team cruised to an easy victory over Colgate in Friday's opening round at the UW Field House, Sauer's Texas Tech squad jumped out to a 2-0 lead against Florida Gulf Coast before eventually falling in five sets. The Red Raiders ended their historic season with a 14-25, 16-25, 25-23, 25-15, 15-7 loss.
"It was a great match by Gulf Coast. Congratulations to them," said Texas Tech coach Tony Graystone. "It was disappointing obviously for us. It was a weird match. We played about perfect the first two sets and then you could feel them start to figure some things out. They got their serve receive really going, and it was tough for us to score off our serve for the second half of the match. But I'm really proud of our team."
Sauer finished with a double-double of 18 kills and 18 digs. The junior outside hitter added three blocks and two aces for 21.5 points.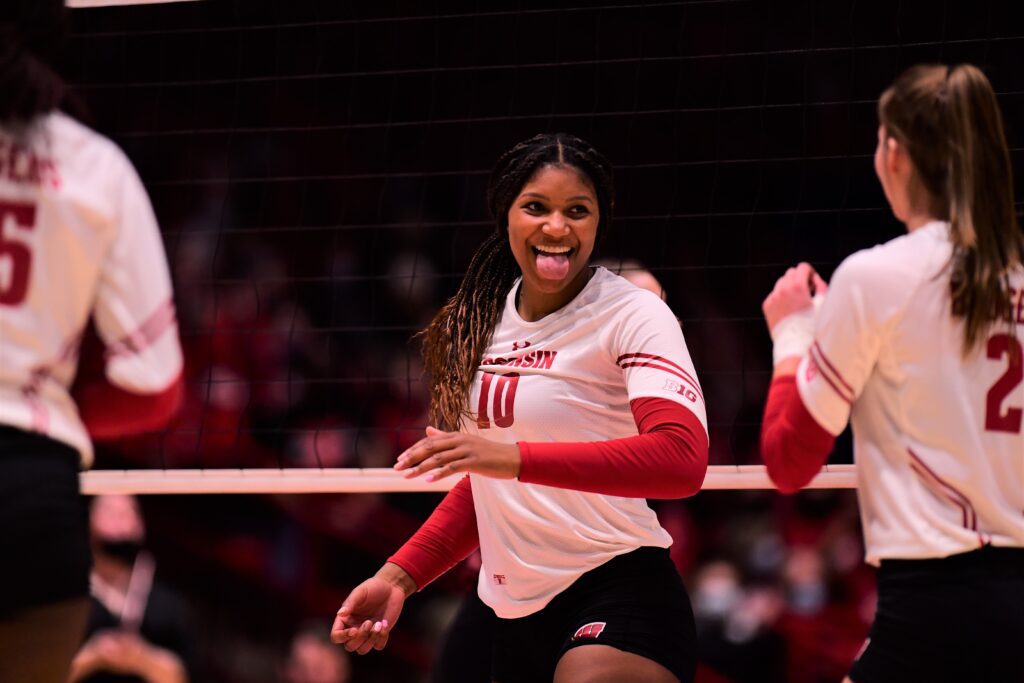 Texas Tech, making its first NCAA appearance in 20 years, finished with a 17-13 record.
"I don't think I can say enough about this program because I've never been in such a positive and nurturing environment," said Sauer, who transferred to Lubbock from Missouri after last season. "There's a lot that goes on behind the scenes to get us here. I would just say put a lot of money on us next year. We're going to be really good."
Sauer led the Red Raiders in kills (364), kills per set (3.34), total attempts (1,167), service aces (24), points (424.5) and points per set (3.89). She ranked second on the team in digs (279) and digs per set (2.56) and fourth in blocks (61.0).
Sauer, who was earlier named to the all-Big 12 first team, was selected to the American Volleyball Coaches Association (AVCA) Southwest All-Region team, the organization announced Tuesday.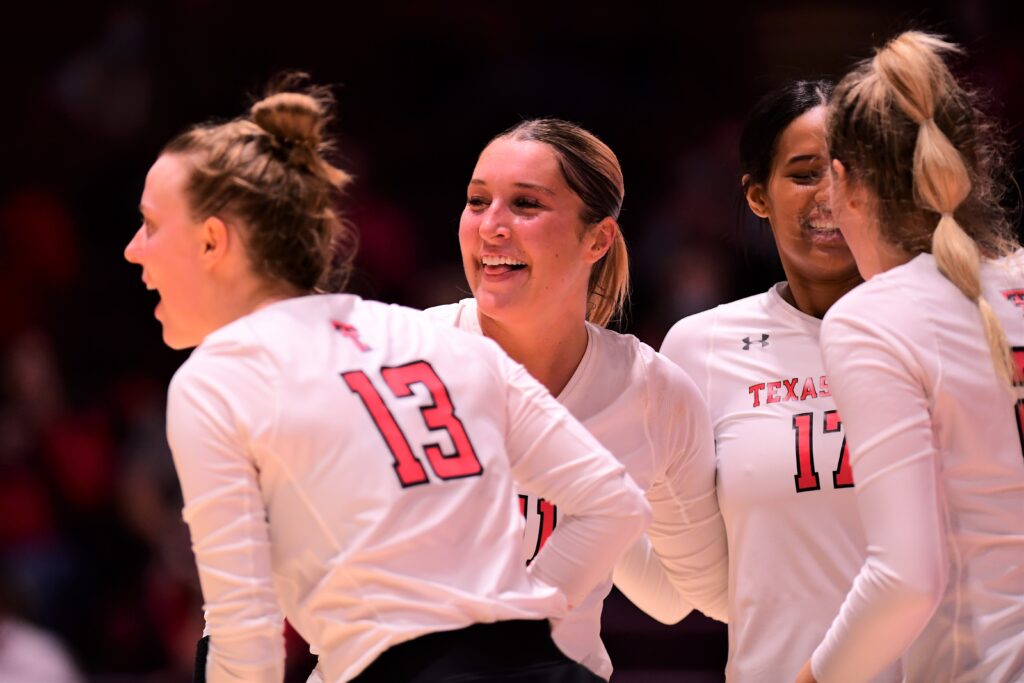 "Kenna has been an incredible addition to our team and has played at the highest level all season," Graystone said. "She has been at the center of everything we accomplished this year, and I am thrilled for her to be named All-Region."
Following Texas Tech's loss, Wisconsin then cruised to a 25-12, 25-15, 25-14 win over Colgate on its home court. Robinson, a sophomore middle blocker, contributed eight kills and three blocks.
"We had the mindset to play Badger volleyball and that's what we did," Robinson said. "I think we prepare for every game the same. Just go with the mindset 'We gotta go out there and attack from point one.' We say that we go out there and do the things right and then the fun comes along with it."
On Saturday, Robinson had five kills and four blocks as the Badgers (27-3) rolled to a 25-17, 25-20, 25-15 triumph over Florida Gulf Coast in the second round. The win allowed Wisconsin to advance to the Sweet 16 for the ninth straight season.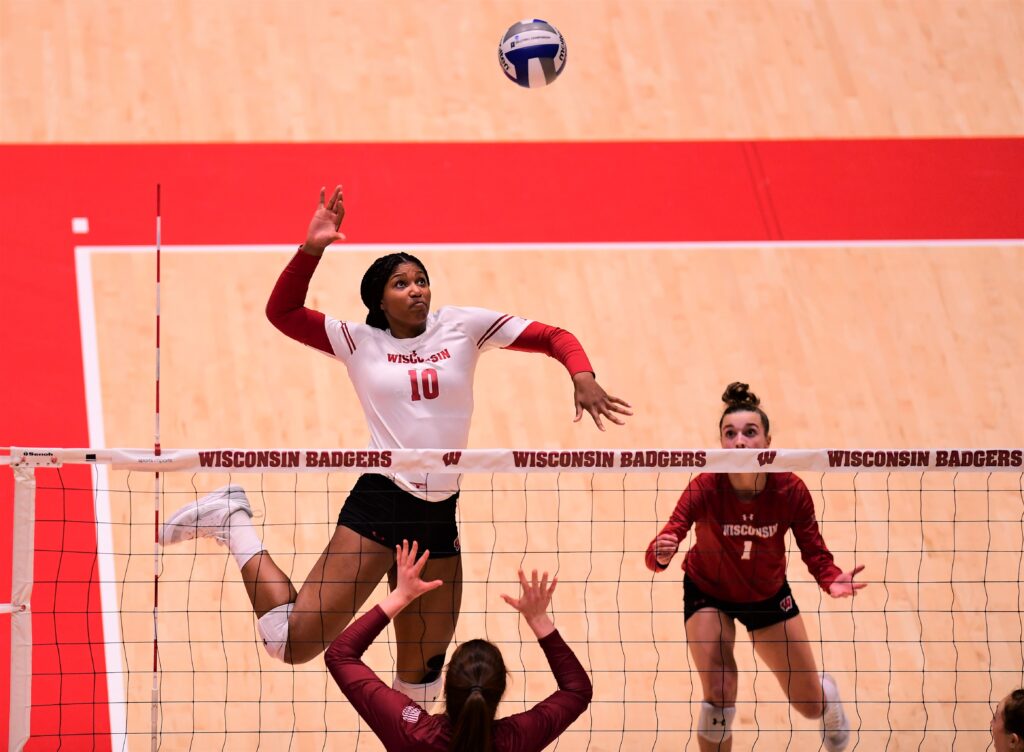 "I thought both teams really came out from the beginning and played well defensively," said Wisconsin coach Kelly Sheffield. "The effort on both sides of the net was really, really impressive. Florida Gulf Coast, what a fantastic season. It wasn't a team where we get into our season and we're so locked into our own conference and there isn't a lot of time to watch teams from other conferences. That is one of the things that is really fun about the NCAA Tournament, you get to dive into some of these other leagues. The more that we watched Florida Gulf Coast, the more impressed that I was. It is just a bunch of ballers that can play the game and can play the game well. They are well-coached."
Robinson, who started the season on the right side and moved to middle blocker after an injury to teammate Danielle Hart, ranks second on the team and sixth in the Big Ten with a .355 hitting percentage. She earned honorable mention Northeast Region recognition on Tuesday.
Wisconsin will now host regional play for the fifth time in program history when it hosts the Madison Regional on Thursday and Saturday. Baylor and Minnesota will meet in the first regional semifinal at 2 p.m., with the fourth-seeded Badgers to face UCLA in the second semifinal at 4 p.m.
The regional final is slated for Saturday at 7 p.m. All matches will air live on ESPNU.