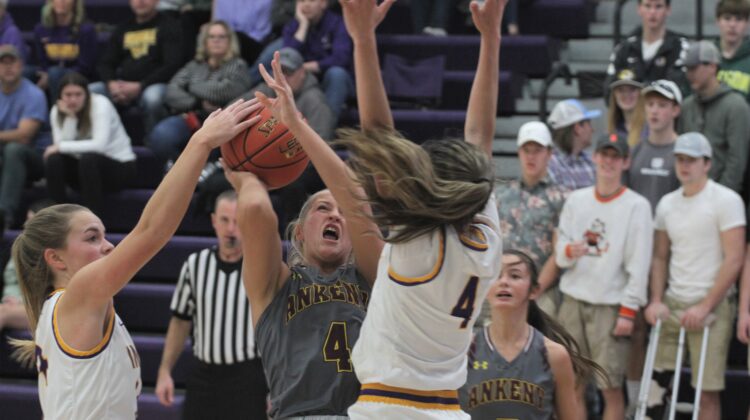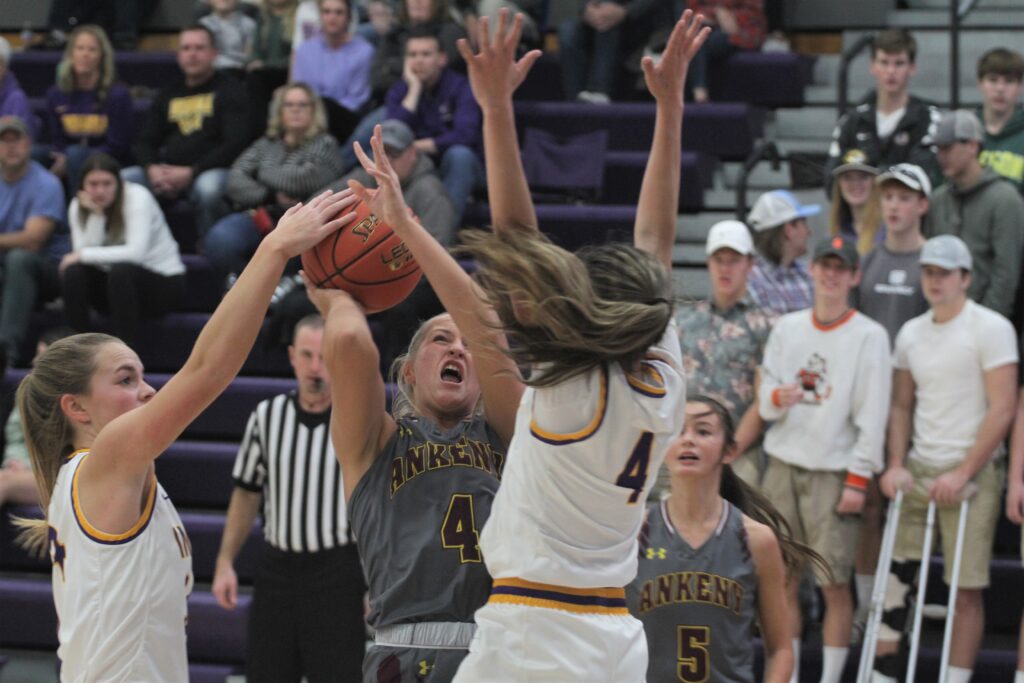 The Ankeny girls' basketball team was coming off one of the best shooting displays in school history.
The Hawkettes were unable to duplicate that performance on Monday.
Ankeny shot just 34.6 percent from the field (18-of-52) and suffered a 54-47 loss at Indianola, the No. 5 team in Class 4A. The non-conference defeat snapped a four-game winning streak for the Hawkettes (4-2), who had made 13-of-24 3-point attempts in an 87-29 victory over Marshalltown on Friday.
"When you shoot about 50 percent at the free-throw line (8-of-15), miss some layups, and obviously we didn't shoot the ball well in general….but hats off to Indianola. They're a good team," said Ankeny coach Dru McAnelly.
Indianola (5-1), which never trailed, got a game-high 21 points and 12 rebounds from Lauren Blake. Blake, who recently surpassed the 1,000-point career mark, had 15 of her points in the first half as the Indians built a 27-18 lead.
"We started out a little slow," said Ankeny guard Jenna Pitz. "Indianola is a good team, and we just can't afford to get down like that. I think we fought back hard at the end, but it was too big of a difference to overcome."
Ankeny used an 11-3 run in the fourth quarter to close the gap to four points. Pitz started the run with a pair of free throws, then later hit a 3-pointer to pull the Hawkettes within 48-44 with 2 minutes 51 seconds left.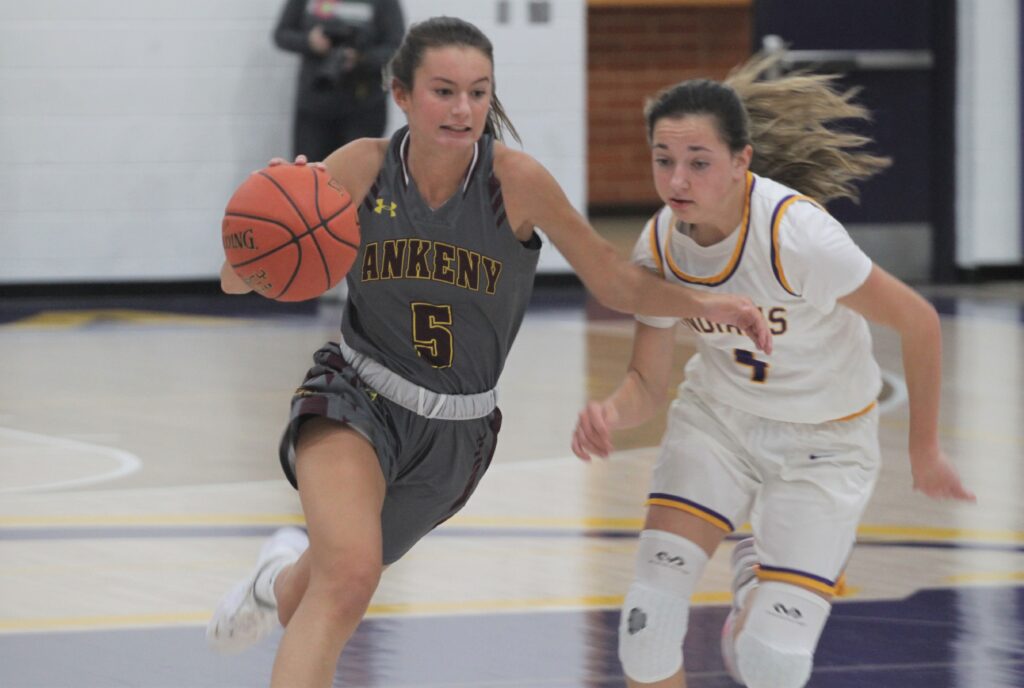 "The one positive thing is that as much adversity as we faced and as poorly as we shot, it's a two-possession game with under 3 minutes to go," McAnelly said. "So we found a way to have a chance to win the game. We just didn't come up with the answers tonight."
Indianola got a driving layup from Mara Bishop with 1:29 remaining to extend its lead to 51-46. The Indians then held on for the win, despite going just 7-for-16 at the line in the final period.
Indianola relied on its defense, holding Ankeny to just 16.7 percent shooting from 3-point range (3-of-18).
"They're a good defensive team," Pitz said. "I think they were just causing a lot of chaos for us. We were rushing the ball a lot. I think we should have settled in a little more. It's a team we're not really used to playing, and you've got to give credit to them."
Pitz scored 12 of her 14 points in the second half. She also had two assists and two steals.
Karsen Jacks had nine of her 11 points after halftime and also grabbed seven rebounds. Savannah Gage chipped in eight points.
Katelyn Anderson and Kendra Lewis each added six points. Anderson also had eight boards.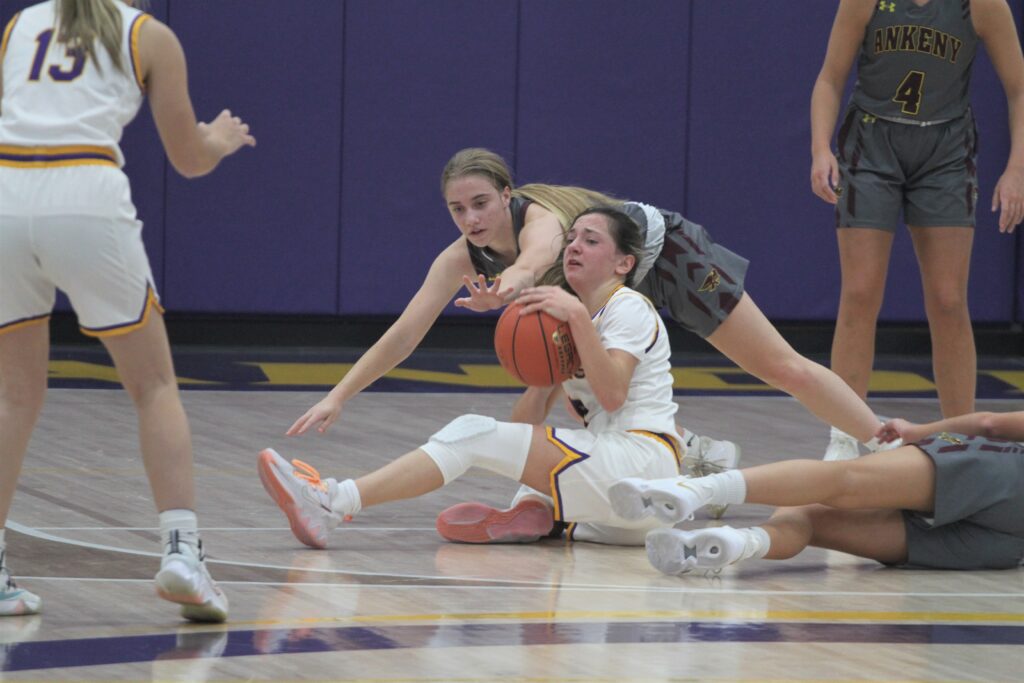 The Hawkettes battled back from an early 10-2 deficit and pulled within 15-13 on a 3-pointer by Anderson with 5:45 left in the first half. But Blake answered with a basket, then followed with a 3-pointer as Indianola regained control.
"She's really good," Pitz said. "Our game plan coming in was to shut her down as much as we could, but she's going to get her points and other people around her really stepped up, too."
Emily Naughton added 14 points and four assists for the Indians.
"We had some weird things happen," McAnelly said. "We don't normally give up points off inbounds plays, so it was just kind of a weird vibe tonight and we didn't respond."
Ankeny had just three baskets in each of the first two quarters.
"I didn't think we had very good spacing, and we weren't playing downhill," McAnelly said. "It's easy to guard when you play with the ball on one side of the court and you don't get ball reversal, so it makes defense a lot easier for them."
Ankeny will be back on the court Tuesday, hosting a non-conference game against Des Moines Lincoln (1-4).