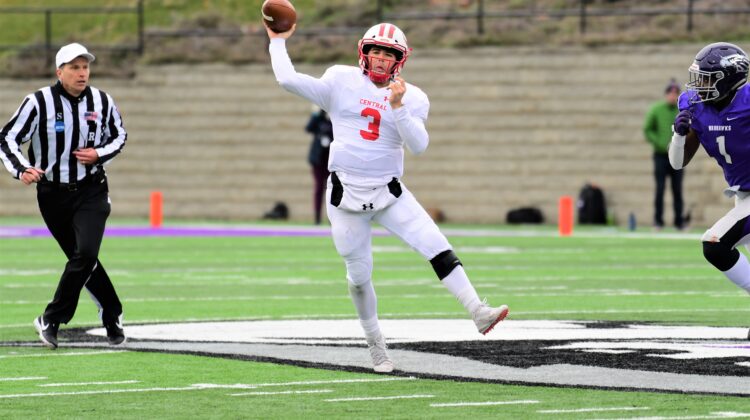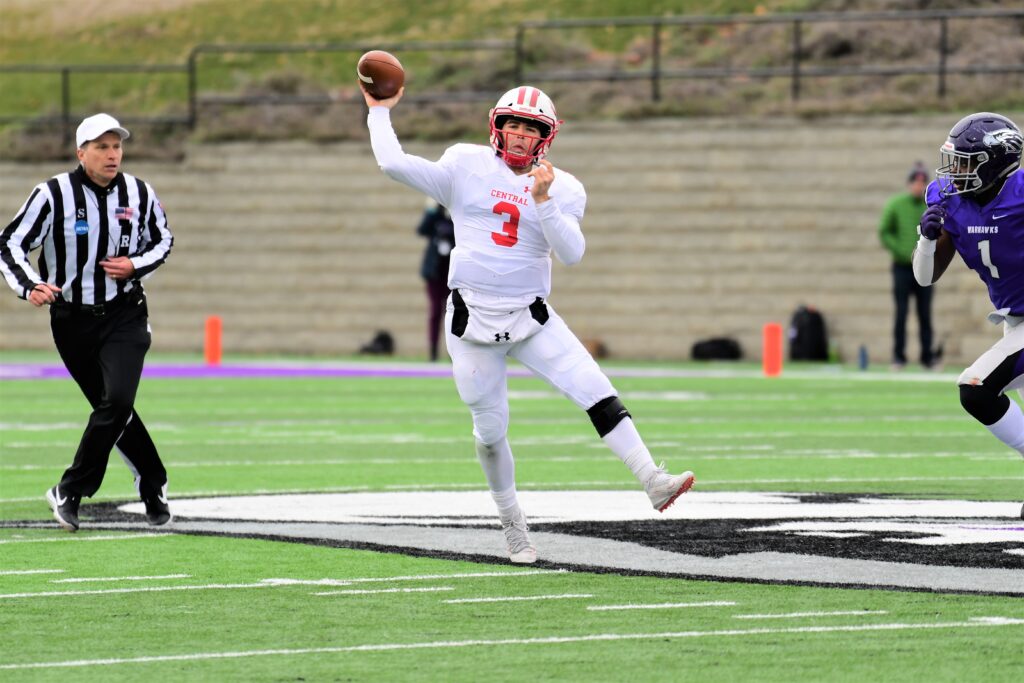 Central College quarterback Blaine Hawkins has been named the winner of the Gagliardi Trophy, which is awarded to the nation's top Division III football player.
The former Ankeny star watched the award announcement with members of his family and some of his teammates in Pella. The Gagliardi Trophy is the Division III version of the Heisman Trophy.
"I was overwhelmed with emotions after they announced my name," Hawkins said. "I felt very lucky to share the moment with my family, friends and coaches. I am very proud that the Gagliardi is something that everyone at Central can take pride in accomplishing!"
Hawkins is the first Gagliardi Trophy winner in Central history. The announcement was made Friday night on D3football.com, prior to kickoff at the Division III championship game in Canton, Ohio.
Hawkins set an NCAA all-divisions record with 63 touchdown passes this season. In 13 games, he completed 331-of-468 passes (70.7 percent) for 4,475 yards and eight interceptions while posting a passing efficiency rating of 192.1.
Given annually since 1993, the Gagliardi Trophy recognizes athletics, academics and community service and is named for the late John Gagliardi, the former Saint John's coach who retired with 489 career victories.
"It's not something I ever thought about (winning)," Hawkins said. "It's really hard to fathom right now."
Earlier, Hawkins was named the American Rivers Conference Offensive Player of the Year for the second time and was a first-team AFCA Division III all-American. The Gagliardi Trophy is a perfect way to cap off his record-setting career.
"It's something really special," Central coach Jeff McMartin said. "It's meaningful both for what Blaine has accomplished but also for the legacy of our program. And it represents what he's put into the last five years.
"He has set a standard for what quarterback play at Central College should be from here on out," McMartin added.
Hawkins was among five finalists, joined by defensive back/punter/return specialist Jefferson Fritz of the University of Mary Hardin-Baylor (Texas); wide receiver Andrew Kamienski of North Central College (lll.), quarterback Wyatt Smith of Linfield University (Ore.) and quarterback Gavin Zimbelman of Aurora University (Ill.).