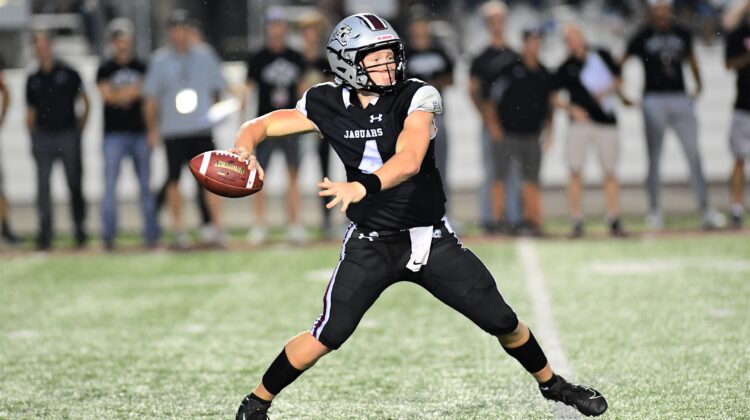 Ankeny Centennial senior Peyton Goode showed during his high school career that he can play several different positions on the football field.
He still isn't sure which one he'll play at the collegiate level.
Goode verbally committed earlier this week to play for Grand View, the NAIA national runner-up.
"It was a very tough decision, but I knew Grand View was the right choice," said Goode, who also looked at some NCAA Division II schools. "Grand View has a legendary program and a winning tradition."
Goode said the Vikings recruited him as an athlete.
"(Offensive coordinator Derek) Fulton talked about receiver the most," Goode said. "But we also didn't shut the idea of quarterback in the future."
As a junior in 2020, Goode was one of Centennial's leading receivers. He caught 20 passes for 351 yards and three touchdowns while also serving as the backup quarterback.
In 2021, Goode became the starting quarterback and helped the Jaguars to a 4-6 record. He was an all-district first-team selection.
Goode completed 38-of-79 passes for 598 yards and four touchdowns while throwing three interceptions. He also ran for 413 yards and six scores on 112 carries.
Goode played a key role in Centennial's biggest win of the season–a 14-7 victory over eventual Class 5A runner-up Ankeny on Sept. 3. He ran 22 times for 70 yards and both of his team's touchdowns while also completing 7-of-10 passes for 103 yards.
Unfortunately, Goode suffered a season-ending injury in a loss at Waukee Northwest on Oct. 8. He missed the final two games of the regular season as well as the Jaguars' 35-21 loss at Valley in the opening round of the Class 5A playoffs.
"I fractured my heel and tore a tendon in my ankle that required surgery," Goode said. "But it won't affect anything in the future. I'll be back and better by the time track comes this spring."
Several players from Ankeny are already on the Vikings' roster, including Goode's former Centennial teammates Avery Gates, Tyler Johnson and Jackie Wells.
"The Ankeny alumnus weren't a big factor, but it definitely helps that I can talk to them and see how Grand View treats their athletes," Goode said.