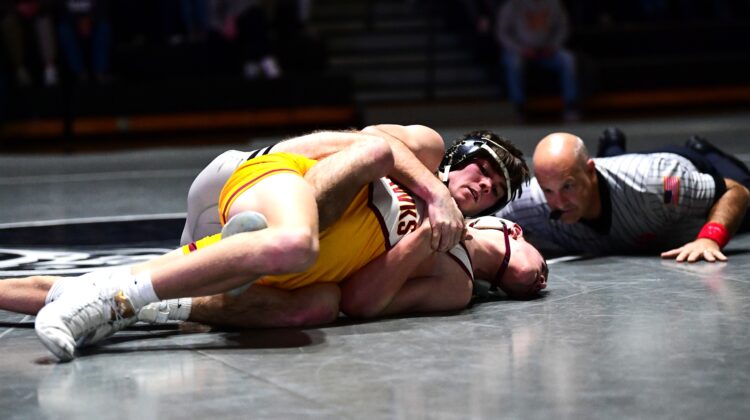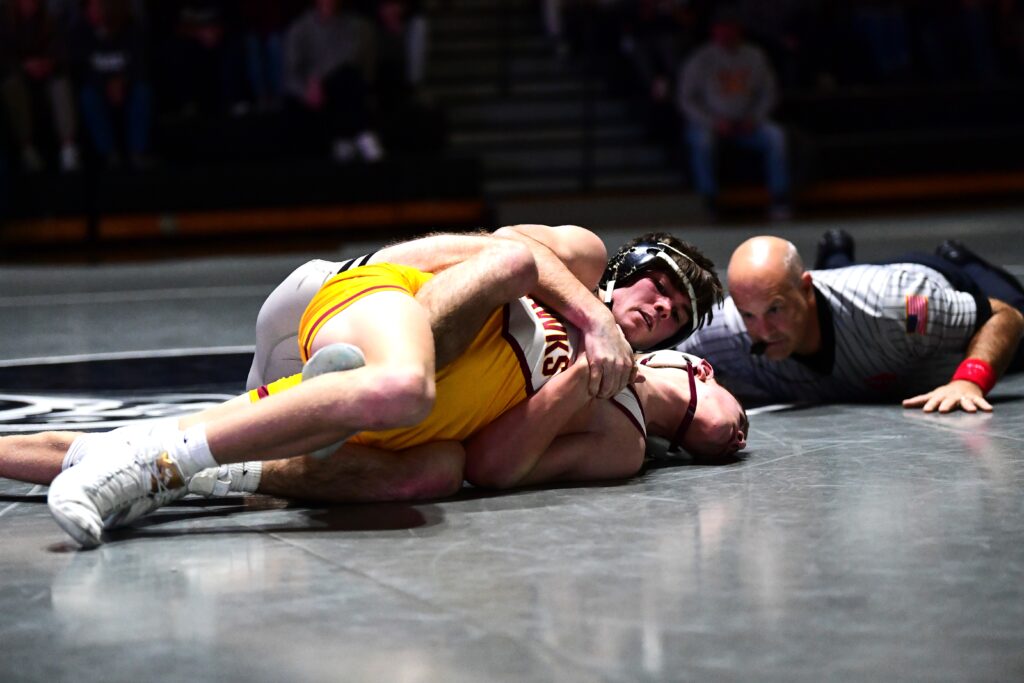 Ankeny Centennial wrestling coach Jay Groth describes senior Carter Bennett as a funky wrestler.
On Thursday at Marshalltown, Bennett ran into a funky opponent.
Bennett, who is ranked 12th in Class 3A at 138 pounds, moved up to 145 and posted a 17-8 major decision over Luke Hageman. The win helped the Jaguars to a 55-15 victory in a CIML Iowa Conference dual meet.
"Bennett wrestled a tough kid," said Groth. "Between those two, they had the most reversals of any wrestler in Class 3A. Carter is No. 1 and (Hageman) was No. 2. They're both funky wrestlers, and Carter outfunked him for sure. He put him on his back three times and beat him by a major decision. He looked really sharp."
Centennial won 11 of the 14 matches despite missing some of its varsity regulars. The Jaguars improved to 3-1 in the conference and 9-6 overall.
"We had to fill in for some guys because we are sick and injured right now," Groth said. "It's been a struggle for sure (to keep everyone healthy), but I thought all of (the replacements) wrestled very well and did a good job."
Joe Talmadge at 132 and Kaden Kaiser at 195 each had a fall for Centennial. Talmadge pinned Kenton Niehouse in 3 minutes 2 seconds.
"Joe has been in and out of the lineup a little bit this year," Groth said. "He filled in for Cael Wiener, and he looked great. He had some great offense, and he ended up pinning the kid."
No. 10 Cody Vandermark closed out the meet with a technical fall over Lucas Bantz at 106. He needed less than 3 minutes to rack up a 15-0 victory.
"Cody was fired up and really got after it from the start," Groth said. "One of the issues we've had with him is that he's a late starter. He's a little slow in the first period before he gets going and starts wrestling, but when the whistle blew (Thursday) he was firing shots right away and taking the kid to his back. He did some good things."
Tyler Brennan at 138, Logan Song at 170 and No. 9 Zach English at 182 also posted victories for Centennial. The Jaguars won four other matches by forfeit.
Centennial is slated to compete in the Osage Duals on Saturday. As of Friday afternoon, the tournament was still on.
"Osage has not cancelled on us yet," Groth said. "As long as Ankeny schools lets us get on the bus, then we'll be on our way."
Here are the match-by-match results from Thursday's meet:
Centennial 55, Marshalltown 15
113: Rodriguez (M) won by forfeit; 120: Bright won by forfeit; 126: Anderson (M) beat Hron, 4-1; 132: Talmadge pinned Niehouse, 3:02; 138: Brennan beat Greene, 3-2; 145: Bennett beat Hageman, 17-8; 152: Dunn won by forfeit; 160: Cahill won by forfeit; 170: Song beat Rebik, 10-1; 182: English beat Gomez, 9-2; 195: Kaiser pinned Narvaez-Correa, 2:00; 220: Grider won by forfeit; 285: King (M) pinned Ahmetasevic, :48; 106: Vandermark won by technical fall over Bantz, 15-0.