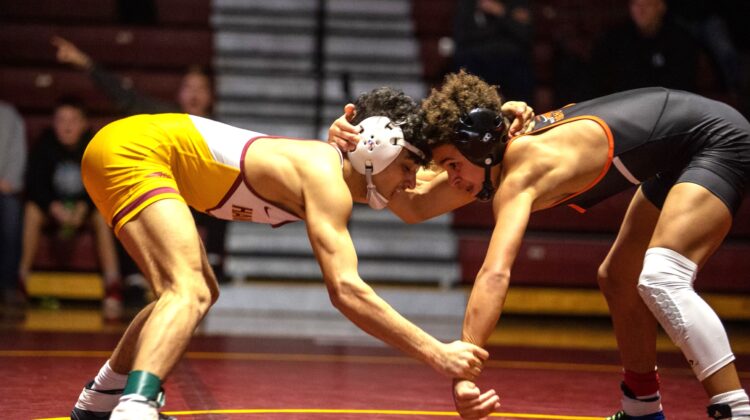 The Ankeny wrestling team was hoping to use Thursday's dual meet against visiting Ames as a tune-up for Saturday's Bob Sharp Invitational.
That didn't turn out to be the case.
The tournament was cancelled due to impending inclement weather, but that didn't stop ninth-ranked Ankeny from rolling to a 61-13 victory over the Little Cyclones in a CIML Iowa Conference matchup. The Hawks raised their records to 4-0 in the league and 9-2 overall.
"It was fun," said Ankeny assistant coach Austin Anderson, who coached the team while head coach Jack Wignall was at home in quarantine due to COVID-19. "We're all one unit, and we know the expectation. I'm just glad our kids came and wrestled well tonight."
The Hawks won the first seven matches to build a commanding 40-0 lead. Five of those wins came by falls.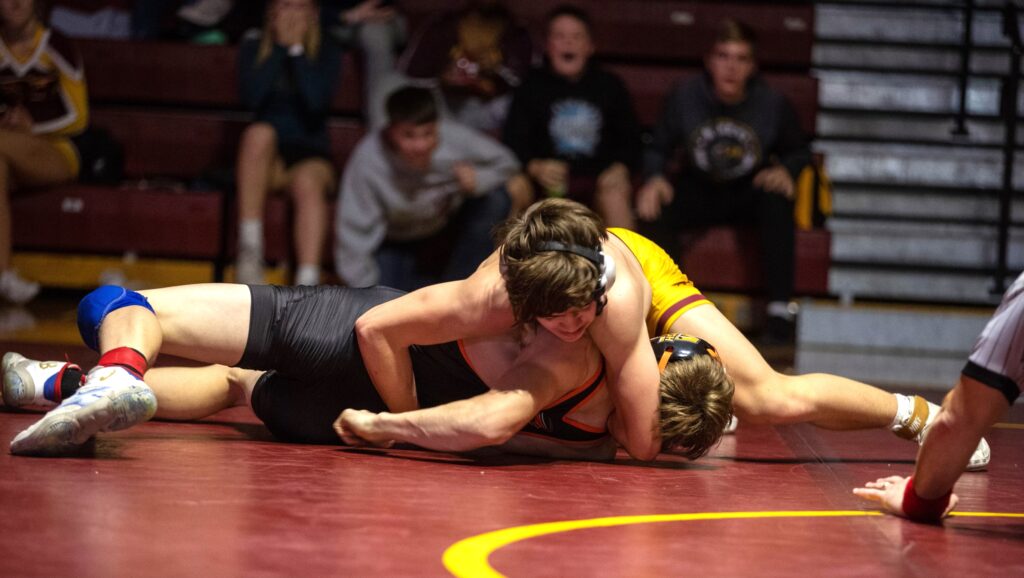 "We put an extra emphasis on when we are able to get a guy on his back to keep him there and get the six team points," Anderson said.
Seventh-ranked Jace Anderson opened the meet with a pin at 145 pounds. Teagen Peiffer at 152, Xander Kenworthy at 170, Will Hinrichs at 195 and Jack Dorfler at 220 then followed with falls.
Ankeny's biggest win of the night came at 113, where No. 7 JJ Maihan posted a 5-4 decision over No. 3 Jabari Hinson in triple overtime. Maihan got a reversal in the second overtime to avenge a 4-3 loss to Hinson in the third-place match at the Jack Mendenhall Invitational on Saturday at Ames.
"That was one we had circled obviously since Saturday," Anderson said. "It was a short turnaround, but JJ wrestled well. He stuck to his game plan. It ended up going to overtime, but I'm glad he found a way to get this one done."
The Hawks also got a major decision from Michael Rose, who posted a 13-0 victory at 160. Ankeny won four other matches by forfeit.
The Hawks wrestled without two-time state champion Trever Anderson, who sat out after being sick earlier in the week.
"We're just taking extra caution right now," Anderson said. "Trev's been a little banged up–a little sick. We're ready to peak at the right time. Right now is making sure guys stay healthy and hopefully stay injury-free."
Here are the match-by-match results:
Ankeny 61, Ames 13
145: J. Anderson pinned Mwilea, 1:55; 152: Peiffer pinned Winkey, 2:26; 160: Rose beat Overstreet, 13-0; 170: Kenworthy pinned Fitz, 1:09; 182: Bennethum won by forfeit; 195: Hinrichs pinned Grey, 2:51; 220: Dorfler pinned Burkheimer, 1:06; 285: Hall (Am) pinned Kingston, 1:34; 106: T. Folkers won by forfeit; 113: Maihan beat Hinson, 5-4 (3OT); 120: Martin (Am) beat O'Toole, 6-4; 126: Hansen won by forfeit; 132: Crawford (Am) beat Julich, 13-3; 138: Wernau won by forfeit.